On our first night in Wailea, we kept things simple and got take out for dinner. But we didn't get just any takeout – we went to a popular newbie and star chef spot. Can you guess where? Yup, we hit up both Havens Maui and Tin Roof by Sheldon Simeon for dinner.
The pandemic was particularly rough on the restaurant industry. However, it wasn't all doom and gloom. In fact, Hawaii gained a bunch of new restaurants during the nightmare. Some of these include HeiHo House and Bar Maze on Oahu, while Maui gained Havens Maui.
Havens Maui
This spot is truly a hidden gem. You see, Haven's Maui is inside the Shell gas station in Kihei. Their menu is small, focusing on smash burgers, noodles, sides, and temaki sushi. Sounds strange, right? But it works!
During our time on Maui, we actually visited them twice. The first time was for dinner, and the second was for a quick, pre-flight snack. For dinner, we went with their Original Smash Burger and Crazy Tots.
The Original Smash Burger ($9) includes onion, dill pickle, American cheese, and OG sauce. Some may say the burger looks a bit plain. Me? I think it looks great! Just look at those glorious, crispy edges! And, indeed, there's a wonderful interplay of crispy-crunchy bits and juicy, meatiness. Everything else? They enhance the beef with the dill pickles helping to counteract all the richness.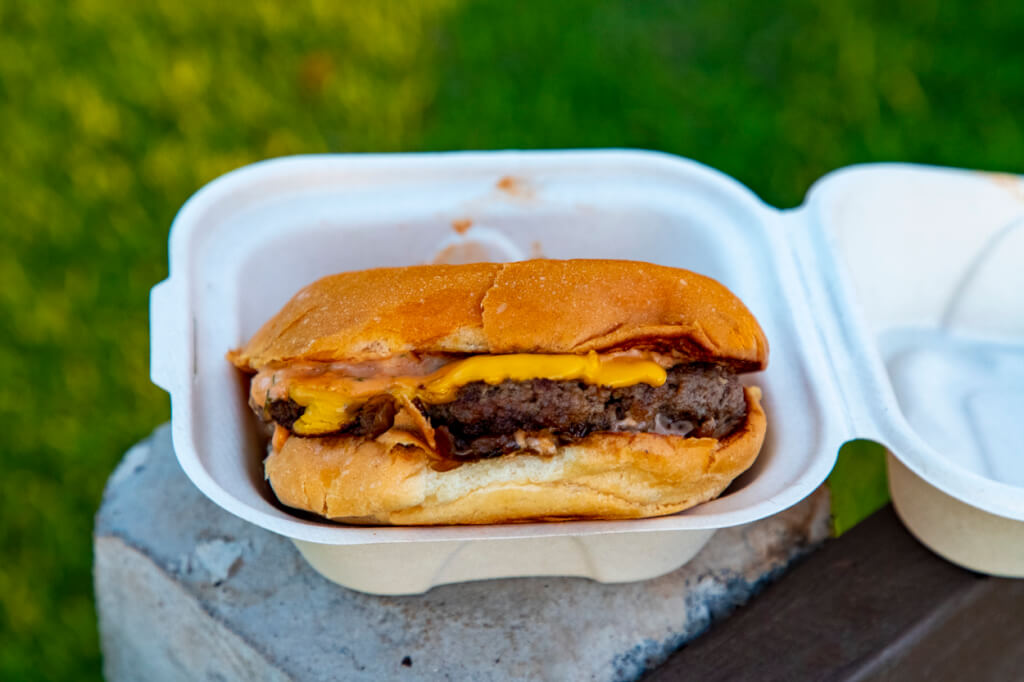 The Crazy Tots ($7) are crunchy-fried tater tots drizzled with kimchee aioli and topped with kimchee, green onions, and a sprinkling of furikake. Yup, this tastes exactly like what you think it does. The bright, spicy kimchee and acrid vegetal flavor of the green onion help to offset the greasiness of the perfectly fried tots. They were a perfect compliment to our burger.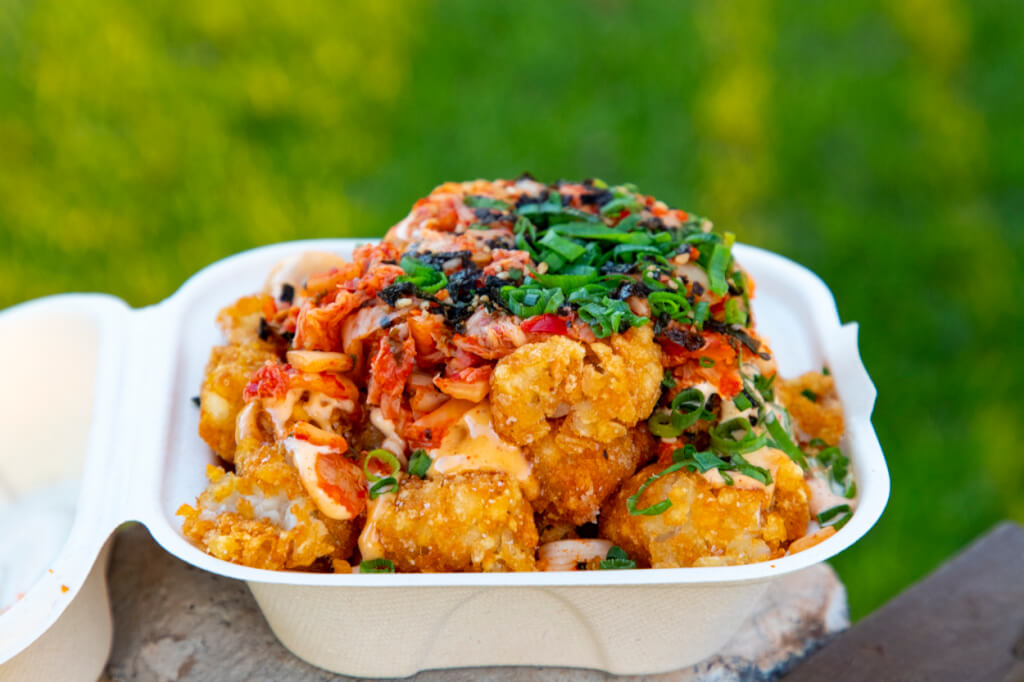 During our pre-flight stop, I wanted to get the Won Ton Min. Unfortunately, they told us that their won tons have peanuts in them, so that was a no-go for me. Instead, we went with the standard saimin. As you can see, their Sun Noodle saimin noodles come heaped with egg, bean sprouts, cabbage, green onion, kamaboko, and roasted pork. The bone broth they include with it, however, is just WOW. It's so deep and full of umami! It's unlike any other saimin broth I've ever had before.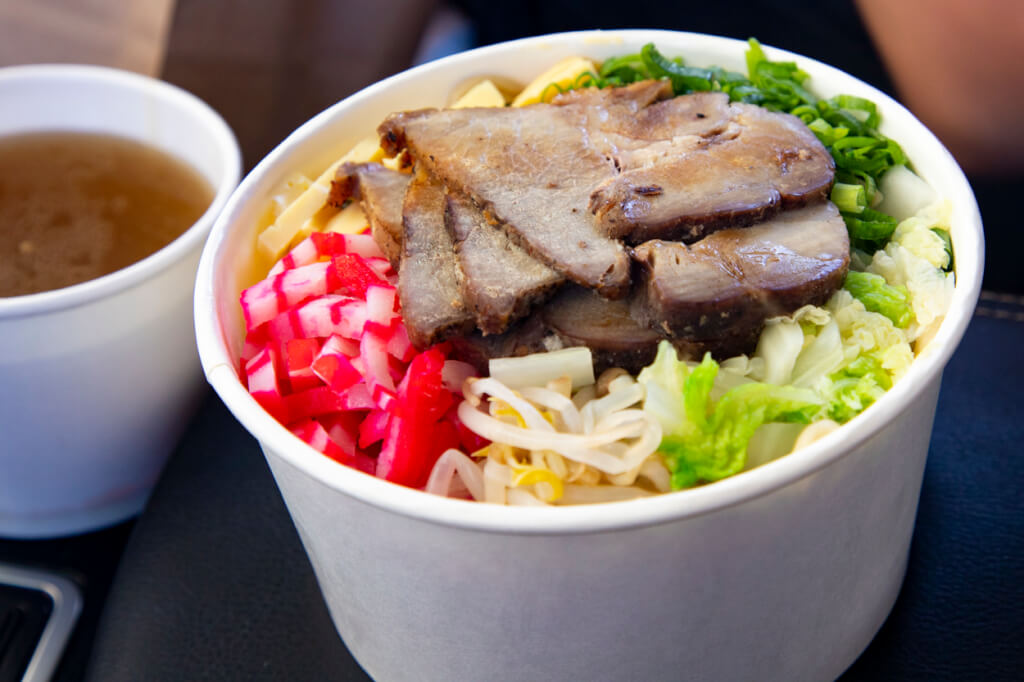 Tin Roof
I've been to Tin Roof back in 2019, though Mrs. Island Miler wasn't with me at the time. That's why I made it a point to get her there to try Sheldon Simeon's food.
The last time I was here, I went with the Chopped Steak with Garlic Noodles. I thought it was ok, but I probably wouldn't order it again. As such, this time, I went with the Dry Mein and the Fat Chow Funn. Dry Mein is a Maui specialty in which saimin (with thicker, firmer noodles) is served with its broth on the side. At Tin Roof, Simeon serves his with egg strips, kamaboko, crispy-fried Spam, bean sprouts, green onions, a 6-minute egg, and garlic pork broth. Interestingly, the noodles themselves have a garlic flavor to them. The broth? It's rich, yet clean and garlicy.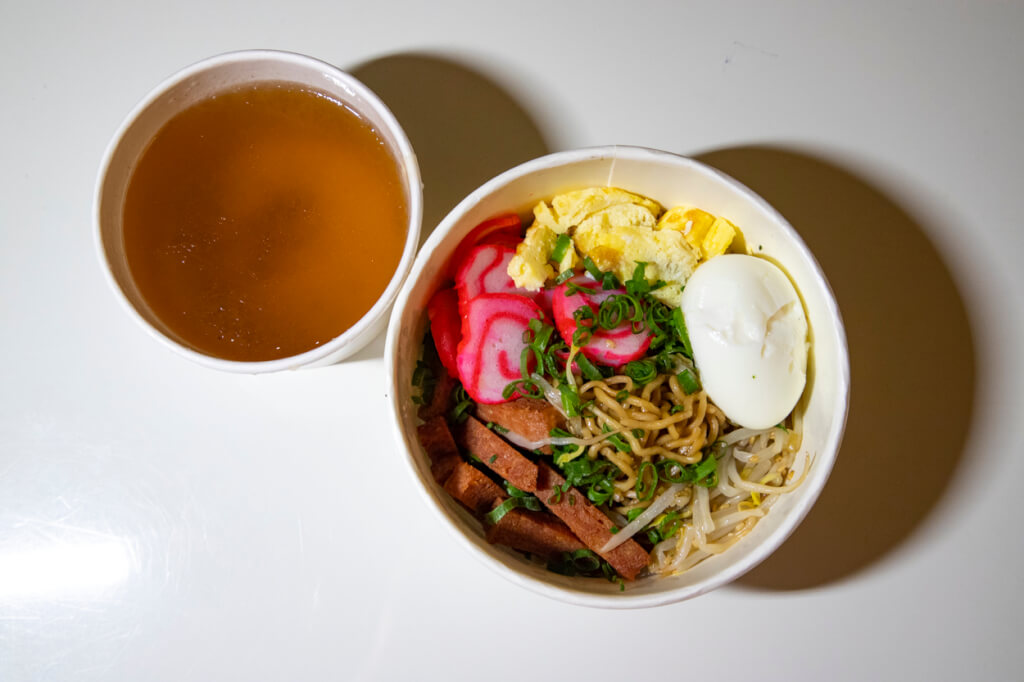 The Fat Chow Funn is Simeon's take on the local favorite chow funn noodles. The dish is composed of extra-thick noodles with pork, bean sprouts, green onions, and sesame seeds. Interestingly, the noodles got thinner compared to last time. The flavor was a bit lighter too. Still, the pieces with the sauce charred onto them were fantastic.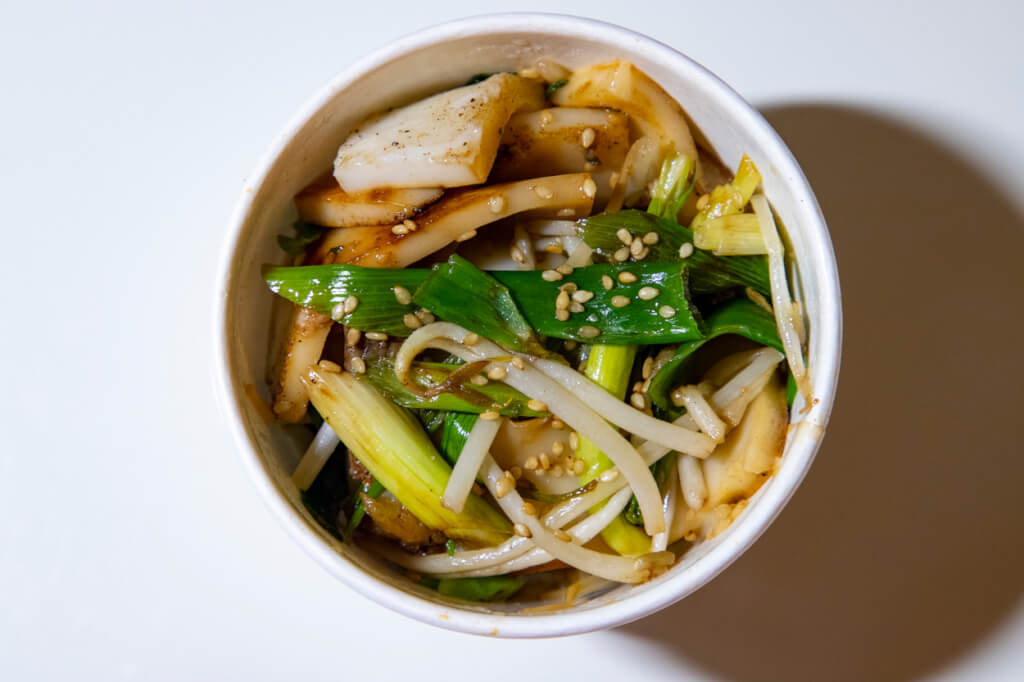 Final Thoughts
I'm glad I finally got to try Havens Maui and got Mrs. Island Miler to Tin Roof Maui. If I had to choose which one I like better, I think that'd be Havens – sorry, chef Simeon. Their smash burgers are simply some of the best I've ever had. And, yeah, Simeon's saimin broth is great, but Haven's broth is just a tad bit better. Honestly, though, a lot of which you like better will come down to personal preference. I encourage you all to try both you can, which shouldn't be too hard to do. After all, since our visit, Havens opened a truck in Kahului, while Tin Roof is in Kahului.
Grand Maui Adventure