While we were in Vegas, I wanted to check out Bouchon Bakery Las Vegas. So, on our second to last day in Sinc City, we hopped over to the Venitian for what we hoped would be a quick breakfast. Boy, what an adventure that ended up being.
We've been to Bouchon Bakery in Yountville. In fact, while leaving, I saw Chef Thomas Keller casually walking down the street! Nevertheless, most of the items we tried in Yountville were great. So, we vowed to visit their Las Vegas outpost the next time we were in town – especially since I had no idea if we'd ever return to Napa.
Bouchon Bakery Las Vegas Location
This is the part of our visit that tripped us up the most. Since its opening, Bouchon Bakery Las Vegas occupied an exterior-facing space at the Venitian Las Vegas. Only, when we go there, the storefront was empty. We spent the better part of half an hour searching the property for it, eventually asking a security guard if they were still around. It turns out, they moved to a spot under the escalators in the casino near the food court. It would've been helpful if either Bouchon or the Venitian put information about this move on their websites.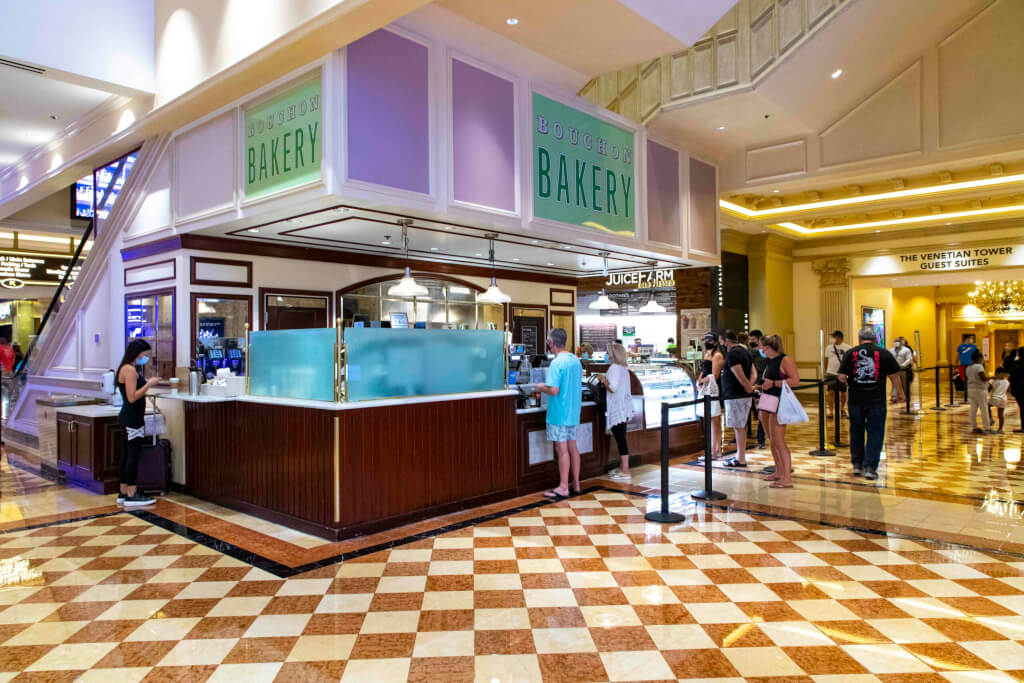 Bouchon Bakery Las Vegas Menu + Service
The menu at Bouchon Bakery Las Vegas is similar to the mothership. Here, you'll find a selection of pastries and baked goods, sandwiches, drinks, and so on. What we didn't see, however, was the fantastic TKOs. Bummer. Another disappointment here was the service. The staff here are nothing like the Yountville location – incredible indifferent and mechanical. What's more, the whole setup feels like a glorified Starbucks.
What We Ordered
It was now more of a brunch/lunchtime for us, but I stuck with ordering a breakfast sandwich. Specifically, I went with a ham, egg, and cheese croissant. The croissant, while a little smashed, was just as I remembered in Napa – flakey, buttery layers of goodness. That said, the egg in this thing was one of those bricks you get at school. It was sorely disappointing and kind of ruined the whole thing.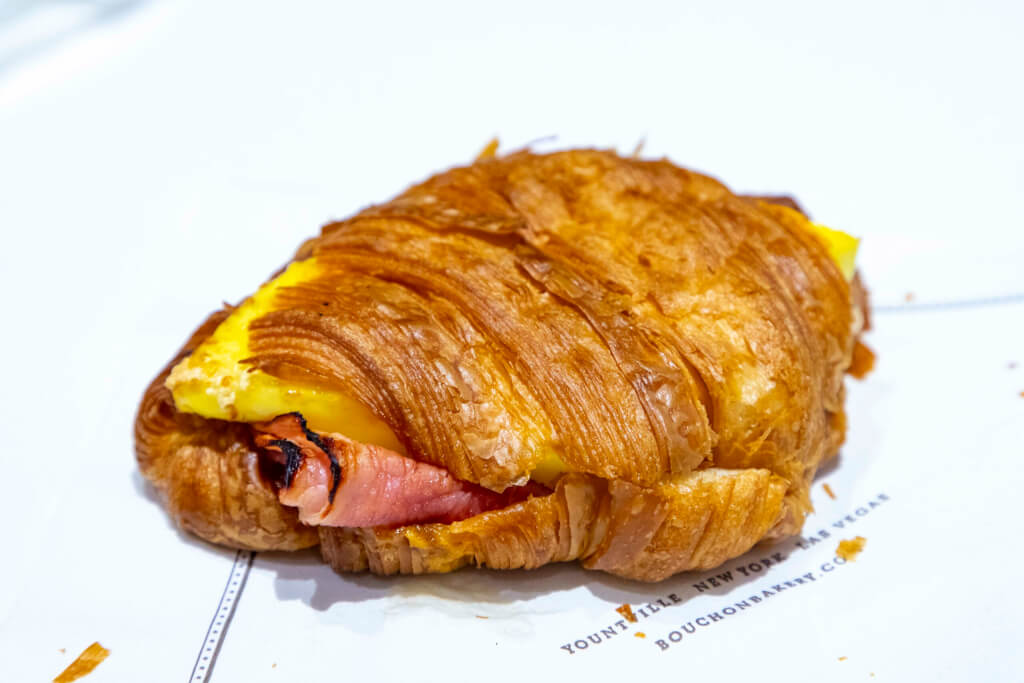 Of course, we also ordered a few pastries. Specifically, Mrs. Island Miler got a cheese danish, while I got a kouign amann, some Bouchons to share, and a chocolate chip cookie.
If I'm being honest, everything was ok. Actually, I think I would've liked my cooking and kouign amann better if I've never had the B Patisserie versions from Kona Coffee Purveyors. The cheese danish was probably the highlight of our visit, and the Bouchons were good, as always.
Final Thoughts
While I'll probably head back to Bouchon Bakery Yountville when we head there later this year, I most likely won't return to the Las Vegas location. As is sometimes the case out here, the quality standards aren't quite the same as the original location. And it most certainly isn't worth the high markups you'll end up paying here. I'd suggest avoiding this location for sure.
Vegas + Irvine Trip Report