As if the nearly 20-course dinner we had at e by Jose Andres wasn't enough, we headed straight out after dinner to Vanderpump Cocktail Garden at Caesars Palace for more bites and libations.
As you'll recall, Vanderpump Cocktail Garden was another place we planned to visit back in 2020. Mrs. Island Miler is a fan of the show Vanderpump Rules and Lisa Vanderpump. So, I promised her that the next time we went to Vegas together, I'd take her there. Well, with time running out on our current adventures in Sin City, we had to squeeze this visit in right after our marathon meal. But that's ok, we had some help from my SIL and offset the cost of our visit with my Caesars Diamond celebration meal.
Vanderpump Cocktail Garden Location
Vanderpump Garden is located in the iconic Caesars Palace between the entrance to the Forum Shops and the Colosseum Boutique. If you're entering from the main lobby, you'll want to make your way towards and past the Nobu Hotel. This way is a lot faster than snaking all the way around via the casino.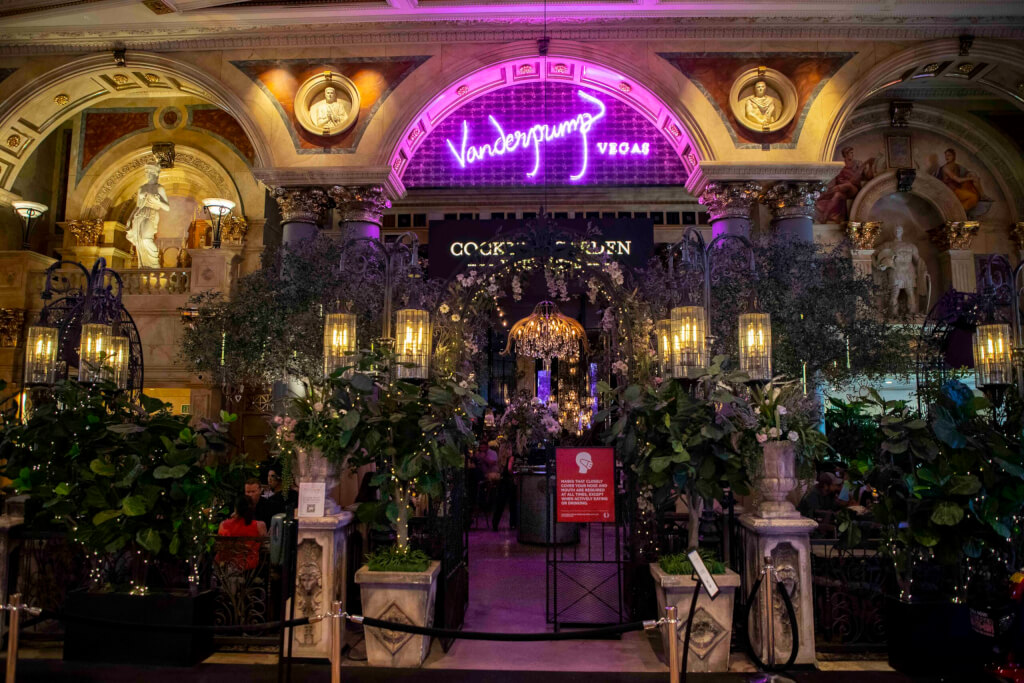 It's worth noting that Vanderpump Garden does not take reservations. During our visit, we lucked out and there was no wait. Then again, we were there on a Wednesday night.
Service + Ambiance
Given the way Lisa Vanderpump managers her staff on her namesake show, I expected service here to be better than average. Sadly, it was not. Service felt indifferent and was definitely the slowest we experienced in Vegas. In fact, you wouldn't get water refills unless you asked, nor did they clear our plates. That said, the overall ambiance is interesting. It felt almost like an outdoor space, though we knew we were still in the casino. It wasn't too noisy and we weren't smashed right up against adjacent tables. However, we didn't go "inside" so we have no idea what that area is like.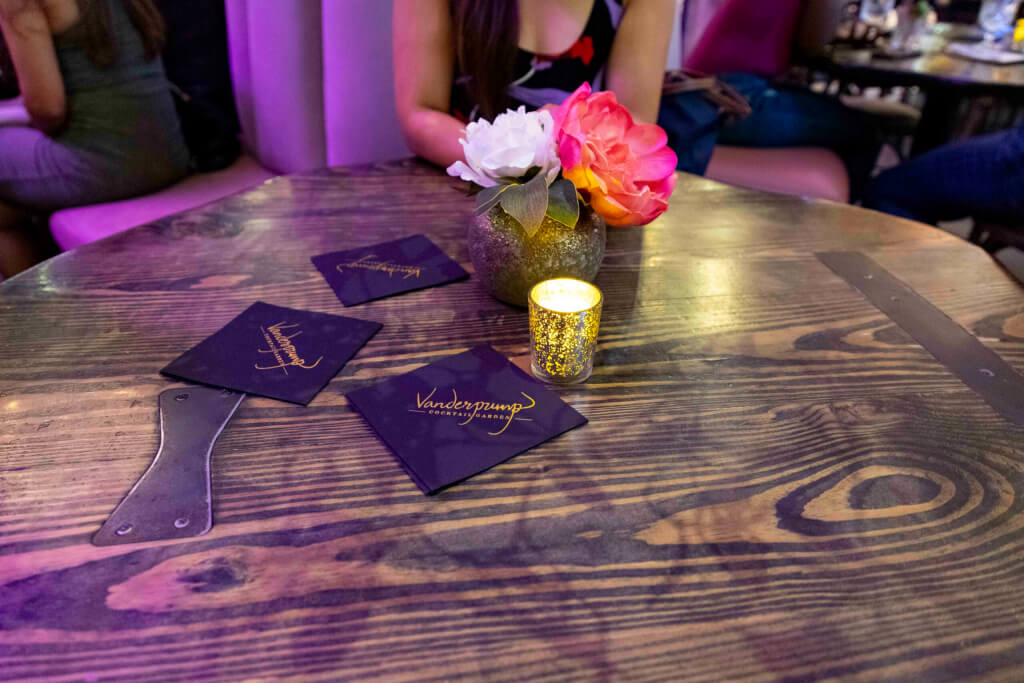 Vanderpump Cocktail Garden Menu
It should come as no surprise that the menu at Vanderpump Cocktail Garden is a bit on the pricier side. This is Vegas, after all, and this is a celebrity establishment. As a result, most cocktails are $18 with a couple coming in at $20, and one two-serving drink coming in at $25. There's also a 10-person cocktail that rings in at $250. Food items here are all small bites and range in price from $9 to $19, with the Vanderpump Rose Cake for Two being the most expensive food item.
What We Ordered
Between the three of us, we ordered three drinks and nearly the entire food menu.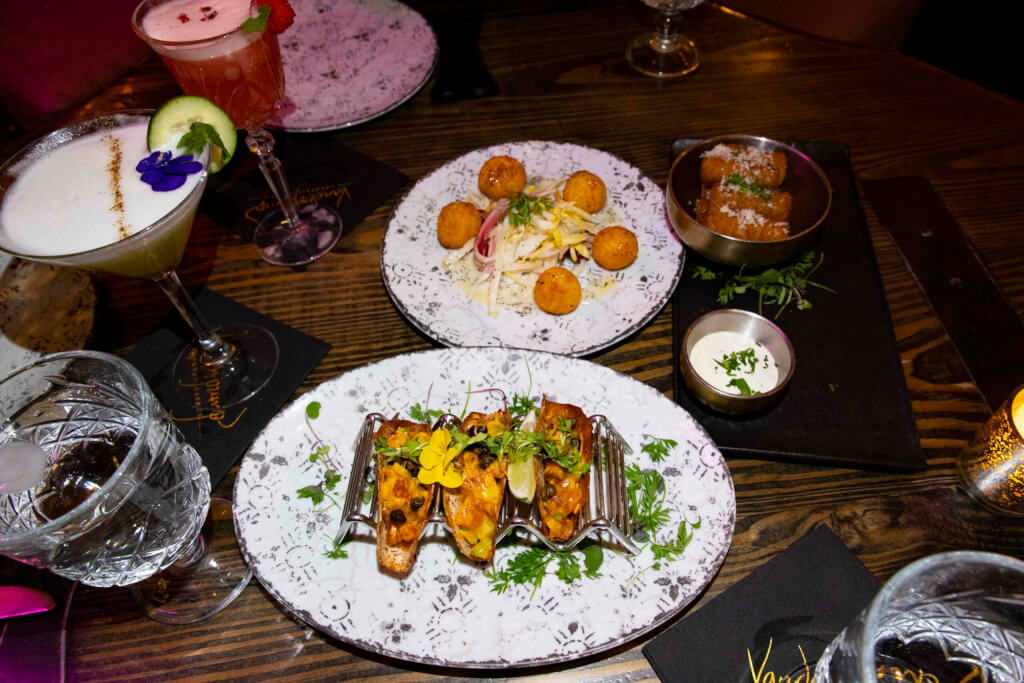 Drinks
The three drinks we ordered were The English Garden, Puff The Magic Dragon, and the Velveteen Rabbit.
Comprised of Hendrick's Gin, Elderflower, Basil, Cucumber, Lemon & Lime, Black Pepper, Lavender & Celery Bitters, and Aquafaba, The English Garden tastes exactly like you'd expect it – refreshing, vegetal, herbal. The Velveteen Rabbit (Gin, Hibiscus, Raspberries, Velvet Falernum, Lemon, Aquafaba), on the other hand, was like a raspberry gin lemonade, though this isn't what I'd consider a sweet drink. The most visually striking drink of the night was the Puff The Magic Dragon (Mezcal, Dragonfruit, Lemon, Orange Bitters, Firewater Bitters, Jalapeño, Tajin), though it was also the most disappointing. To me, all I could taste was the jalapeño. And, yes, it was quite spicy.
Goat Cheese Balls
The Goat Cheese Balls at Vanderpump Cocktail Garden were the food item I was most looking forward to trying. After all, they're carried over from Sur (we've never been) and are probably the single most popular item on their menu. And coming in at $16, they're certainly priced that way too, tying for second most expensive food item along with the crudités and hummus board. Unfortunately, though, the cheese balls were not to my liking. The Goat Cheese Balls themselves were very thick and heavy – think almond butter but firmer and that's the texture of this dish. And, really, the balls are just that, goat cheese rolled into balls, breaded, and deep fried. There was no attempt to add to it with the inclusion of herbs and whatnot. The accompanying endive salad with poppy seed dressing was equally unimaginative and boring.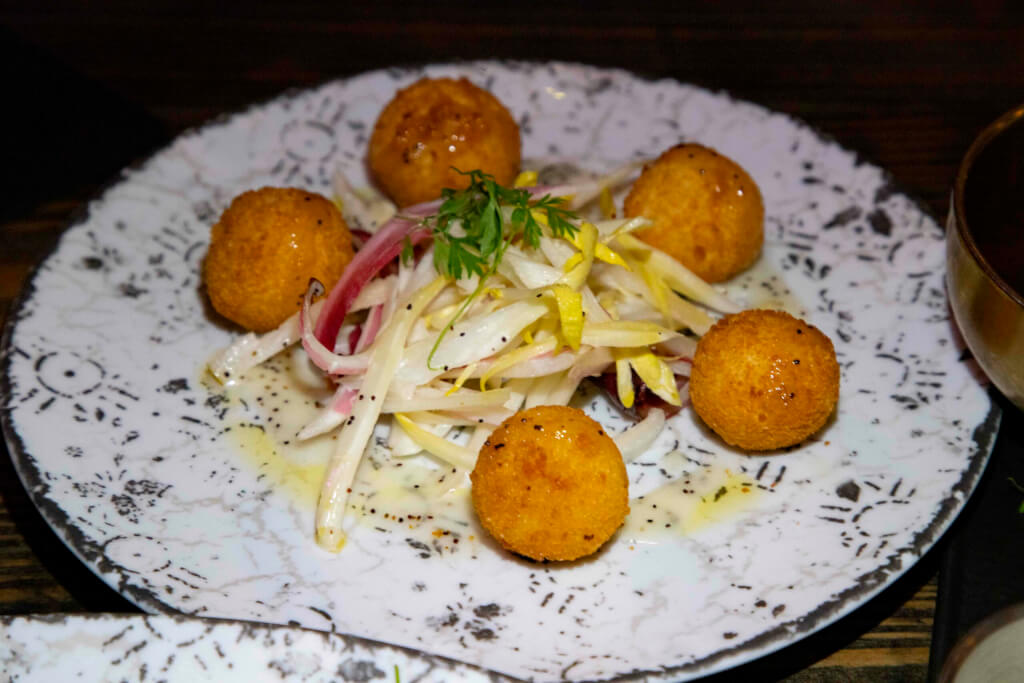 Ahi Tartare Tacos
This dish is no longer on the menu, but attempts to evoke the poke tacos that are so common in Hawaii. Here, however, they use a taro chip as the shell rather than a wonton chip. Overall, it was a good dish, though the ahi was so spicy I couldn't really taste anything.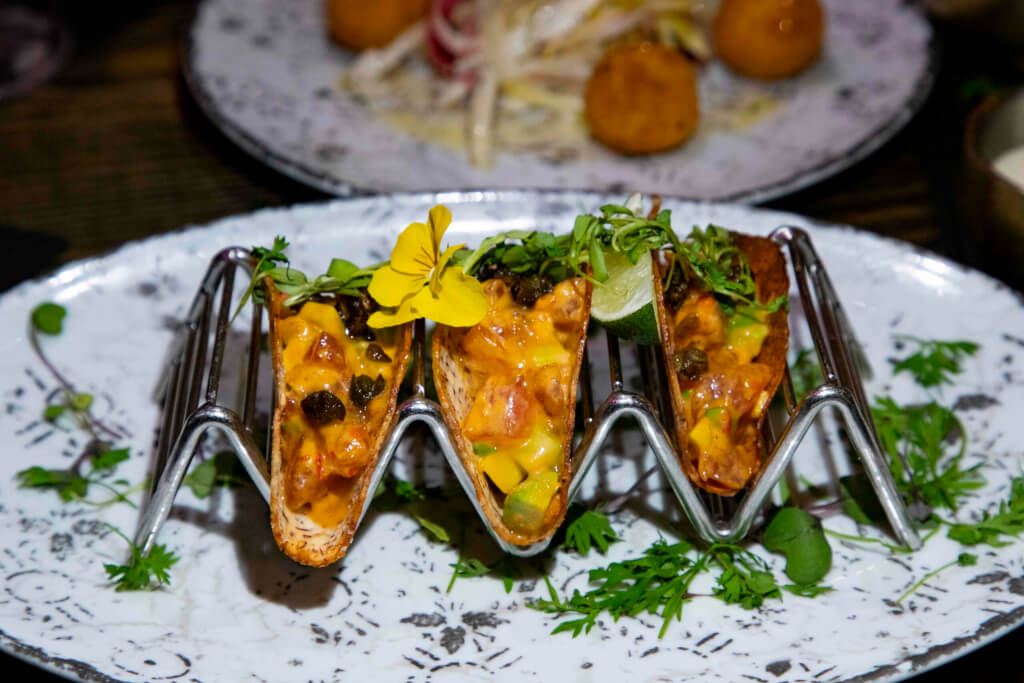 Truffle Potato Puffs
The menu states that these are crispy truffle croquettes with parmesan, parsley, and white truffle oil. These were ok. My BIL's mom makes WAY better croquettes at home. It's like getting dense mashed potatoes, breading them, and deep frying them. The truffle flavor is on the lighter side, which is probably for the better as truffle oil can have a strange, metallic taste to it. That said, this little bowl of "puffs" isn't worth $14.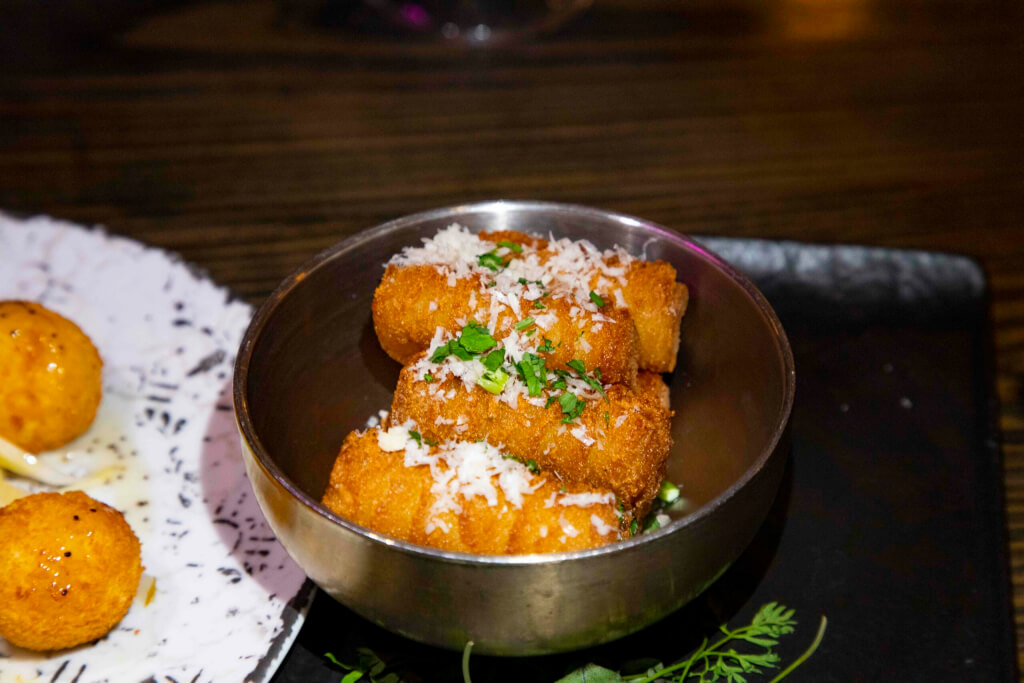 Truffled Potato Chips
What do I say? They're potato chips with a bit of salt and preserved truffle bits. This wasn't worth the $9, either.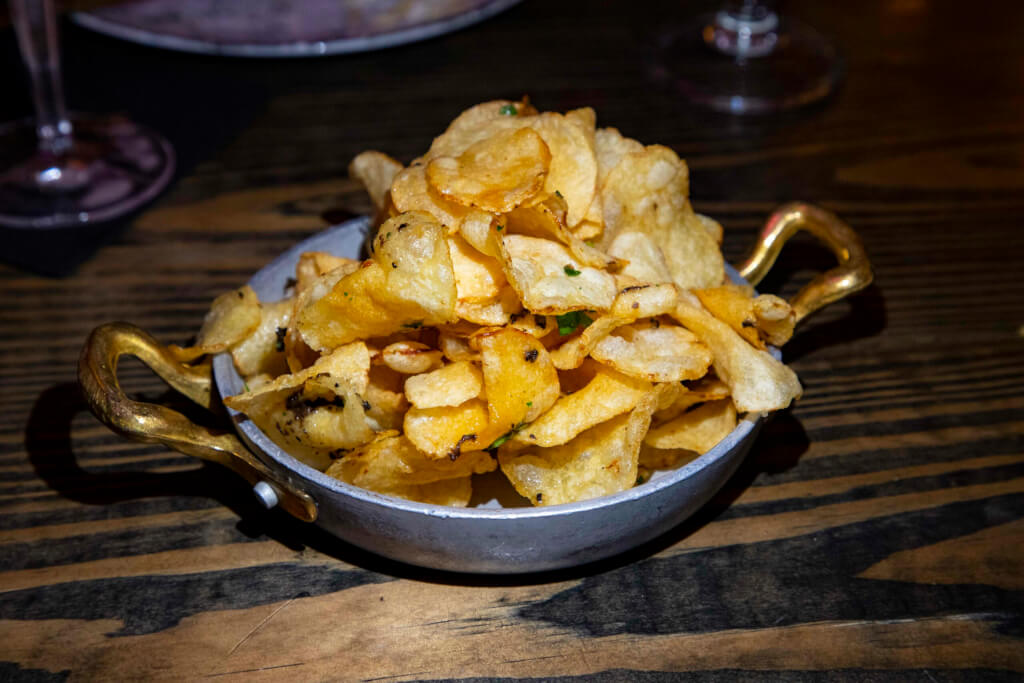 Vanderpump Rose Cake for Two
This is the dish that Mrs. Island Miler wanted to try the most. The menu states the cake is composed of Rosé infused sponge cake and strawberry buttercream. That, however, is not what we tasted. Instead, the cake had an overwhelming flavor of artificial strawberry. What a disappointment. The fact that it's cloyingly sweet doesn't help.
Final Thoughts
While the drinks were mostly good, the food and service at Vanderpump Cocktail Garden were a total letdown. We blew way past the $100 celebration meal cap and I ended up charging about $62 at the end of our visit, which I'm ok with as a one-off visit. And that exactly what this visit is going to remain. Everyone in attendance that night agreed that our experience was poor enough that none of us would return. We were all glad, however, to give the place a try. So if you're looking for a decent and interesting waterhole and aren't in need of any sustenance, go on and give Vanderpump Cocktail Garden a try. But if you're looking for drinks and eats, I'd suggest looking elsewhere.
This experience made me sorely miss the excellent but now closed Rose. Rabbit. Lie. at the neighboring Cosmopolitan.
Vegas + Irvine Trip Report
Vanderpump Cocktail Garden