My primary dining goal for our recent Las Vegas trip was to finally try e by Jose Andres. It was a reservation I was barely able to get in 2020, and the cancelation that stung the most. So it was sweet redemption when we finally made it there.
e by Jose Andres is an avant-garde restaurant by celebrity chef Jose Andres. The best I can describe it is a molecular gastronomy-packed dining experience. In fact, I consider e to be the West Coast sister of Mini Bar in Washington D.C. And like its East Coast sister, e by Jose Andres keeps you guessing from the very beginning. You don't know exactly what you'll get when you book, nor will you find out what your menu is when you sit down for dinner. In fact, we didn't receive a menu until AFTER we complete our meal. It was, however, an interesting and fun experience.
Booking e by Jose Andres
Much like trying to book the French Laundry, booking e! by Jose Andres can be challenging. After all, there are only two "shows" per night with roughly six to eight seats available per time slot. As is often the case with these types of experiences, you do need to book and pre-pay ahead of time, with reservations opening two months out (for example, March reservations opened on the first of this month). Unlike booking the French Laundry or Atelier Crenn, however, e! by Jose Andres doesn't use Tock – instead, they use a system called SevenRooms. What's more, you'll need make your wine pairing decisions at the time of booking and will need to notify the restaurant of special occasions and dietary restrictions at this time.
e by Jose Andres Location
Like Sushi Sho Waikiki, e by Jose Andres is a restaurant within a restaurant. In this case, e! is located within Jaleo Las Vegas which itself is inside the Cosmopolitan of Las Vegas. In fact, when you go to check in, you'll do so at the Jaleo host stand. Once you do, they'll seat you at a reserved table along the outside of the restaurant and offer you a glass of cava along with other beverage options.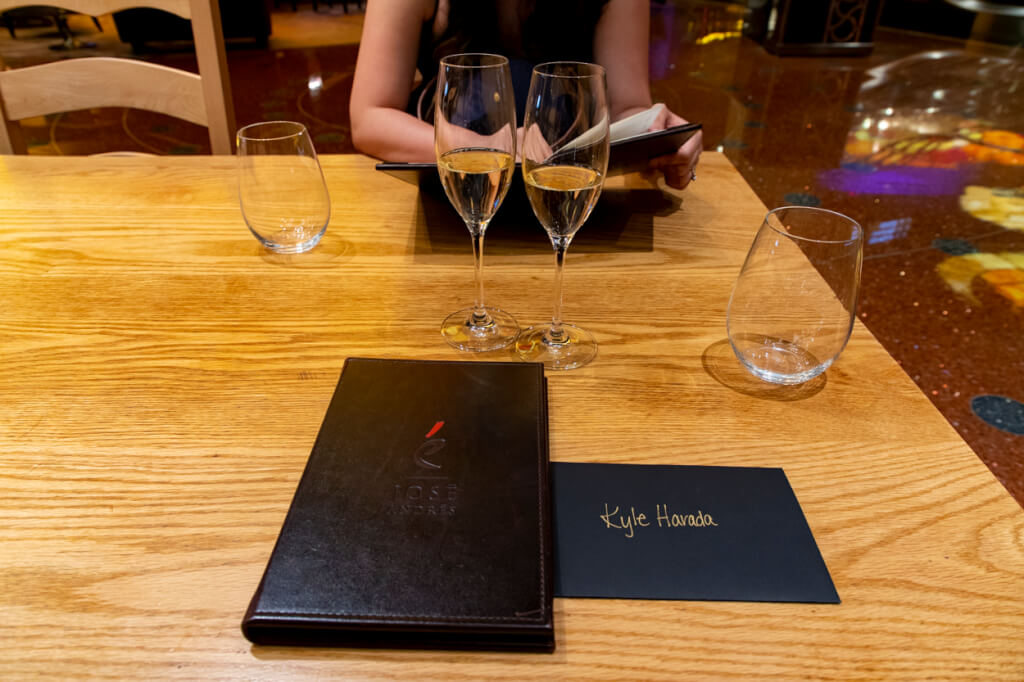 The e by Jose Andres Experience
Your experience at e by Jose Andres will likely vary greatly from mine. In fact, the menu has the potential to change daily. So, while I'll cover what we ate, don't expect to see the same items when you head in. That said, when our reservation time rolled around, the staff came to collect the diners and lead us into the whimsical back room. Upon entrance, I immediately noticed a two black truffles on display, while the chefs were already busily preparing what would be our second course.
First Course – Olive Branch
As you can see in the above photo, our first course was already in front of us as we took our seats. In this case course one consisted of branches made of olives studded with carrot flowers and served with a "Marcona almond." The branch tasted strongly of black olive with a pleasant brininess, which is cut by the sweet, vegetal carrot flowers, which tastes a lot like the root. The Marcona Almond was a crunchy shell filled with an almond cream.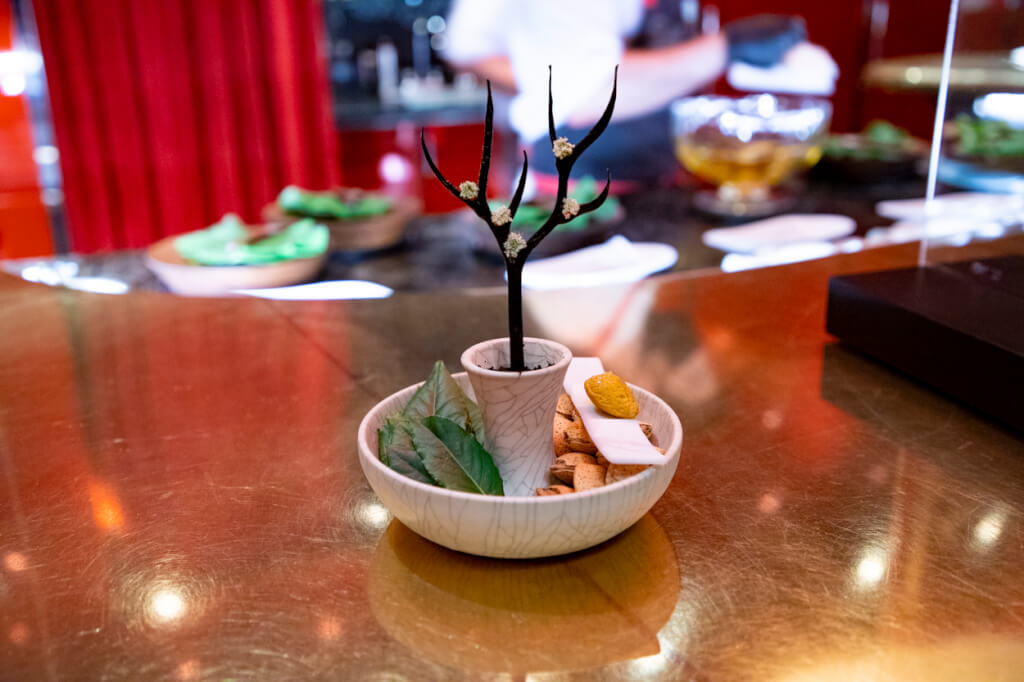 Second Course – Spherified Cava Cocktail
As it turns out, the dish our chefs were working on during course one was a spherified cocktail. For those of you not familiar with the technique, spherification is a molecular gastronomy technique in which a liquid is turned into a sphere with an impossibly thin skin formed by itself. In this case, the liquid was Spanish Cava with flowers, citrus peel, and mint. It was a tasty and refreshing cocktail that was very interesting to consume. We were instructed to put the whole thin in our mouths at once and lightly press it against the roof of your mouth. With almost no pressure at all, the sphere burst in my mouth, filling it with the very fizzy cocktail. Fun!
Third Course – Spanish Pizza
Course three was the signature "Spanish Pizza" made with Idiazabal cheese and topped with fresh black truffle. In this case, the crust was more of a cheese cracker with a very thin layer of powdered pizza sauce, dots of cheese sauce, and a few leaves of baby basil and shaved black truffle. Note: I was a little disappointed by the use of summer black truffle rather than Perigord Truffles, especially with the price we paid. But, at the end of the day, this was still a tasty dish.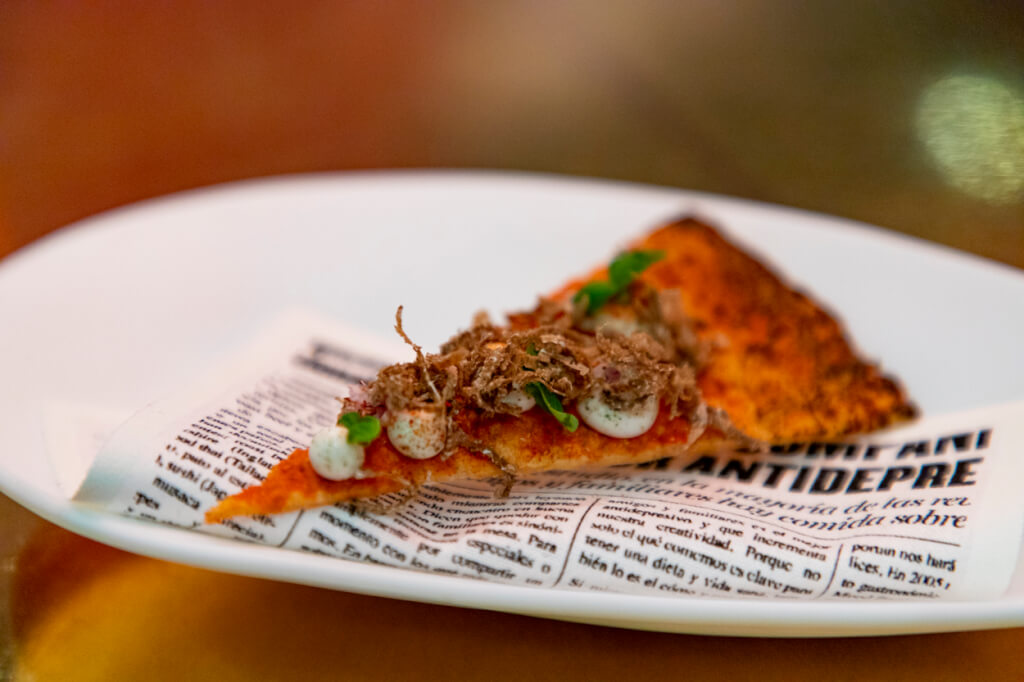 Fourth Course – Wonder Bread
As we ate our pizzas, the staff was hard at work assembling our next truffle-laden course – Wonder Bread.
As you can see, this next dish is a sandwich of sorts using what the team jokingly refers to as Wonder Bread. Sure, it looks like the white bread of our youth, but it is not. In fact, the bread isn't even bread at all. Instead, it's some sort of airy, crisp, green apple concoction. Sandwiched in between the bread was slices of crisp peach, foie gras, and more truffle.
This dish ended up being my favorite of the night. The texture of the fruity, tart "bread" was a fantastic counter to the rich foie gras along with the crisp, sweet-tart peach, and the earthy, umami truffle. Sublime.
Fifth Course – Oyster Cracker + Caviar
Next up, we got an oyster cracker with Royal Osetra Caviar. Here, this isn't the oyster cracker you'd typically see served with soup. Instead, its a crack made of oyster topped with dollops of Osetra Caviar. It was a crunchy and briny dish in which the oceanic flavors of the crack help to reinforce the briny, nutty, sweet caviar.
Sixth Course – Hand of Jose Taco
Next up is something that was on Jaleo's menu when we went – Jose's Taco. Only, this isn't like any taco you've had before. Sure, the presentation style is interesting, but that's not what I'm talking about here. Rather, it's the combination of umami-packed, salty Jamon Iberico along with briny caviar. Oh, and gold. This is a dish the exudes luxury, along with a healthy dose of salt, fat, and a enormous punch of umami.
Hot Towel
After the greasy Jamon dish, we were presented with hot towels to clean our hands. This would also be our last finger food dish.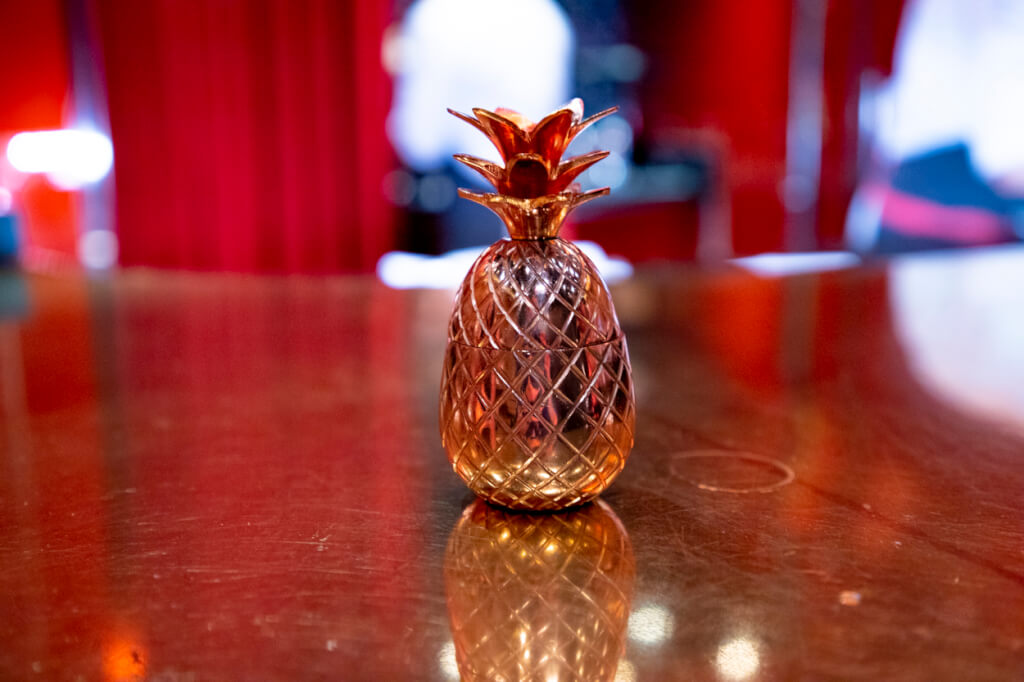 Seventh Course – Mussel Escabeche
For our seventh course, our team presented us with their interpretation of mussel escabeche. Here, accompanying the mussels are spherefied olives, citrus air, and mandarin orange segments. It was an interesting dish pairing the briny, meat mussels with the sweet-tart citrus, and briny-bitter olives.
While we were enjoying this dish, however, we were distracted by prep being done on our next dish. Namely, the use of liquid nitrogen was giving us quite the show!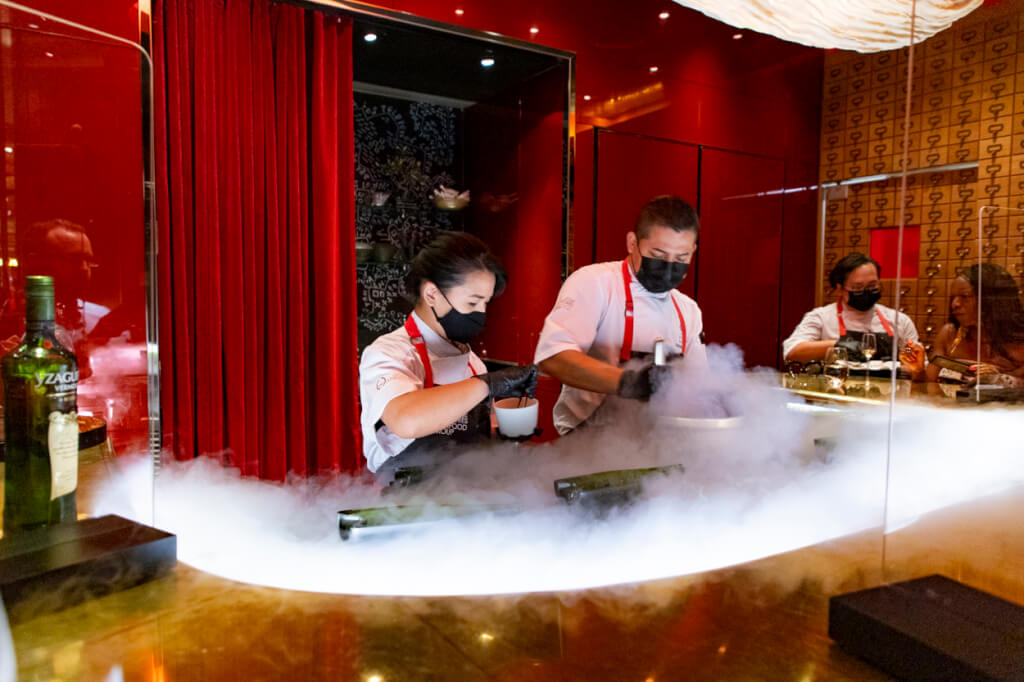 Eighth Course – Edible Sangria
At this point, we were presented with a palate cleanser. But, in classic e! by Jose Andres fashion, this wasn't your average palate cleanser. Instead, it was an "edible" sangria. In this case, it was sangria turned into a powdery snow of fruit and wine. That said, despite its playful appearance, this dish tasted strongly of wine and packed an alcoholic punch. It didn't bother me too much, but I was starting to feel all of the alcohol we consumed to this point. But, remember, I'm a lightweight.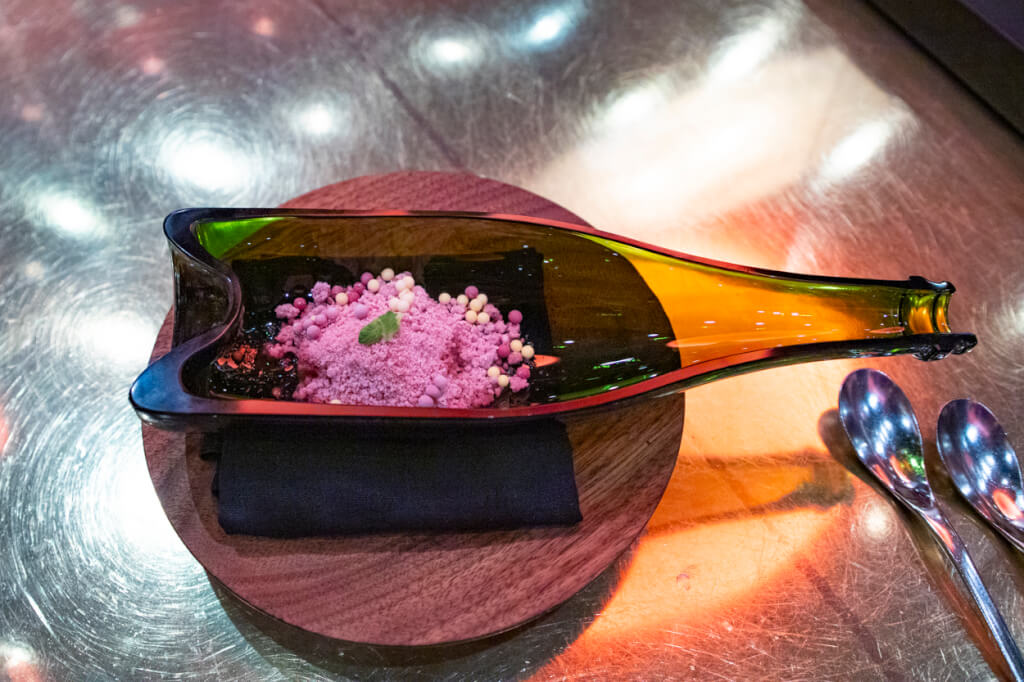 Ninth Course – King Crab
This next course was another one of my favorites and was the first one that you could truly call a warm dish. Here, we were presented with a small bowl of warm, shredded king crab meat accompanied by a vile of king crab essence, and a spoon of bread crumbs. The intensely flavored and salt crab essence was a perfect match to the sweet, sweet crab meat and crunch, buttery bread crumbs. This is, by far, the best king crab dish I think I've ever had. It really does make eating king crab with drawn butter overrated!
At this point, one of our crew came out with a huge tomahawk American wagyu steak that would reappear later on.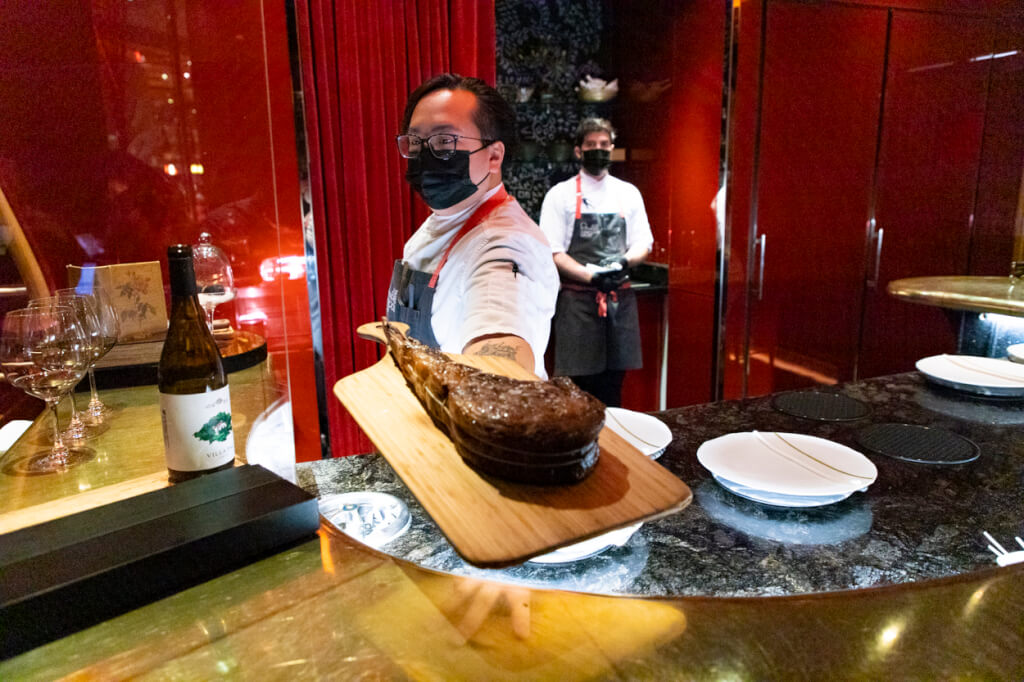 Tenth Course – Fluke
This dish was another winner for me. Here we had fluke with Mediterranean-inspired salsa, squid ink, almond cream, lemon zest, and fried basil. In this preparation, the squid ink in dehydrated and used to coat the fluke like breadcrumbs. This method works fiendishly well with the squid ink lending some much needed salt, along with flavor complexity to the delicate fish. And as you'll notice here, the salsa is presented like sea grapes.
Eleventh Course – Wagyu Rib Cap, Short Rib, and Loin
Remember that wagyu tomahawk from earlier? It re-emerged after the fish broken down into specific cuts. We were each presented a place with a slice of rib cap, short rib, and loin, accompanied by liquid potato gnocchi and truffles. As you might have guessed, the gnocchi are a spherified liquid once again. The beef itself was good, but wasn't all that memorable, unfortunately. It was a little tough for wagyu, despite being cooked perfectly. If I'm honest, the quality of the beef was slightly disappointing. You could, however, taste the difference between each individual cut. Plus, the gnocchi were very good.
Eleventh Course – Cotton Candy Empanada
Course ten is, unfortunately, where our savory dishes end. For course elven, we were presented with an empanada made of cotton candy. Inside, however, was foie gras and corn nuts. Now, cotton candy isn't something you'll typically catch me eating. Consisting of pure surge, it's something that I find far too sweet for my liking. And, indeed, this dish was borderline to sweet for even me. But the rich, creamy foie gras and crunchy, salt corn nuts worked outstandingly well together here. The dish was an alchemy of textures and flavors that was probably my favorite dessert course of the night.
Course Twelve – Cheese
I'm going to level with you guys – I really don't remember what the hell this was, nor do my notes make any sense. What I can tell you, though, is that it was a cow milk cheese course with hazelnut gnocchi hidden under a layer of cotton candy. To eat it, we were instructed to mash the cotton candy layer down into the other components. And like the prior course, this one was quite good. The cotton candy pairs nicely with the salty, almost pungent (in a good way) cheese.
While we were enjoying our cheese course, our sommelier began preparing a dessert drink for us. This was some sort of spiced coffee rum punch, I believe.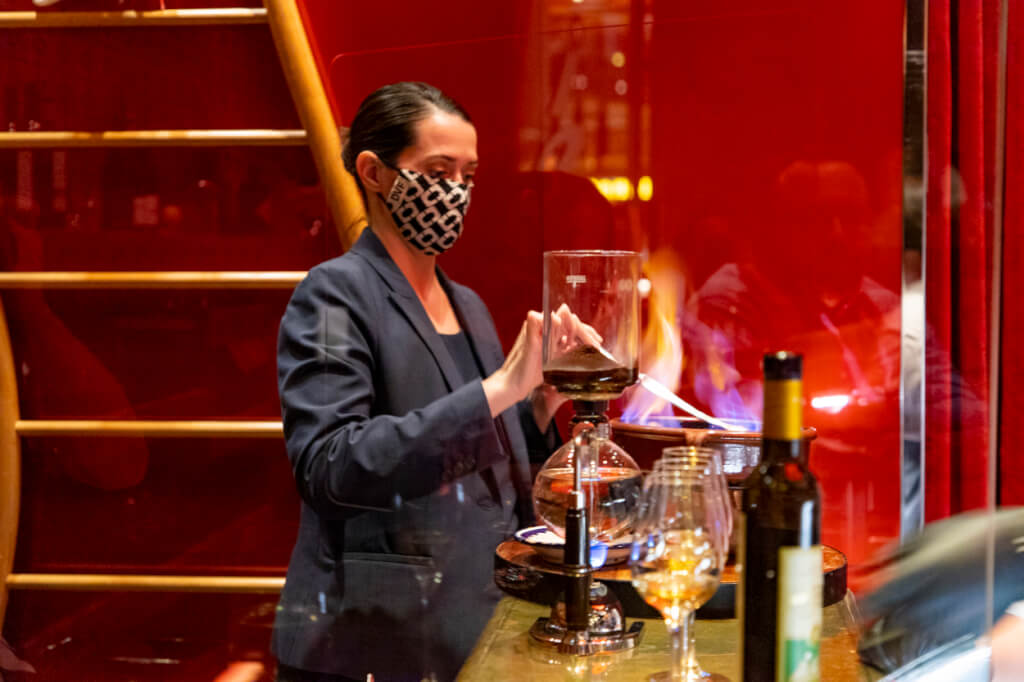 Thirteenth Course – Marcona Almond Cloud
Next up, one of our chefs began cutting these sponge cake-like squares out of a container. However, his cutting didn't sound like cake, they sounded more crunchy. And when we dug into these Marcona Almond clouds, they were icy. In fact, I think these clouds are made of frozen Marcona Almond milk. They're very light on their own, so the pool of elderflower toffee they're sitting in helps to provide some additional flavor and richness.
Fourteenth Course – Rum & Coffee + Caramelized Bread
Next up was the rum and coffee concoction that was being prepared during our previous course, along with a dish called caramelized bread that came with a frozen chocolate sand. The dessert dish itself had a vaguely chocolate-spice flavor, while the warm coffee provided a pleasing balance to it all. Now, normally, I'm not a coffee drinker. But this coffee with its rum, caramelized sugar, cinnamon, and lemon peel, was as delicious as it was intriguing.
Fifteenth Course – Ferraro Rocher
Taking inspiration from something more humble once again, the culinary team presented us with their interpretation of a Ferraro Rocher. Here, however, you have dark chocolate covered whole hazelnut wrapped in edible gold foil in a bowl of chocolate dirt. It was much less sweet than the original confection and was even a bit savory.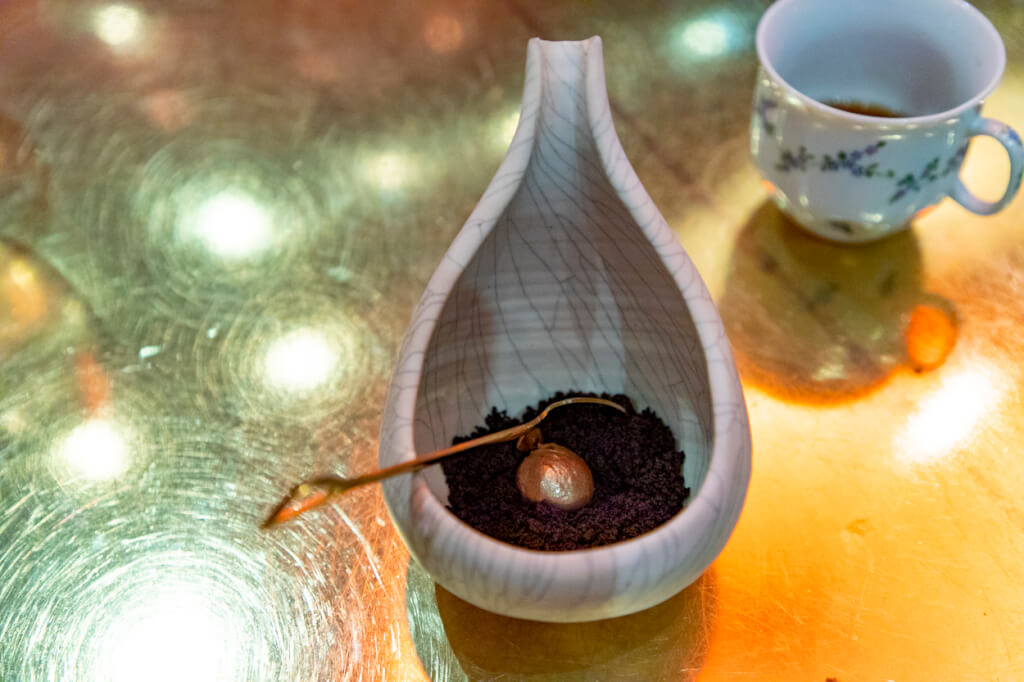 Petite Fours
To end the meal, we were each presented with a plate of petite fours. On offer that night were a milk chocolate bar with saffron, a dark chocolate bar with raspberry, an olive oil gummy with violet, and white chocolate air with citrus. Of the selection, I found the gummy to be the most intriguing, though all were a bit sweet for my liking.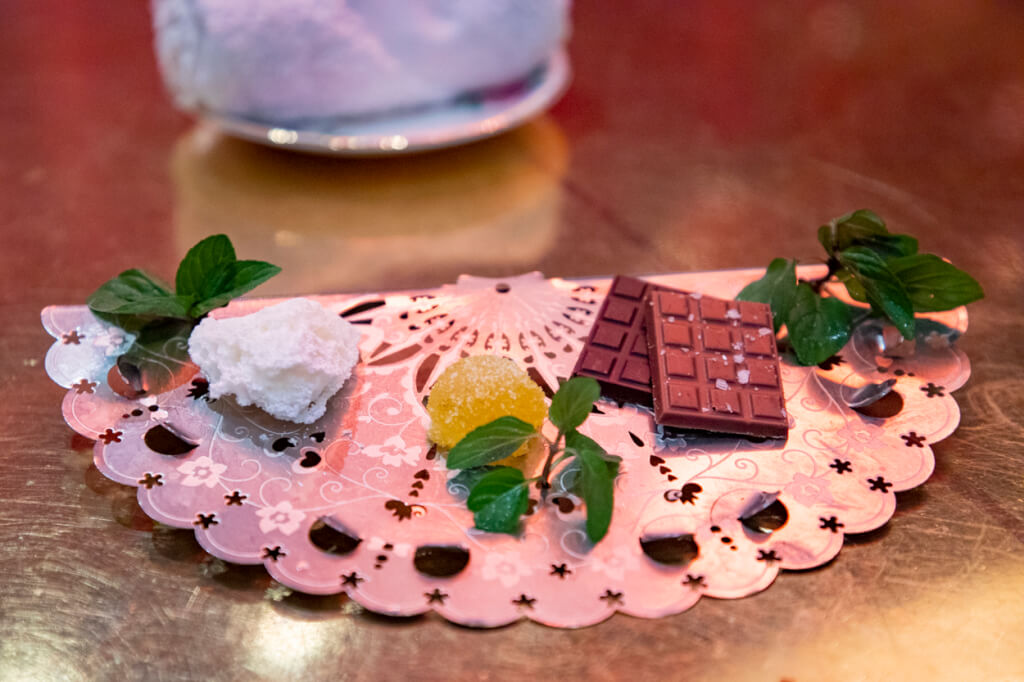 Closing Out the Night
At the end of the meal, our culinary team vanished and then reappeared all together to do a bow of sorts. This was, after all, a performance. The lead chef hung around for a few minutes to field some questions, but everyone else scurried into the kitchen. I assume they were rushing to prepare for the next seating and wonder if they hang around more if you attend the later seating? Aside from closing out our tabs – if you needed to do so – that was it for the night.
Mrs. Island Miler and I hung around to take a few extra photos, but we headed out shortly after.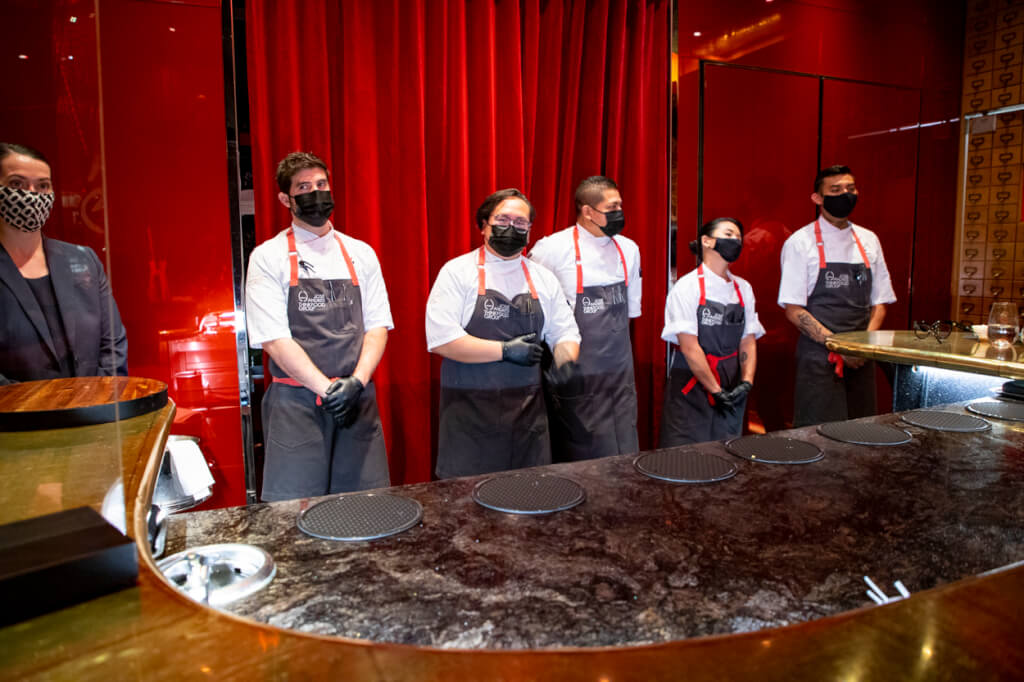 Final Thoughts
I'm glad I finally got to try e by Jose Andres and had a wonderful time. Most of the food was fantastic, though I do wish there were more savory dishes. In fact, I was sorely disappointed that there was a total of six sweet dishes. I think that's overkill and left the restaurant feeling over-sugared. Thankfully, the walk back to Aria Resort helped to burn off some of that. But, still. I was also disappointed by the fact that inferior products were used in our experience, including summer black truffles and American wagyu, given the steep $750 tab we paid (tax and tip included).
Perhaps I built the experience up in my head a bit too much? Or maybe things were the way they were because of the pandemic? I'm not sure. What I will say, however, is that, again, I'm glad I finally got to try the place. I would not, however, return. But don't let that sentiment discourage you from giving them a try. This is definitely one of those places that I feel are worth experiencing at least once. And take solace is the knowledge that Jose Andres' Think Food Group does amazing things with their profits such as World Central Kitchen. In fact, while I admire Jose Andres as a chef, I do believe that his efforts at World Central Kitchen are, perhaps, even more admirable.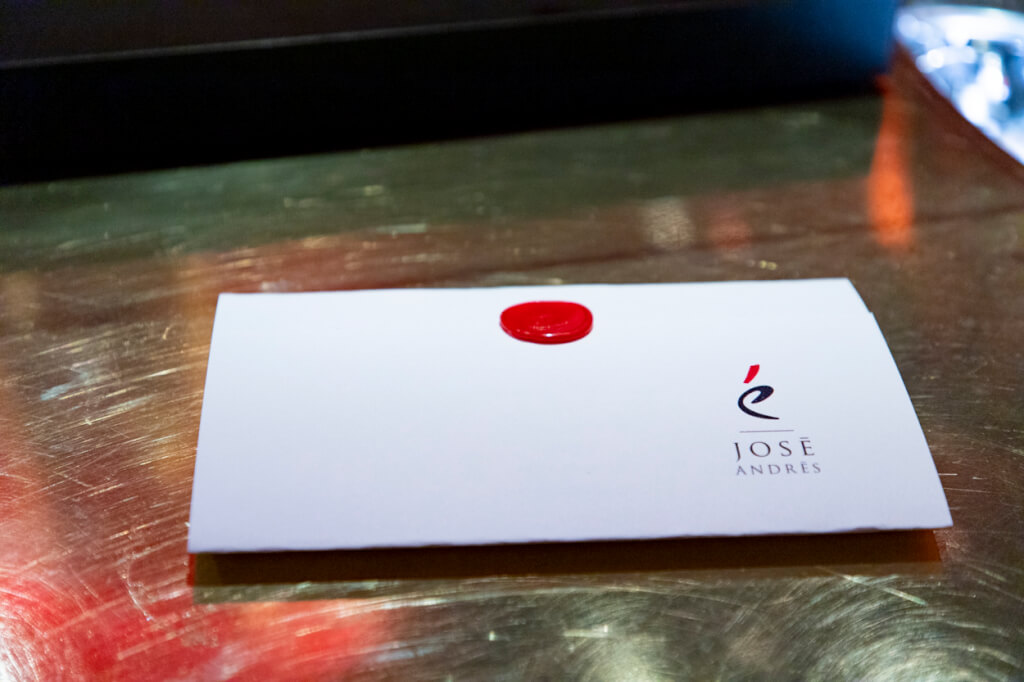 Vegas + Irvine Trip Report