As our time in Vegas came to a close, we had one more restaurant to revisit. This is a restaurant that both Mrs. Island Miler and I enjoy and one that we wanted to take her family to. So let's do a Bazaar Meat Las Vegas revisited post.
The last time we came to Bazaar Meat Las Vegas was back in 2017. Four years later, not a lot has changed, aside from some service changes necessitated by the pandemic. Oh, and the hotel it's in is no longer the SLS Las Vegas – it's the Sahara now.
Bazaar Meat Las Vegas Revisited
Approaching the restaurant, it looks exactly as I remember it from our last visit, even if the casino around it no longer looks the same. Well, the LED ceiling is new, but that's about it.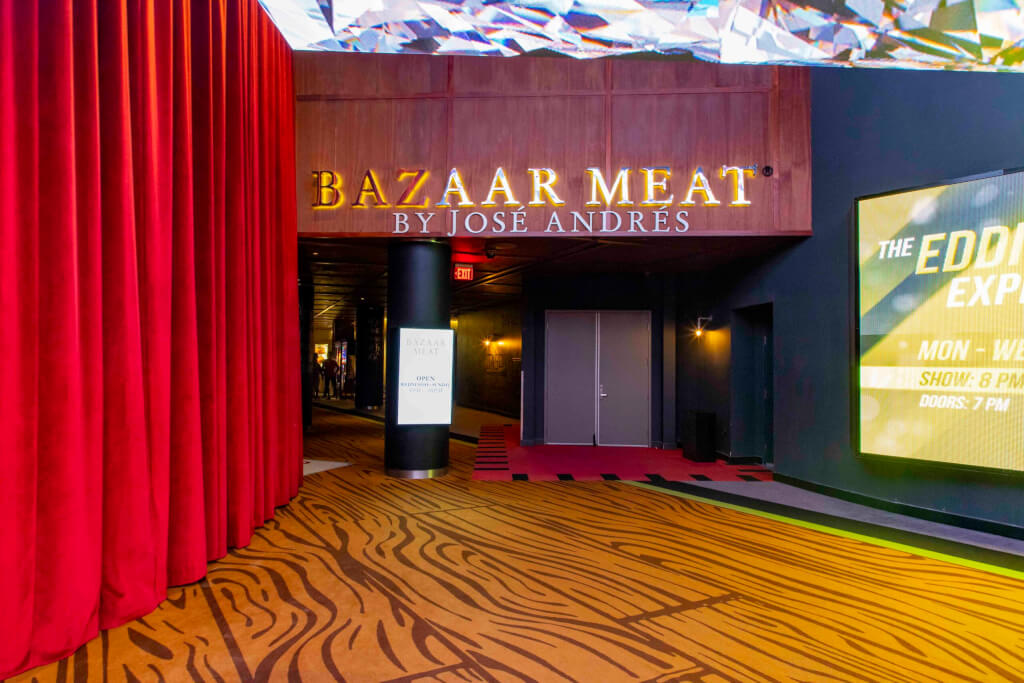 Service
From the moment we stepped in, the service was excellent. The hosts were friendly and quick, while our server was knowledgeable and as attentive as he could be. Now, there were times where he disappeared longer than we'd like, but I think that's because he was slammed. I got the feeling that the restaurant was understaffed but that everyone was doing their best and kept their composure well.
Menu
The menu at Bazaar Meat Las Vegas is essentially the same it was from our first visit. Sure, some items were changed up a little bit, but not by much, so we went in knowing more or less what we wanted. That said, let's get into it.
Ferran Adria Olives
Given that everyone likes olives, we ordered the signature Ferran Adirà Olives ($16). Inspired by a similar dish at the famed El Bulli, you get a set of spherified olives and traditional Spanish olives stuffed with anchovies, cheese, and peppers. Everyone enjoyed these as they were both tasty and fun to eat, especially for those who have never had molecular gastronomy before.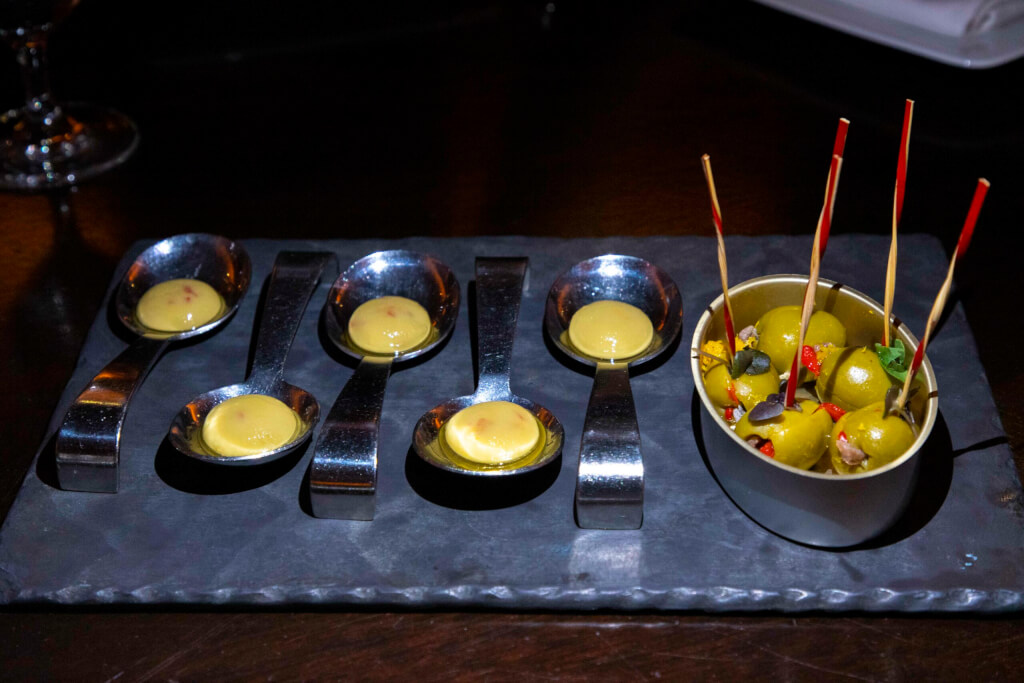 "Beefsteak" Tomato Tartare
My father-in-law wanted a salad, so our server recommended the "Beefsteak" Tomato Tartare ($26). The presentation strongly resembles traditional beef tartare, which is the point but is entirely vegetarian. Our server mentioned that it takes them days to make thanks to an incredibly complex process designed to enhance the flavor and texture of the tomato. The dish also incorporates calamata olives and comes plated with balsamic vinegar and a bowl of iced little gem lettuce. Mrs. Island Miler and I didn't try it because we went into dinner already, not hungry. However, everyone else gave it a try and said it was one of the best things ever.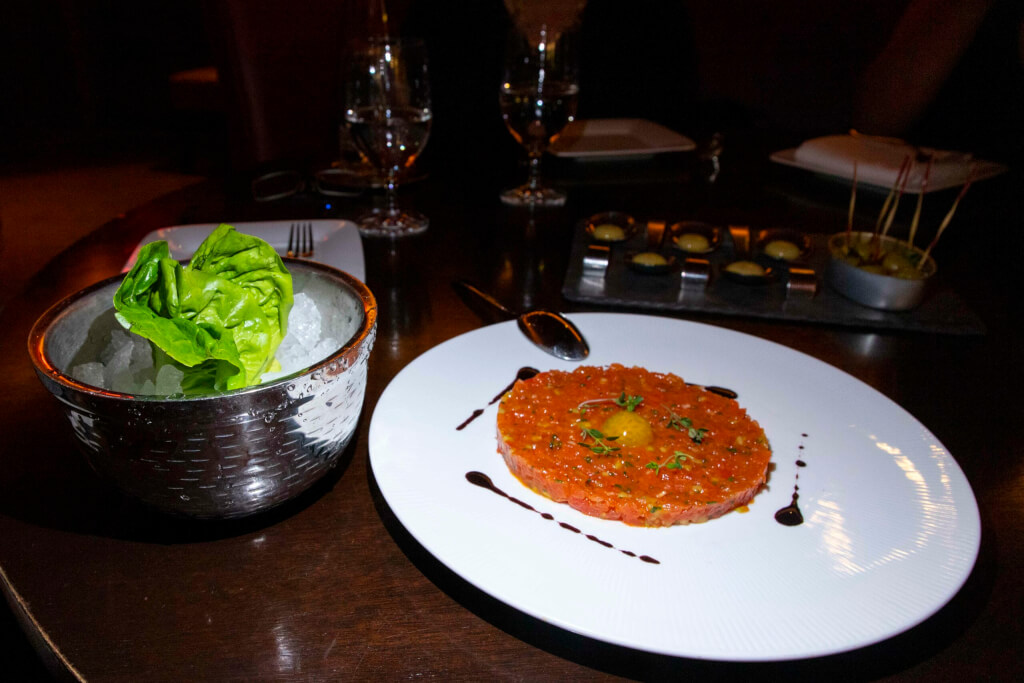 Bagel & Lox Cone
Everyone at the table likes bagels and lox, but not necessarily ikura. So, since the Bagel & Lox Cones ($6) are among our favorite items at Bazaar Meats Las Vegas, we decided to order a round for everyone. Of course, everyone loved it. It's a bagel chip cone with chive cream cheese and salmon roe. What's not to love?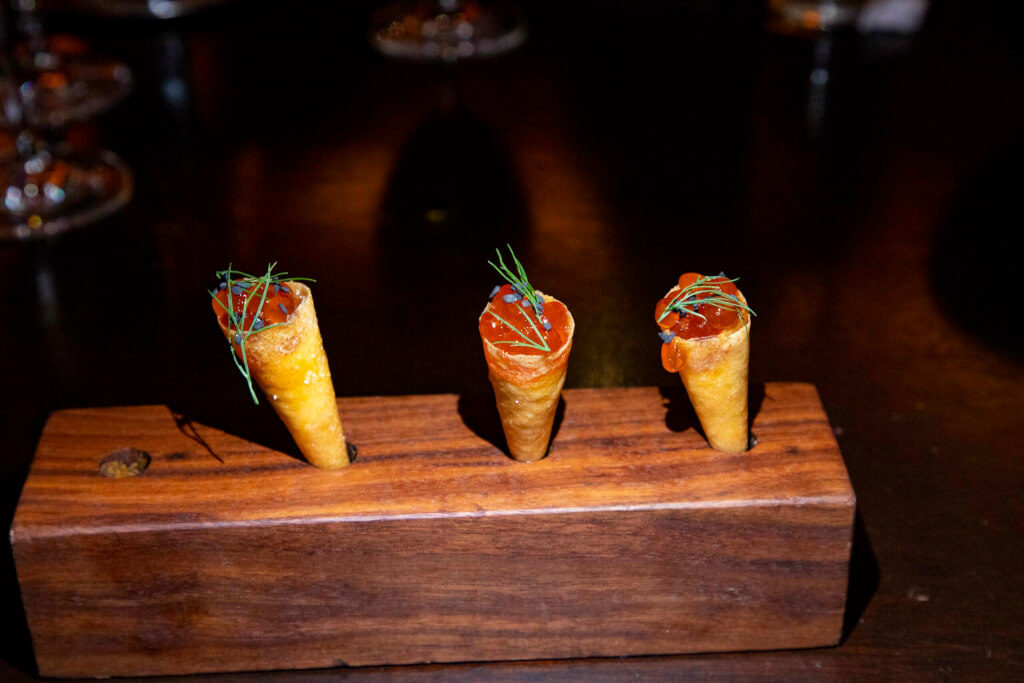 Jamón Ibérico De Bellota Cinco Jotas
One of the things you can't come to a José Andrés restaurant and not order, in my opinion, is Jamón. After all, real Spanish Jamón is damn near impossible to find in Hawaii and Andrés serves among the best. On this occasion, we went with the Cinco Jotas ($40 per ounce), which comes from Andrés' hometown of Andalucía, Spain. That made it a no-brainer to me. Naturally, it comes with a side of Pà Amb Tomàquet – pan de cristal rubbed with fresh tomato. Needless to say, the jamón is exceptional. It's funky in a good way, meaty, and the fat just melts and coats your entire mouth.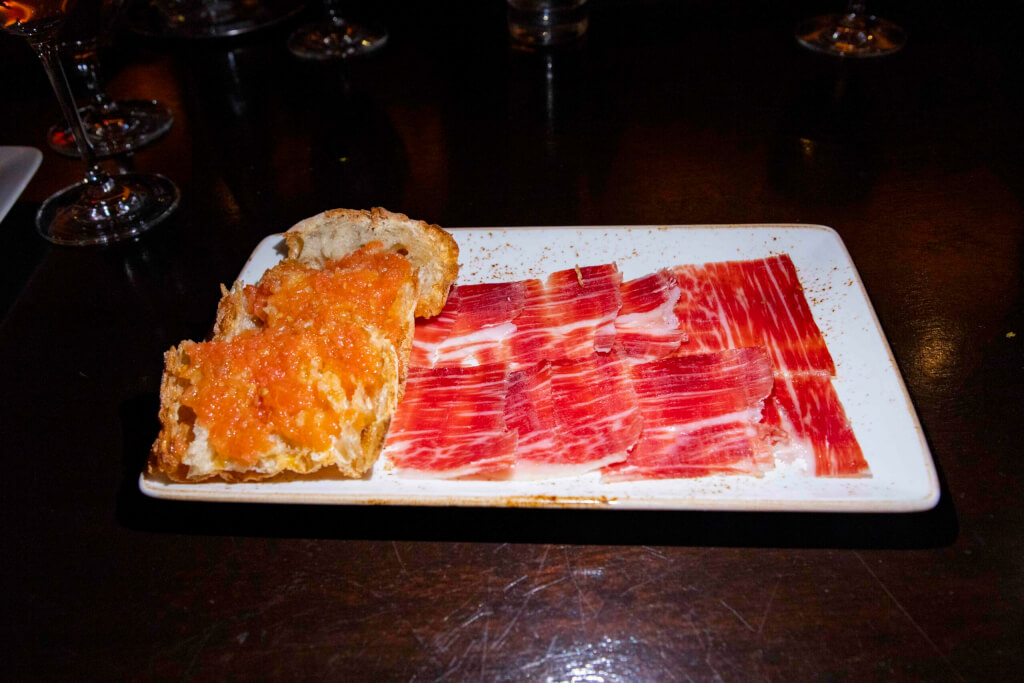 Satsuma A4 Wagyu Tenderloin – Kagoshima Prefecture
For one of our two entrees, my father-in-law ordered the Satsuma A4 Wagyu Ternderloin from Kagoshima Prefecture ($35/ounce). While it wouldn't be everyone's main, he wanted to share with the table and, per our server's recommendation, he ordered four ounces. For all Japanese wagyu, your cuts are prepared ishiyaki tableside and comes with a side of wasabi and micro greens. I didn't try any, but everyone that did was thoroughly impressed. My father-in-law is a wagyu lover, so he was very happy with this.
Wagyu/Black Angus Ribeye Chuleton – Rosewood, Texas
As we did during our first visit, we ordered a Wagyu/Black Angus Riebey Chuleton from Rosewood, Texas ($78/lb). These big boy steaks are served by the pound and on this night, the only one they had was a 2 lb steak. Much like last time, the steak is cut into its separate components, includin the cap and eye. However, unlike last time, the steak isn't cut tableside, which is a pandemic consideration. Still, the service is impressive and it's a big, tasty steak.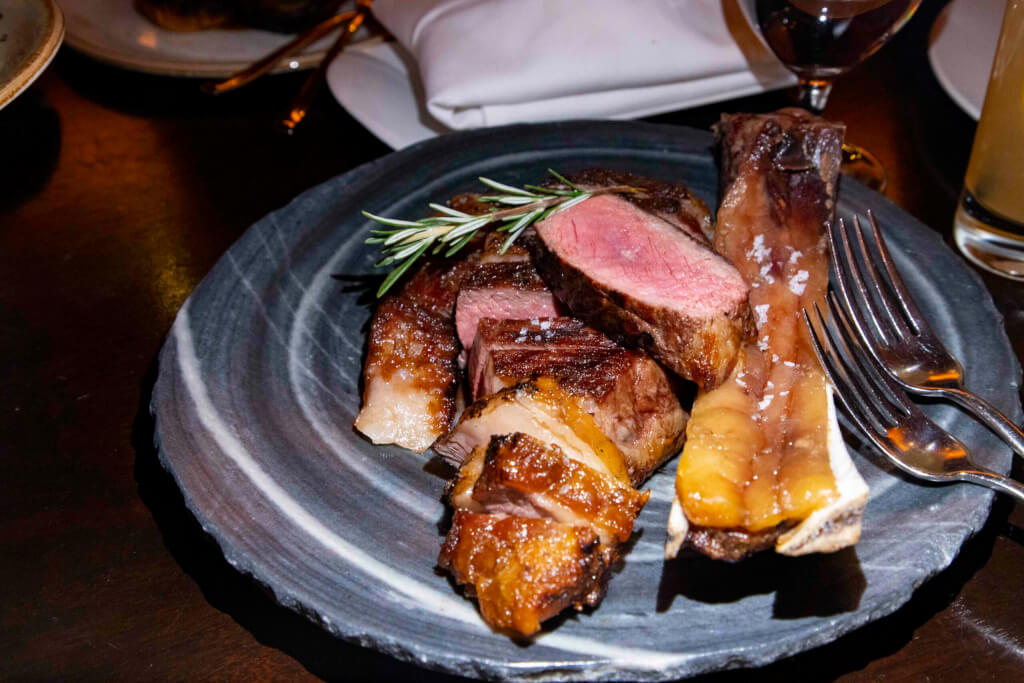 Setas al Ajilo
Just like our first visit, we paired our steak with the Setas al Ajilo ($15). What's not to love? grilled button mushrooms with garlic and nasturium. These were exactly as we remembered.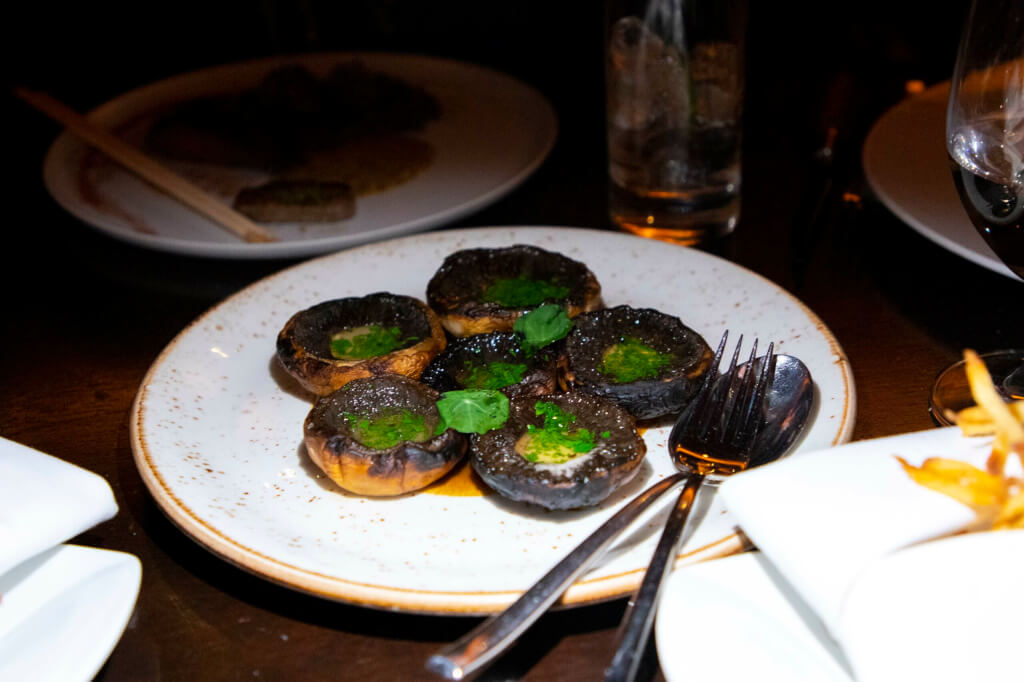 Shoestring Fries
This time we opted to get some potatoes in the form of Shoestring Fries ($13) which comes spiked with salt and malt vinegar. These were crispy, light, airy, salty, acidic deliciousness.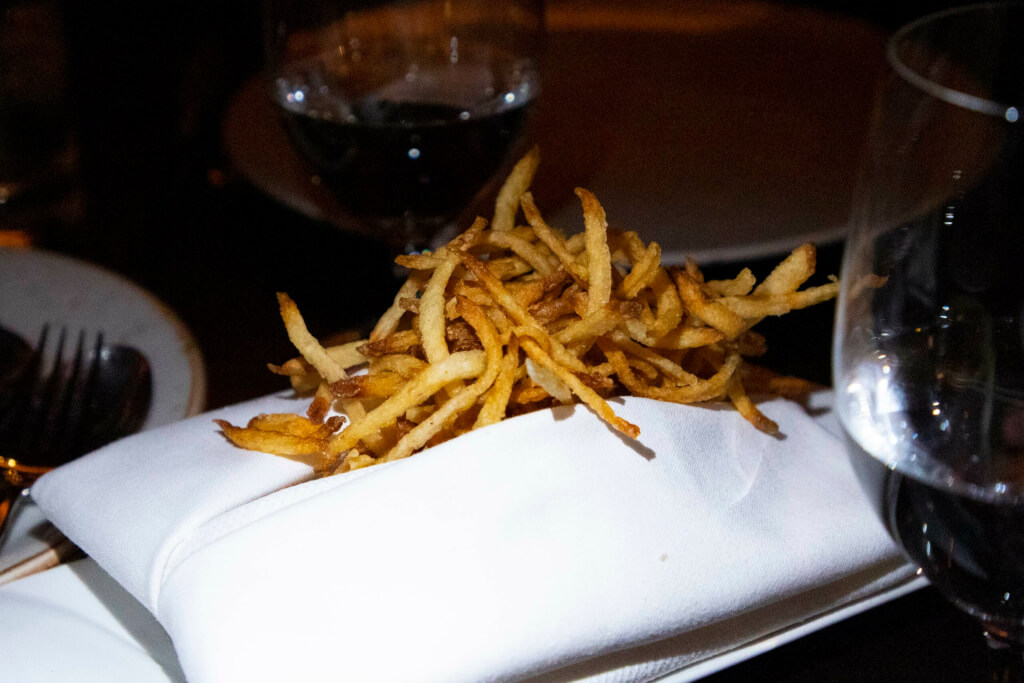 Sweet Little Selections
To close out the night, Mrs. Island Miler and her sister split a Sweet Little Selections ($25) dessert sampler and we tacked on an extra two Dark Chocolate Eclairs ($6). I didn't try any of the desserts aside from my eclair, which was good, but isn't anything special. That said, the sampler is fun and is the next best thing to the dessert cart the used to have. Hopefully, the cart will come back one day. Our server confirmed that they're not using it right now thanks to the pandemic.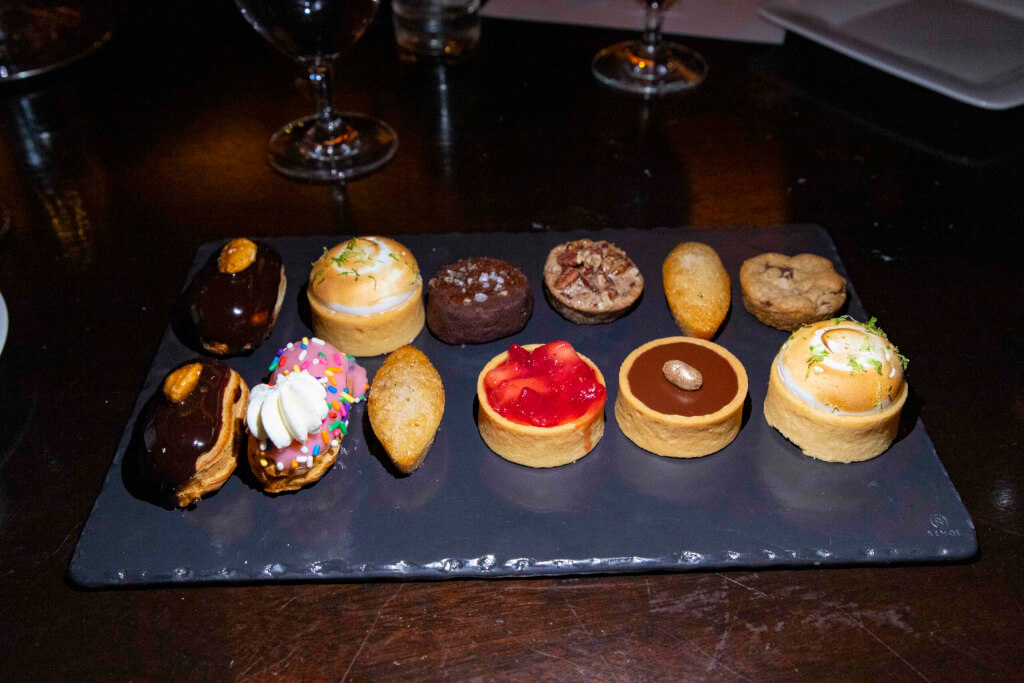 Final Thoughts
Our visit to Bazaar Meat by José Andrés didn't disappoint – nor did I expect them to. They've upheld their standards – staffing shortages aside – throughout the pandemic, which is hardly what I can say about other establishments. So when in Vegas, head over to Bazaar Meat by José Andrés at the Sahara Las Vegas.
Too bad for me, this would be the last time I could eat regularly on this trip. But, more on that later.
Vegas + Irvine Trip Report
Bazaar Meat by José Andrés