Finally, the last installment of my trip report from over a century ago in April 2019, my flight home. And, as regular readers will know, I fly Alaska. This time, that flight was Alaska Air 851 SEA-HNL.
With a full-on circus going on at the Centurion Lounge, I headed to my gate early. And that's fine, as the trek across the airport takes a little while. After all, Alaska's Hawaii flights usually depart from the SEA's North Satellite, while the lounge is in B Concourse. Plus, it gave me a little more time to plane spot. Also, thanks to ongoing construction at SEA, the gates I usually fly out of were closed. So, I had to find my way to this different gate and check out parts of the newly renovated North Satellite.
Boarding
In what was a first for me, our flight was weight restricted due, so no gate checking of bags were being allowed. I would've panicked a bit at this thought, given I had a rollaboard filled with candy and whatnot, but I had Group B boarding thanks to my Premium Class seat, so I wasn't too worried.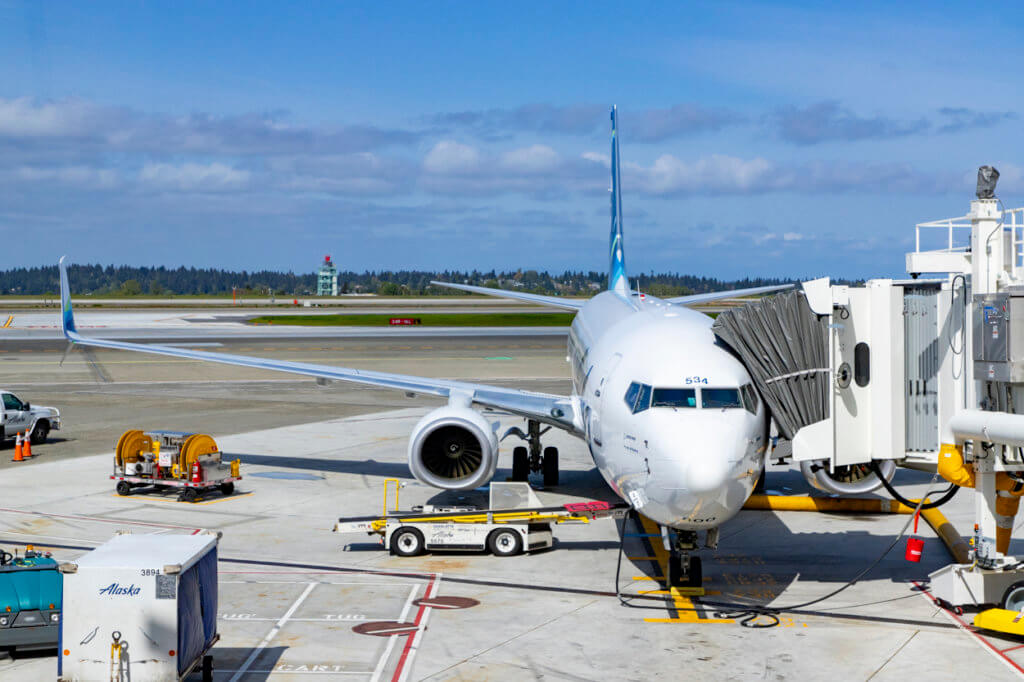 The scheduled boarding time for my 12:05 pm departure time was 11:25 am. Pre-boarding began at 11:25 am, followed by military personnel at 11:29 am, First Class at 11:32 am, and Group A at 11:35 am. My group, Group B, was called at 11:35 am. The entire boarding process took 36 minutes to complete, with the door closing at 12:01 pm.
Seats
I assigned myself seat 8A, which is a window seat on the port side of the aircraft in the third row of Premium Class. While our aircraft had Alaska's newer livery, the interior was still the older version. In fact, I have yet to fly on an aircraft with the updated interior. But, that's ok. My seat was still plenty comfortable.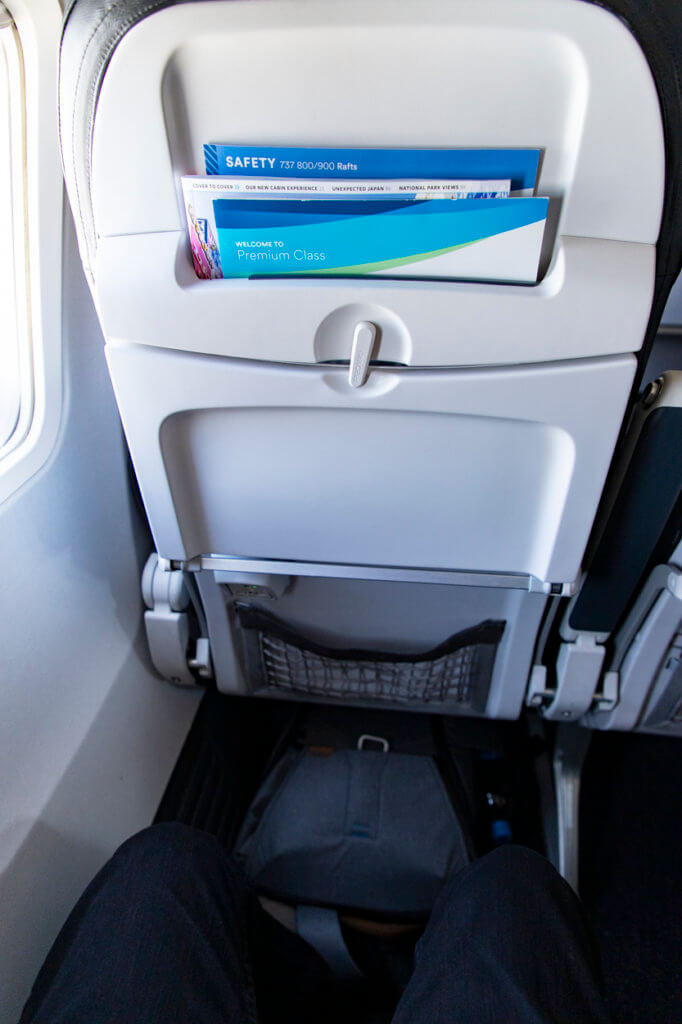 The problem with these older configurations, though, is the lack of overhead storage space. Especially since this plane didn't have the Boeing Sky Interior. Luckily, I had no issue finding space for my bag.
Departure
Four minutes behind schedule, our aircraft began its pushback at 12:09 pm.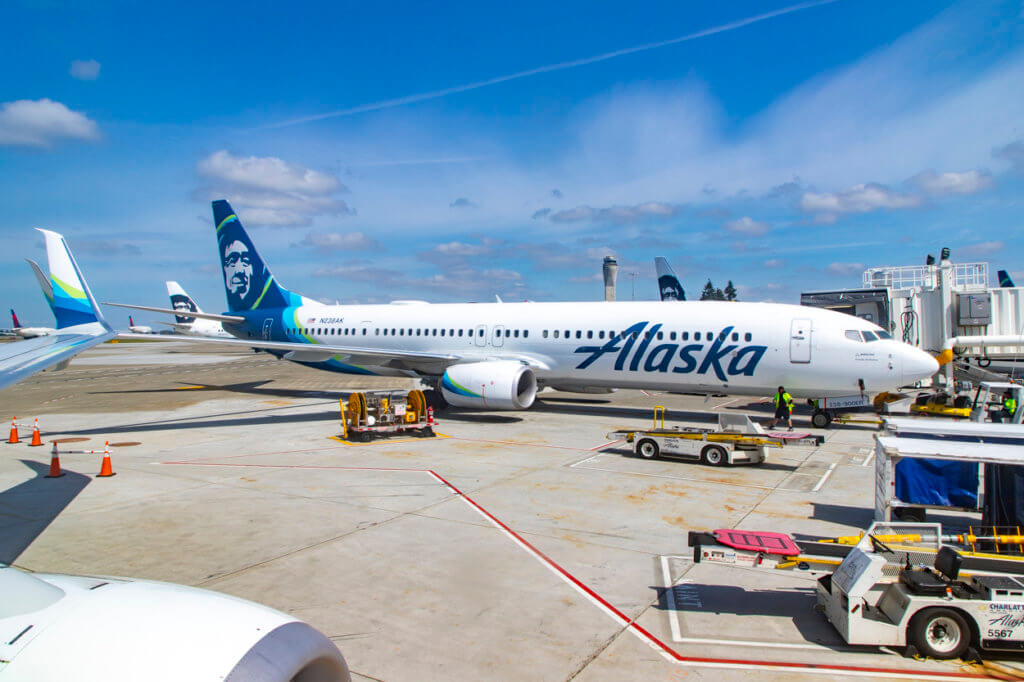 It was a GORGEOUS day in Seattle, which is a bit uncharacteristic for this time of year. But, it made for some fantastic plane spotting during our very quick, four-minute taxi to runway 16C.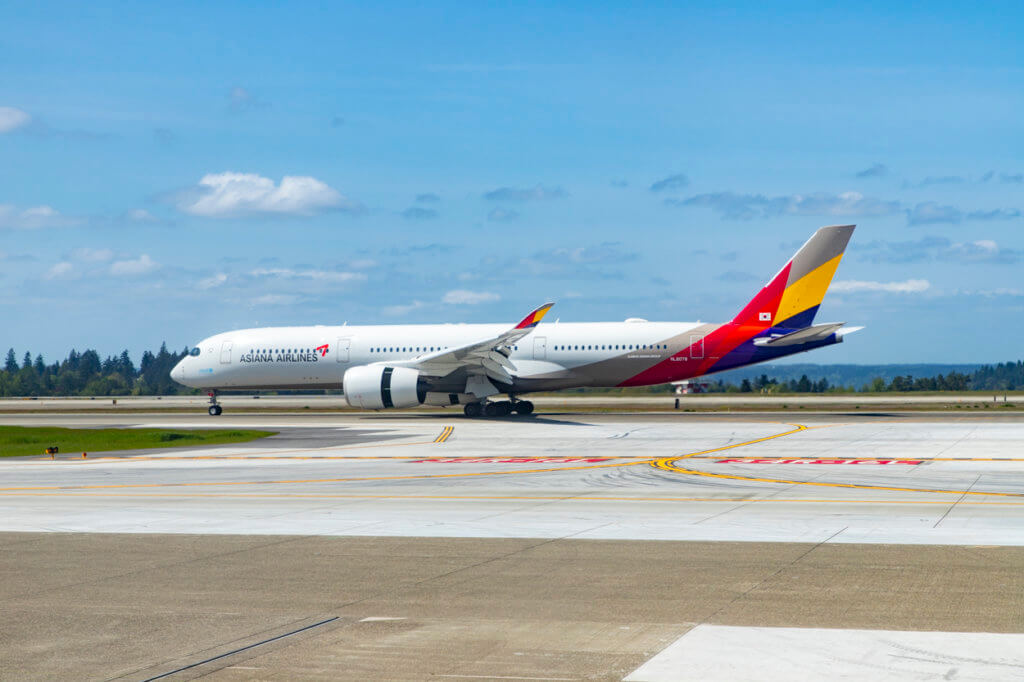 Once we got to our departure runway, our captain notified us that we were number 9 for departure. By his estimate, we'd have to hold for about 10 minutes.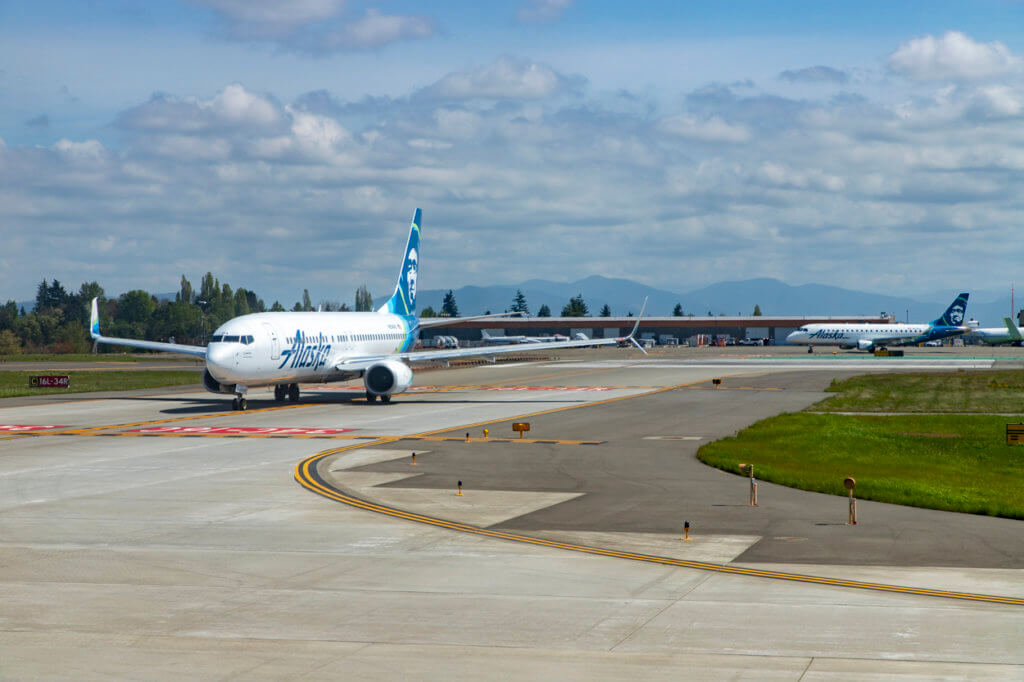 And, you know what? His estimate was spot on! 10 minutes later at 12:23 pm, we began our takeoff roll.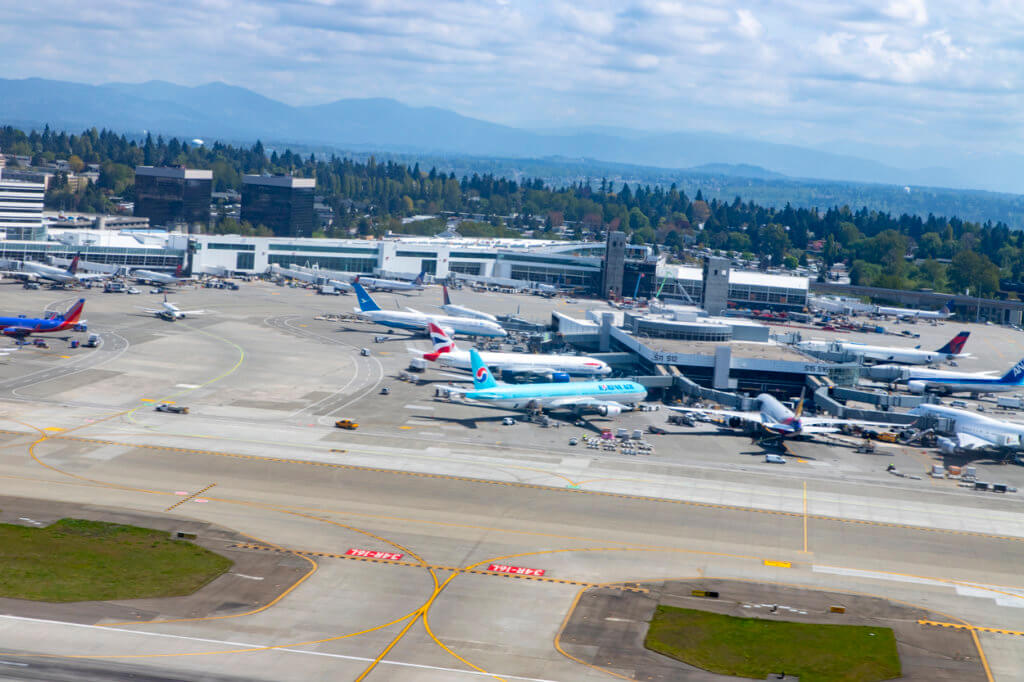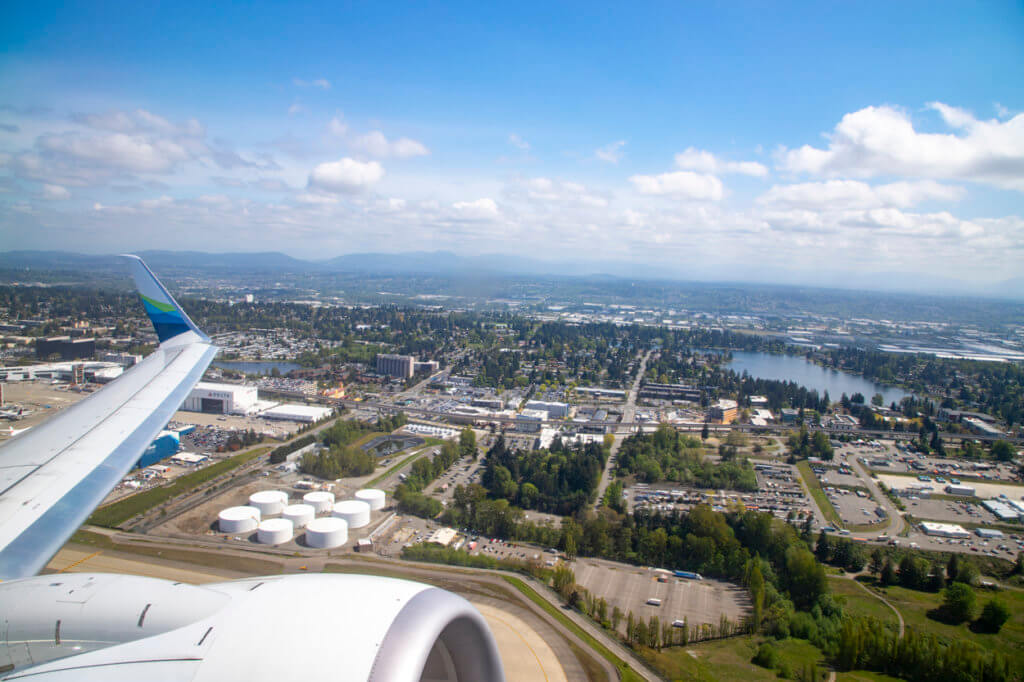 For once, I could see Mount Rainier on our climb out, as well as much of the rest of the Cascades. Unfortunately, despite the gorgeous weather, the sky was rather hazy. As a result, my Mount Rainier photo came out pretty poorly.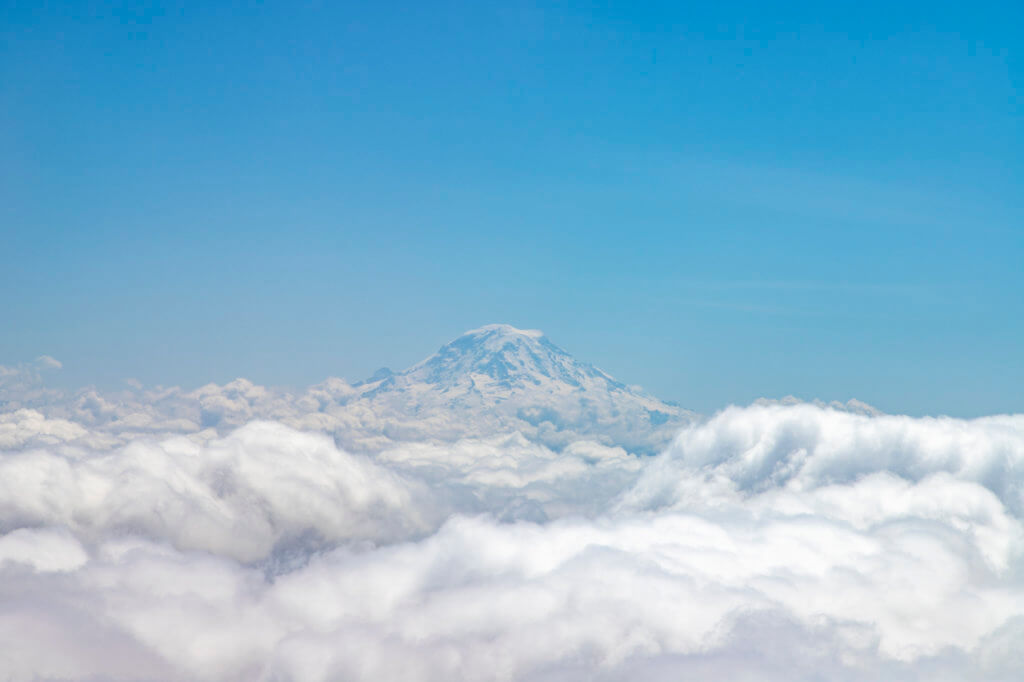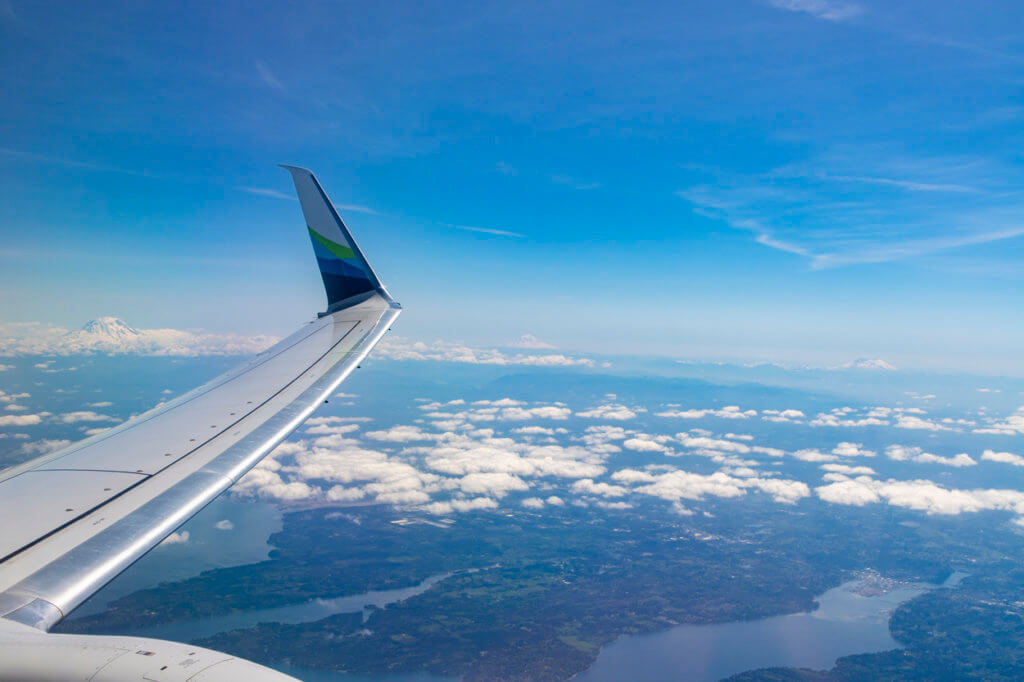 At least I had a great view of the Tacoma Narrows Bridge, right?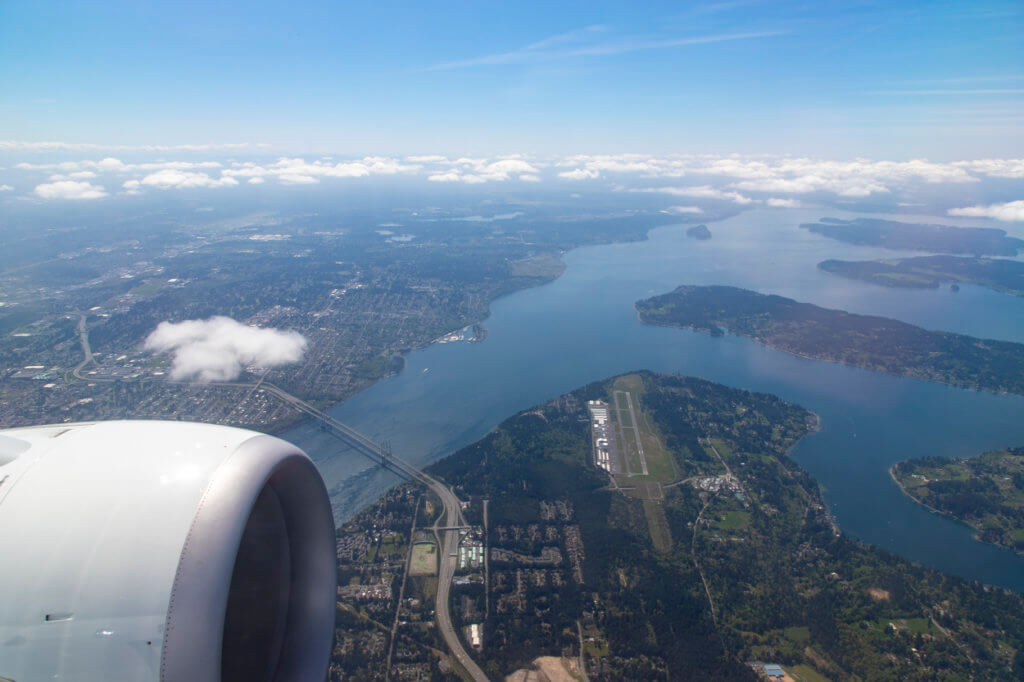 Our captain estimated that our flight would last 5 hours and 35 minutes, which would put us in Hawaii ahead of schedule.
Service
We quickly climbed to 10,000 feet, and shortly after departure, at about 12:40 pm, our flight crew began service. I pre-ordered a turkey sandwich, which I received along with a gin and ginger and a bag of barkTHINGS dark chocolate preztel bark.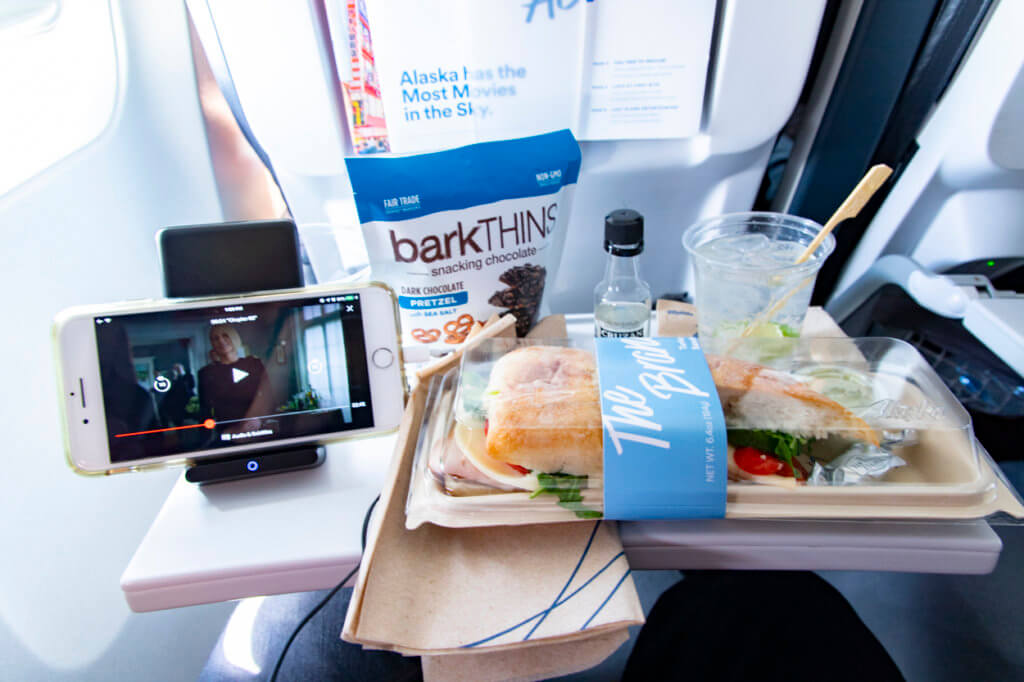 The sandwich was ok – I've had better on Alaska. But, it was tasty enough and was better than some food I've had on other airlines in first class. The sandwich, by the way, came with a side of pesto aioli to spread on your own, and a piece of Seattle Chocolate's Dark Sea Salt Toffee truffle.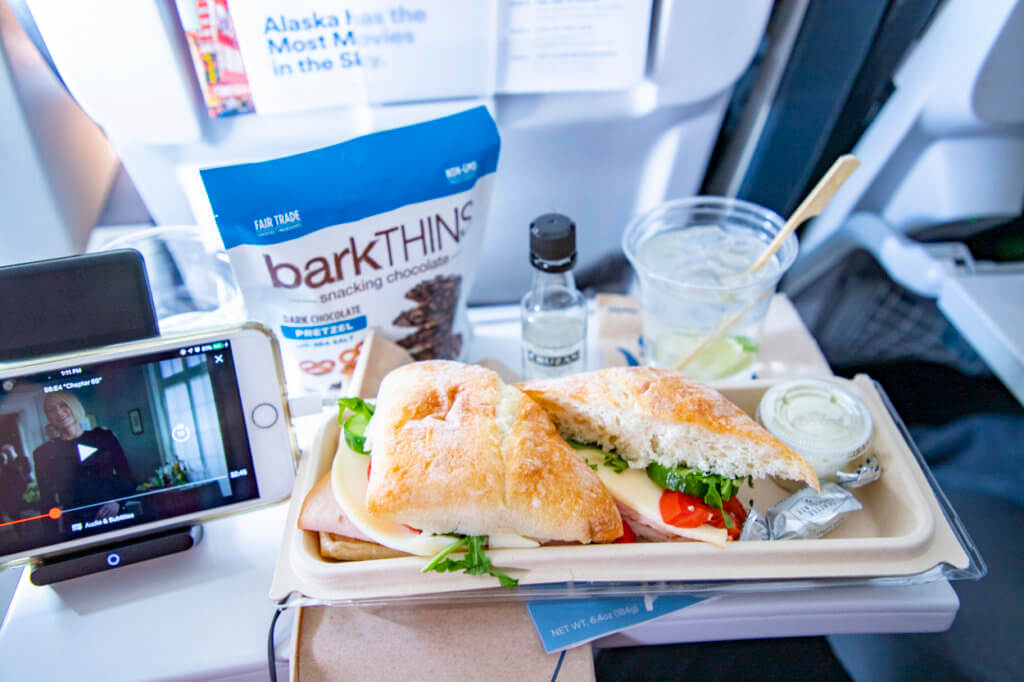 My booze came in a tiny bottle accompanied by a cup of ice, ginger ale, a lime wedge, and a stirrer.
Cruising
The fantastic weather held as we sped across the Pacific. There was, however, some low-grade turbulence throughout the flight. And that's pretty typical for flying to Hawaii.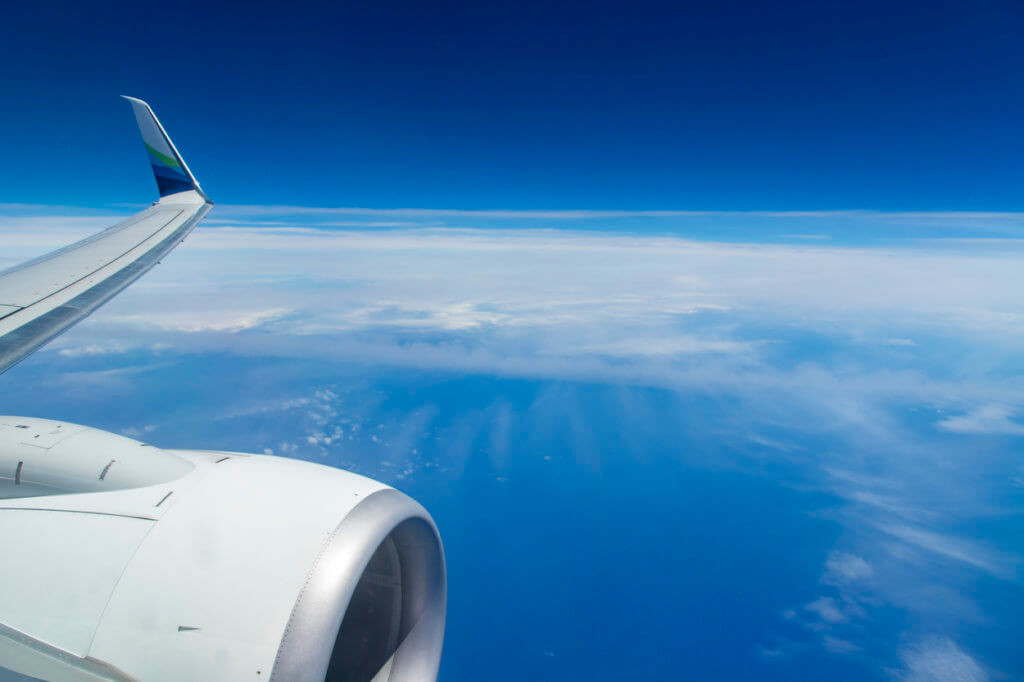 The weather was so clear, in fact, that I could see Pualani racing in the other direction on her way to the PNW. She was flying quite a bit higher than us, though.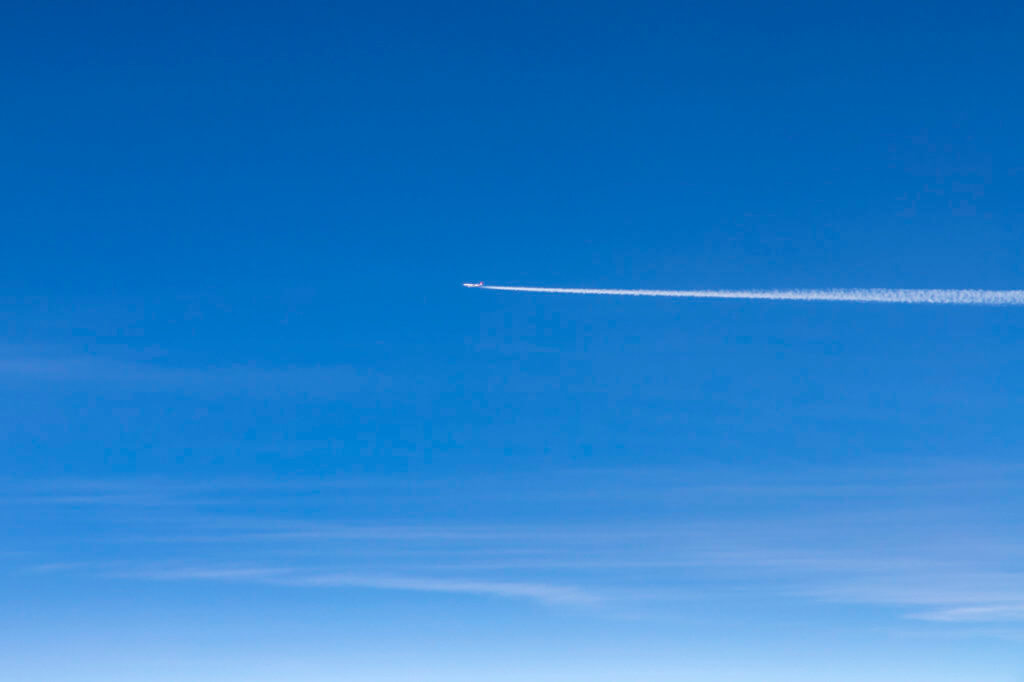 Descent + Arrival
Five hours into the flight, at around 2:29 pm HST, we began our initial descent. And, as is usually the case on flights to Hawaii, the tops of Haleakala, Mauna Kea, and Mauna Loa came into view.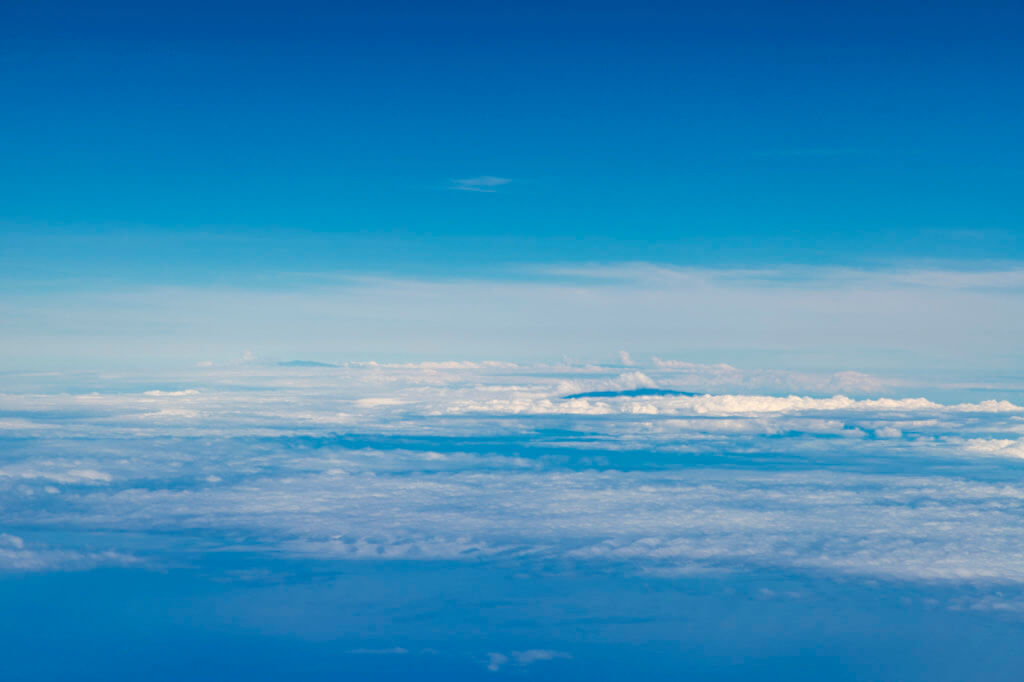 Then, 10 minutes later, we were approaching Oahu's east coast. Only, this time, I got fantastic views of my favorite hike – the Makapuu Lighthouse Trail.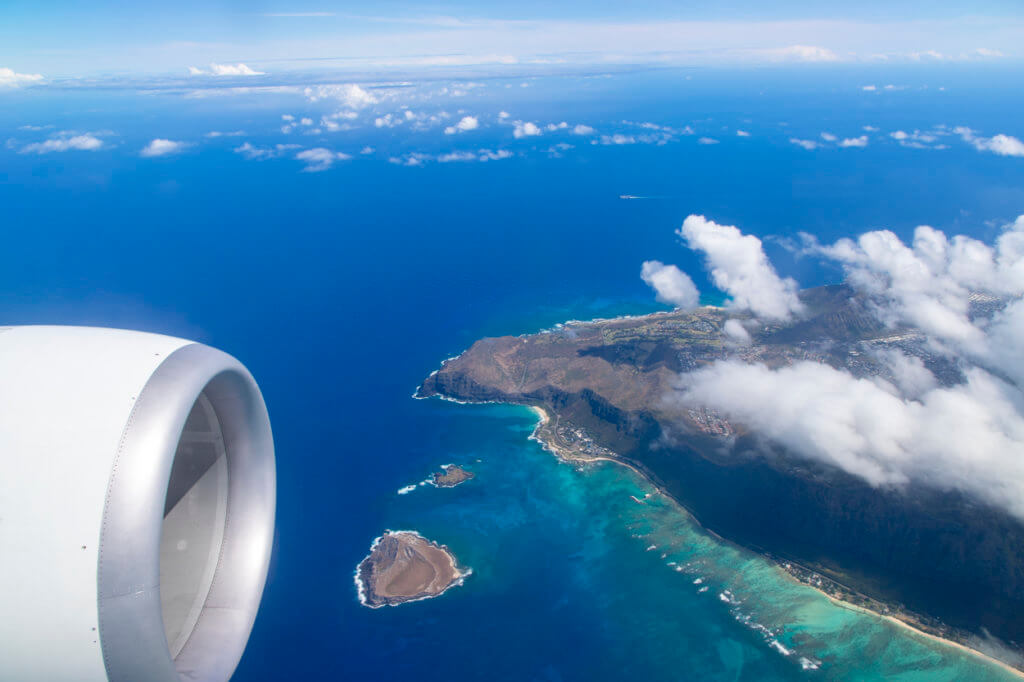 From there, we continued on over east Oahu, passing over Diamond Head and parts of Waikiki before heading back out over the ocean towards Ko Olina.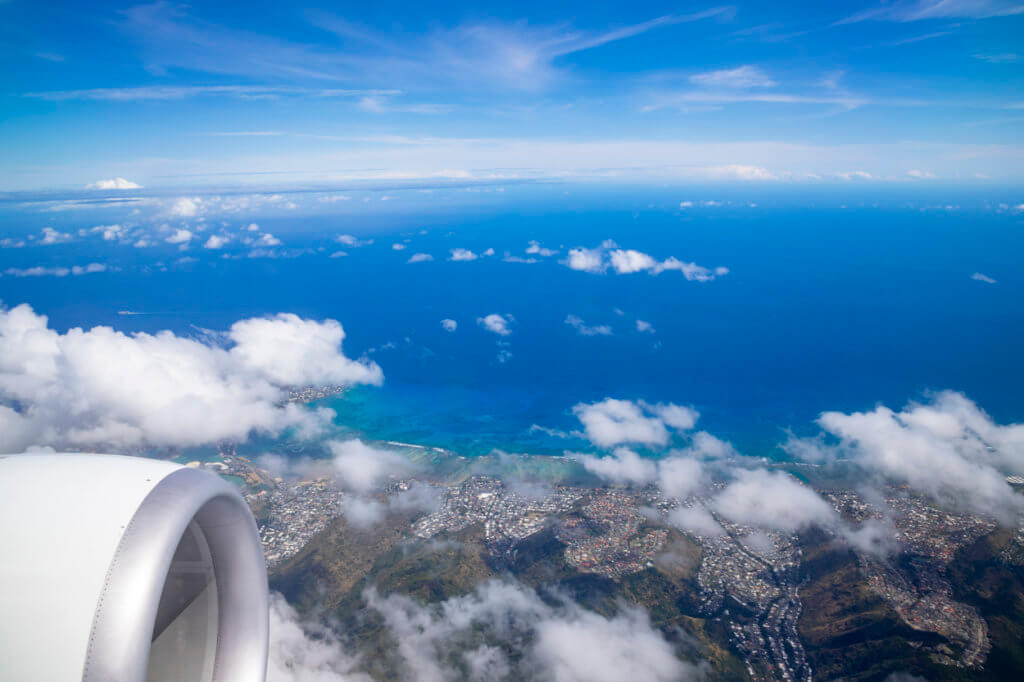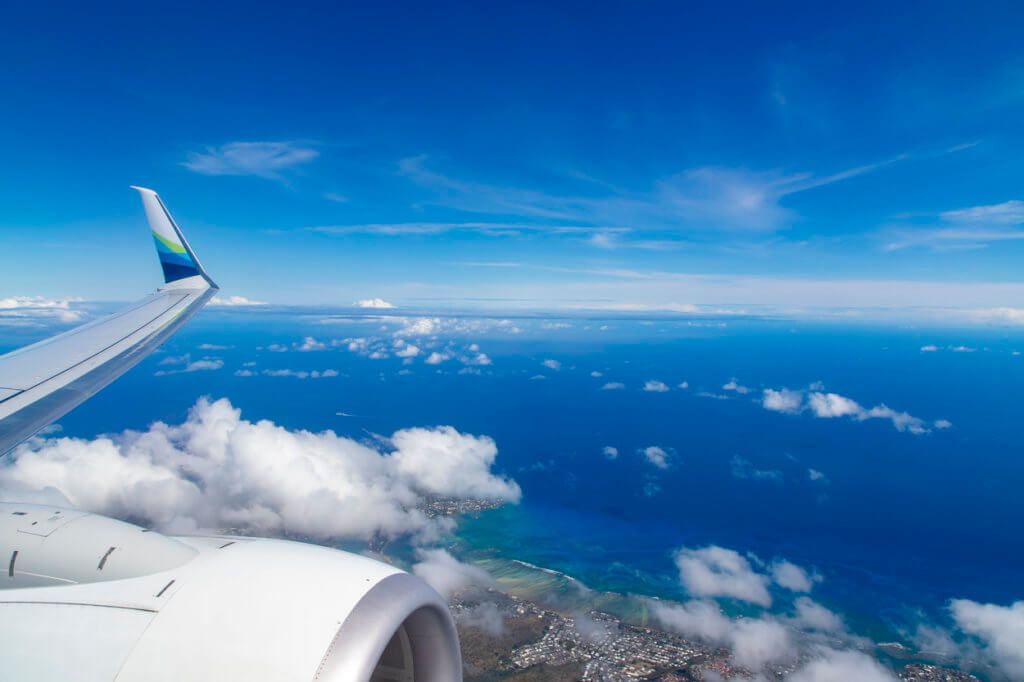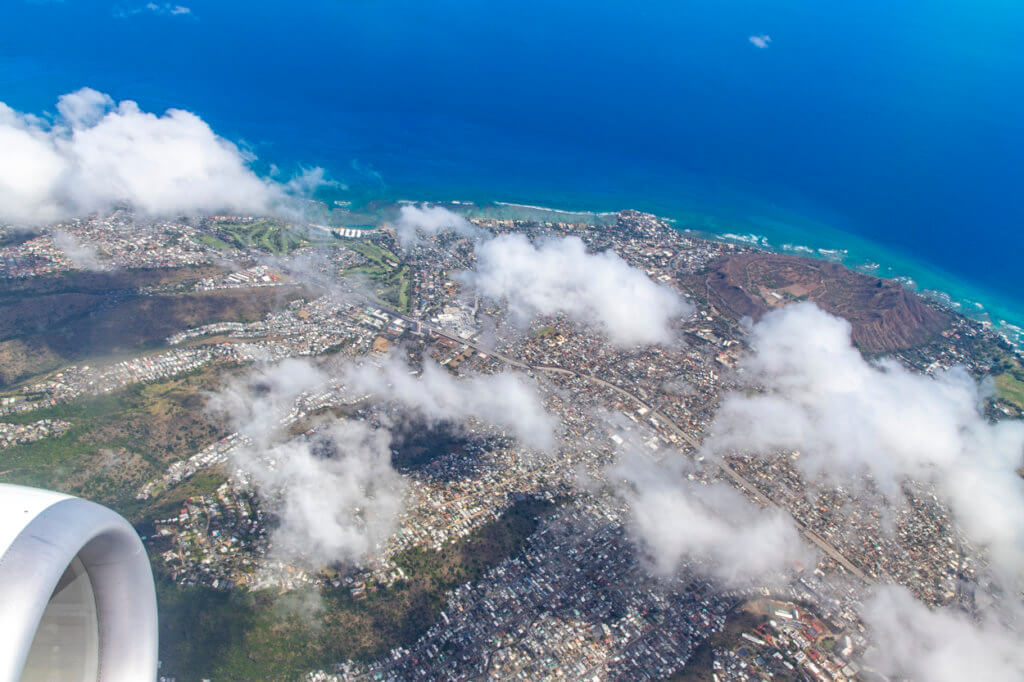 About 10 minutes after first approaching Oahu's east coast, we began our turn off of Ko Olina to begin our final descent.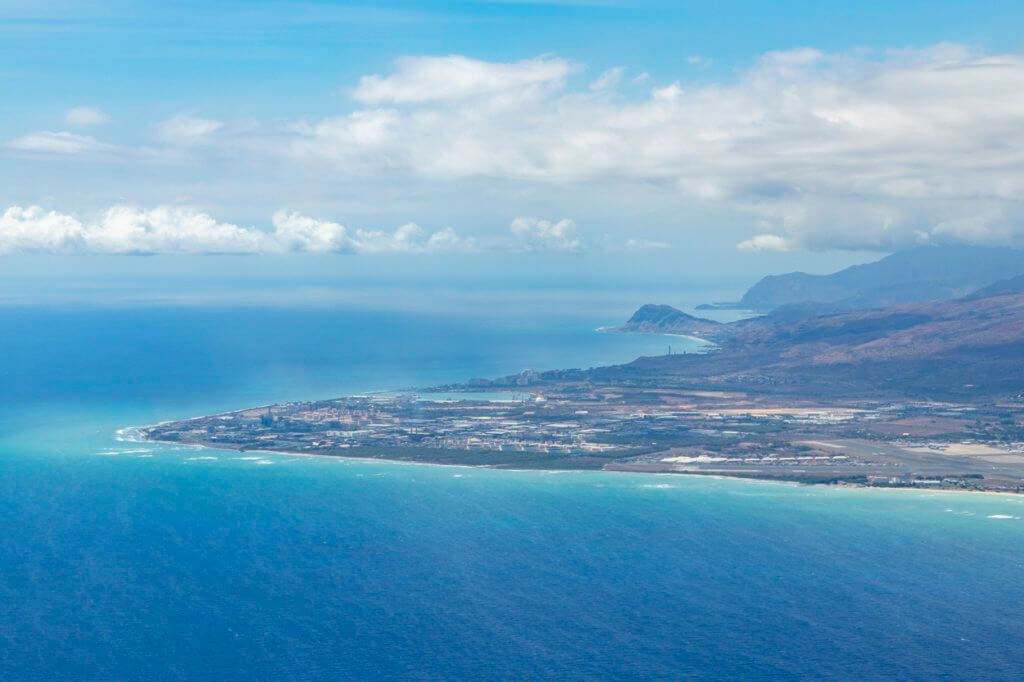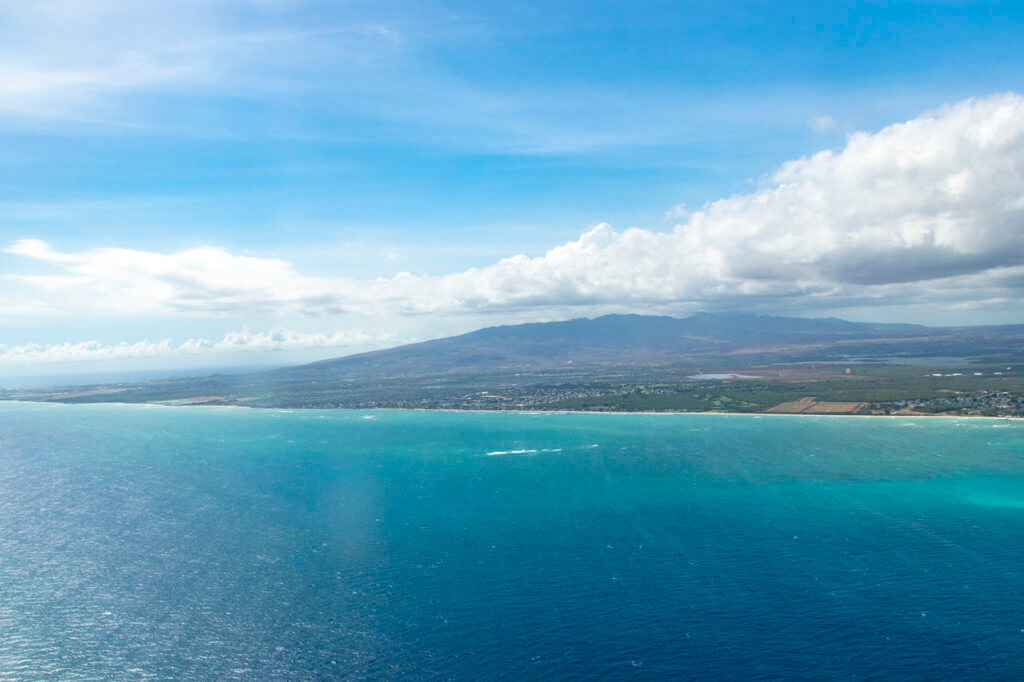 Three minutes later, we crossed over HNL's reef runway (8R) for a landing on runway 4R.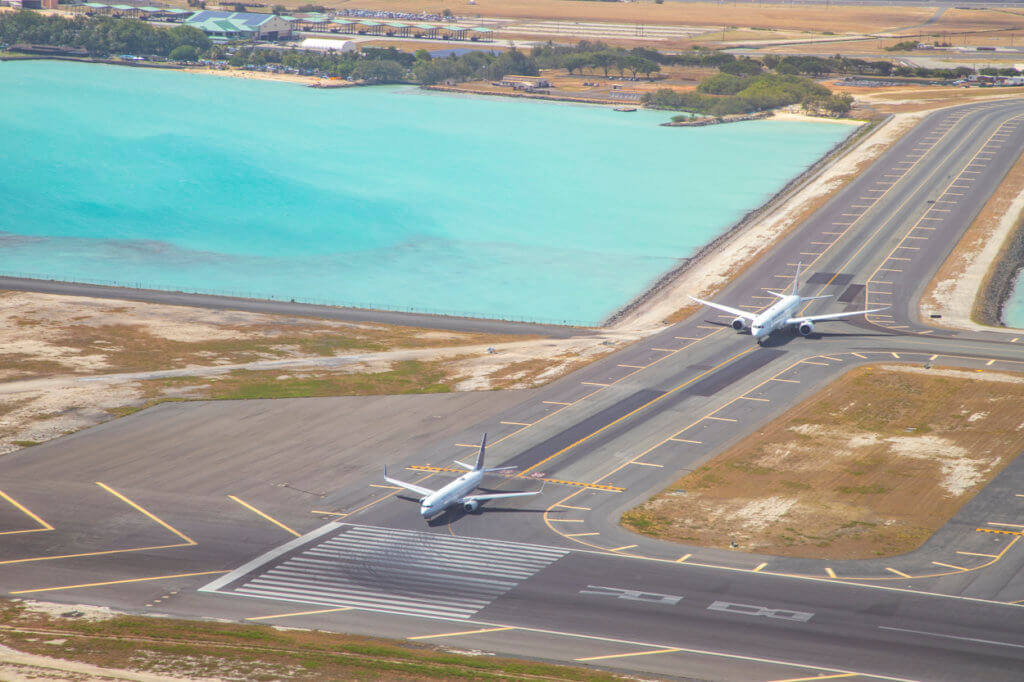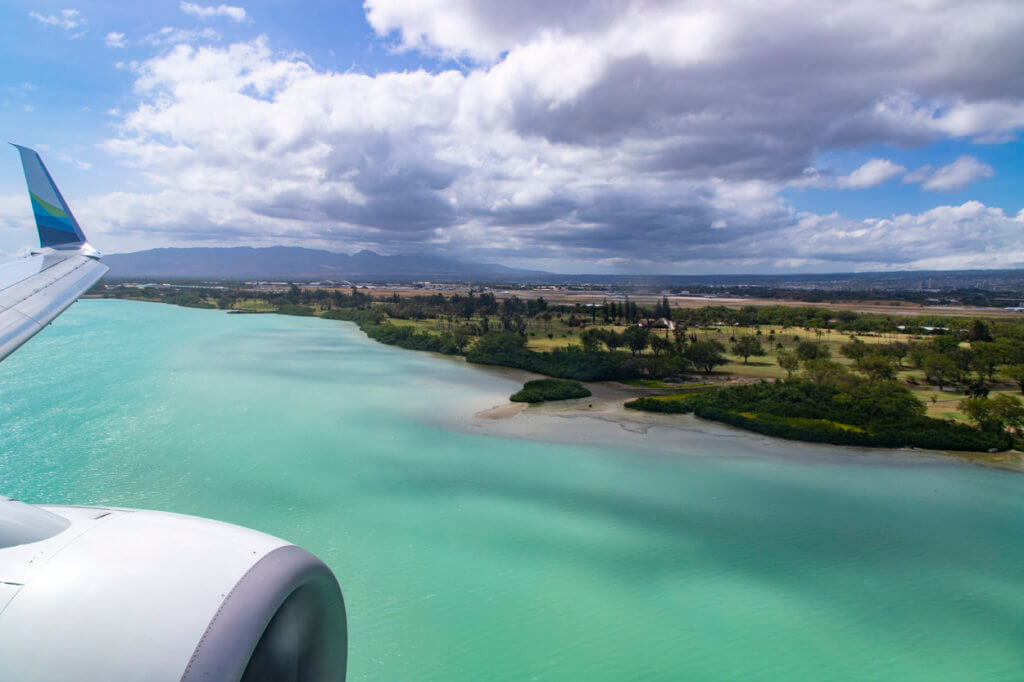 Finally, we touched down at 2:57 pm, and made a quick taxi to the gate. But, on the way, I did get a glimpse of United's new (at the time) livery on a 737, along with a 777 that has seen better days.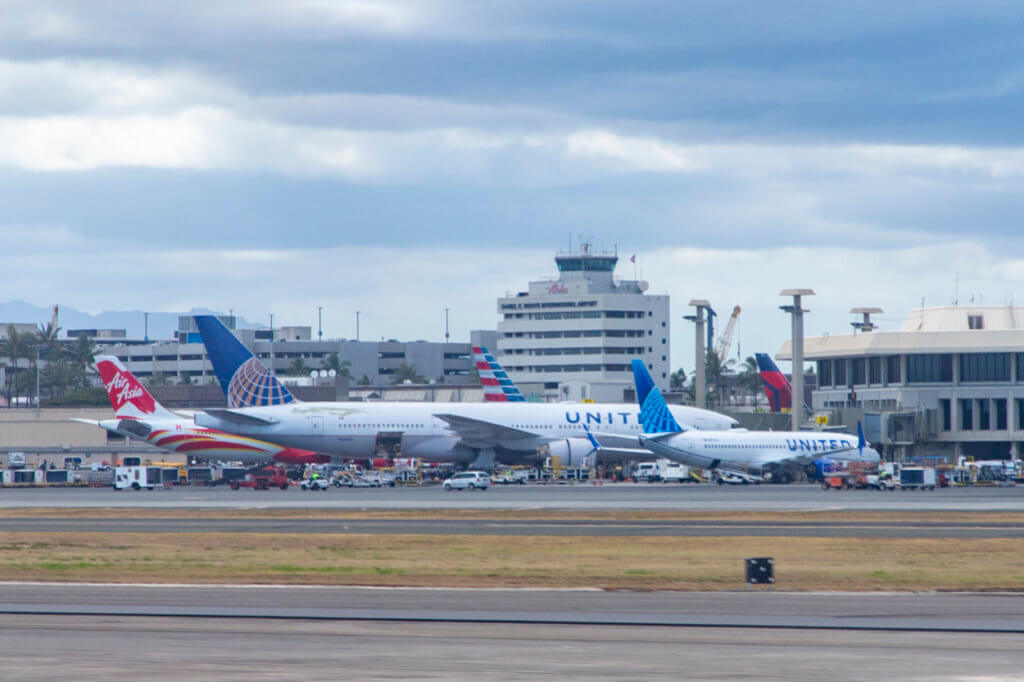 Seriously. How the heck did that large patch of missing paint get there? Also, the engine cowling was partially open. But, these are pretty old birds UA sends to the islands.
After a 3-minute taxi, we arrived at our gate at 3:00 pm, and the doors opened at 3:02 pm. Our scheduled arrival time was 3:35 pm. So, we made damn good time despite the slightly delayed departure from Seattle.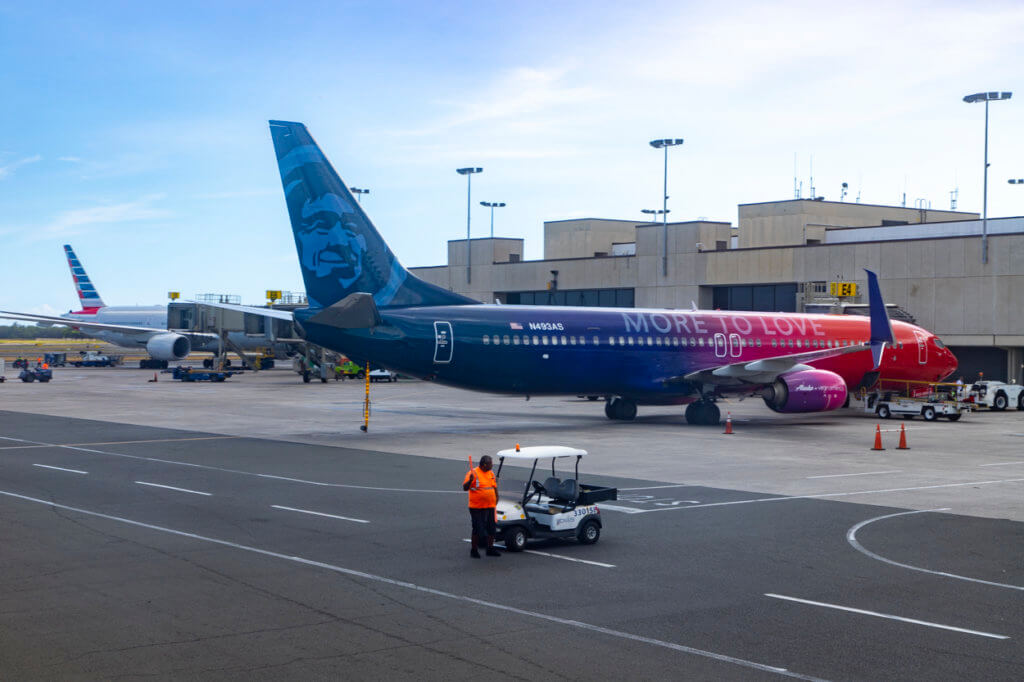 Alaska Air 851 SEA-HNL, Final Thoughts
I wish I could tell you what time I got my bag at, but I forgot to take notes on that. Suffice to say, I got my bag QUICKLY. Heck, if I remember correctly, my bag came tumbling down HNL's awful carousel a minute or two after I arrived at the claim. And that's usually about a 10-minute walk for me. What's more, I have nothing bad to say about this flight. I almost always have a positive experience flying with Alaska – well, when it comes to things they can control, anyway.
To be honest, I miss flying with Alaska. I'm having withdrawals right now. The last time I'd fly with them before COVID-19 began its rampage around the world was last July. But, I'll get to that trip report next. And, I promise I won't take as long to finish that one. However, after that, I won't have any more travel content to post until we can get back into the air.
Touring the PNW with My Grandparents