While in Seattle, we had three and a half hours between our arrival and the initial boarding call to our final flight home. So, we decided to kill some time at the Centurion Lounge Seattle.
Our visit to the Centurion Lounge San Francisco was an underwhelming experience. So, I was hoping for a better experience in Seattle, but wasn't holding my breath. Especially since this Studio Lounge had only recently become a full-fledged lounge, though its size remained the same.
Location
The Centurion Lounge Seattle is in Concourse B across from Gate B3. And because of its location, this lounge has an inconvenient location for my traveling needs. You see, I fly Alaska in and out of Seattle, and most of my flights with them operate out of the North Satellite. Concourse B, on the other hand, primarily serves Delta and Southwest. In fact, there's a big Sky Club around the corner from the Centurion Lounge.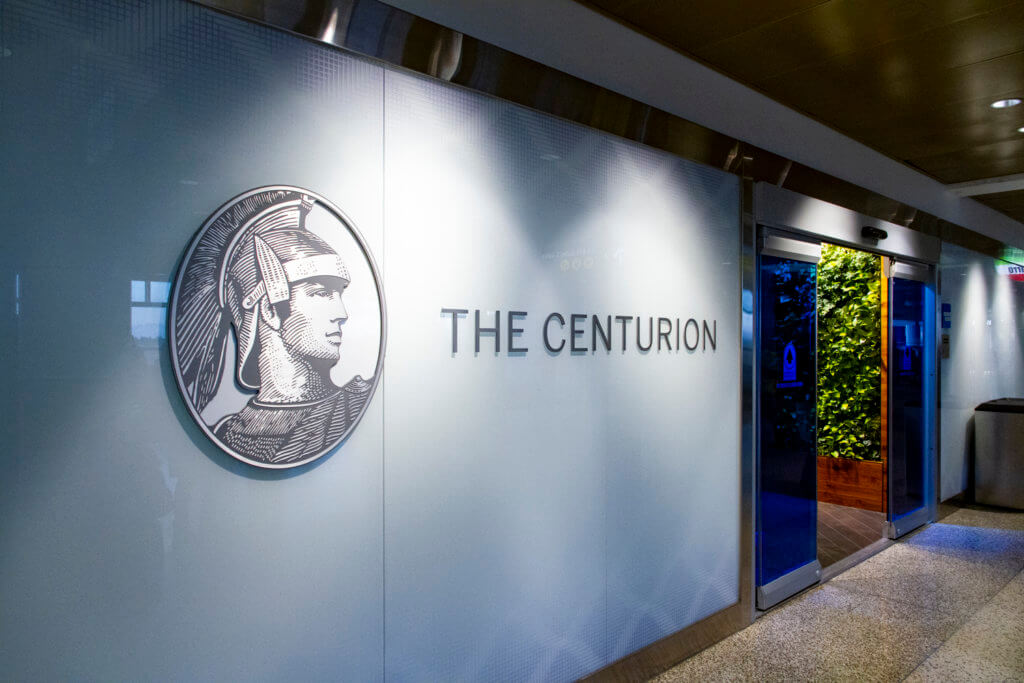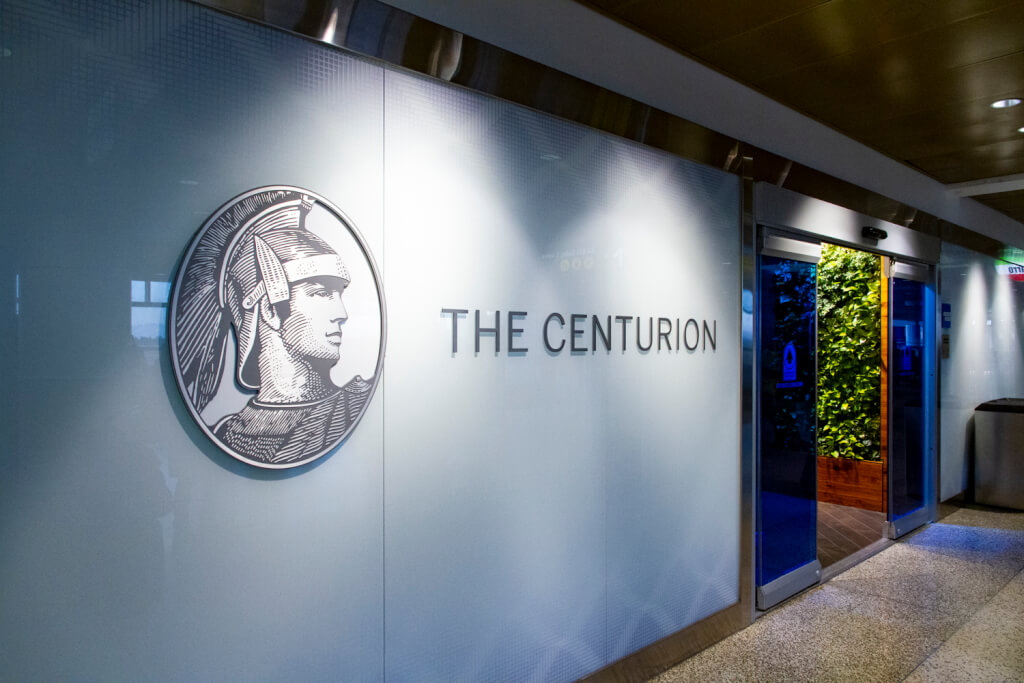 Atmosphere
In contrast to our experience at the Centurion Lounge San Francisco, the Seattle lounge was relatively empty during our visit. I mean, the place was about 25%, but still. It made for a much more serene experience.
That said, the lounge is split into two distinct zones. Near the entrance and around the buffet are sofas, chairs, and long tables with stools. This area also has a warmer design to it with lots of woods, blues, and greens.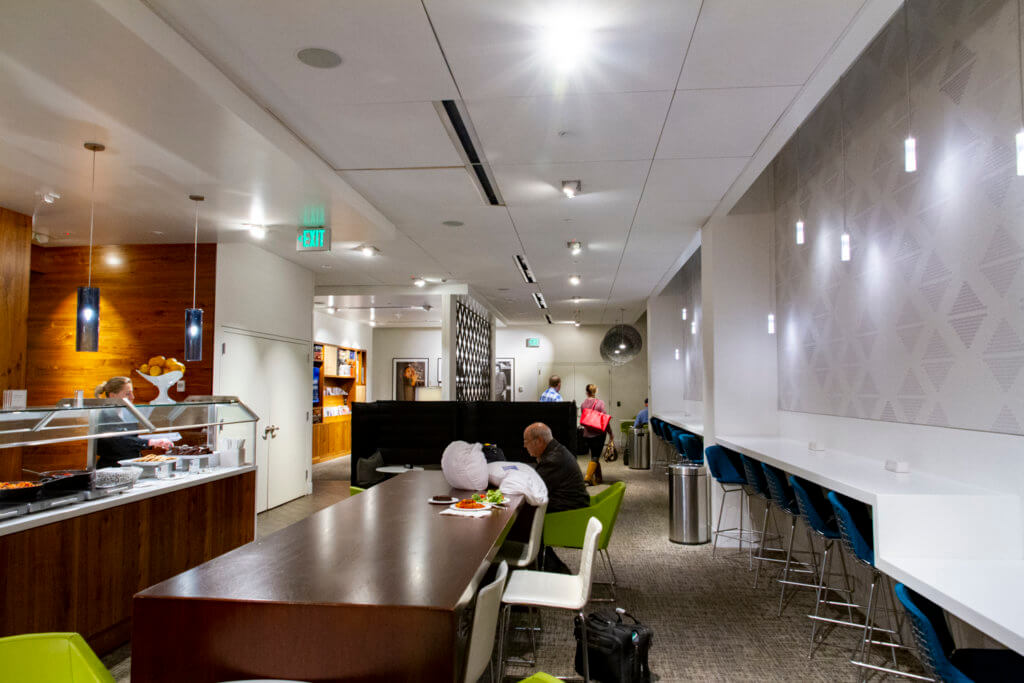 Then, there's the bar area, which is all two or four top tables, the bar itself, and has a predominantly white color palette.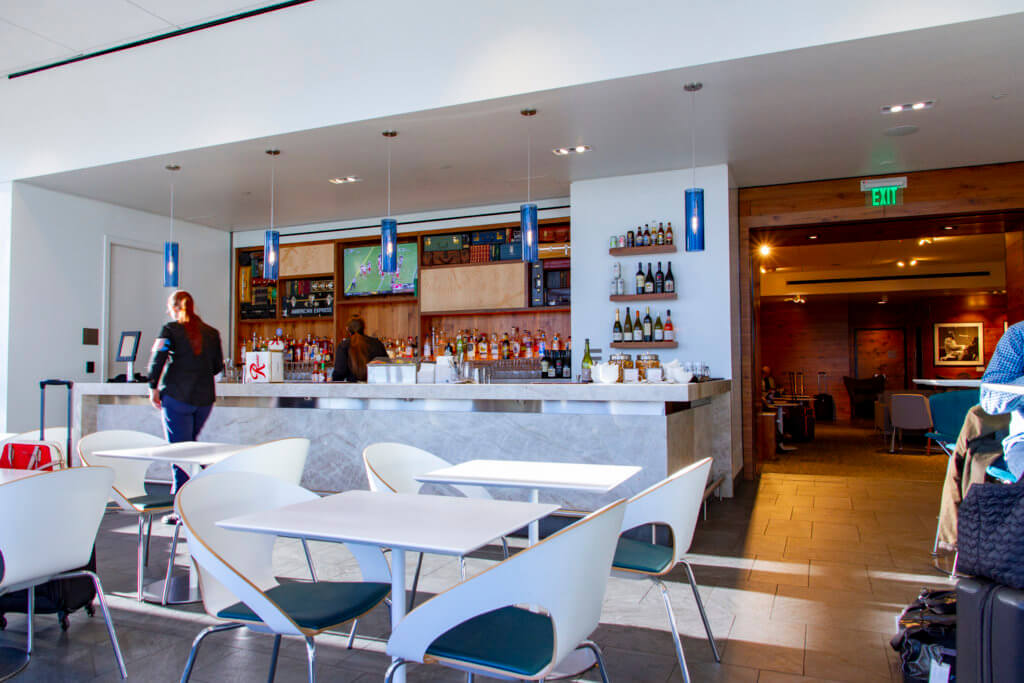 The bar area is my favorite part of the lounge, by the way, because its large windows offer excellent views of the apron.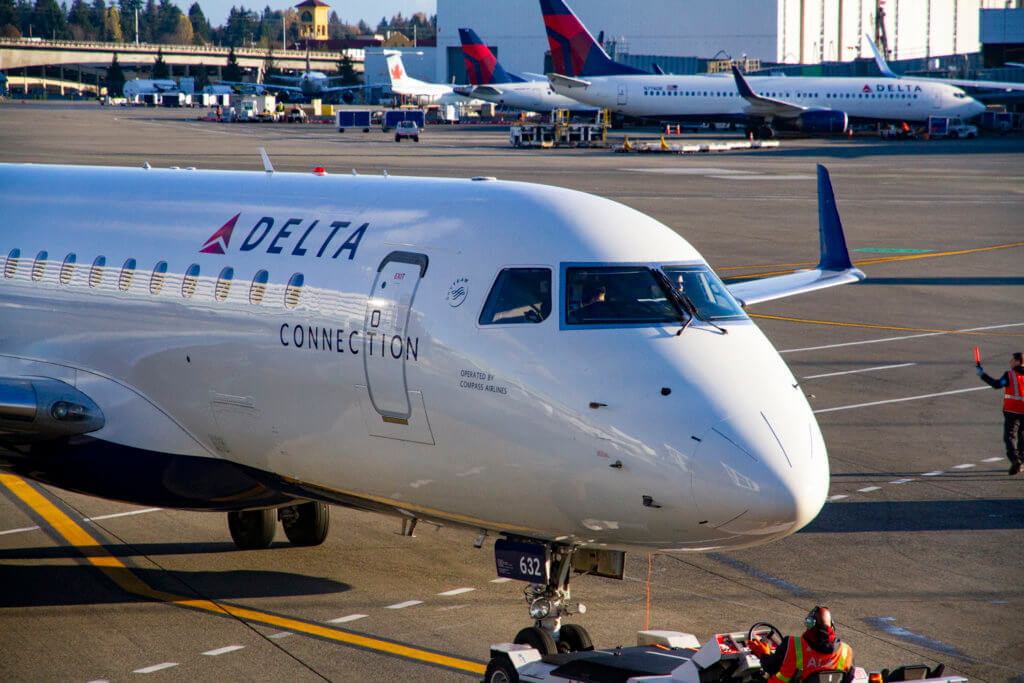 Food + Drink
Unlike the other Centurion Lounges, the Seattle lounge doesn't have a signature dish. In fact, its food offers are limited in comparison to the other lounges in general. That's mostly thanks to the smaller footprint of the lounge, but I found items on offer to be good. During our particular visit, the buffet featured a salad bar, meatballs in tomato sauce, veggie pasta, soup, chips, caramel apple cookies, and gluten-free brownies.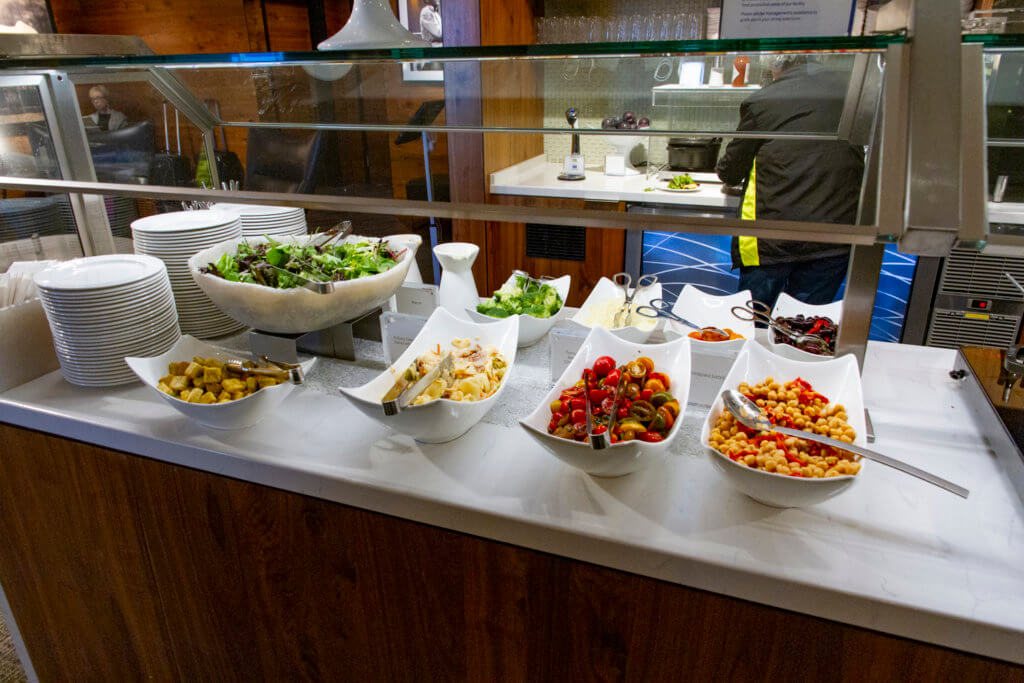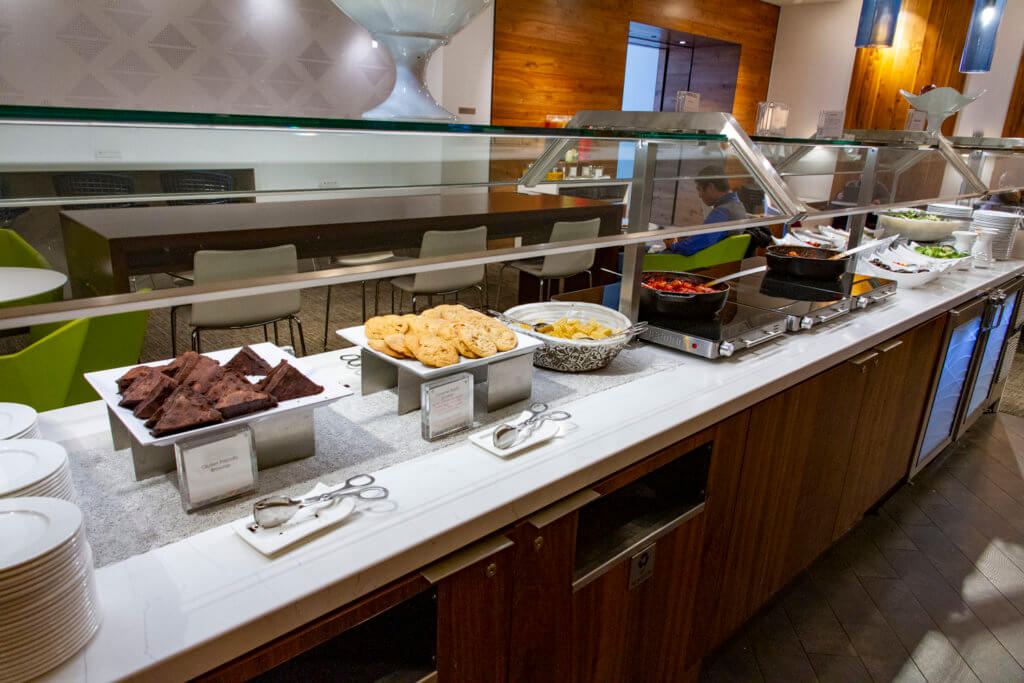 Next to the was a drink station with iced tea, lemon water, and agua fresca. Of course, there's also the bar I mentioned earlier, which offers a variety of beverages for free.
During our time I sample a few items from the bar and got a Penicillin Fizz.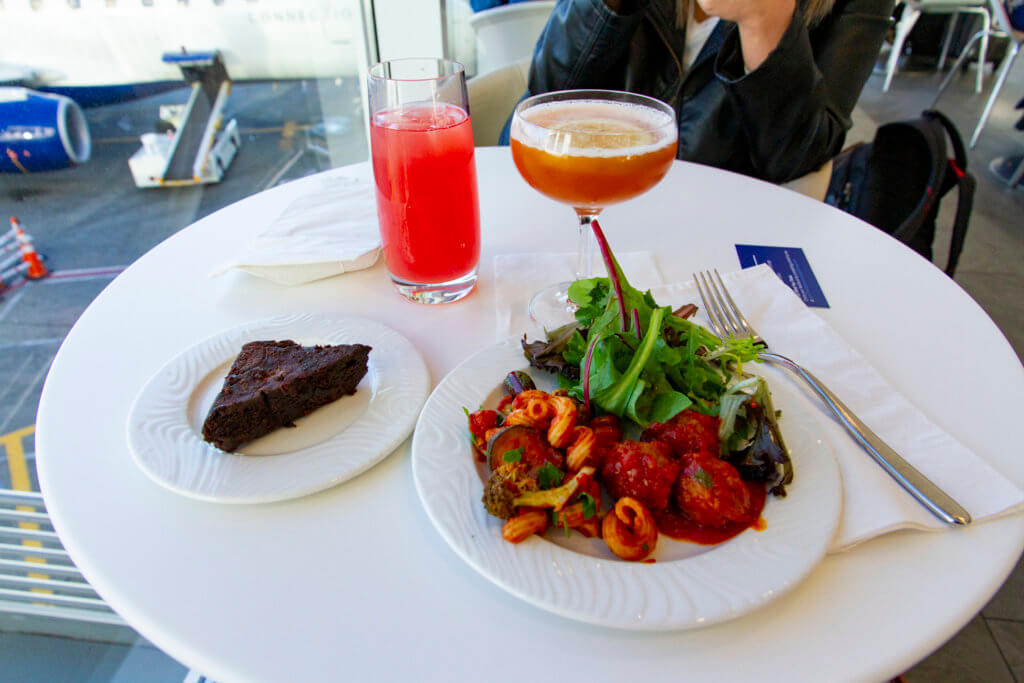 I loved the Fizz, which is made of Westland American Single Malt, Lemon Juice, Smoked Honey Syrup, Angostura Bitters, and Bundaberg Ginger Beer. I also thought the brownie was damn good, despite being a gluten-free offering. That said, while the quality of the food was good, it wasn't anything special. No location exclusive dishes here, with the exception of Ellenos Yogurt in the morning.
The Centurion Lounge Seattle, Final Thoughts
During this visit to the Centurion Lounge, I fell in love with the lounge. Yeah, it's far from the North Satellite where I typically fly out of, which kind of sucks. But, the Centurion Lounge Seattle is a nice space with excellent views and high-quality food and beverage offerings.
On a subsequent visit five months later, though, things were quite different. But that's a story for another time.
A Gourmet Adventure Through Northern California
The Centurion Lounge Seattle