Many were unhappy with Hilton's decision to convert the elite complimentary breakfast benefit to a dining credit. I'm not one of them. Especially after our disappointing breakfast at the Grand Wailea. The credit is much better spent at dinner!
Like dinner the night before, breakfast at the Grand Wailea takes place at the signature Humuhumunukunukuapua'a. Despite this, the two experiences couldn't have been more different. Dinner, as you'll recall, was a serene, enjoyable experience with excellent service and delectable cuisine, not so in the morning.
Disappointing Breakfast at the Grand Wailea
Seriously. The difference between the two services is night and day. When we arrived in the morning, we were greeted by an angry mob of hangry guests a long line. We had no reservations, as we were told there should be no trouble getting a seat. We ended up waiting around half an hour for a table. And, no, there's no elite member priority, nor do they provide pagers or offer to call you. All you can do is stand around and wait and go elsewhere.
Service + Ambiance
I'll give credit where credit is due. The employees at the host stand were all quite upbeat and professional. They handled the situation with as much grace and kindness as possible. Kudos to them! The wait staff, on the other hand, was a different story. It's not like anyone was actively rude. Instead, it felt and looked like they were stretched far too thin. It was pure chaos inside. Our server even kindly warned us before ordering that it would probably take about 45 minutes for our food to come out. He wasn't kidding!
The ambiance in the restaurant wasn't any better. In contrast to dinner, they had A LOT of tables jammed in there. Moreover, many families were dining in the restaurant. Thanks to this, it was a loud and borderline unpleasant experience with many screaming kids and parents trying to talk over them. The views, however, remain nice.
Food
We kept things simple and ordered a couple of breakfast entrees. That's it. For her order, Mrs. Island Miler got the Kona Crab Benedict. It's a basic eggs benedict featuring a crab cake allegedly made with Kona crab. I say allegedly because this isn't an item you see on menus often in Hawaii. Not only is it seasonal, but the crabs don't have much of a commercial fishery and are highly perishable.
What's more, they say that the crab is fairly mild in taste. The crab in this benedict was a little fishy and VERY salty. The potatoes were virtually identical to those I had at the Sheraton Waikiki for breakfast, which is not so good.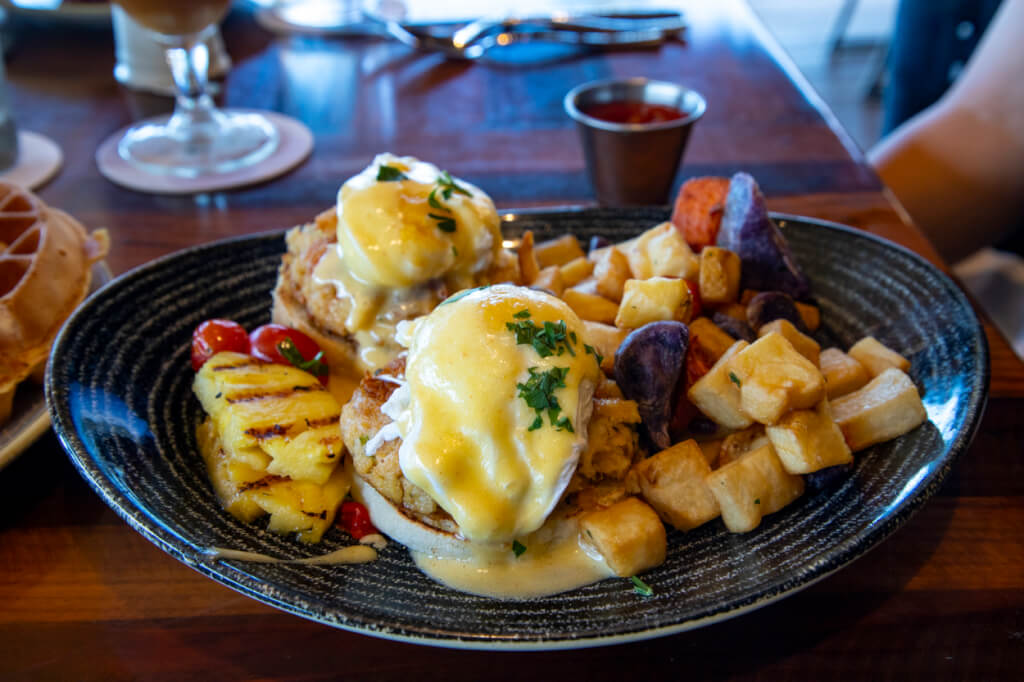 For my order, I went with the Kiawe Housemade Waffle. Right off the bat, I knew something was wrong when my waffle landed. They market this thing as a Kiawe waffle, which means it should be made with Kiawe bean pod flour. If it were, the waffle would have a darker, more deeply golden appearance to it. This one looks like a standard pancake batter waffle. Biting into it confirmed my suspicions, as the waffle had none of the caramel-y, graham cracker-like flavor Kiawe flour imparts. Instead, this waffle was bland and not crispy enough for also being so dry.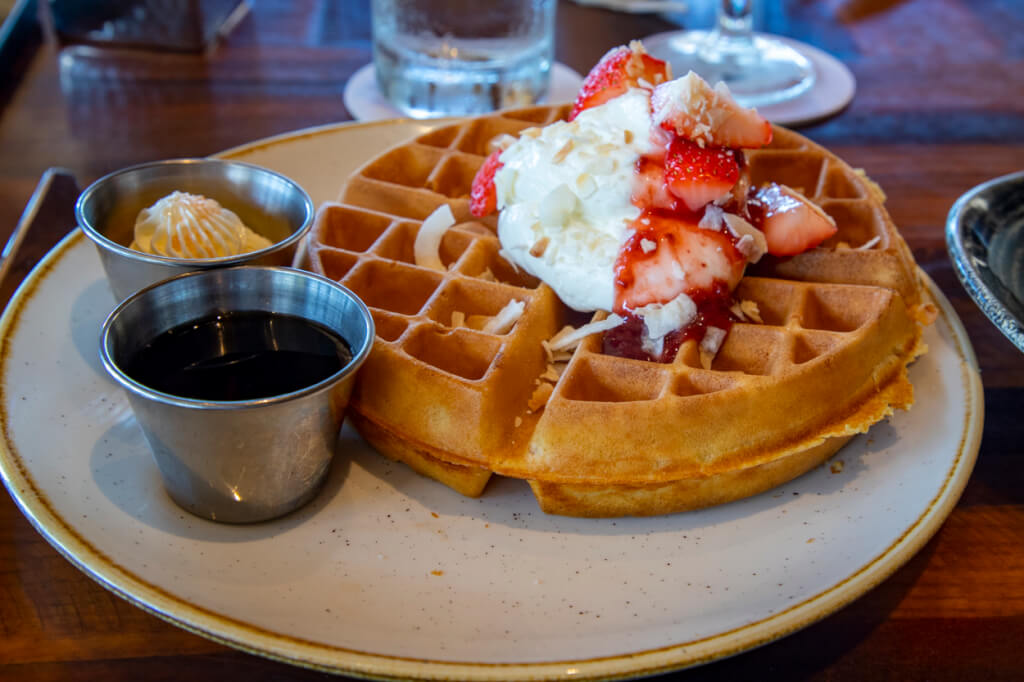 Final Thoughts
Overworked staff, circus-like atmosphere, and misrepresented and poor quality cuisine? A disappointing breakfast at the Grand Wailea is being diplomatic, I think – especially for the prices they charge. So while I'd return to HumuHumu for dinner, you won't catch me in there for breakfast again. Then again, no Hilton I've stayed at thus far does breakfast quite right. Do yourself a favor and go off-property for breakfast and save your credit for something else.
Grand Maui Adventure
Disappointing Breakfast at the Grand Wailea