Last updated on September 2nd, 2023 at 08:49 pm
After our wine tasting and tour at Schramsberg Vineyard, we decided to pre-game (food) before dinner at one of Thomas Keller's many establishments in Yountville – the Regiis Ova Lounge. And why not? A couple of snacks couldn't hurt, and actually served us well, given how the rest of the night went. But more on that later.
It's no secret that Mrs. Island Miler and I both enjoy caviar. Being that we had dinner plans in Yountville at a Thomas Keller establishment – not The French Laundry – after our wine tour and tasting, we decided to stop off at another Thomas Keller spot for small bites – the Regiis Ova Caviar and Champagne Lounge.
Regiis Ova Caviar and Champagne Lounge Location
Like the rest of his restaurants in California, Thomas Keller's Regiis Ova Caviar and Champagne Lounge is located in Yountville, in Napa Valley, California. Specifically, it's on the main drag through town – Washington Street. It's right next to Ad Hoc and a quarter mile away from La Calenda and Bouchon Bistro. Parking is street-only, but we had no difficulty finding parking nearby.
Service + Atmosphere at Regiis Ova Caviar and Champagne Lounge
As is always the case at Thomas Keller spots, at least in our experience, the atmosphere and service at Regiis Ova Caviar and Champagne Lounge were both EXCELLENT. We sat outside to keep things more casual, which was wonderful, despite the crisp, cold air. The cozy seating and heat lamps were just awesome, while the service staff were friendly, accommodating, knowledgeable, and gave us genuine recommendations. In fact, while half the reason you come here is for the bubbly, we told our server that we just came from Schramsberg and weren't interested in drinking more, and he told us "gotcha, I'll keep you well hydrated." And he did!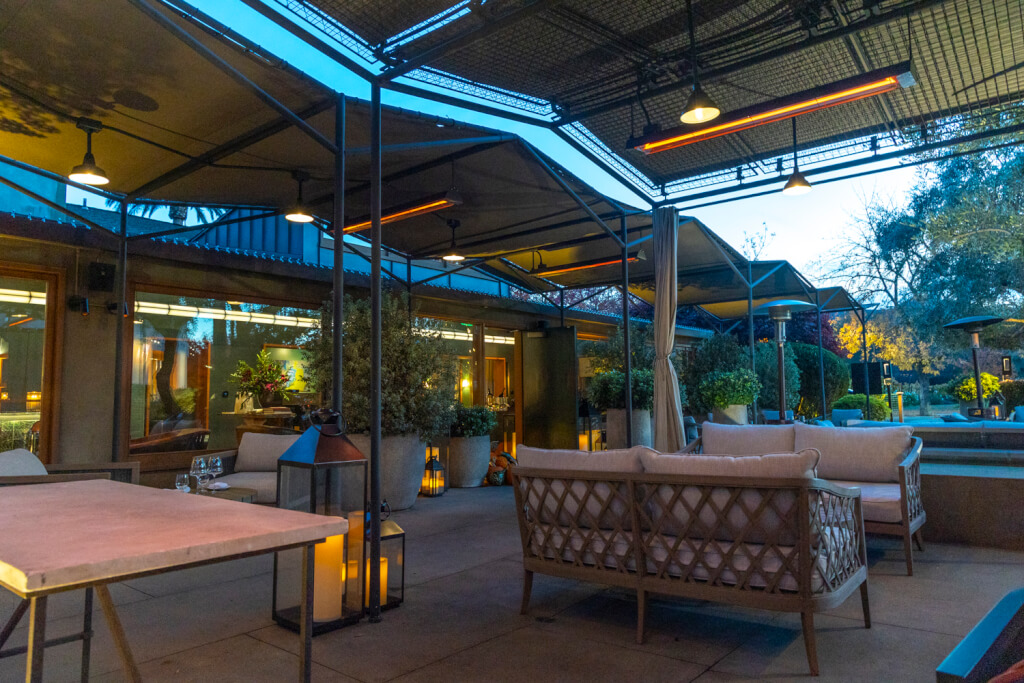 Menu
Unlike most spots in the area, Regiis Ova Caviar and Champagne Lounge isn't a meal spot. You can certainly create a very satisfying meal of your own with their rather extensive menu of small bites. It's worth noting, however, that while caviar is the focus here, few of their dishes actually come with caviar. In fact, many items have two prices – one with and one without caviar. Some dishes don't even have the option to add caviar, while ala carte and caviar flights are available, too.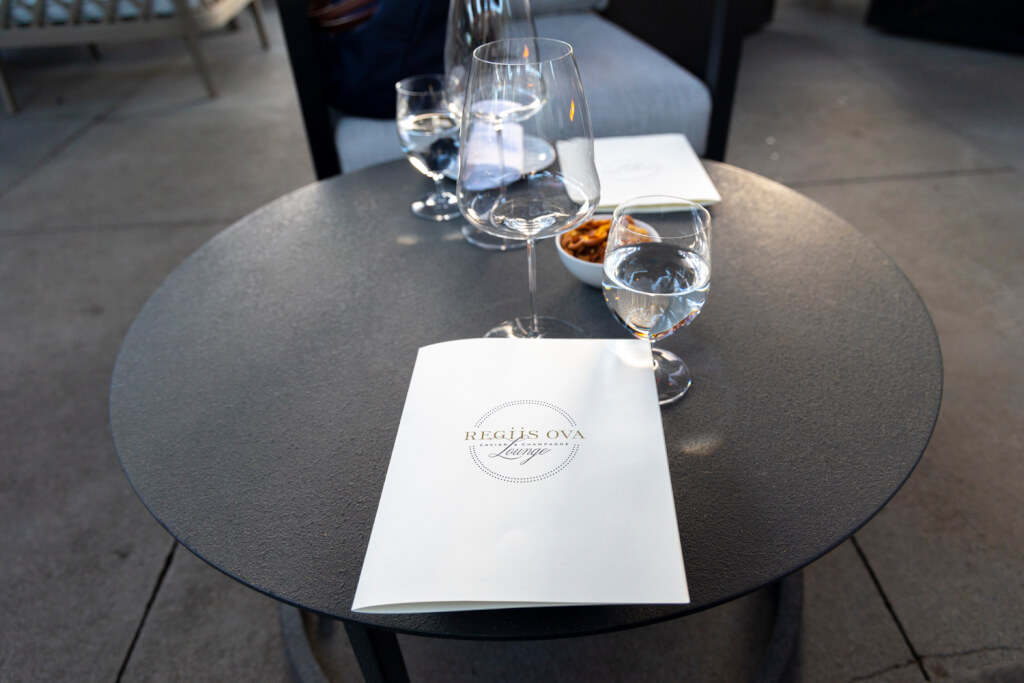 What We Ordered
While we intended just to have some snacks here, we ultimately ended up ordering four dishes, two of which were pretty big. But to start, we went with smaller, caviar-imbued dishes: the Waffle and Tater Tots.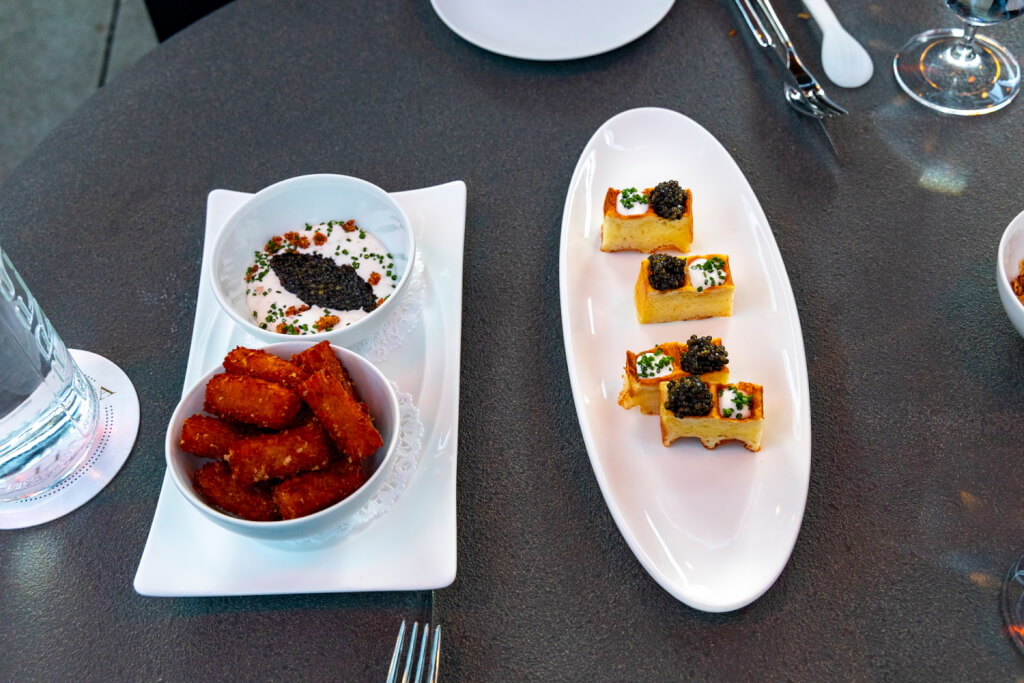 First up, the Waffles. There's aren't your typical waffles. They're thick, fluffy, soft, and, yet, still dense. Each slice of waffle had two pockets in them, one filled with creme fraiche with minced chives, and the othere filled with Siberian caviar. These were tasty and was a nice change of pace from the traditional blinis.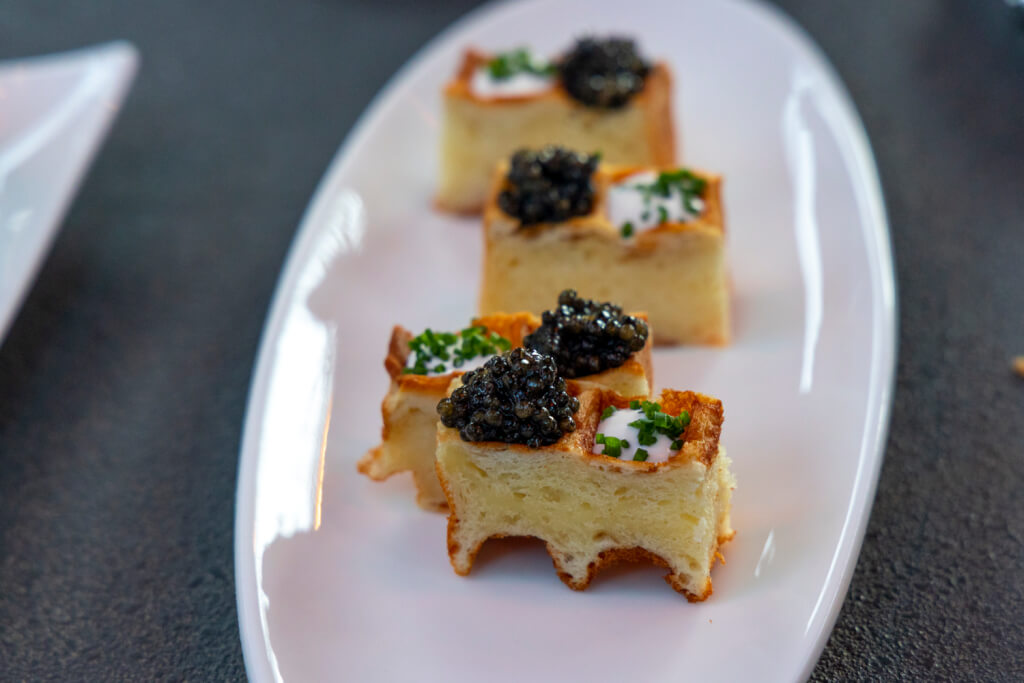 The tater tots aren't like the stuff you find in the frozen food section – these are more like hashbrowns formed into rectangular shapes. These deeply golden-brown moresels were perfectly crispy on the outside and soft and creamy on the inside. They came with a side of Hobbs bacon creme fraiche along with a generous helping of Classic Caviar. This was another great dish! I could've eaten the tots all by themselves, but it also pairs so well with the cold creme fraiche dip. Especially since the flavors were reminiscent of a baked potato! That said, I feel like the dip overpowered the caviar, which is a little disappointing.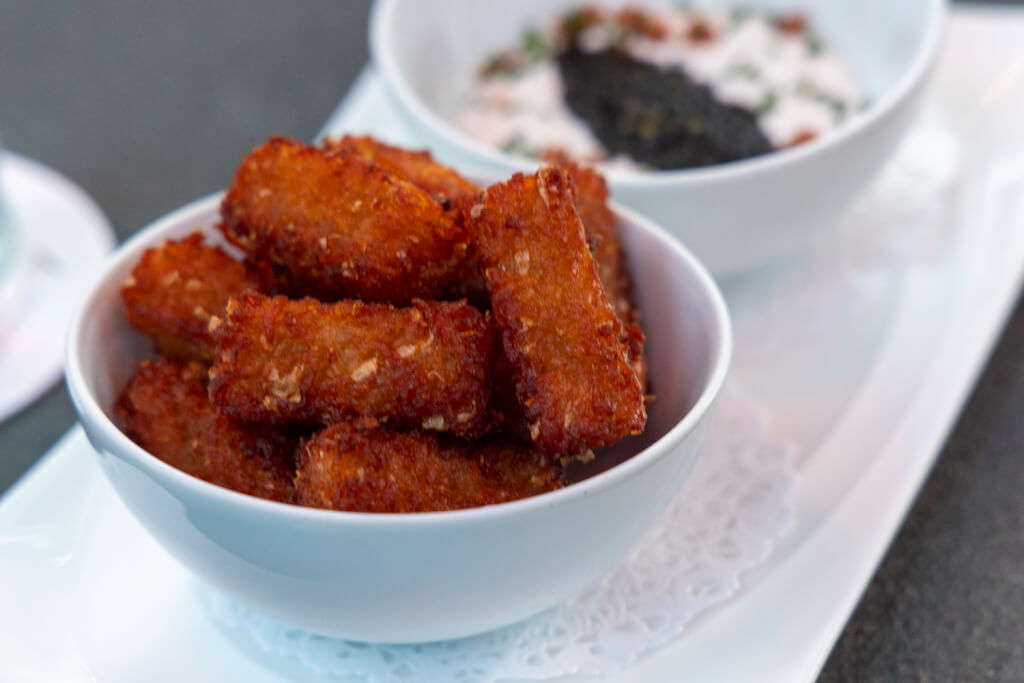 During his initial menu overview, our server informed us of a special that night – Pumpkin Cavatelli. This dish has absolutely no caviar on it, nor can you add it. However, it comes adorned with slices of fresh white truffles! And, boy, these were quality truffles! The aroma and flavor were fantastic! The pasts under it were also excellent and had just the right amount of bite to it. The sauce was a bit too rich for me but was delicious and filled with fall flavors. Bits of something reminiscent of star fruit on the bottom, along with the bitterness of the nasturtium, helped to balance the richness.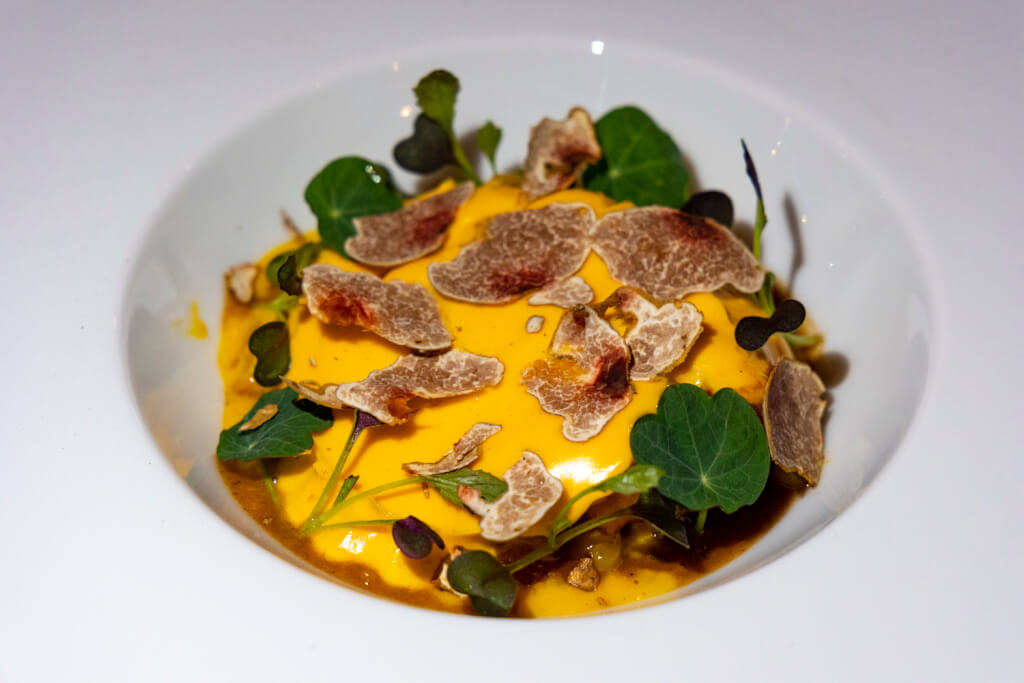 Lastly, we ordered Regiis Ova Caviar and Champagne Lounge's signature Black Truffle Grilled Cheese. This is another caviar-less dish, comprised of Pain de Champagne, caramelized shallots, and black truffle cheese. This was another very rich dish, with butter, toasty bread, oozy cheese, and sweet and nutty shallots. This is a must for any grilled cheese lover!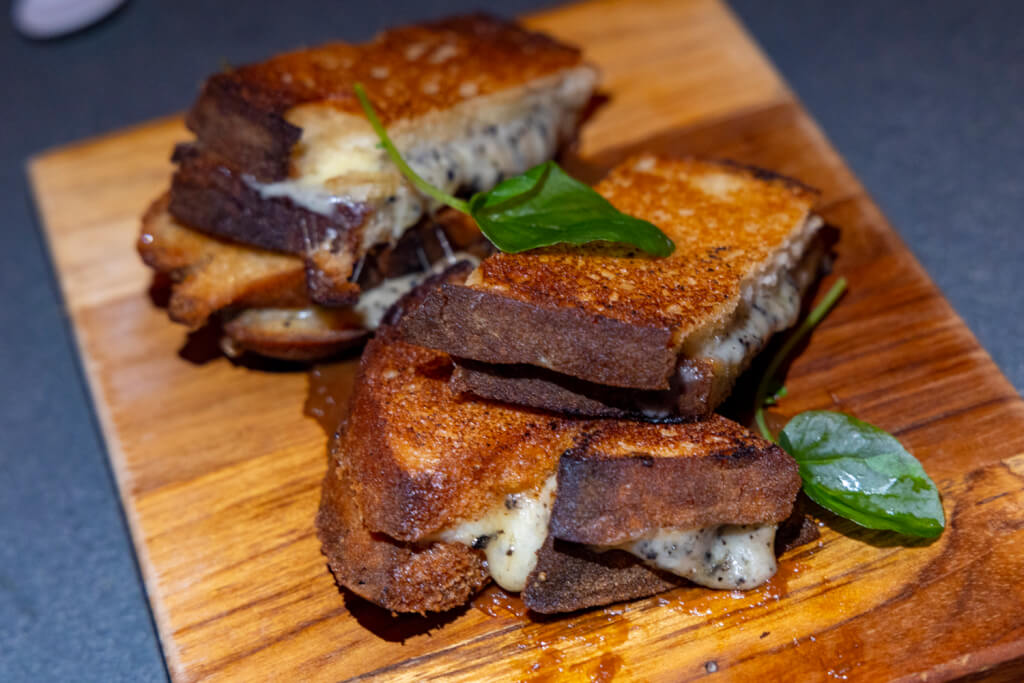 Final Thoughts
Regiis Ova Caviar and Champagne Lounge is a fantastic experience in the area. The atmosphere, service, and food are all excellent. However, you'll definitely pay a premium for dining here. The four dishes above, plus tax and tip, cost $283. Do you know how much caviar you can buy at retail for that? A two-ounce jar of excellent Tsar Nicoulai Reserve caviar costs $250. But, again, I still think a visit here is worth the splurge. So if you're in the area and have a hankering for some fish eggs, check out the Regiis Ova Caviar and Champagne Lounge.
Living It Up in California
Regiis Ova Cavia and Champagne Lounge