When I was looking at car prices in Los Angeles, National was stupid expensive. So, I settled for the slightly less expensive Alamo Rent A Car Los Angeles Airport. I did, however, spring for a midsize CUV (still cheaper than Emerald Aisle), which may not have been the best idea.
I really wanted to rent from National again in LAX, but I just couldn't justify doing so. Especially since the cost of the rental was hundreds of dollars more than what I got from Alamo, which was about $320. Not bad, especially given my vehicle type and our location. Sadly, things weren't all that much better than they were in Vegas.
Alamo Rent A Car Los Angeles Airport
After retrieving our bags from our much-delayed flight, we tried to figure out the clusterf**k that is LAX. After about 5 minutes of walking, we found the shuttle stop for the rental car operators. Then, after about another 5-10 minutes, the shuttle for Alamo appeared and we hopped on. After a relatively quick ride, we arrived at the combined Alamo/Enterprise rental center and found a relatively long line in an austere building. Unfortunately, ALL of the damn kiosks were out of order, so there was no skipping the line for us. What's more, one of their employees was wearing his mask as a chin guard, while the family he was helping was arguing with him over something else. Yay.
Ultimately, we stood in line for about 10 minutes and were helped by a really nice woman from Hawaii! Soon enough, we were out the door and had our pick of whatever Toyota Rav4 or Nissan Rogue we wanted.
Toyota RAV4 XLE
We settled on a relatively new Toyota RAV4 since I wanted to drive the one Alamo PDX had a couple of years ago. The car looked to be in good condition, though it was late at night and we wanted to get the hell out of there. After all, we still had to drive down to Costa Mesa. Inside, there was a single Clorox wipe and some sheet on how they keep of safe.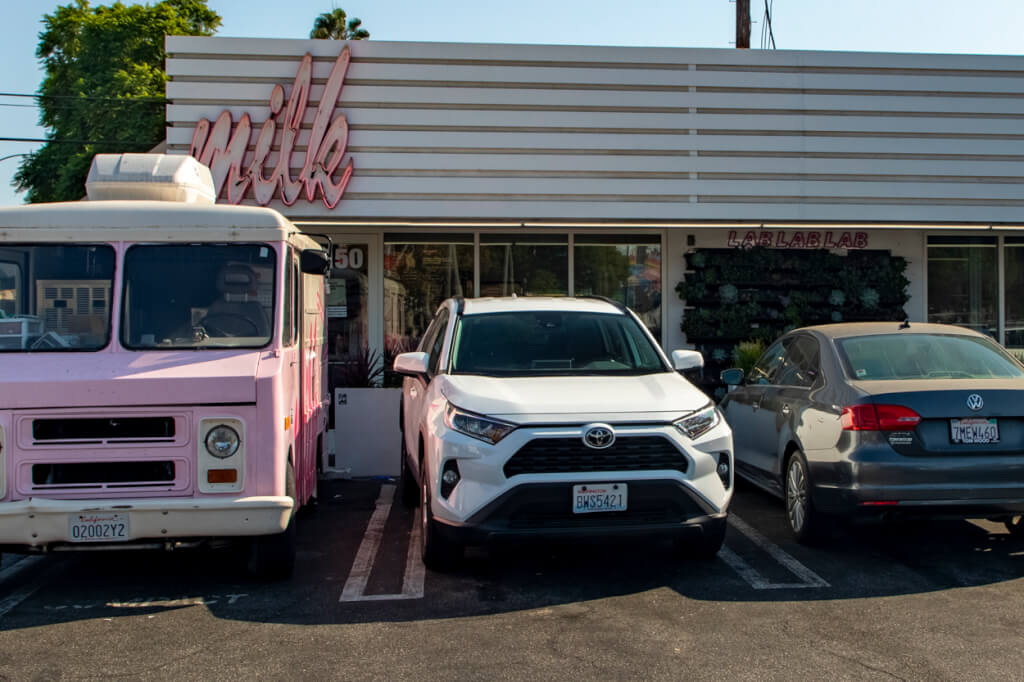 Overall, I was underwhelmed by the Rav4's interior. It was NOTHING like the interior my SIL's RAV4 Limited has. This one felt more like a penalty box with cheap plastic and some rattles here n there. The vehicle also felt fairly underpowered, in spite of its 204 horsepower and 184 ft/lbs of torque and eight-speed auto – that's 34 ft/lbs of torque than my Scion FR-S! Granted, I know, the thing weighs about a thousand pounds more than my car, but still! My CX-30 in Vegas felt more spirited, and I was complaining that that thing was kind of gutless too! That transmission didn't help either, as it felt rubber-bandy like a CVT, even though it wasn't one. What a disappointment. Maybe my copy was abused a bit too much? Either way, this particular RAV4 was a disappointment.
Fuel consumption was alright given how much driving we did and how much traffic we got stuck in. But, damn, I forgot how expensive gas is in the Golden State. I thought Hawaii was bad…
Anyway, returning the car was effortless. We pulled up, had a short inspection, and hopped back onto the shuttle.
Final Thoughts
Just from the 45-minute drive to Costa Mesa, I already learned that I'm not a fan of this car. In fact, if I were to buy a midsize CUV today, I'd probably go for a Mazda CX-5 – or whatever the hell its replacement is called. And this is coming from a Toyota fan! Also, I HATE driving in Los Angeles. Costa Mesa, Irvine, even Newport, all fine. Downtown Los Angeles? I don't know how you people do it! At any rate, the rental was fine overall. I just wish they'd I don't know, put a little effort into the check-in experience? Maybe fix some of those kiosks?
Vegas + Irvine Trip Report
Alamo Los Angeles Airport