As our time in Vegas came to an end, we headed to Harry Ried International Airport to take what would become one of our most interesting (bad) flights to date – Alaska Air 3384 Las Vegas to Los Angeles.
Our flight for the day was in the evening. So, to kill some time earlier that day, we headed over to the Bellagio to check out the Conservatory. Unfortunately, they were in the middle of changing out the displays, so there wasn't much to see.
Afterward, we headed back to our room, finished packing, and headed over to the hotel. I should note that, by this time, I was already feeling pretty crappy. That's why I have no dining reviews for this day. Mrs. Island Miler got a mediocre salad from the cafe in Aria's casino. But my stomach was already giving me a lot of grief. To this day, I'm not sure what it was. I know it wasn't COVID, but I had either picked up a stomach bug (again) or was having a stress-related event. Either way, the rest of this trip was shot because of this and only made what happened next all the more fun. Thankfully, though, I wasn't as sick as I was during my last visit to Vegas.
Things Begin to Unravel
You see, we ended up returning our car over three hours prior to departure. Unusually, things went incredibly smoothly during our return, and we ended up at the airport around three hours early. And that's when we got our first notification that our flight would be delayed by nearly an hour. With nowhere else to go, though, we checked in and I decided to see if I could get us into a club lounge. Unfortunately, that didn't work either since my digital card expired, I didn't have my physical card, and my CSR account won't let me update my digital card for some reason. Yeah, rookie mistake, I know. Now that meant trying to kill three hours sitting in the terminal.
I did do some plane spotting, though there wasn't much to see. Sadly, we watched my in-laws' aircraft arrive and depart during the time we were there – we were supposed to be out of there before them.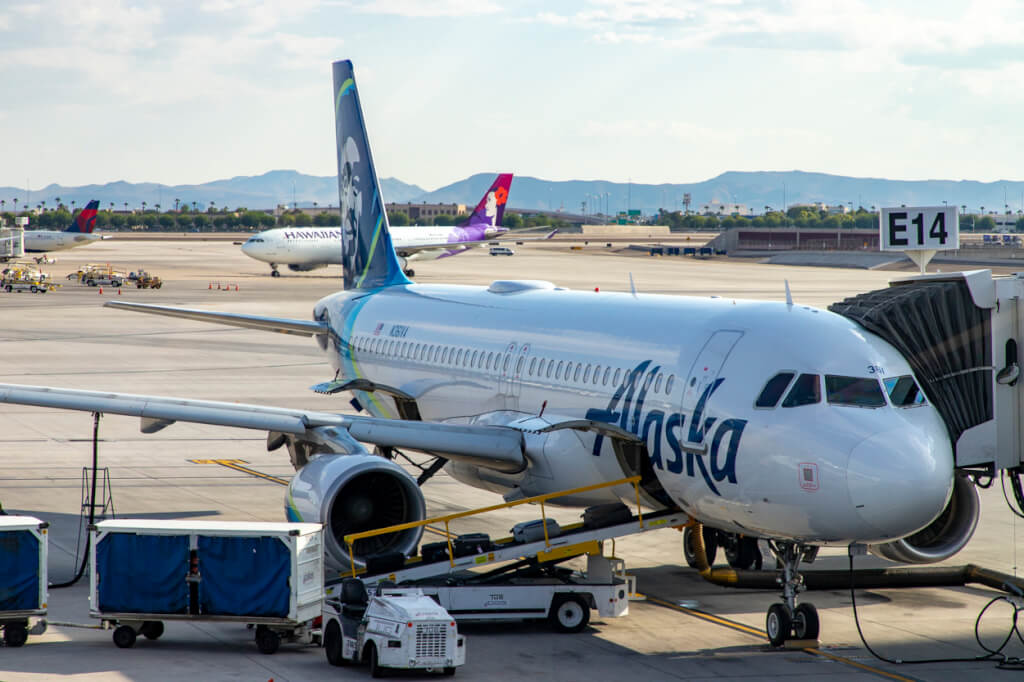 Alaska Air 3384 Las Vegas to Los Angeles
Our flight, Alaska Air 3384 Las Vegas to Los Angeles, had an originally scheduled departure time of 6:30 pm. That changed a few times to 7:22, 7:25, and finally 7:43. Our original boarding time was 6:00 pm, though, naturally, that didn't happen. The updated boarding times we got were 6:42, 7:05, and 7:03. Yep. Our three-hour terminal wait ended up being more like four hours. OUCH.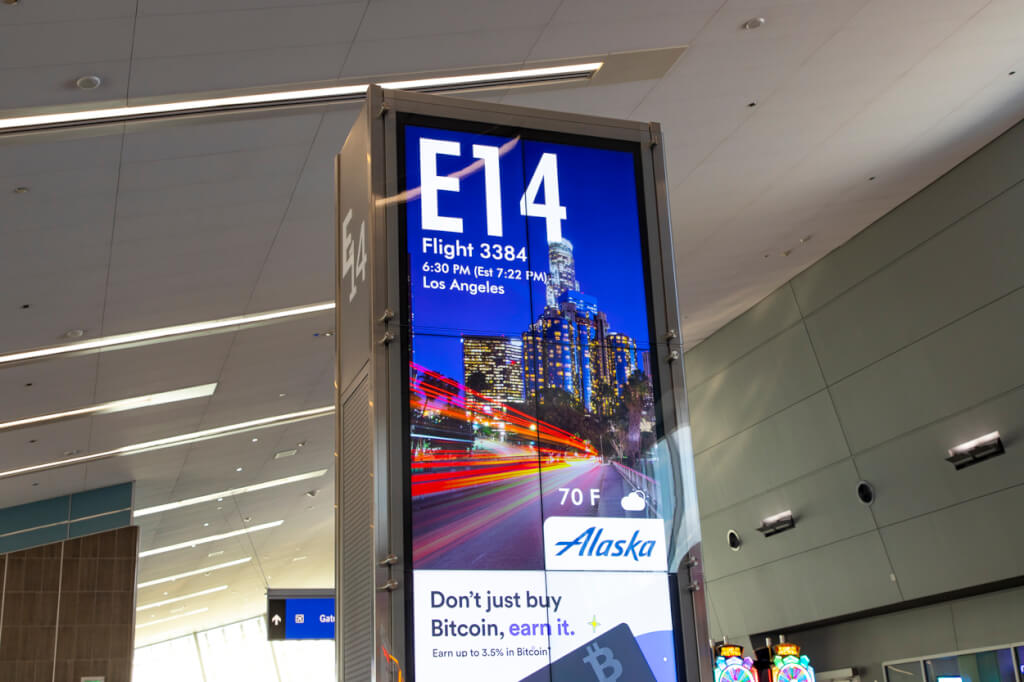 Boarding
Our aircraft didn't make it to our gate until 7:00 pm. Our flight was their last leg of the day, and they had to unload the previous flight before letting us onboard. To their credit, our gate agent (a guy named Kalei from Maui), did his best to keep us updated. And as you'll see in a bit, he ended up having quite a bit to deal with that night.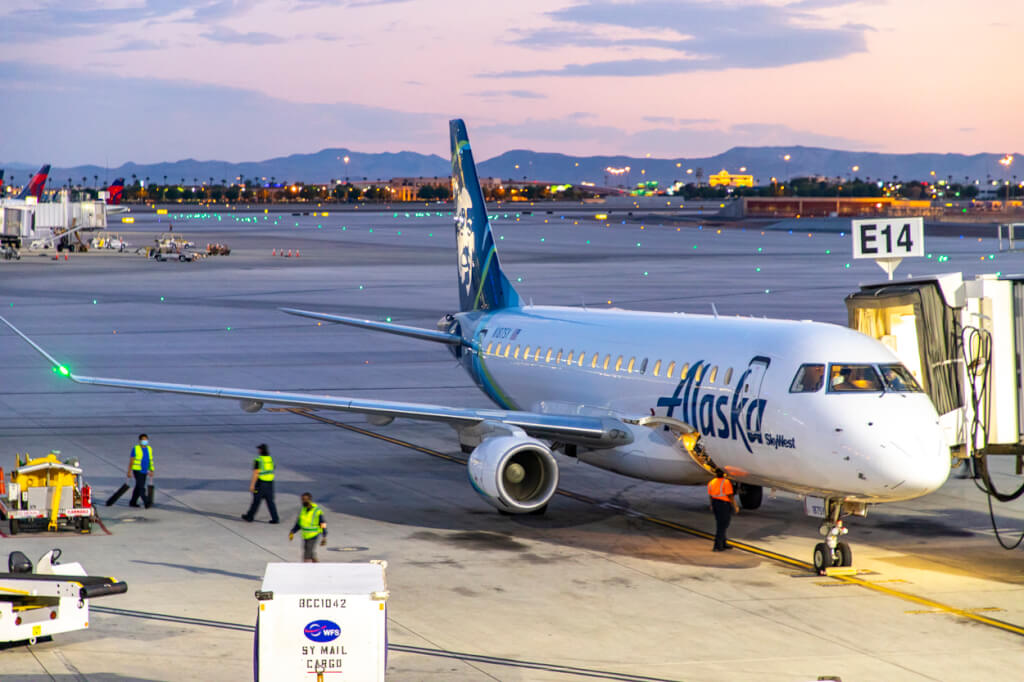 This meant that pre-boarding for our full E175 began preboarding at 7:15 pm. They were followed by military at 7:16, and then first class passengers soon after. For this flight, I put us in first class since it was ridiculously cheap and didn't want to chance having to gate check my rollaboard – I had a TON of lithium-ion batteries for my drone, camera, etc. in there. So we sprang right up to the gate once our group was called.
Once on board, we found our seats in row two, which already had mini water bottles waiting for us. Since our cabin wasn't full-on this flight, the purser offered to strap the row one passengers' bags into that row's empty seat rather than having to stow them overhead.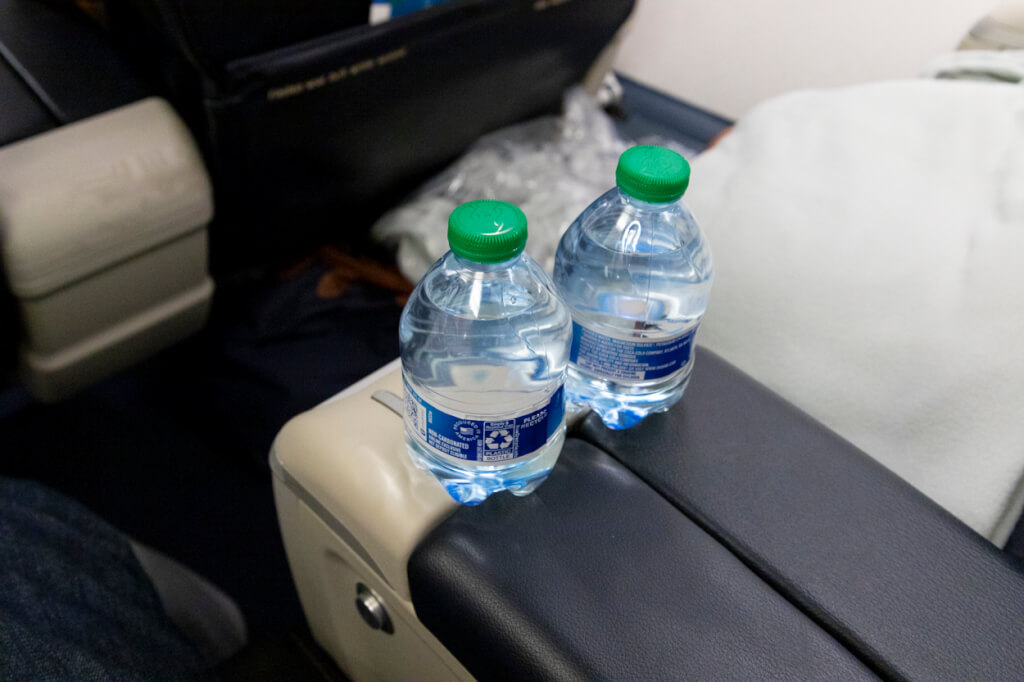 As you can see, their SkyWest Alaska aircraft has seen better days. The interior is tired and worn, and the space isn't all that much better than mainline Alaska's Premium Class or Hawaiian's Extra Space seating. But, no matter, our flight was supposed to be about an hour from gate to gate. And while that did end up being true, we spent more time on the plane than any of us on board were planning to.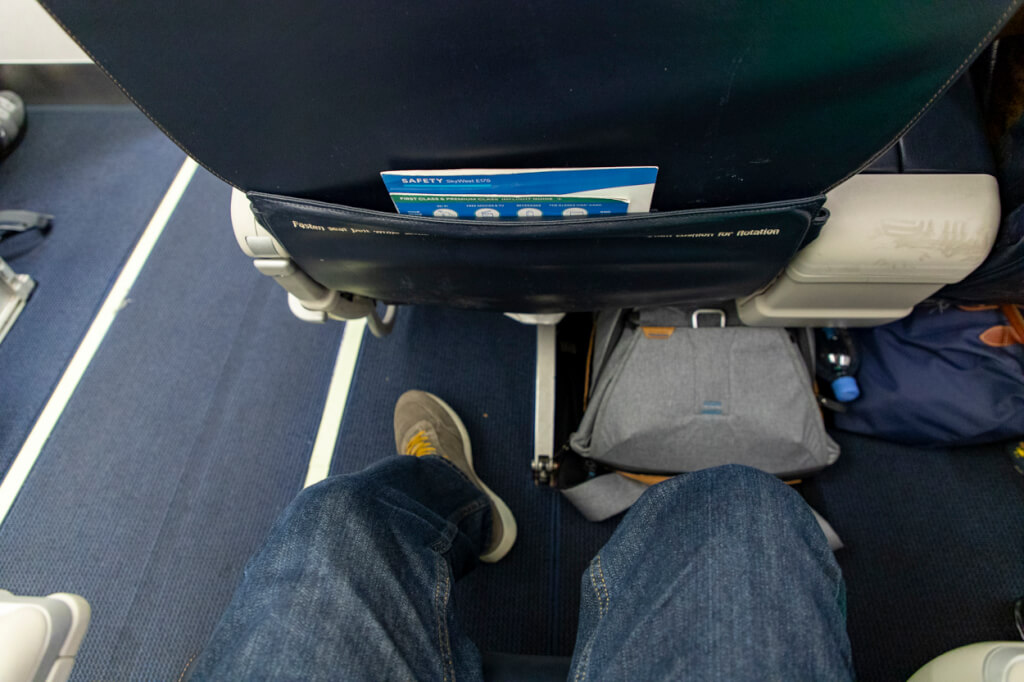 AS3384 Incident
As boarding wrapped up, we ended up sitting there without much explanation. Then we heard a commotion coming from further back. Eventually, Kalei came on board and escorted a passenger, flailing and screaming, off the plane. His embarrassed and angry girlfriend followed without any supervision. It turns out, the passenger in question didn't have any space to stow his bag in the overhead bin. His solution to the problem was to stow his Louis Vuitton carry-on in the row, as it wouldn't fit under his seat. That in itself was already a problem, but he was seated in an exit row. Our gracious purser offered to stow his bag in the first class cabin since our overhead bins weren't full. He refused.
Of course, per FAA regulations, we can't depart with a bag blocking the exit row. However, this guy was adamant about not letting his precious bag out of his sight. And as the tension continued to rise, he became increasingly belligerent. Thankfully, he never struck anyone. However, when Kalei came aboard to assess the situation, the passenger was not only not cooperating but was actively slinging choice words at our crew. As a result, Kalei quickly made the decision to bump him from our flight. Rather hilariously, this entitled idiot was screaming obscenities and lawsuit threats as he made his way off. And all he accomplished was causing himself and his companion to miss their flight and the rest of us a further delay.
Departure
Finally, at 7:43 pm, our flight crew closed the cabin door. They proceeded with our pre-departure safety demo and quoted a flight time of 42 minutes. We began our pushback shortly after that at 7:46 pm but ended up sitting there for another three minutes due to congestion. We finally made it to our departure runway at 7:56 pm and began our take-off roll two minutes later.
The climb out was moderately choppy, and it seemed like our pilots were trying to make up as much time as they could.
Cruising
Once we leveled off, our flight crew quickly sprang into action with the beverage service. Our purser, still sweet as candy despite the challenges of the day, offered us our choice of beverages, including alcohol. Both Mrs. Island Miler and I politely declined.
Interestingly, throughout the flight, we could hear the engines spool up and down. For some reason, we kept speeding up and slowing down for the duration of our short flight. Is this normal for this route?
Descent and Landing
Just 30 minutes after beginning our take-off roll, we began our initial descent. 11 minutes later, we began our final descent and touched down at 8:46 pm. After a very quick (for LAX) taxi, we arrived at our gate at 8:50 pm, with the doors opening just a minute later. Our original arrival time was 7:42 pm, so we were over an hour late. That said, our rescheduled arrival times were 8:34, 8:30, and finally, 8:55 pm, so we somehow made it a bit earlier than expected.
In classic Alaska style, our bags made their way into the claim soon after our arrival, with Mrs. Island Miler and I retrieving our bags by 9:01 pm – just 10 minutes after the cabin door opened.
Final Thoughts
This flight was the first time I've ever witnessed an uncooperative passenger being deplaned. Things definitely didn't get as bad as they could've, especially considering how batsh!t crazy people are these days, but it was an interesting experience nonetheless. Interestingly, though, this wasn't my most delayed flight. No, that honor goes to my Virgin America/Alaska flight from Vegas to SFO back in 2018. That flight was about two hours late and resulted in a super tight connection for me thanks to Airbus's ludicrously delicate brakes and issues with a non-rev. Ironically, that flight also departed out of Gate 14.
Vegas + Irvine Trip Report
Alaska Air 3384 Las Vegas to Los Angeles