After our interesting flight and securing our car, all I wanted to do was get something to eat and get to bed. However, that meant driving 45-ish minutes on the 405 down to Avenue of the Arts Costa Mesa, a Tribute Portfolio Hotel.
Why Avenue of the Arts Costa Mesa
Honestly, I was lookin for something that looks contemporary, is inexpensive, and is closer to the Costa Mesa side of Irvine. The Avenue of the Arts Costa Mesa fit the bill perfectly and, as an added bonus, gave me my first Tribute Portfolio stay. That said, I'm not entirely sure I'd stay here again.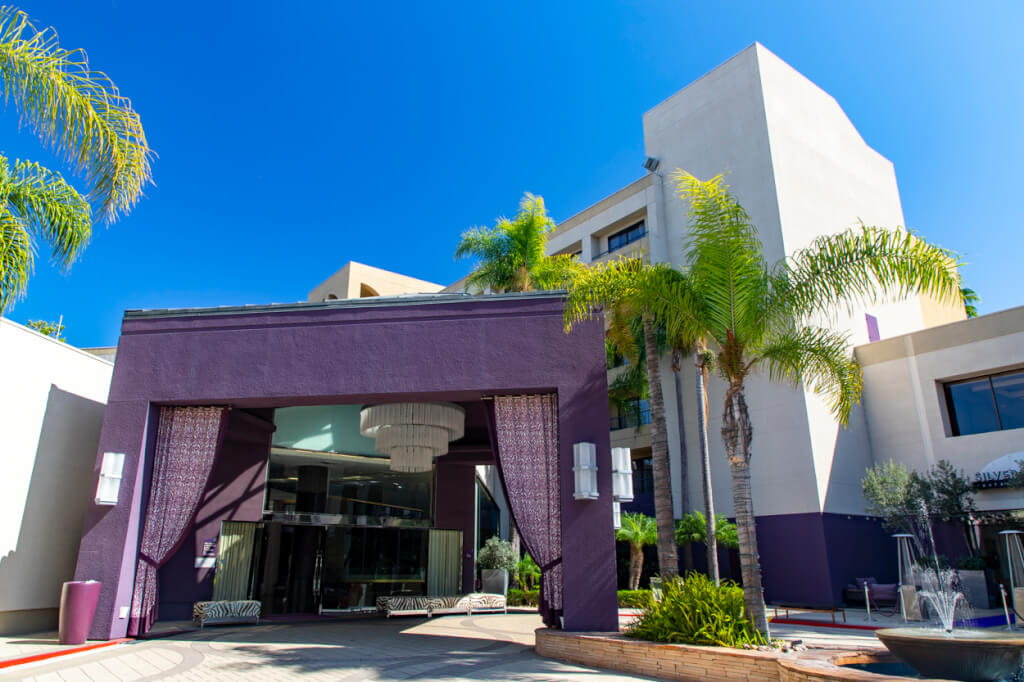 Parking
The Avenue of the Arts Costa Mesa does offer valet parking. Me being the money concious-person that I am, though, opted to self park. Unforutnately, the hotel has a tiny lot with a layout that doesn't make all that much sense. For example, if you end up on the roof, there isn't really any way to get down on foot. We ended up having to walk our bags down through the structure to get to an elevator on the mid-level and then down to the ground floor. WHY? The stalls are also pretty small, making things even trickier.
Check-In and Service
We arrived at the hotel fairly late. We did, after all, leave Alamo LAX around 9:30 pm. After finding parking and lugging all of our stuff down to the lobby, we were helped quickly by a friendly associate. For whatever reason, the check-in process did take more than a few minutes, but not ridiculously long. Our gracious associate informed me that we had been upgraded to a Lake View Room and that per California COVID guidelines, there would be no housekeeping during our stay. However, if we needed to change towels, etc., we could put in a request through the app or call housekeeping. We were also asked if we wanted the key to the mini-bar, which we politely declined.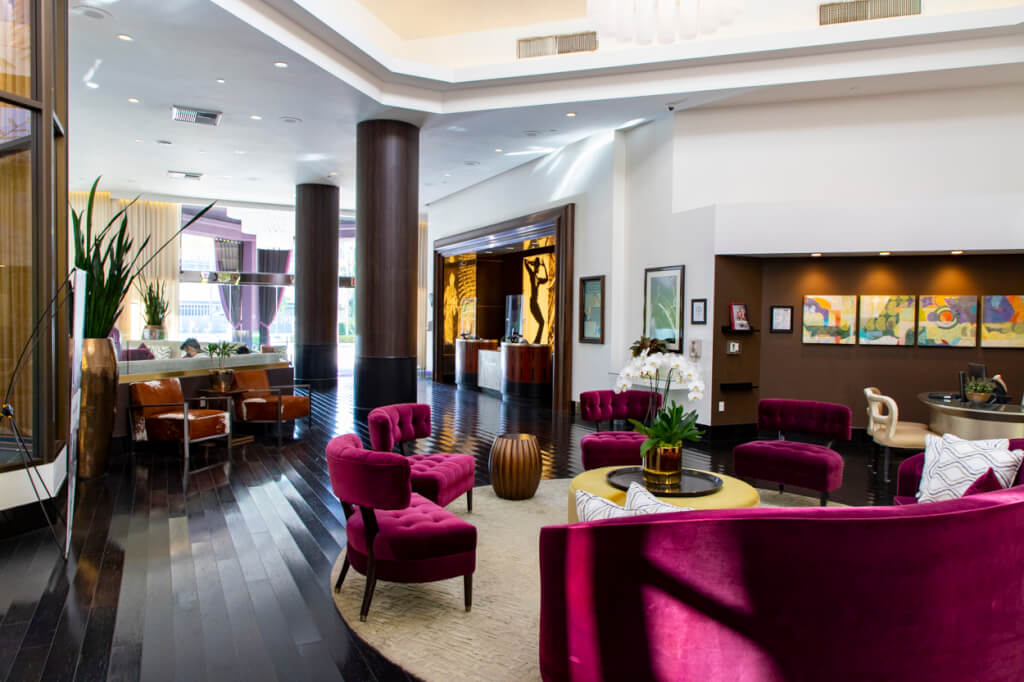 While the associate that assited us was fantastic, I can't say the same for the rest of the employees here. Most – not all – of the other associates we saw or interacted with were cold or seemed like they had a chip on their shoulder. That struck me as odd after our stay given that this isn't exactly what I'd consider to be a luxury or desireable property. And their attitudes only reinforced that sentiment.
Avenue of the Arts Costa Mesa King Lake View Room
Our assigned room was on the top floor – there's somewhere between four and six floors here, I can't remember – which was accessible via a single bank of two elevators. Elevator service, I might add, was fairly slow. Many guests also didn't adhere to signs stipulating that only one family could occupy the elevator at a time. Once on our floor, we walked nearly to the end of the building to access our room.
At 340 sq/ft, the King Lake View Rooms at the Avenue of the Arts Costa Mesa make decent use of their space. Upon entering our room, we found the bathroom with a shower/tub combo and a single vanity to the right. Note: at the time of our visit, this property still offered single-use toiletries.
Interestingly, there was no closet in this room, nor was there a fridge, as they only offer stocked mini-bars here. That said, the rest of the room was quite spacious, featuring a king bed with nightstands and reading lights on either side, a large sofa with a coffee table, a mini-bar with a TV, and a desk with a work chair.
Two complimentary bottles of water were waiting for us, as were the extra foam pillows I requested. Our room also had a Kuerig and two phones – one on the desk and one on the nightstand.
View
Honestly, our view wasn't bad. The small artificial lake was nice, though immediately on the other side were a few apartment complexes and the Costa Mesa Marriott.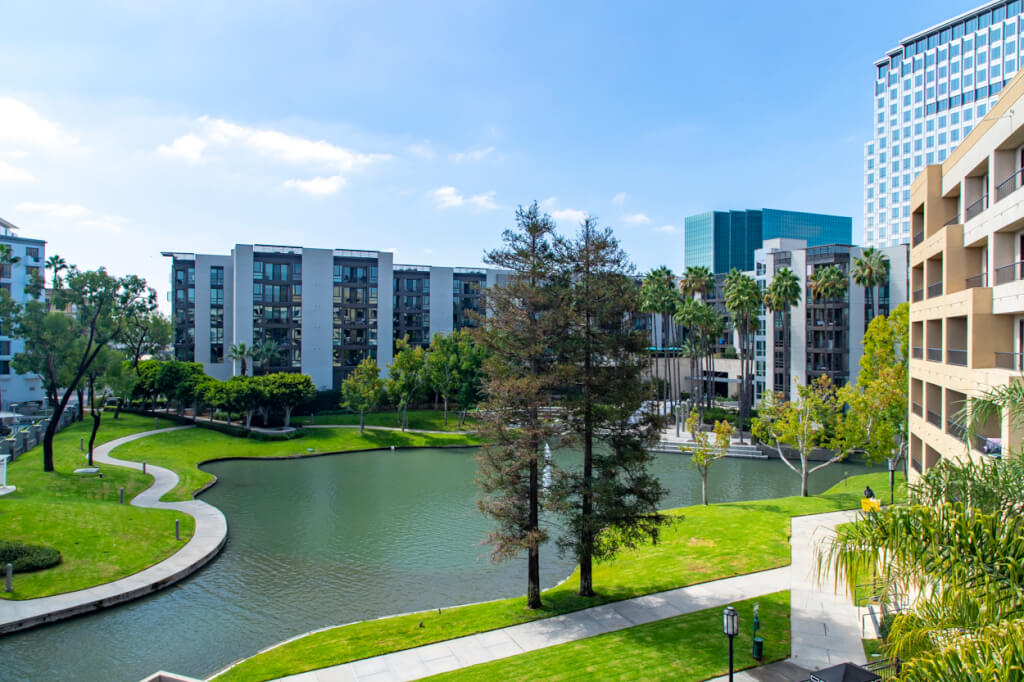 Comfort, Noise, HVAC, and Water
While the bed was quite comfortable, the rooms at the Avenue of the Arts Costa Mesa fell short in a lot of other areas. For one, corridor noise was very noticeable in our room, as was plumbing noise. You could also here louder conversations occurring in nearby rooms. The noisy HVAC unit did nothing, by the way, to dampen those sounds, nor did it function all that well. In fact, we set our room temp to 72 degrees, which it couldn't hold – it was in the 50s at the time. I'm guessing there's no heat function here? Water tempurature was fine, though water pressure was poor. I expected that, though, this being California and all.
Avenue of the Arts Costa Mesa Public Spaces
We did very little exploring in the hotel. Between me feeling not so great and our desire to maximize our time there, we were either out or I was huddling in the room clutching my gut. At any rate, the hotel does have a fitness center, a pool, and a few outdoor seating areas.
Final Thoughts
While the Avenue of the Arts Costa Mesa, Tribute Collection is a decent hotel, I can't say I recommend it. The place feels more style over substance, which is too bad. I generally like the area, but not enough to stay here again. Plus, the only reason we go to Irvine is to visit my sister. Now that she lives closer to the Spectrum Center, I'd likely give either the Courtyard or the Marriott over there a try instead.
Vegas + Irvine Trip Report
Alamo Los Angeles Airport
Avenue of the Arts Costa Mesa, A Tribue Collection Hotel