After our adventures in and around Vancouver, the wife and I headed to the Yaletown district for an early dinner before heading back to Seattle.  Without knowing a whole lot about Vancouver's dining scene, I booked a reservation at Blue Water Cafe + Raw Bar.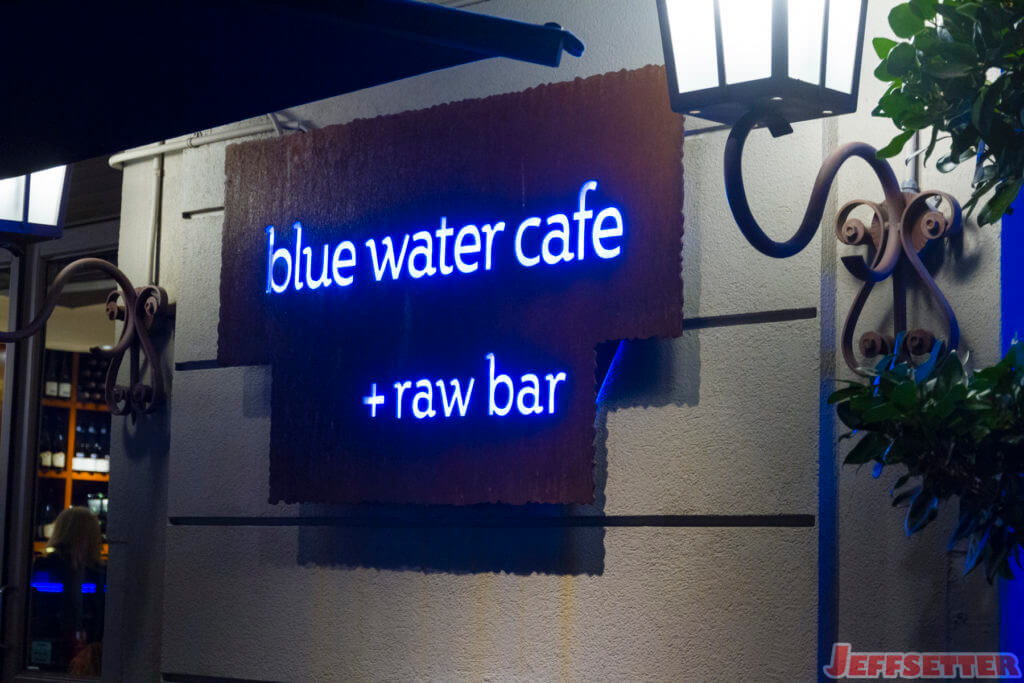 Located in the heart of Yaletown, Blue Water Cafe + Raw Bar specializes in seafood, as the name suggests.  And as its location would suggest, parking can be difficult to find.  Despite having a reservation right when the place opened, street parking was already non-existent, and unfortunately the restaurant's valet parking wasn't yet setup.  Instead we parked in a public lot a couple blocks away with the most confusing pricing ever!  But our car didn't get towed, so I guess I'm ok right?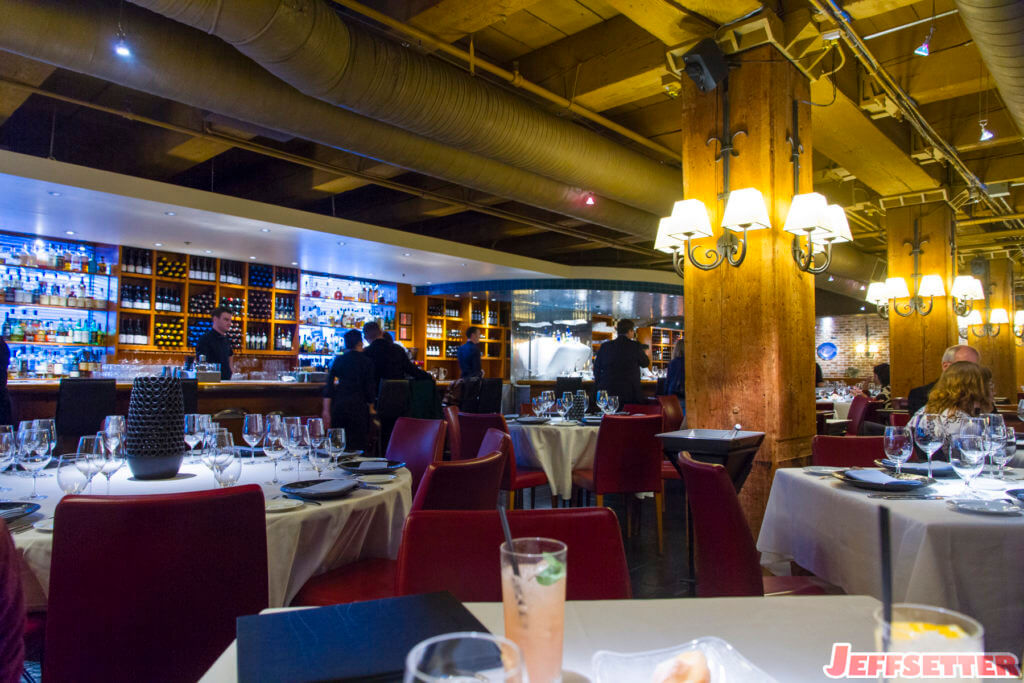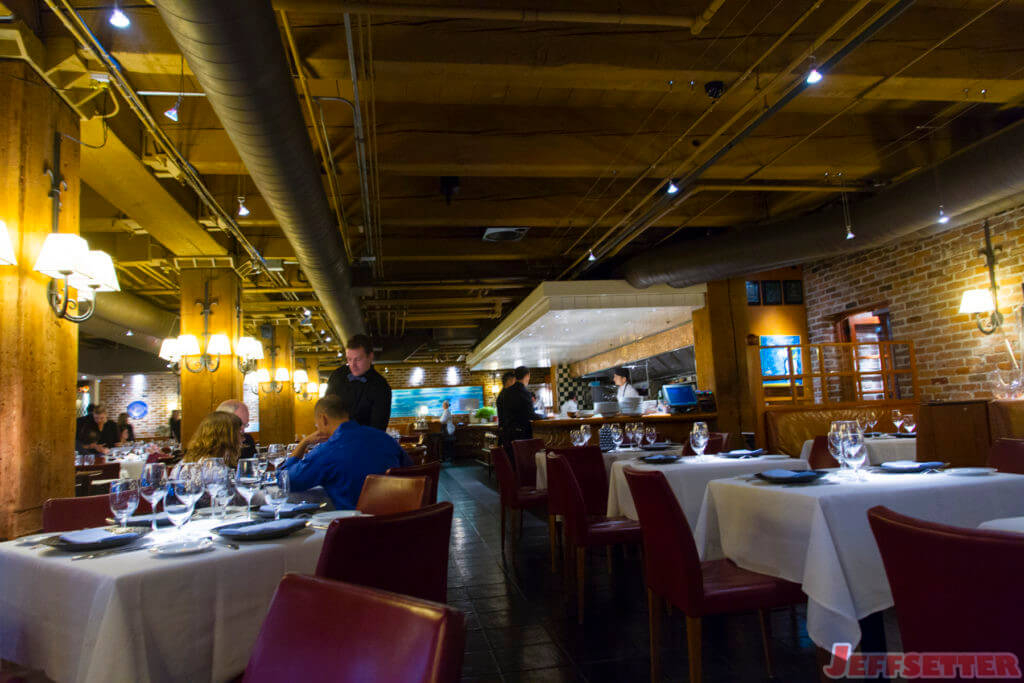 Inside the restaurant is actually fairly large, with a bar, a raw/sushi bar, and an open kitchen towards the back.  We immediately felt underdressed, with myself being in just a polo shirt, nice jeans, and casual shoes, but the staff didn't judge.  Service was incredibly friendly and professional throughout.  As the night went on and the restaurant got busier, it did seem like the wait staff got spread a little thin, but they remained very composed throughout.
To get started, we ordered a couple of mocktails.  Why?  Because I didn't want to drink with a 3-ish hour drive back to Seattle immediately after, and the wife isn't much of a drinker.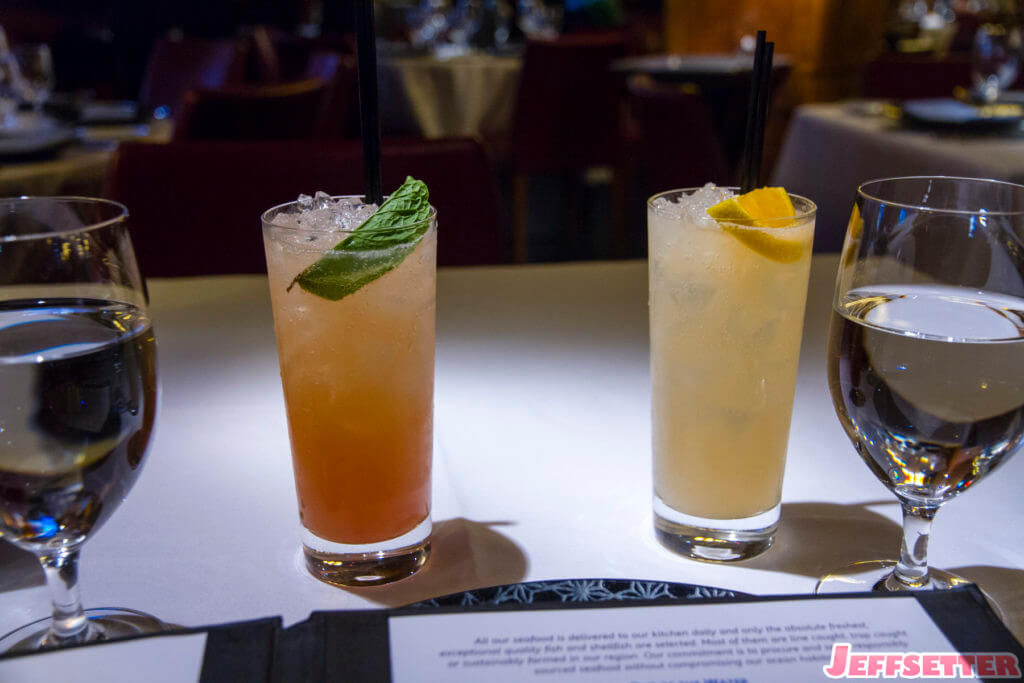 The wife ordered the Pablo Honey: guava puree, fresh lemon honey syrup and soda crushed ice.  It was a pretty good mocktail and was certainly much better than what I ordered; Belgian Orange: almond syrup, fresh grapefruit lemon and soda crushed ice.
The drinks were quickly followed by the bread service.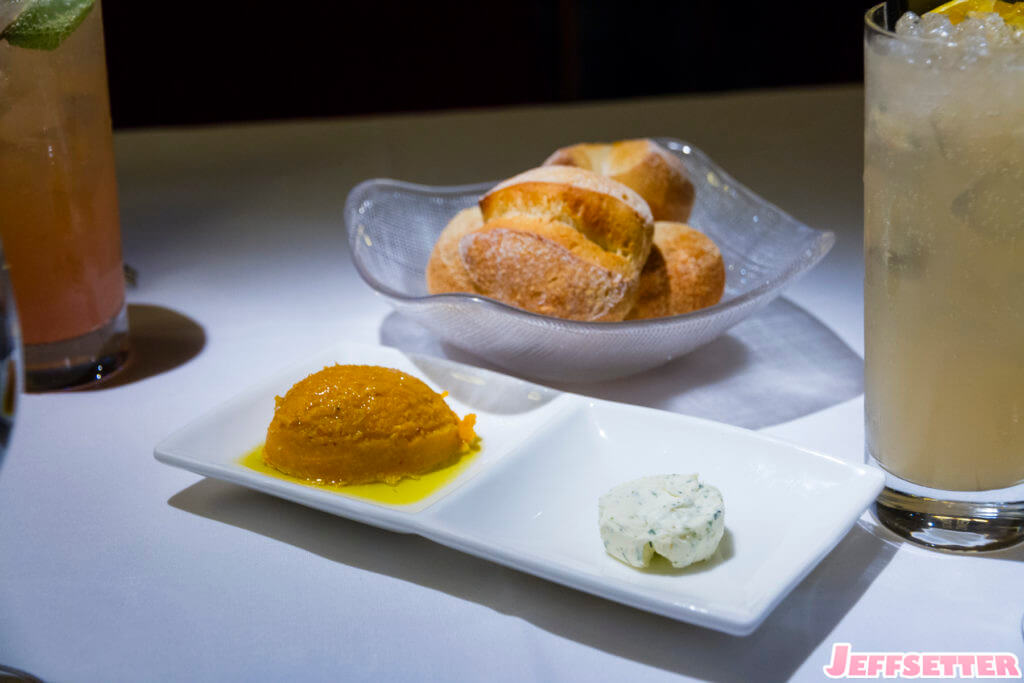 This being Blue Water Cafe, this wasn't your ordinary bread service.  The bread was very good, being crusty on the outside, and soft on the inside.  But the star, to me, was their seaweed butter (right), while the wife favored that hummus (left).  Why was it red?  I don't remember haha.
To kick our meal off, we ordered a hodgepodge of items.  The wife is a fan of uni, so she ordered a single nigiri of British Columbia uni.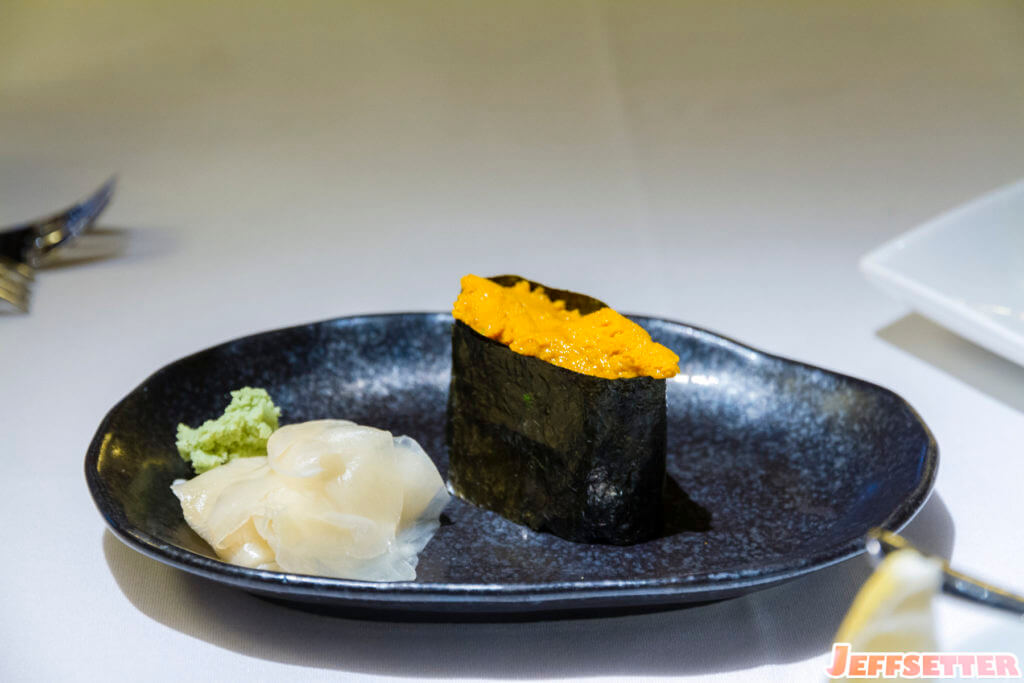 Until this point, the wife had also never had raw oysters, so we decided to order a couple of those too.  On this occasion we opted for the British Columbia grown Kusshi Oysters.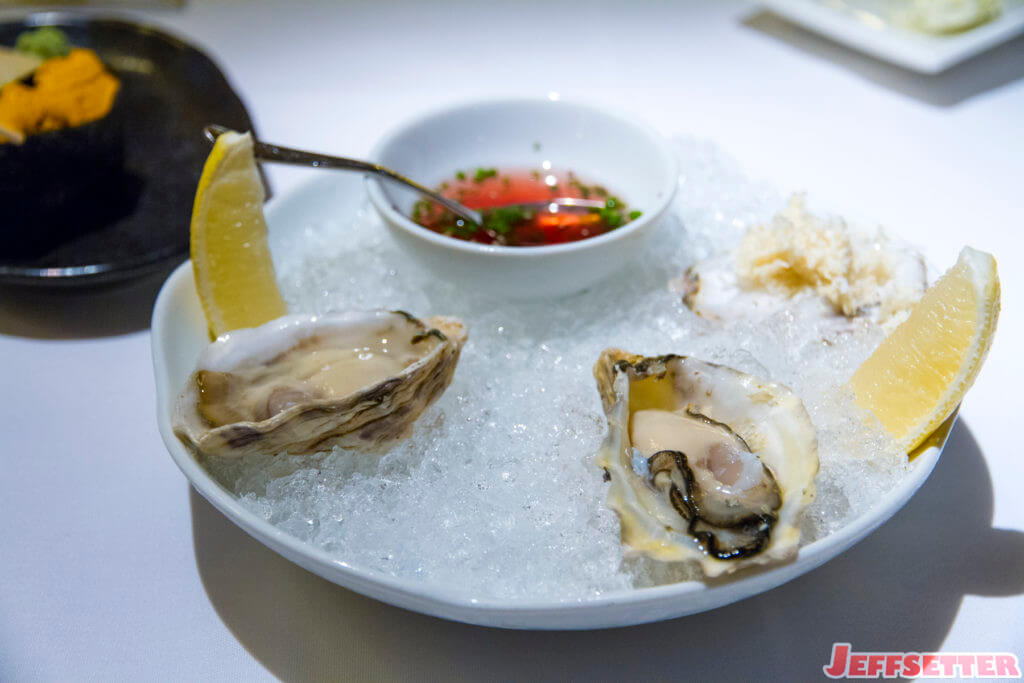 These plump little morsels had a great texture with a clean, slightly fruity finish.
For or main appetizer, the wife and I couldn't decide, so we settled on the Seafood Tasting for Two.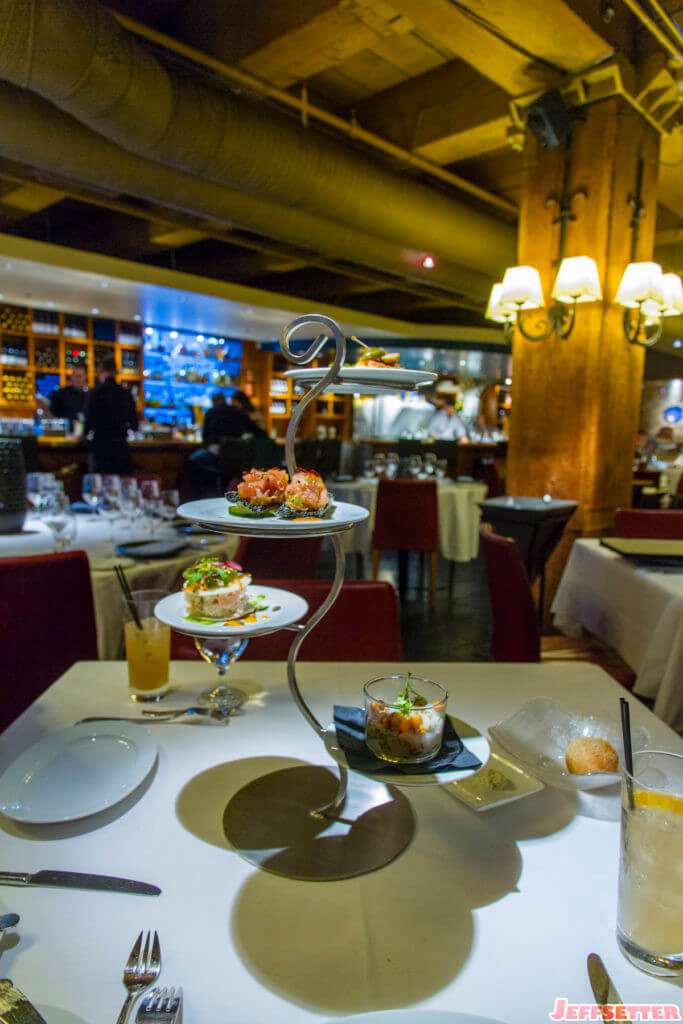 Blue Water Cafe's Seafood Tasting for Two is presented in a very theatrical manner, with 4 dishes served on a tall stand.  Our server suggested we start from the bottom and work our way up, going from lighter to heavier dishes.  So first up was the Scallop Ceviche.
These small bay scallops were firm and sweet and went well with the citrusy, slightly spicy seasoning with some thinly sliced red onions and crisp garbanzo beans.  The wife doesn't normally like scallops, but she liked this dish, so I think that says a lot in itself.
The second dish on the tower was the Dungeness Crab + Shrimp Salad.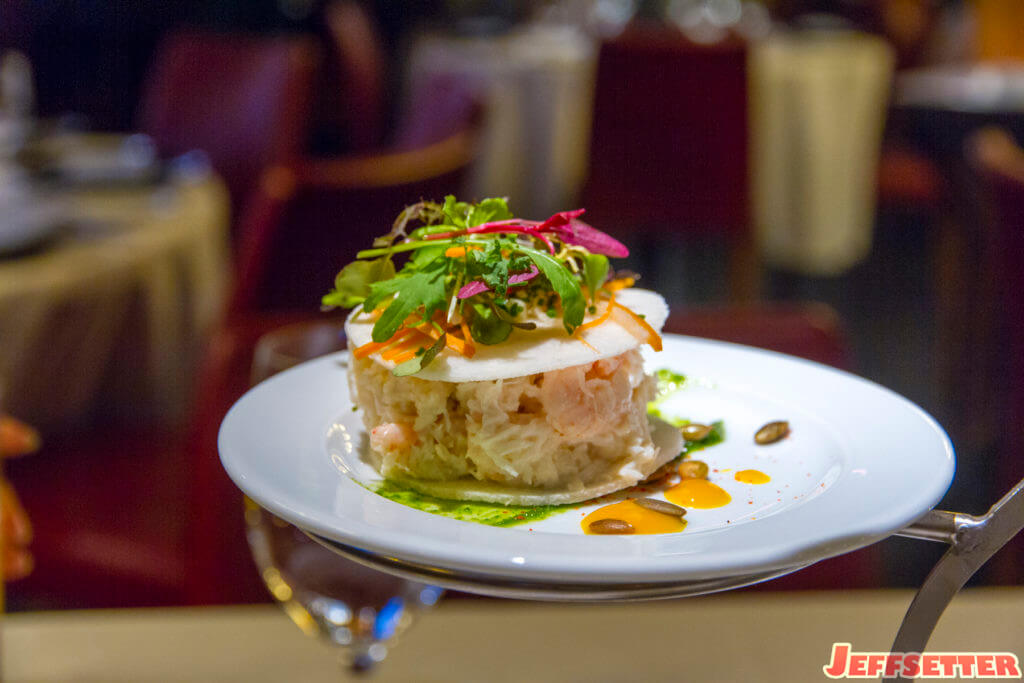 The crab + shrimp salad was layered between sliced of Jicama and served with a mango coulis, pumpkin seeds, and a parsley pesto.  It was a really tasty, refreshing dish, but it was much more shrimp than crab.  This would actually be an ongoing theme unfortunately.
The third dish on our Seafood Tasting for Two tower was the Albacore Tuna Tartare.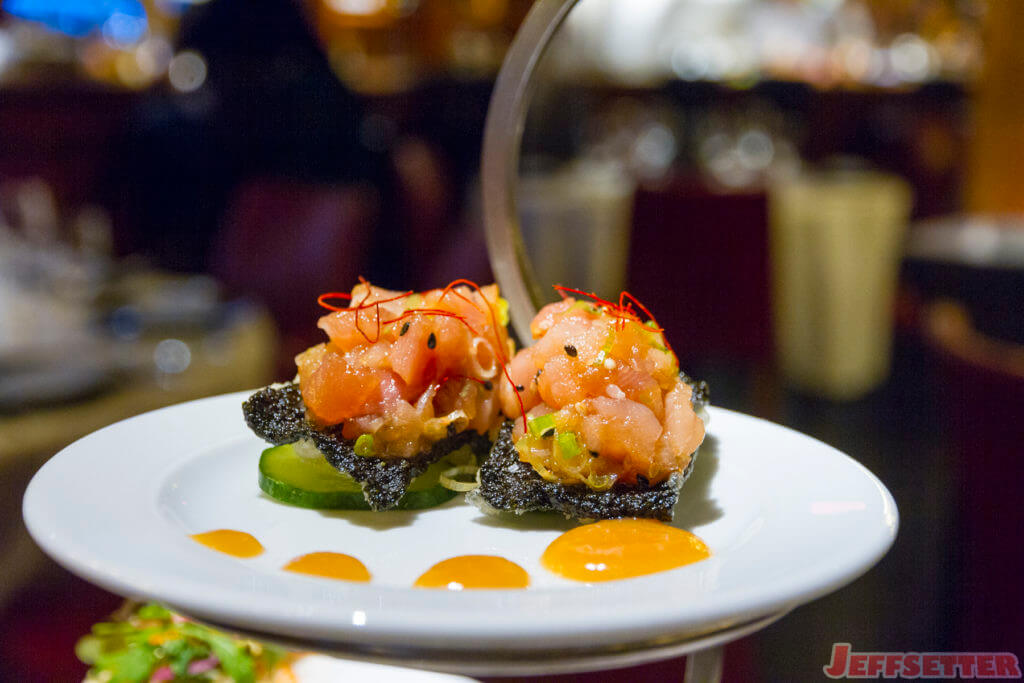 It was basically like what we call poke in Hawaii, served on nori chips (deep fried seaweed) with a spicy sauce.  It was good, but this is definitely something that is familiar to me since it's so common back home.
The final of the four dishes in the stack was the Smoked Sockeye Salmon Terrine.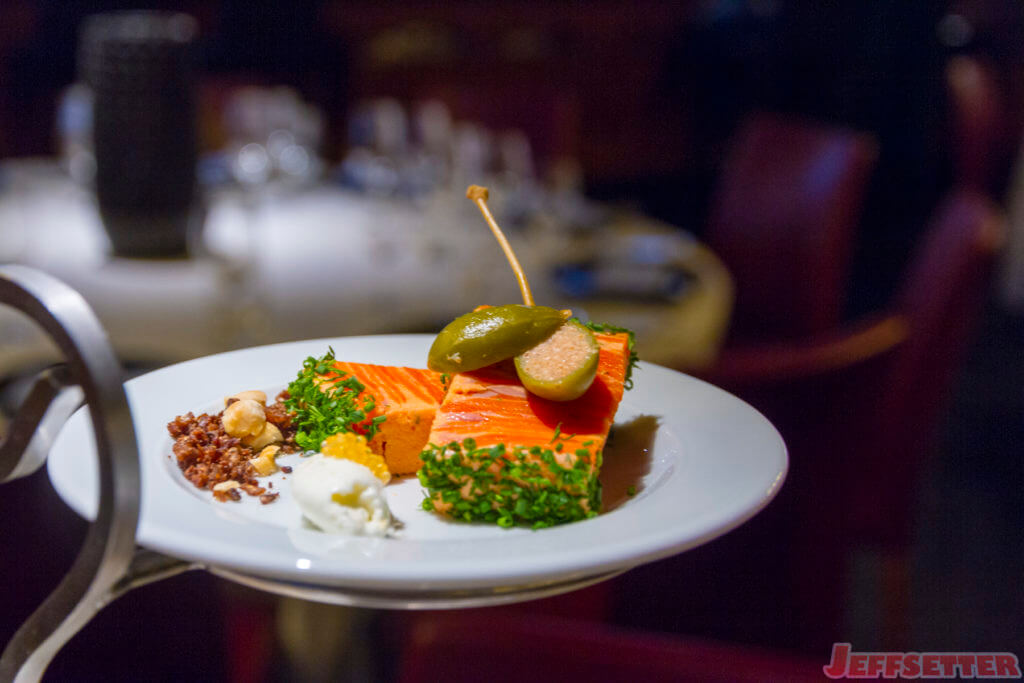 This one was my personal favorite made with luxurious and delicious sockeye salmon with chives and dill.  It was served with capers, sake marinated golden caviar, creme fraiche, pumpernickel, and toasted filberts (hazelnuts).  I'd order the full sized appetizer version of this one next time.
The appetizers were actually all really good, though some of them were really hard to share.  The shrimp + crab salad was especially difficult to split, but oh well!
For our entrees, we both stuck with seafood naturally.  The wife ordered the special of the night:  Prosciutto Wrapped Trout.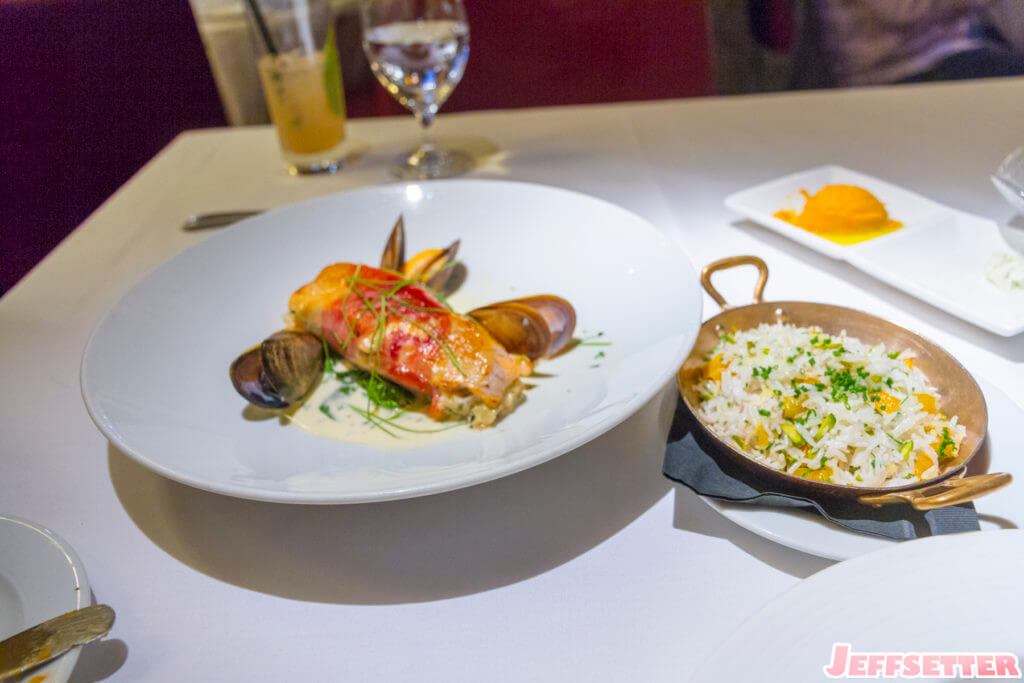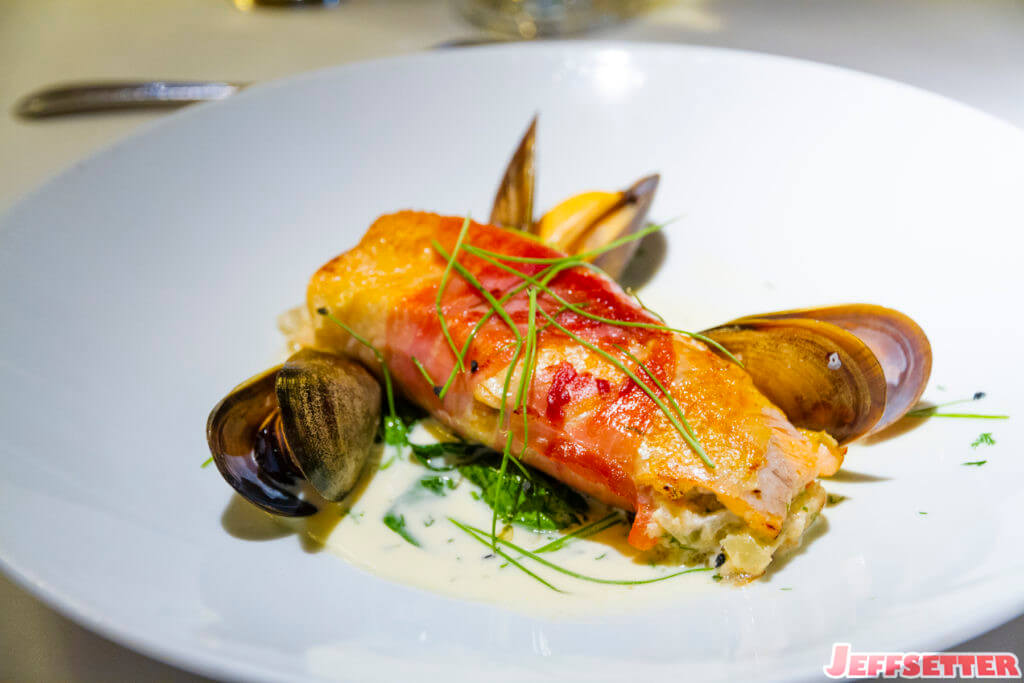 The dish was actually made of a number of trout fillets layered and wrapped in prosciutto, pan seared/roasted, and served over some greens and what I think was a beurre blanc with a few fresh mussels.  A generous side of pilaf was also served along the trout.
For my main dish, I opted for the Char.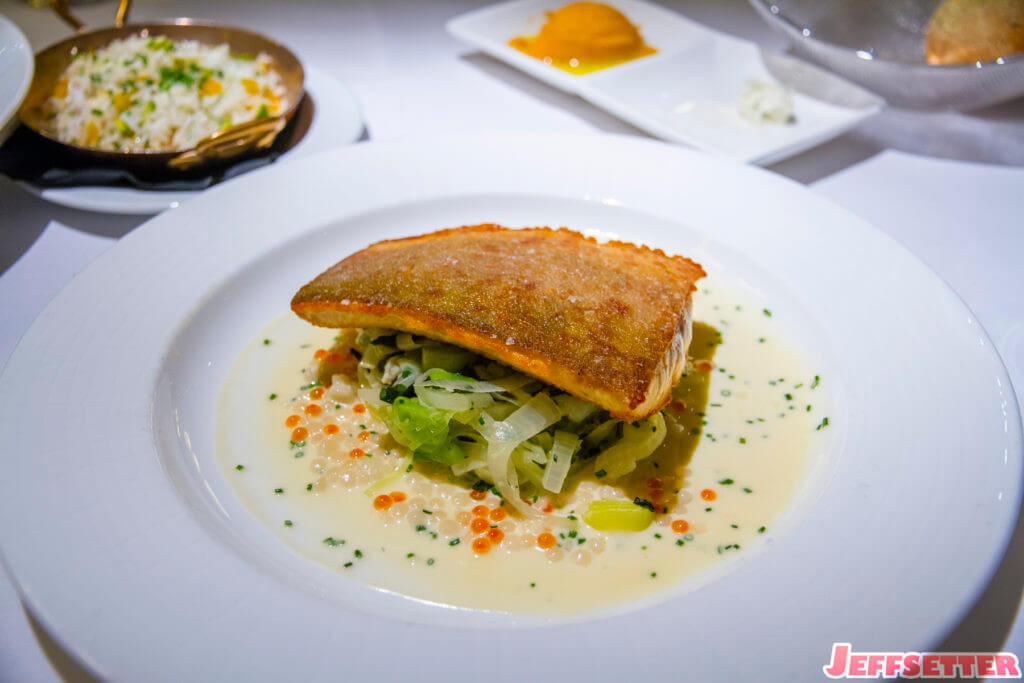 This dish was comprised of a crispy skin arctic char over braised leeks, wakame seaweed, dungeness crab
trout caviar and pearl couscous.  It was a good dish, but it left me asking where's the crab?  The barely-there crab were just a few, tiny flakes within the veggie, seaweed mix.  I'd order it again, I just wish they'd omit the crab and, you know, maybe lower the price a tad?
After all that food, you'd think we'd be stuffed, but we somehow managed to fit some dessert into our bellies… And that's partially thanks to Blue Water Cafe offering up some lighter, yet tasty desserts.
The wife is a sucker for creme brûlée, so naturally that's what she ordered.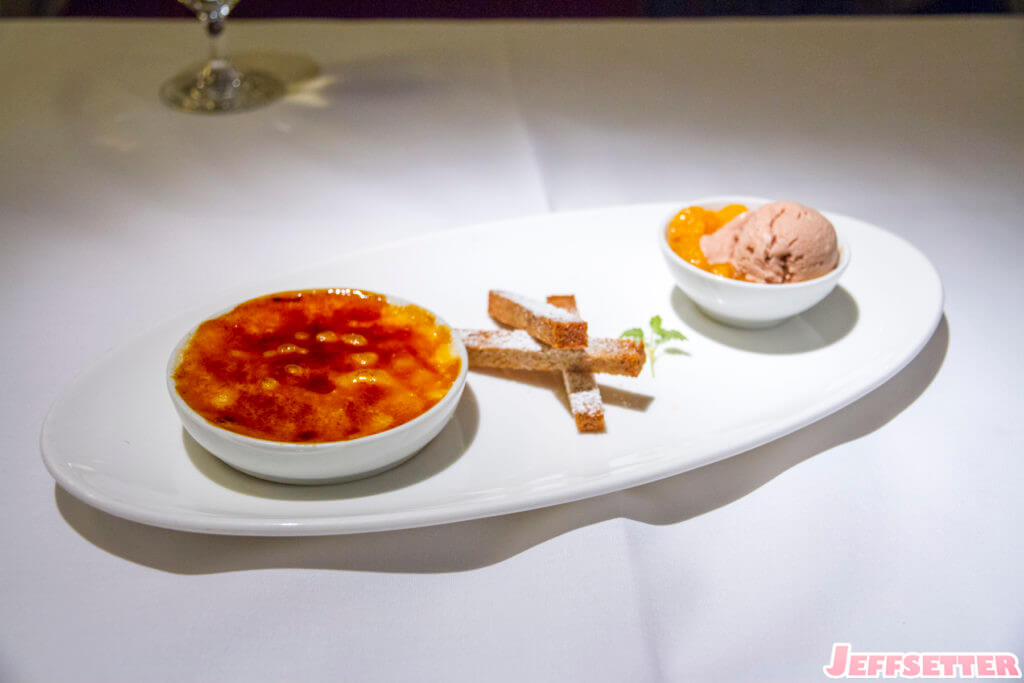 Blue Water Cafe's version on this night was a Grand Marnier Creme Brûlée with toasted banana bread, orange caramel compote, and a caramel gelato.  It was an interesting and delicious dessert.
Me, I went really light and ordered the Lemon Curd.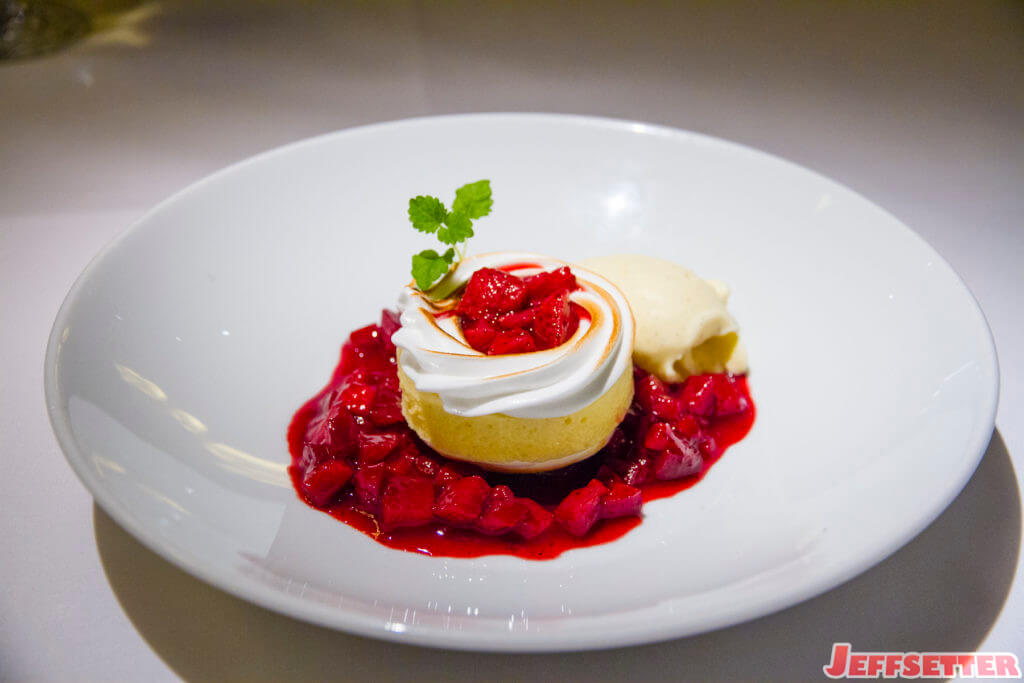 Don't really understand the name, actually, because it was primarily a strawberry salad with poached rhubarb and vanilla ice cream.  There was some lemon curd between the meringue and sponge cake, but still.  Perhaps the dish should have been called, I don't know, strawberry salad??  ?  All jokes aside it was a nice, refreshing dessert.
But if you think that's it, you'd be mistaken.  To close the night out, some petite fours were served with our bill.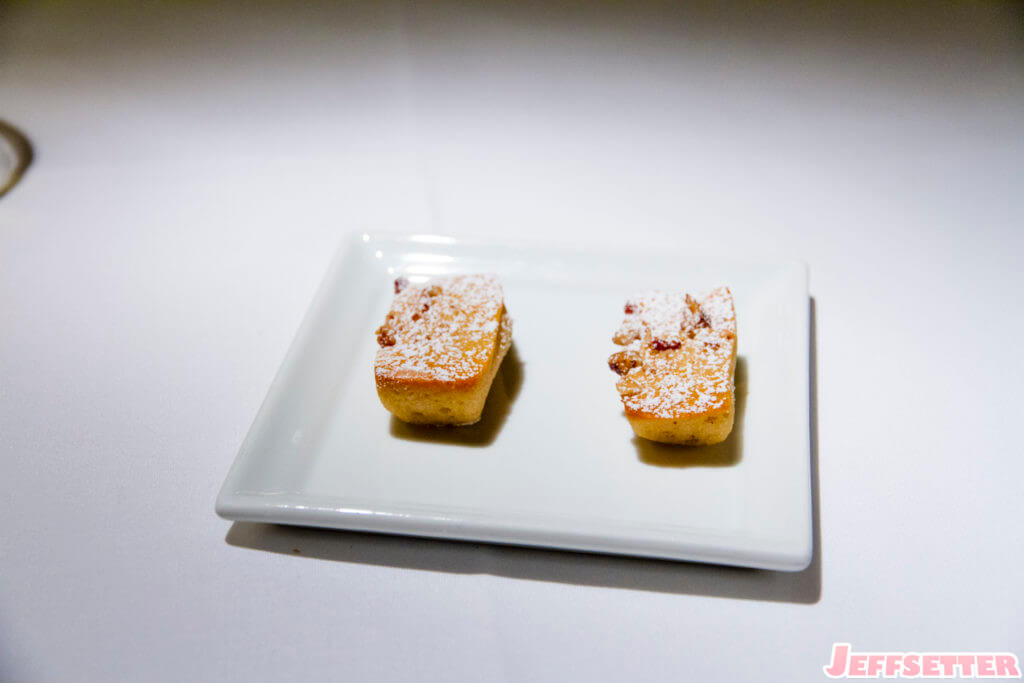 On that particular night they were Maple Pecan Pralines.
While there were some questionable values throughout our meal, Blue Water Cafe is a solid restaurant with tasty food and good service.  The ambiance is upscale without being stuffy or pretentious, and they have an incredibly variety of seafoods and even beverages if you're so inclined.  I'll definitely be back someday, and hope that during our next visit I'll actually be able to select something out of their live tanks (they were empty this time).  And with that, we headed back to our car and jetted back down to Seattle.
Thanks to Global Entry, we ripped through the border crossing in literally about a minute, and after a quick stop for some gas, were rocketing back towards SEAtown again.  What took around 3 hours total on the way up, took me 2.5 hours on the way back… as in we were dropping the car off with the valet at the Seattle Marriott Waterfront about 2.5 hours after leaving the restaurant… I wonder how fast I was driving?? ?
Our PNW Adventure
Dining Review:  Blue Water Cafe + Raw Bar