Last updated on September 2nd, 2023 at 08:48 pm
After our extravagant pre-dinner, it was time to head to the main event at another Thomas Keller establishment – La Calenda. His first ethnic concept, the restaurant serves up authentic Mexican cuisine in downtown Yountville.
I love Mexican food, well, the not so spicy stuff. And while authentic Mexican cuisine is getting easier to find in Hawaii, it still pales in comparison to what you can find in California. So when I found out Thomas Keller opened in own Mexican concept, headed by chefs from Mexico, the restaurant was immediately added to my list of places to try. While I would've preferred to check out the place for lunch, they're only opened for dinner, so I booked a reservation for that.
La Calenda Location
If you read my last post, you'd know that La Calenda is in Yountville just a quarter mile away from Regiis Ova Caviar & Champagne Bar and Ad Hoc. Specifically, it's just steps away from Bouchon Bistro and Bouchon Bakery. Unlike Regiis Ova, though, La Calenda does have its own parking lot, which is convenient.
Atmosphere & Service
Compared to most of Thomas Keller's other restaurants, La Calenda has more of a rustic vibe to it. It's also much more casual. In fact, while there are physical menus for ou to review, you place your orders via your phone. Yes, there is an ample-sized waitstaff here, and they can take your order if need be, but the intent is for you to order and pay via their online portal.
Speaking of the staff, they're fantastic. Everyone was friendly, personable, and attentive.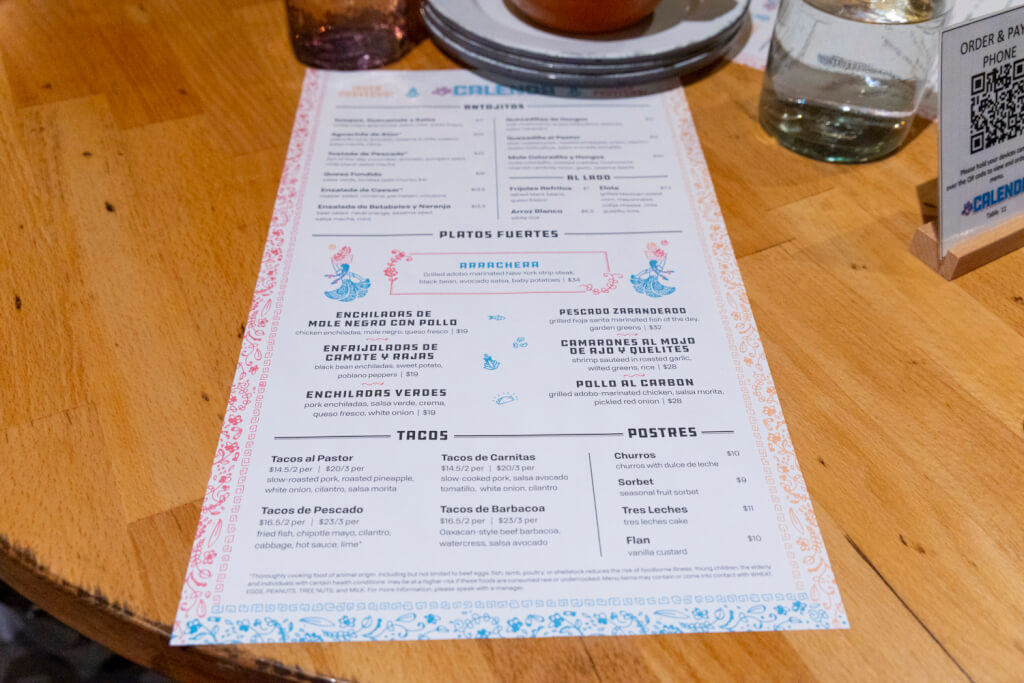 La Calenda Menu
The menu at La Calenda has a nice variety to it, with a collection of smaller bites, sides, large plates, street tacos, and sweets. There were so many things we wanted to try, but we were quite full from our pre-dinner "snacks," so we tried to hold back.
What We Ordered
To kick things off, we started with something light and refreshing – the Aguachile de Atùn. This dish combines yellowfin tuna, avocado, sesame & chili costeno salsa macha, and citrus. It came with a side blue corn tostadas.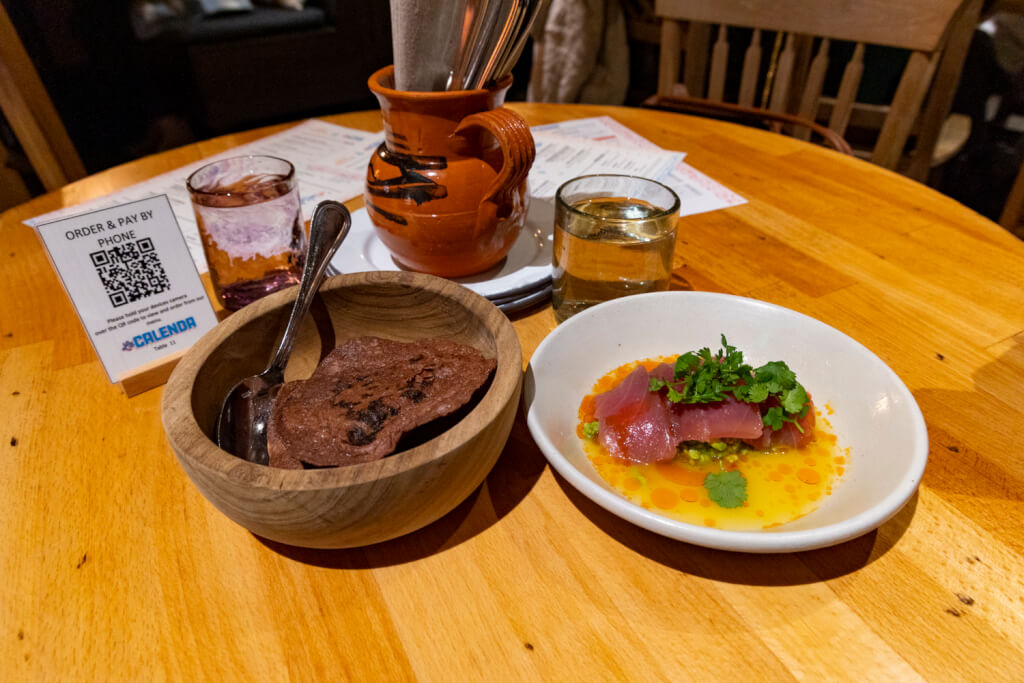 This was a wonderful, fresh, light dish, pairing fresh fish, creamy avocado, and vibrant flavors. Unfortunately, it was a bit too spicy for me, so Mrs. Island Miler had to eat most of it.
Next up, we ordered the Mushroom Mole. Here, we have roasted Maitake mushrooms paired with a mole negro, which was fantastic! The earthy, meaty mushrooms were a perfect match with the smokey, bitter, nutty, (chili pepper) fruity mole. So good! This is definitely something that's nearly impossible to find in Hawaii still, and is something we were glad to try.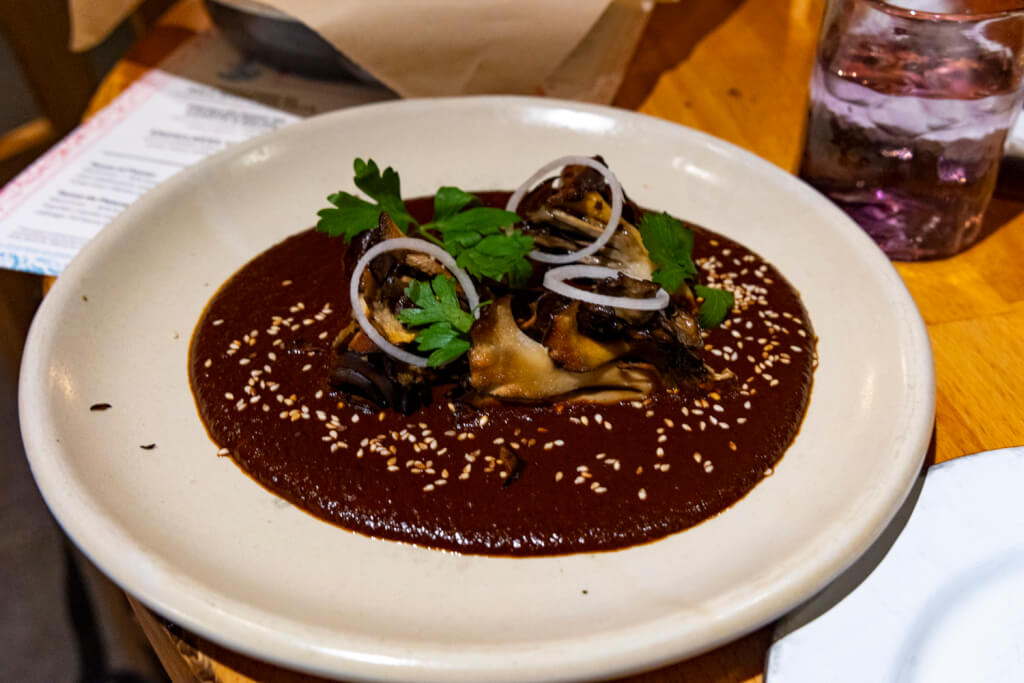 This was served with a plate of warm blue corn tortillas.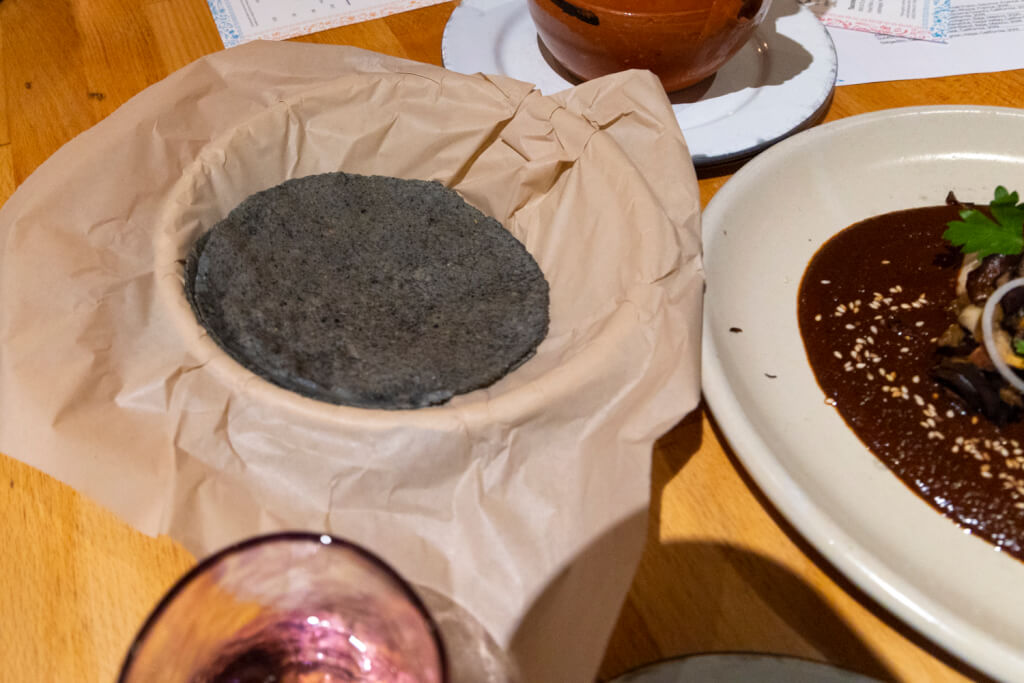 Finally, we had a platter of street tacos land on our table. Available as singles or in threes, we decided to order two sets of three, including the Carnitas and the al Pastor. The carnitas tacos here come dressed with tomatillo guacamole, white onion, and cilantro, while the al pastor comes topped with roasted pineapple, white onion, cilantro, and salsa morita.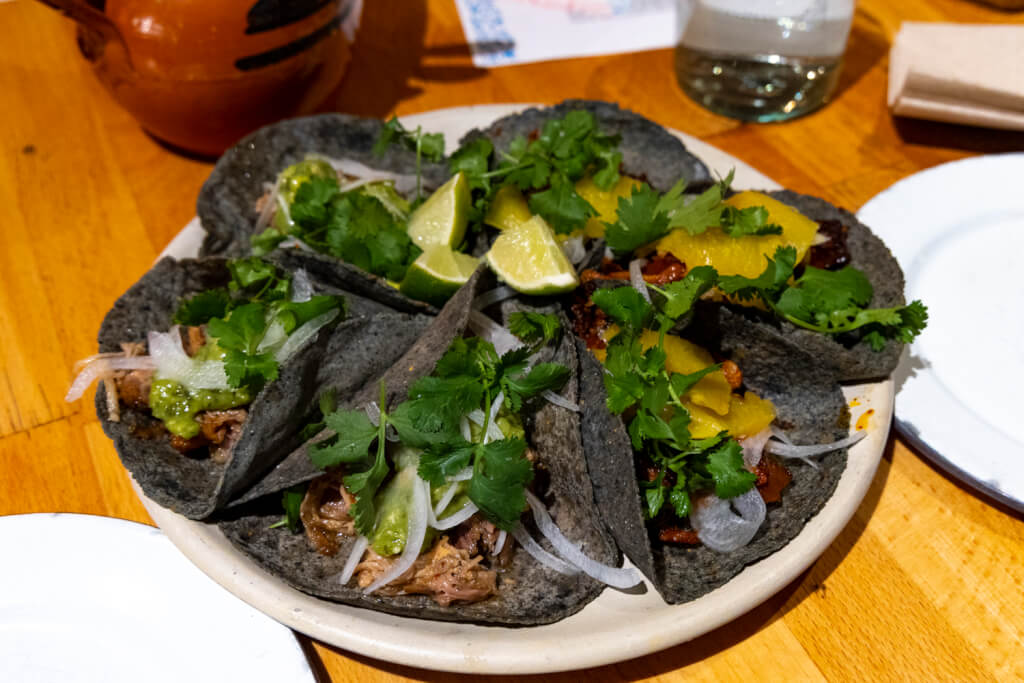 The carnitas here were, unfortunately, a bit of a disappointment. They were kind of bland, a little dry, and had no crispy bits. If it weren't for the toppings, this would've been difficult to eat. The al pastor, on the other hand, was fantastic! The pork was rich and flavorful, the salsa was tasty with just the right amount of spice, and the juicy, sweet/tart pineapple provided a lovely counterpoint to the richness. This was the clear winner for me.
Final Thoughts
After years of waiting, I'm glad I finally got to try La Calenda. Unlike most other Mexican places I've been to, though, this is not an inexpensive restaurant. All of the above cost over $100 with tax and tip. That said, we both agreed that we were glad we gave the place a shot. We just won't be ordering the carnitas again if we were to return. The al Pastor, though, I could eat that all day long. I'd also like to try their take on churros! Perhaps, next time.
Living It Up in California