Last updated on September 2nd, 2023 at 08:46 pm
The primary reason I chose to stay at the Hyatt Regency San Francisco is its location. Specifically, its proximity to the SF Ferry Building Marketplace, which is an icon of the city and a fantastic place to shop and dine at.
On the one hand, the Hyatt Regency San Francisco is in the city's financial district, which is absolutely dead during the weekend and evenings. On the other hand, it's right next to the trams on Embarcadero, which itself is between the hotel and the iconic SF Ferry Building Marketplace. If you think about it, that makes this gargantuan hotel really one of the better options in the city, but that's beside the point. Today, I want to talk about our experience in that Marketplace.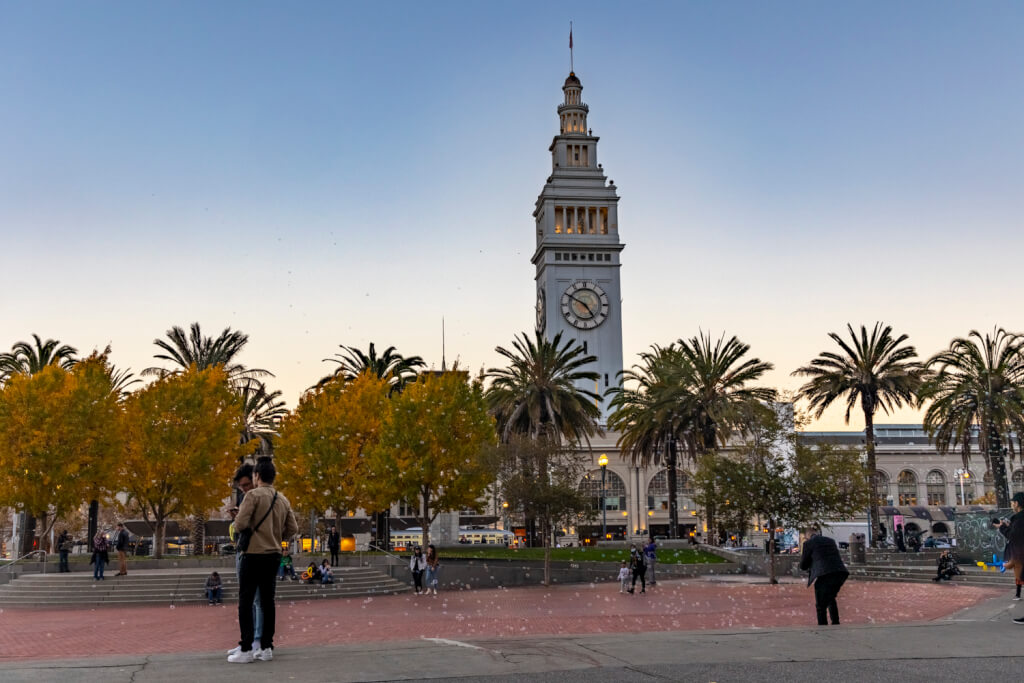 SF Ferry Building Marketplace
The dates for our trip aligned perfectly for this portion of our adventure – our full day in San Francisco was on Saturday. That means we got to experience both the SF Ferry Building Marketplace along with its Saturday morning farmers market. Unfortunately, we were so immersed in exploring as much as we could that I didn't really snap any photos.
Outside, there were tons of actual farmers. This time of year (November), there were a lot of farms selling shelled walnuts, apples, mushrooms, olive oil, and more. The sheer volume of vendors available outside was overwhelming in a good way. We did find a guy set up in front of the building – Bariani Olive Oil – selling freshly pressed extra virgin olive oil. Though we bought a bunch at Long Meadow Ranch, we bought more from him after sampling his oils, especially the high-phenolic version.
We also found Far West Cider Co. on the southern exterior side of the road (Ferry Plaza) and got to sample some of their seasonal and standard (hard) apple ciders. We loved them so much that, despite our lack of space, we ended up buying eight cans of the stuff and successfully brought them back home with us.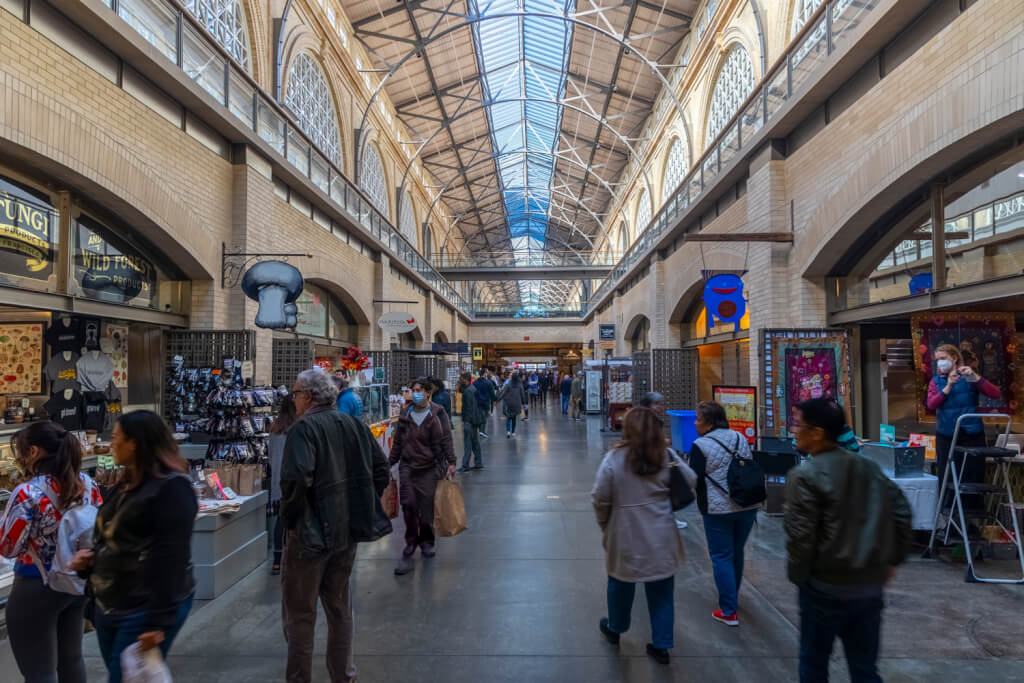 Inside the SF Ferry Building Marketplace, the selections were equally overwhelming. Going in, I knew I wanted to check out Dandelion Chocolate, which we spent too much money at, and Tsar Nicoulai Caviar, which I love, but we didn't end up dining at. However, other shops that we "discovered" and fell in love with include:
Carmel Honey (we went in Carmel)
Daily Driver (bagels)
Epicurean Trader
Far West Fungi
Red Bay Coffee
Far West Fungi had an incredible selection of seasonal mushrooms, including massive porcinis, lobsters, and chanterelles. Unfortunately, with two more nights, until we headed home, I didn't think buying here was a good idea – especially since the mushrooms I bought the night before flying home in Seattle didn't make it without rotting. However, after Mrs. Island Miler bought and enjoyed a coffee from Red Bay, we ended up buying a bunch of coffee to bring home with us.
From Epicurean Trader, we ended up purchasing an ultra-rich peppermint hot chocolate mix, which was basically high-quality dark chocolate shavings and pieces of peppermint. Finally, from Daily Driver, I got a fantastic Gravlax sandwich on an everything bagel. Their wood-fired bagels are one of the best I've ever had. They're soft and pillowy, yet still chewy and oh-so full of flavor. I wanted to bring it home, but the employee told me they probably wouldn't make it. For long-term storage, they need to be frozen within 24 hours, which wasn't going to happen.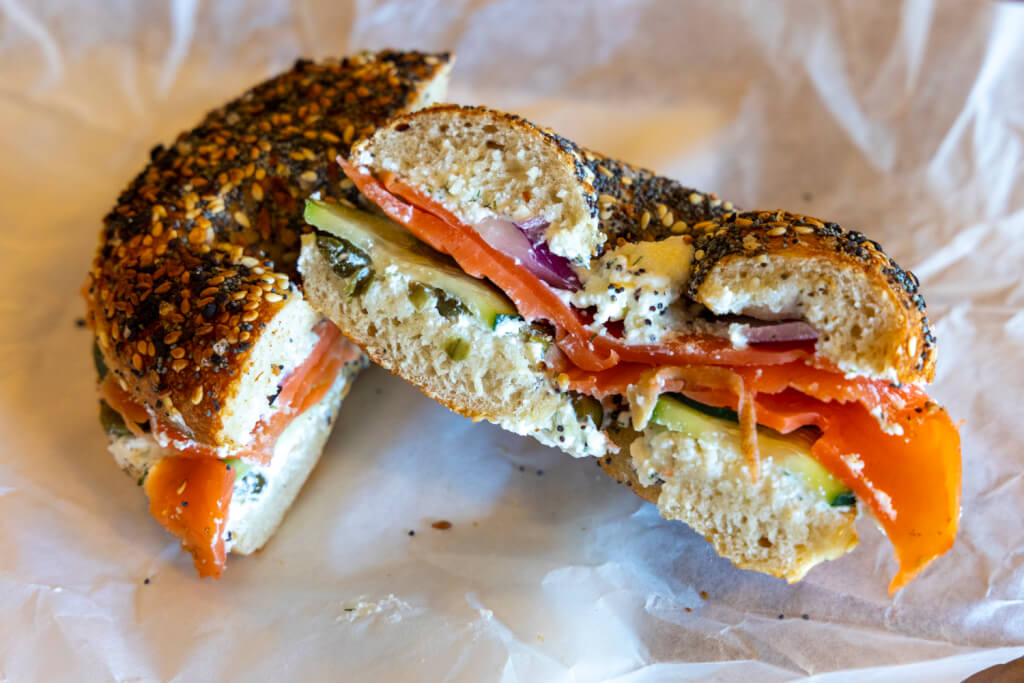 Final Thoughts
I can't believe it took me this long to finally visit the SF Ferry Building Marketplace, but I'm glad I did. Better late than never, I suppose, right? That said, the spot is now a must-visit place whenever I'm in the city, especially on Saturdays, if possible. And I encourage you to pay them a visit, too. There's certainly something for everyone, even more than I covered, so be sure to check out their website. I can tell you, I'm pretty sure I missed some spots I'll need to check out next time.
Living It Up in California
Yank Sing
SF Ferry Building Marketplace