Do you know what's more difficult than choosing a hotel in San Francisco? Picking a dinner spot. With just two nights to play in the city, I had to pick carefully. As such, I decided to book a table at one of the hottest restaurants in the Bay Area: The Progress SF.
San Francisco and the areas around it are among the foodiest places in the U.S., with some of the highest rates of Michelin-starred restaurants anywhere. That makes choosing a dining spot, even if you aren't looking to spend four figures on a dinner, really tricky. So when I read through dining reviews for the city and learned of a spot that focuses on seasonal vegetables, I was sold. Especially after learning when it's by the same people responsible for the uber-popular State Bird Provisions – I still have to get there one day.
Booking The Progress SF
The Progress SF has one Michelin Star. Despite this, the restaurant doesn't use Resy or Tock for reservations – they use OpenTable. No prepayment is required, but you do need to provide a credit card number, as the restaurant will charge you $50 per person for cancellations made 24 hours or less before your reservation time. That said, it's worth noting that reservations become available on a rolling 30-day schedule. So be sure to log on 30 days before your desired dinner date.
The Progress SF Location
The Progress SF is in Japantown along Fillmore Street. Parking is street-only and is a bit of a pain. To simplify things, we ended up parking at the Japan Center Mall, which offers covered parking in a garage at a reasonable rate of $2/hour. Thankfully, the garage does accept credit card payments, too.
We went to the area far earlier than we anticipated, so we walked around a bit ahead of dinner. I'd suggest doing this, as there are interesting shops in and around the mall. The view is pretty great, too.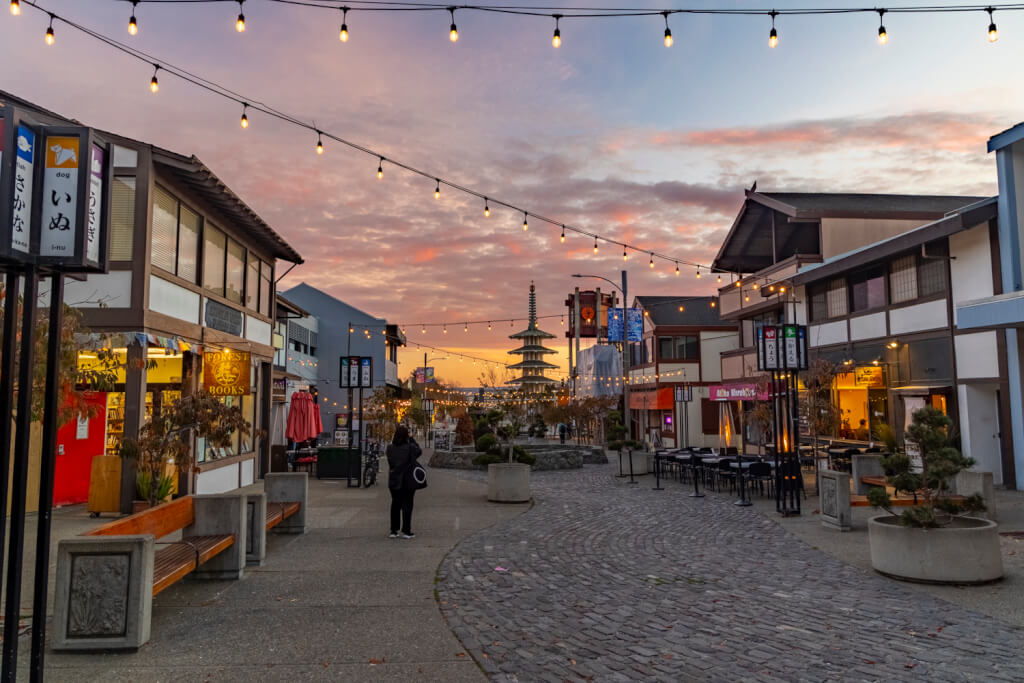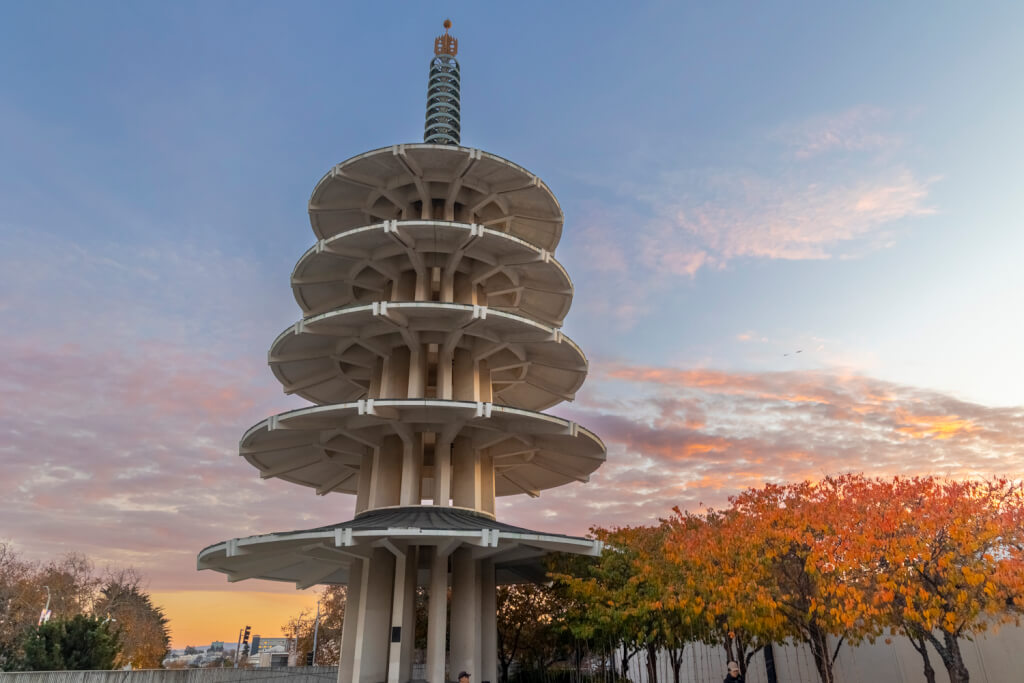 The Progress SF Ambiance + Service
Given its popularity, The Progress SF is a lively place. Honestly, communicating can be a little tricky because of the sound levels, but it wasn't obnoxiously loud. So a quiet date night spot, this is not, and that's ok. It's a fun restaurant, in terms of atmosphere and cuisine.
Service, as you'd expect, is great. Our server was friendly and knowledgeable, helping us greatly with the insurmountable task of choosing what dishes to order. And once we made our selections, she coursed out our dishes for us in a way that made sense.
Menu at The Progress SF
The menu at The Progress changes seasonally. This includes items that remain constant with ingredient variations, completely different seasonal items, and some items that remain entirely constant. On top of that, the menu is divided into four different sections: Vegetables, mostly; Western Additions; Seafood; and Meat. There's also a separate dessert menu.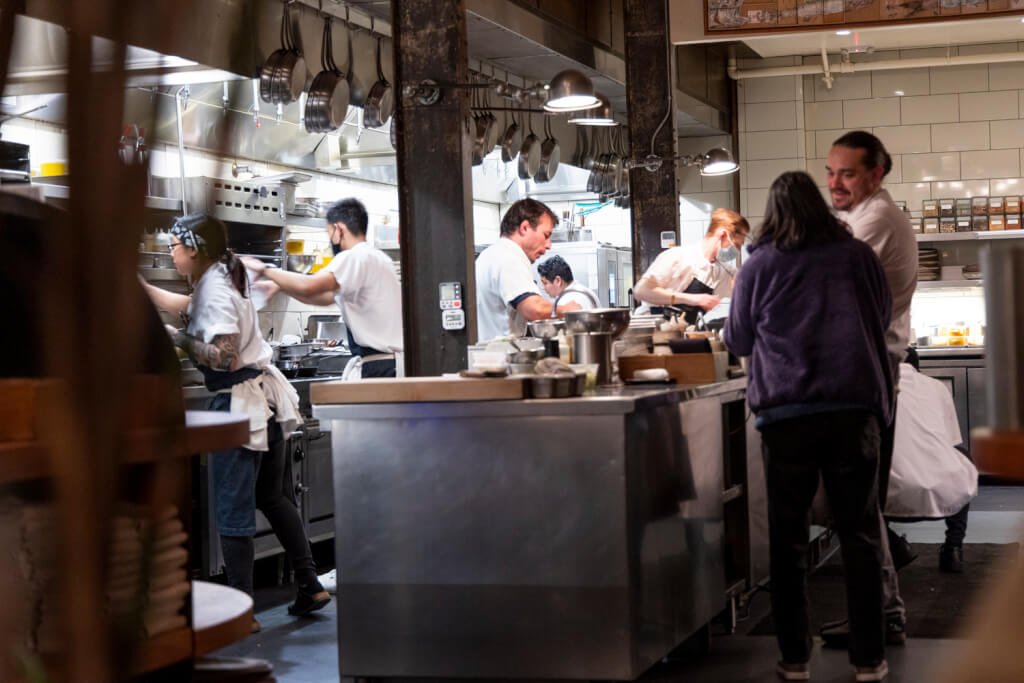 What We Ordered
Including dessert, we ended up ordering nine dishes. As I mentioned earlier, our server coursed out those selections in a way she thought made sense, which was fantastic. So while we knew what we ordered, we didn't know what order it would come in.
The first dish to land was the Caviar Potato Cloud ($12). When it arrives, it looks like a bowl of foam with lime zest. But hiding under that milk and potato foam is a bowl of caviar, crispy potato bits, and chives. It's a delicious dish, the warmth of which somehow makes it even more unctuous. I could've eaten several bowls of this!
The second item to arrive was the Full Belly Farm Masa Dumplings ($10). Our server warned us that these wouldn't be dumplings in the traditional sense. These little morsels come with toma cheese, avocado, and tomatillo. They have a crispy outside and creamy interior with a wonderfully nutty flavor reminiscent of corn nuts. The sauce has notes of cilantro and citrus with a bit of a zing.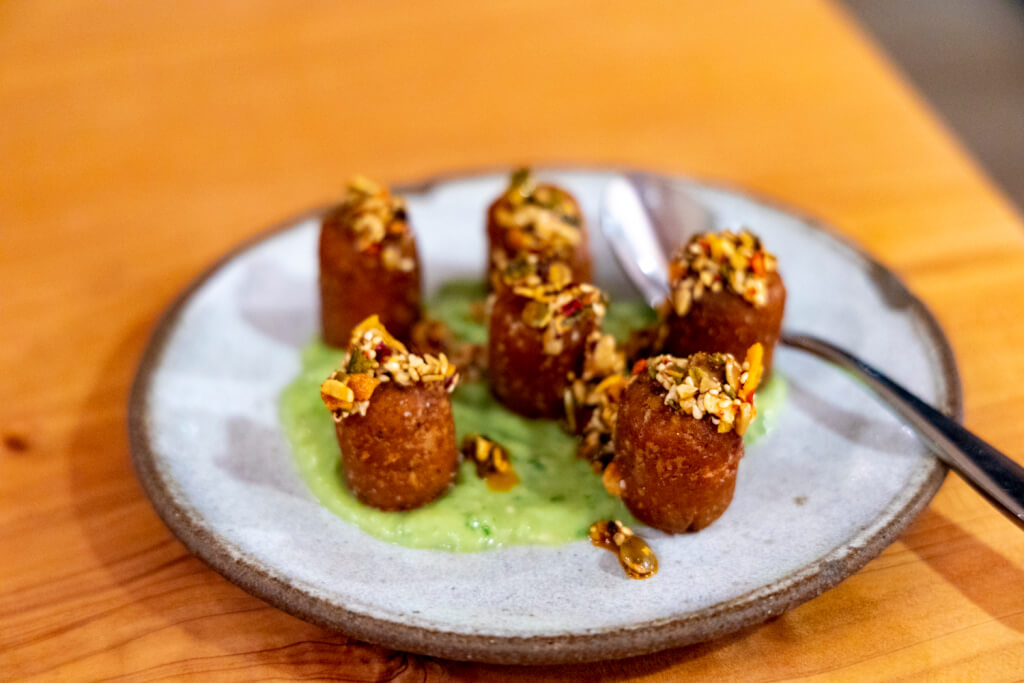 Our third dish that night was the seasonal Thick Cut Porcini Toast ($20). Here, thick-cut toasted sourdough comes topped with pecorino, saba, cooked slices of porcini, shaved raw porcini, micro greens, and a drizzle of Hudson Ranch olio nuovo. I first discovered olio nuovo on this trip and fell in love with the complex, robust, vibrant olio nuovo from Hudson that's only available during that time of year. It was fantastic on this rich, earthy, meaty toast. It was definitely one of the highlights of the night.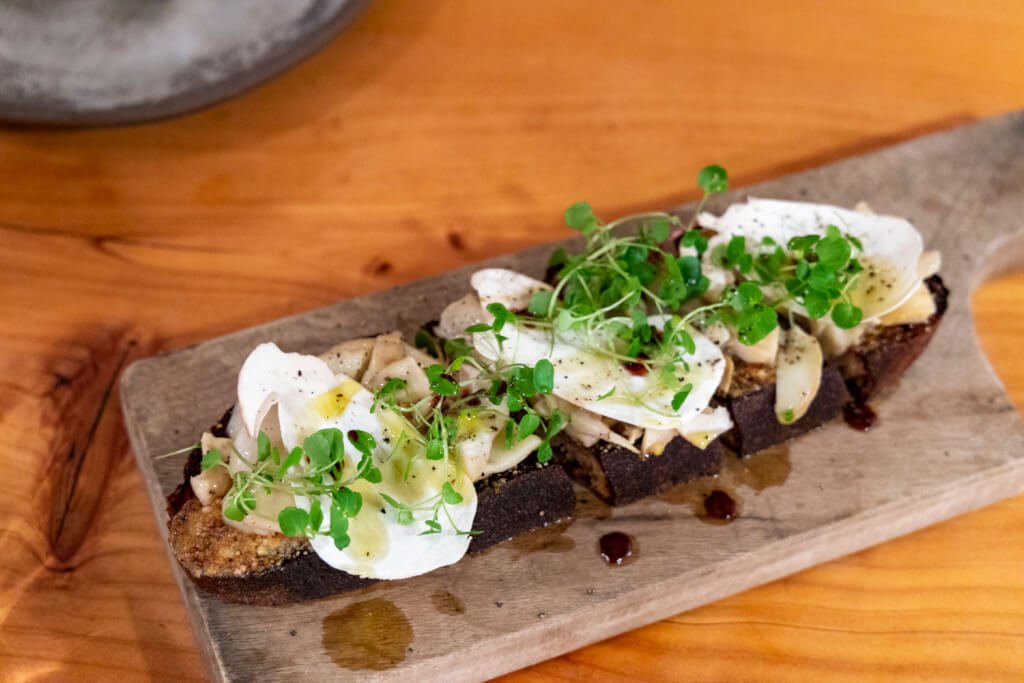 Fourth up for us was the Charred Arrowhead Cabbage & Crispy Galangal Tofu. That's right, at The Progress SF they figured out a way to make tofu out of galangal. As you'd imagine, it's firmer than normal tofu and does, indeed, have a light ginger flavor to it. The charred cabbage and honey nut squash add a nice vegetal crunch, while the au ram and cilantro provide a lovely herbal note. Lime gives the dish a nice citrusy, floral freshness to the dish, too. This was surprisingly good.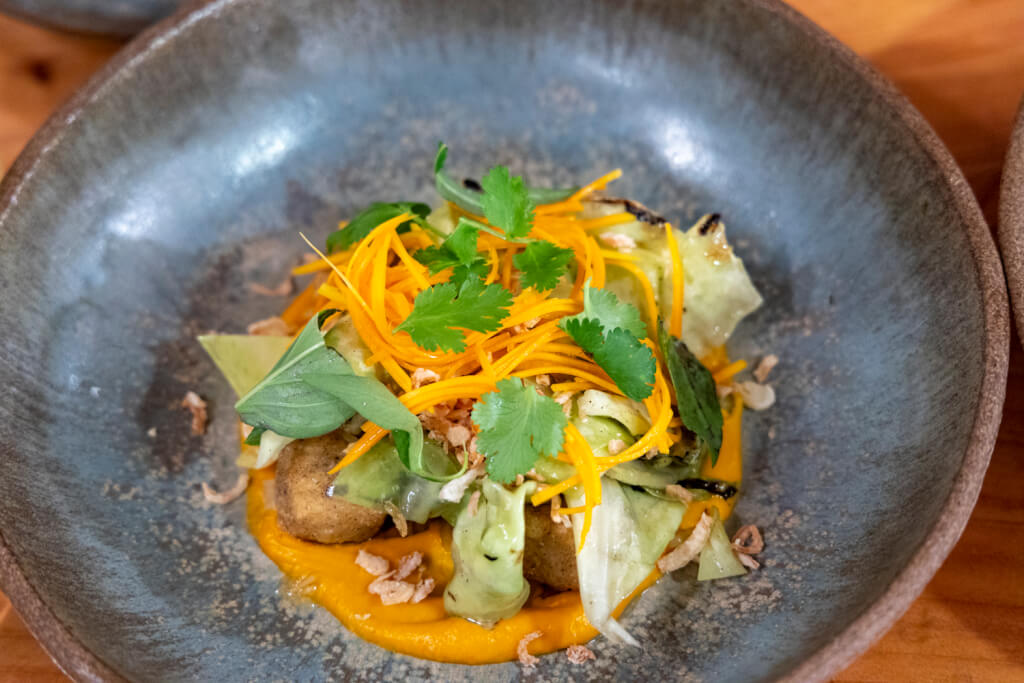 Dish five was Hikari Farms Cucumber & Smoked Trout Roe ($17) with Mendocino nori and horseradish buttermilk. This is a fresh dish featuring crisp, lightly salt-cured cucumbers in an herbaceous, slightly peppery buttermilk dressing. The seaweed appeared fried to me and added a different vegetal dimension to the dish, while the smoked trout roe added a lovely smokey, oceanic quality.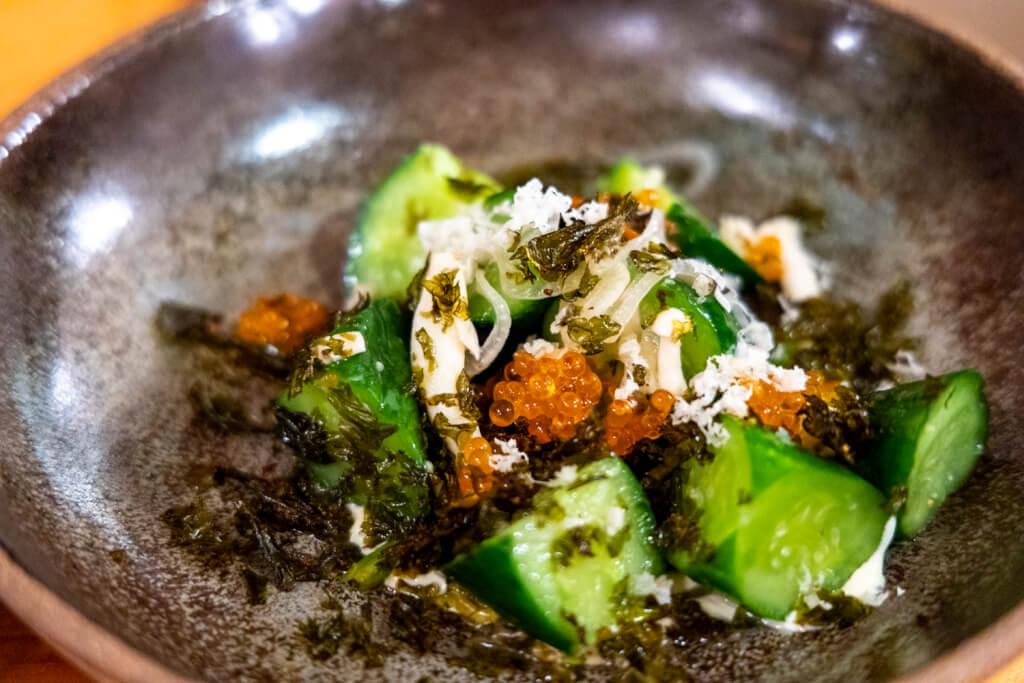 Next up was Burrata & Fried Butter Beans ($20) with prickly pear, pineapple guava, and scallion. This dish combined creamy, cool, silky-smooth burrata cheese with crispy, airy fried butter beans. The fruity sauce helps to cut the richness and helps to balance the sharp chili spice of the dish. Shave radishes and cucumber slices add a vegetal quality to the dish, while the pickled red onions and sliced scallions add another layer of flavor.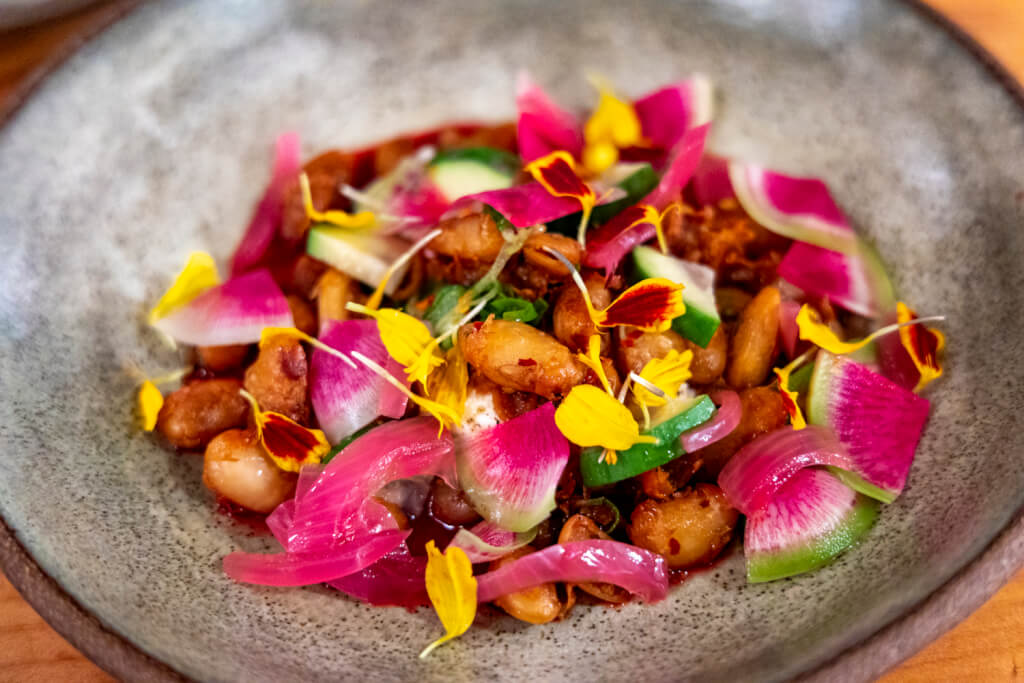 Dish seven, our last non-entree dish, was the Matsutake Mushroom Black Rice Porridge ($24). This is reminiscent of a risotto made with black rice, matsutake mushrooms, Douglas fir, sorrel, and Meyer lemon. I love matsutake mushrooms, so ordering this dish was given. Though it looks rich, it wasn't that rich, thanks to the lemon and sorrel. That said, the porridge is also different from what you'd typically expect, as black rice tends to be firmer than the usual short/medium-grain white rice.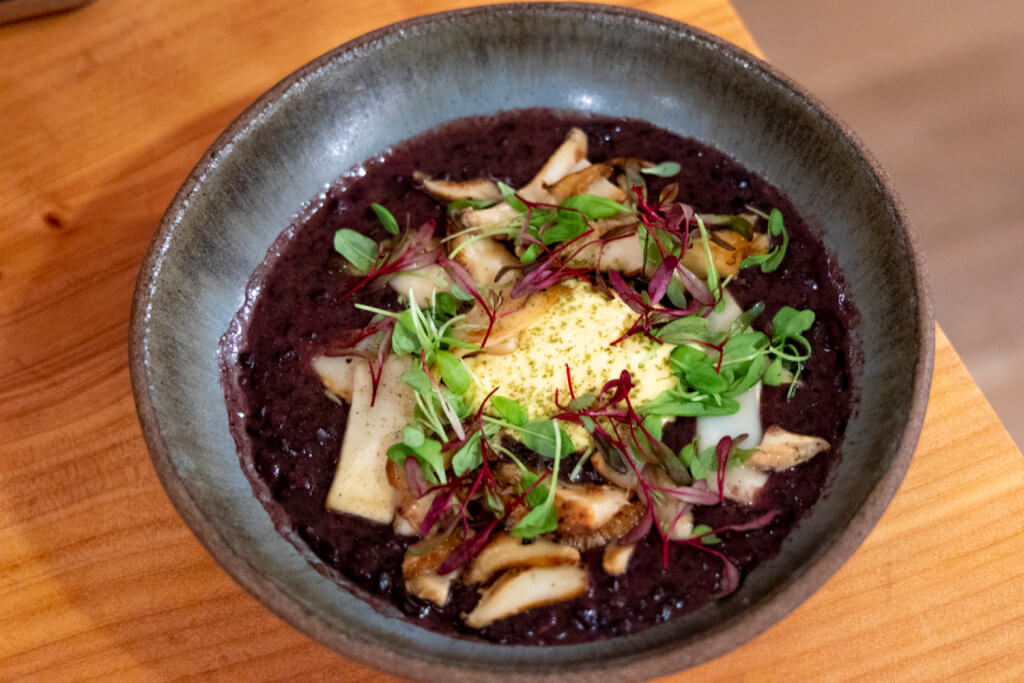 For our main dish, number eight, we went with the Steamed Black Cod & Dashi-Clam Broth ($38). This dish came with a nice hunk of butterfish in a dashi-clam broth with chunks of geoduck, guanciale, seaweed, and chile turnip. The fish itself is very tender and flaky, as butterfish usually is, while the broth is deeply oceanic with a fantastic umami punch. The guanciale adds another lovely umami punch, while the chile turnip cuts through all of the richness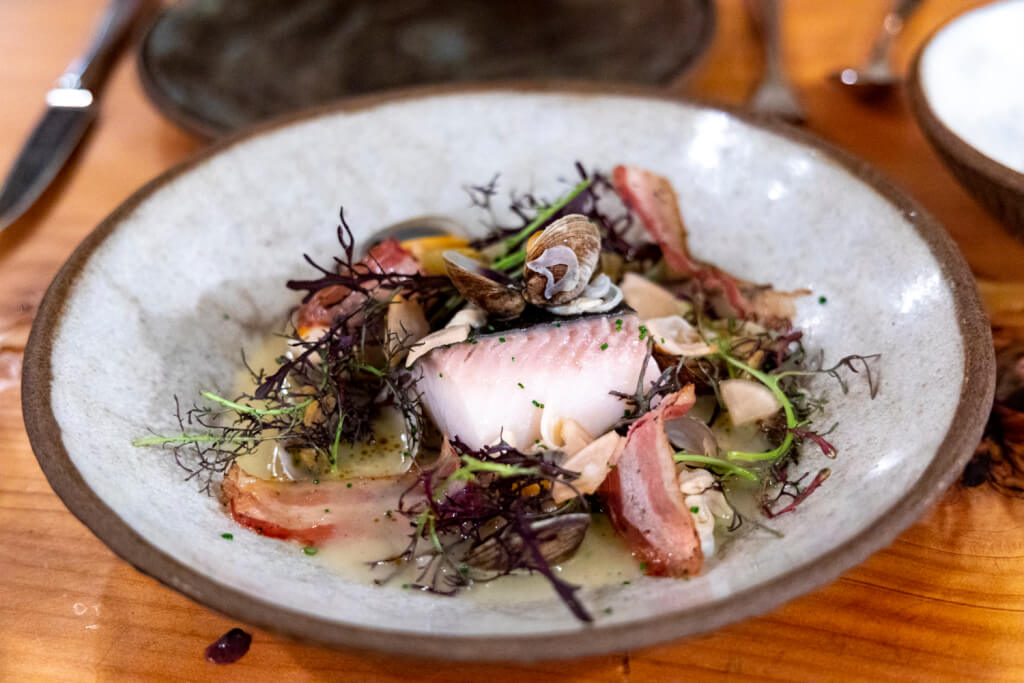 As our time at The Progress SF came to a close, the dessert menu made an appearance. That night, three options were available to us: Spiced Sugar Red Wheat Donuts, Pear Sorbet & Buttermilk Ice Cream Sundae, and Chocolate-Coconut Curd Layered Cake. All of the desserts were $14. We debated between the donuts and the cake, ultimately settling on the latter.
While I was a little disappointed that the chocolate flavor wasn't more assertive, this was a DELICIOUS cake! The Chocolate-Coconut Curd Layered Cake comes with an apricot confiture, pomegranate & cashew, and fennel pollen. The lightly chocolatey and coconutty cake gets some crunch from the cashews and pomegranate, while the pomegranate and apricot add a lovely acid to the dish. The fennel pollen creates an interesting extra dimension. I'd totally order this again.
Final Thoughts
I can see why The Progress SF continues to be such a popular dining spot in a city filled with outstanding restaurants! The food is delicious and exciting, the atmosphere is chic and homey, and the service is sublime. 10/10 I'd recommend The Progress and would return myself. Aside from being delicisou and exciting, the food is certainly unique, which is an increasingly dificult feat to achieve nowadays. And the pirce isn't bad, either. All of the above with a couple of drinks came out to $278.43. Sure, that's decidedly not cheap, but it's also less than the cost of a meal for a single person at some place like Crenn – which is another place I highly recommend.
Living It Up in California