It's only been a bit over two weeks since intense, hurricane-fueled fires incinerated Lahaina. And while travel is absolutely a no-go in West Maui, the island still needs visitors. So here's how to visit Maui responsibly post-fires.
As of this writing, according to an FBI-compiled and vetted list, about 1,000 Lahaina residents are still missing, 115 people have been confirmed to have been lost, and 80% of the town has burned to the ground. While our focus absolutely should be on finding our missing residents and assisting survivors, we can't minimalize the economic impacts the fires are beginning to have. For example, the Honolulu Star-Advertiser reports that roughly 102 restaurants and 167 retail establishments were lost in Lahaina. Those businesses employed 1,372 people and generated over $300 million in annual sales. That's a HUGE impact on an area that was home to about 14,000 people.
But it isn't just Lahaina that's seeing an economic fallout. All of Maui is. And that's not good for the people of Maui, Lahaina's recovery, or the State of Hawaii. So people need to continue visiting, but they need to do so responsibly.
How to Visit Maui Responsibly Post-Fires
I know this is a very delicate subject. Maui needs and absolutely should have time to grieve and recover. But at the same time, residents in other parts of the island are beginning to suffer as tourism dries up. In fact, cancellations are soaring in Wailea, which is over an hour's drive away from Lahaina, causing businesses in the area to furlough or lay off employees. That's not good. So tourists need to come, though they need to know how to visit Maui responsibly.
Rule number one of how to visit Maui responsibly is to stay the heck out of West Maui. That includes not only Lahaina but also Ka'anapali, Napili, and Kapalua. The hotels in these areas remain closed, as are most of the businesses. So there's no reason any visitor needs to be out that side. Oh, you want to take in the sights? Sorry. Come back another time. You being there will only cause problems. Have a heart, be respectful, and stay out.
What you should do when visiting Maui right now is stay somewhere in Kahului, Kihei, Wailea, or Hana. The Lahaina or Kula fires haven't impacted these areas and are fully open for business. That means some of the island's best (and also most expensive) hotels are still available, though more inexpensive options remain in Wailea and Kahului. There are also a lot of great and interesting things to do, see, and eat in these areas, so you can still have a very fulfilling trip to Maui while avoiding the western part of the island.
My Recommendations on How to Visit Maui Responsibly
While ritzy resorts like the Four Seasons Maui, Grand Wailea, Andaz Maui, Hotel Wailea, and the Fairmont Kea Lani are no-brainers if you can afford them, where should you stay if you need more affordable options? Here are a few options that I've either stayed at or have considered for my travels:
Residence Inn Maui Wailea
Marriott Wailea Beach Resort
Palms at Wailea Maui (Outrigger)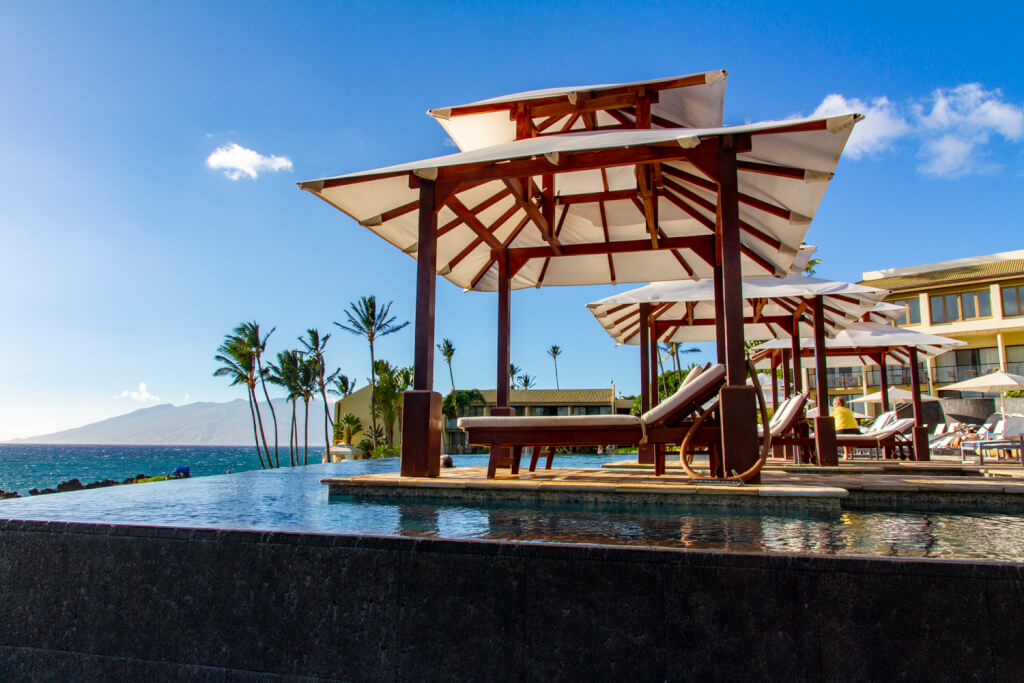 This is not an exhaustive list, but are the ones I can think of off the top of my head. Of these, I've only stayed at the Courtyard and the Marriott – though my stay at the Marriott was before they renovated. These places, while less expensive than luxury resorts, are still going to cost you over $500/night. There are more inexpensive options, such as the Maui Seaside Hotel and Maui Beach Hotel, but they might be pretty bad – the Maui Seaside certainly was when I stayed.
What to Do
Outside of the defunct Sugar Cane Train, Maui Ku'ia Estate Chocolates, snorkeling at Black Rock, and hiking north of Kapalua, there aren't too many I can think of doing in West Maui. In fact, many of Maui's most iconic natural sites are outside of West Maui. So when considering how to visit Maui responsibly, it shouldn't be too difficult to find interesting things to do. Some suggestions include:
Maui Wine
Kula Country Farms
Maui Pineapple
Ocean Vodka
Maui Ocean Center
Pau Maui Vodka
Skyline Haleakala Zipline Tour
Road to Hana
Haleakala Creamery
Maui Bees
Again, like my hotel list, this isn't an exhaustive list. These are places I've been to, know someone that visited or am interested in visiting. It's worth noting that you should absolutely check to see if the business is indeed open before visiting. For example, Haleakala National Park only reopened on August 22.
Where to Eat
How to visit Maui responsibly gets a little bit more complicated when it comes to dining, but not by a lot. Unfortunately, some really great places, such as Sale Pepe, were lost in the Lahaina fire. A select few, such as Star Noodle, emerged unscathed but remain closed and unreachable. But there are still many outstanding places to dine on-island:
Tiffany's
LiNeage
Spago
Mama's Fish House
Cafe o Lei at the Mill House
Kitoko Maui
Komodo Store and Bakery
Again, like the what-to-do list, my dining list is composed of places I've been to, know someone that's been or is somewhere that's on my list. And like the previous list, you absolutely must check in with the restaurant before popping in. Some might be closed as their chef/staff assist with caring for residents in need. Donut Dynamite was one of these, as Madame Donut has dedicated her time to volunteering with Chef Hui and World Central Kitchen. Havens has been doing the same out of their own restaurant, too.
How to Visit Maui Responsibly, Final Thoughts
See, this is how you visit Maui responsibly as they recover from the worst tragedy we've seen in modern times. There is A LOT to do, see, experience, and eat – you shouldn't leave Maui wanting for more. But even if you do the right thing and completely avoid West Maui, please remember to be sensitive to whoever you interact with. Just because the people you encounter are working, it doesn't mean they're untouched by this disaster. The person could've lost their home, lost a loved one, spent days searching for loved ones, or has taken in displaced residents.
The point is, even though you now know how to visit Maui responsibly, be sensitive to potential traumas people may be harboring. Be kind, and treat others with compassion and respect.