The very last thing we did in San Francisco was to hunt down Topogato – a boutique chocolate maker specializing in gourmet truffles, chocolate bars, and more. I had actually tried to order online from them and ship it home a while back, but shipping charges to Hawaii were so high that I decided to wait until we were in the area.
Topogato is a standout chocolate maker in a city famous for its chocolate. But Topogato sets it apart from the rest by producing uniquely flavored and gorgeous truffles. And that makes sense, as the two owners – Simon Brown and Beau Monroe – are a pastry chef and an artist. The caveat to all this, though, is that their products have shorter shelf lives than more standard offerings.
Buying Topogato Chocolates
First and foremost, it's important to know that buying from Topogato is a bit different. You see, they don't have their own storefront – you can only buy online. Of course, that usually means shipping your chocolates. However, if you're in the Bay Area, you can opt for in-store pick-up at a shop called Her Urban Herbs at 320 Fillmore Street. Parking was, honestly, a pain in the area. We ended up having to walk several blocks from our car to the store, but it's fine. It would've been better if our car wasn't filled with our luggage, but what you gonna do?
What We Bought
Not gonna lie; we went a bit overboard at Topogato. Placing separate orders, I bought a New Sensations Chocolate Box and a 24-piece Dark Chocolate Truffle Box. THEN, Mrs. Island Miler decided she wanted to buy a Deep Flavor Chocolate Experience Gift Box, which comes with a New Sensations set, a truffle set, Strawberry Almond Chocolate Bars, Coconut Passionfruit Chocolate Bars, and an Espresso Chocolate Bar. She also got a box of the Gummy Pebbles.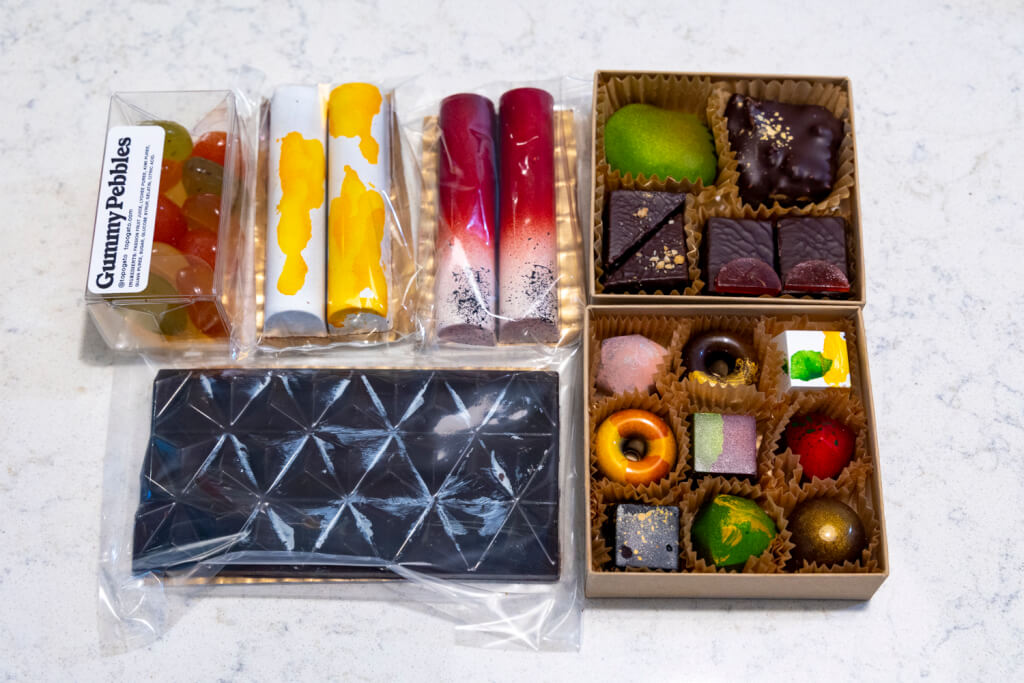 Unfortunately, we didn't get to try the Gummy Pebbles, as they started growing mold before we were able to get to them. Oh well.
Topogato Fruit Bars
The fruit bars are as flavorful as they are gorgeous. The Strawberry version takes its inspiration from a PB&J, combining a strawberry jam with almond nougat and a crunchy chocolate shortbread base, all covered in dark chocolate. The strawberry flavor is undeniable here, while the textural contrast is lovely.
The Passion Fruit version takes things in another direction, pairing a coconut-white chocolate ganache with passion fruit caramel and milk chocolate crunch covered in dark chocolate. This is the one I expected to like the most, as I love passion fruit (lilikoi), but it was a bit sweet for me, and the milk chocolate flavor was too strong. But, to be fair, I despise milk chocolate.
New Sensations
One of the newer options at Topogato is the New Sensations pieces. They aren't as pretty as the truffle, as they're meant to look more organic. Their flavors are also unlike anything else I've ever seen before, including Scotch Porcini Stones, Peanut Butter Miso, Macadamia Clusters, and Ancho Prickly Pear.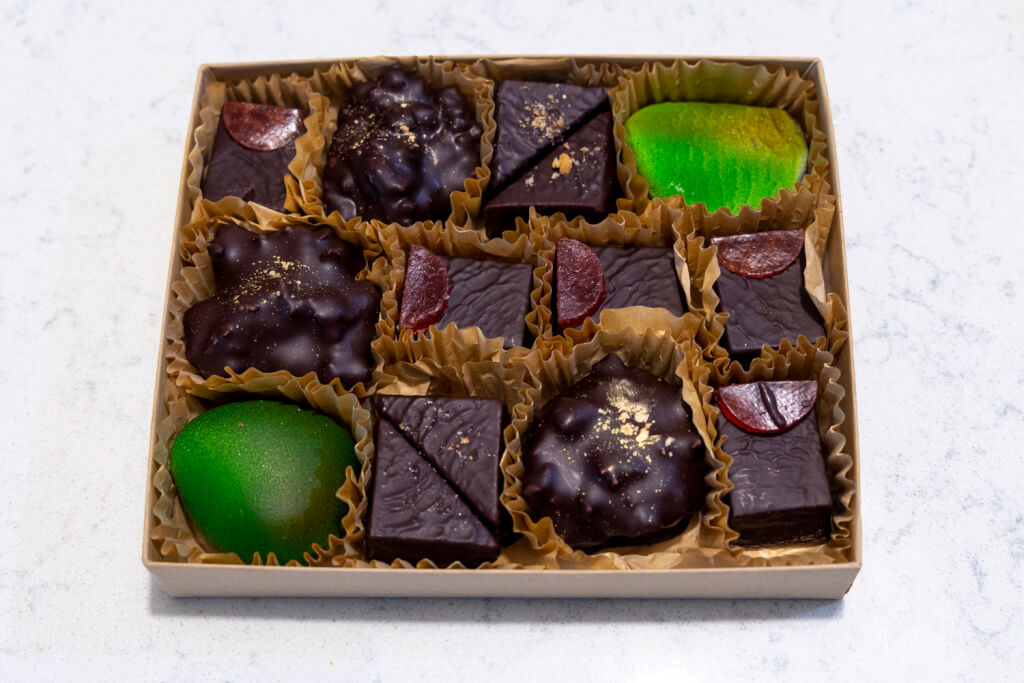 Of these, I thought the Scotch Porcini would've been my favorite, but the Ancho Prickly Pear ended up taking the top spot. I think the Scotch Porcini had too much of an alcohol flavor for my liking, while the mild fruitiness and subdued burn of the Ancho Prickly Pear were fantastic with the deep, dark chocolate.
Naturally, I couldn't try the Peanut Butter Miso, but I found the Macadamia Cluster to be way too sweet – it has a white chocolate wafer crisp inside.
Dark Chocolate Truffles
The original Topogato chocolates are their truffles. As has always been the case, these come in nine different flavors and are available in different box assortments. The flavors include:
Pecan Rum
Black Sesame Apricot
Cherry Shiso Balsamic
Pumpkin
Hazelnut Crunch
Chamomile Pear
Smoked Tea Peach
Pistachio Hibiscus
Lemon Olive Oil
It's worth noting that the last three flavors are vegan and can be had alone in a special vegan truffle set.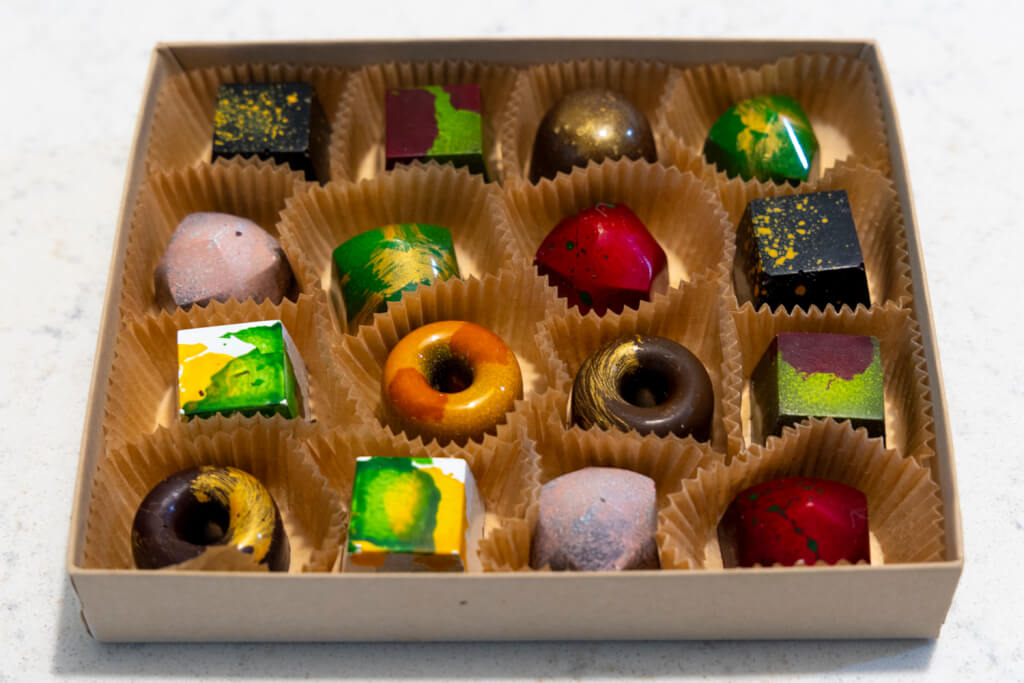 Of the truffles, I'd say the Smoked Tea Peach, Cherry Shiso Balsamic, Black Sesame Apricot, and Pumpkin were my favorites, in that order. The Smoked Tea Peach one surprised me, as it actually had a smokey profile right up front, which gave way to a mildly sweet-tart fruitiness and a pleasantly bitter finish. The Cherry Shiso Balsamic was, unsurprisingly, a little similar, with a tart start, mild sweetness, and the unmistakable herbaceous hit of shiso at the end.
The Black Sesame Apricot truffle was interesting. It starts with tart flavors of apricot, which gives way to the nutty – almost peanut butter-like – flavors of sesame, and finally, dark chocolate. Of the bunch, this one had one of the more pronounced chocolate flavors, too. The Pumpkin Truffle, on the other hand, tastes exactly the way you'd want it to, which is to say it tastes like pumpkin pie in a truffle.
As for the other flavors, I wouldn't say any of them were bad; it's just that my personal preferences didn't agree. Take the Hazelnut, for example – I usually like hazelnut chocolate, but this one was milk chocolate-based and was far too sweet for me. On the other hand, I don't care for pecan rum, chamomile, or pear, which is why I didn't like those two flavors, either. Finally, the Lemon Olive Oil was actually quite good until you hit the chocolate flavors meld with the center. You see, I don't care for citrus and chocolate, so that's a preference issue again. Perhaps if it were a white chocolate shell, I would've liked it more.
Final Thoughts
Truffles from Topogato are NOT cheap. In fact, they're among the most expensive chocolates I've ever bought. However, there really isn't anything else quite like it out there, and if you're looking for something different – especially something with big, bold flavors – the Topogato is someplace you shouldn't miss. Seriously. I just wish they'd let you buy boxes of single flavors so I could load up on my favorites.
Living It Up in California