For our final night in the Bay Area, I wanted to book a hotel close to our airport, especially since we weren't flying in and out of San Francisco. After much research, I settled on the Hyatt House San Jose Airport.
During my initial trip planning, I booked our final night at the Element by Westin San Jose Airport. Though it has the Westin name attached to it, this extended-stay hotel looks rather bland and was fairly expensive. I can't remember the exact price, but I believe it was somewhere between $200 and $250 for the night. Insane, right? And that's why I kept an eye on other options.
Booking Hyatt House San Jose Airport
I was trying to keep this trip as inexpensive as possible. That's why I tried to book with points as much as possible. In fact, up to this point, all of my hotels were booked on points. But when I decided to switch to the Hyatt House San Jose Airport, I was able to book it using a World of Hyatt Visa free night certificate. Perfect!
Hyatt House San Jose Airport Location
As its name suggests, the Hyatt House San Jose Airport is near the airport. Sure, sometimes names can be misleading. But in this case, the hotel really is nearby. In fact, it's just a mile away, which should typically take no more than five minutes by car. Not only that, but its location on N First St is literally steps away from PayPal's headquarters and the Valley Transportation Authority's Karina light rail station. And, yes, that means the rail line runs right in front of the hotel – more on that later.
Arrival Experience
We headed to the Hyatt House San Jose Airport right after we picked up our chocolates from Topogato, arriving just before 1 p.m. Parking here is an open lot surrounding the hotel. Luckily, we usually found spots fairly close to the lobby entrance. Once inside, we were greeted by a friendly associate who thanked me for my loyalty and upgraded us to a Specialty Studio Kitchen Suite, which was already ready. Yay!
Unfortunately, what we weren't informed of and found out after going over the welcome documents in our room was that you need to display a parking pass while parked on the property. That meant I had to trek back down to the lobby to ask for one. That wouldn't have been a big deal, but the elevators here are ludicrously slow.
Hyatt House San Jose Airport Specialty Studio Kitchen Suite
The Hyatt House San Jose Airport is an extended-stay hotel, meaning that most of the room categories are "suites." There are some more traditional rooms, but I believe award redemption stays book into a suite. Our particular suite, a Specialty Studio Kitchen Suite, fell somewhere in the middle in terms of size and amenities. It wasn't a traditional suite, as there was no separate bedroom, but it was a nice size at 440 sq/ft.
For this room type, you immediately find a small kitchen area right off of the entrance door, which includes a small sink, cooktop, microwave/hood, a full-size dishwasher, coffee maker, storage drawers and cabinets, and an island that doubles as a work desk and high-top dining table. A small fridge/freezer is hidden under one side of the island.
Moving further into the room, you enter the living area. Here, you'll find a fairly large sectional, a sidetable with a lamp and phone, a couple of ottomans, and a TV that can swivel to face the sofa or the bed.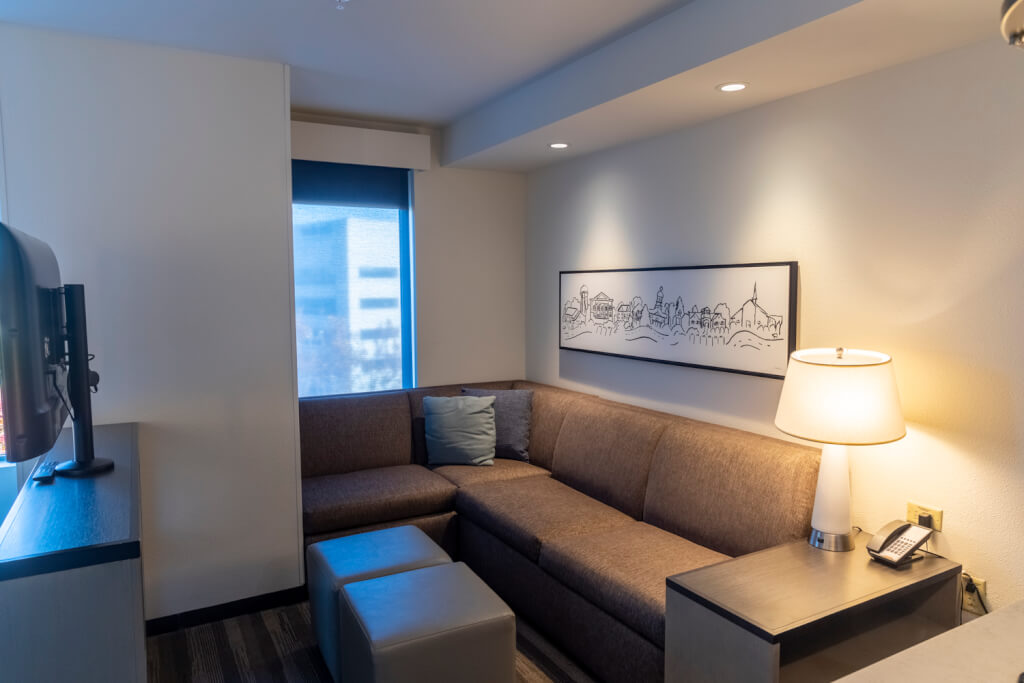 Naturally, on the other side of the living area is the bed. In our room, there was a king bed flanked by nightstands with lamps.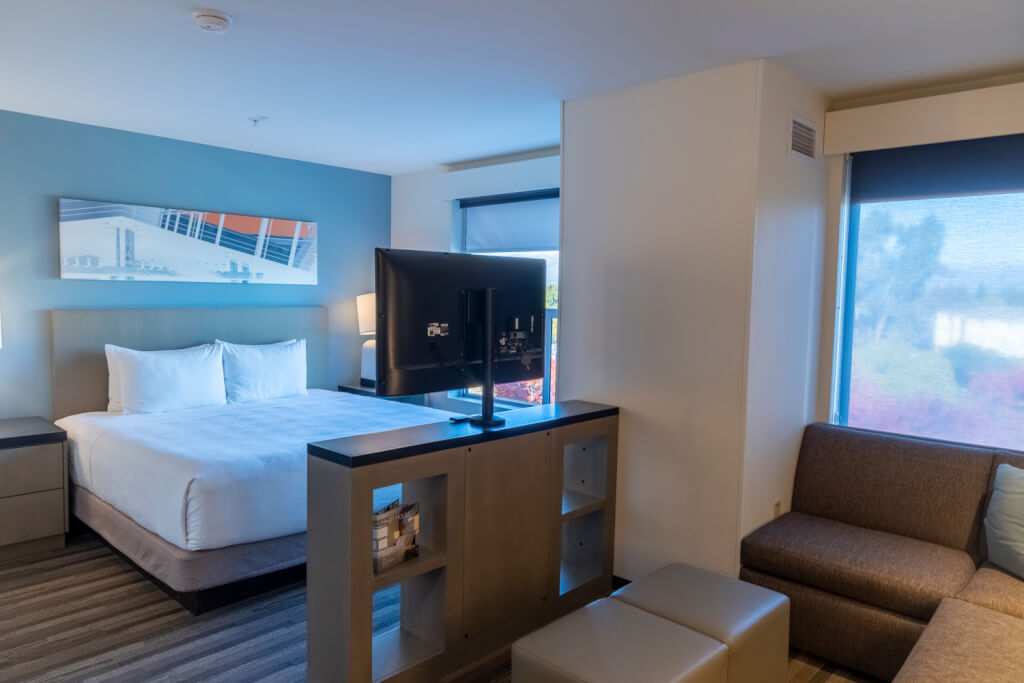 Standing next to the bed, if you face back in the direction of the entrance, you'll find the closet and bathroom to the right. The closet is kind of on the small side, though at least it's there. Many hotels no longer have a closet anymore, and the addition of the full-length mirror on the door is nice. Across from the closet is a little alcove to your luggage.
Beyond the closet area is the bathroom. There's nothing special to see here, just a standard bathroom with a single vanity, a toilet, and a shower stall.
View
Being a city hotel in a commercial area next to the airport (with no views of the airport itself), one shouldn't expect any views from someplace like the Hyatt House San Jose Airport. Our room had a view of N First St, the light rail line in it, and Tech CU's headquarters across the street. I guess you can see the Diablo Range off in the distance, but that's as scenic as it gets.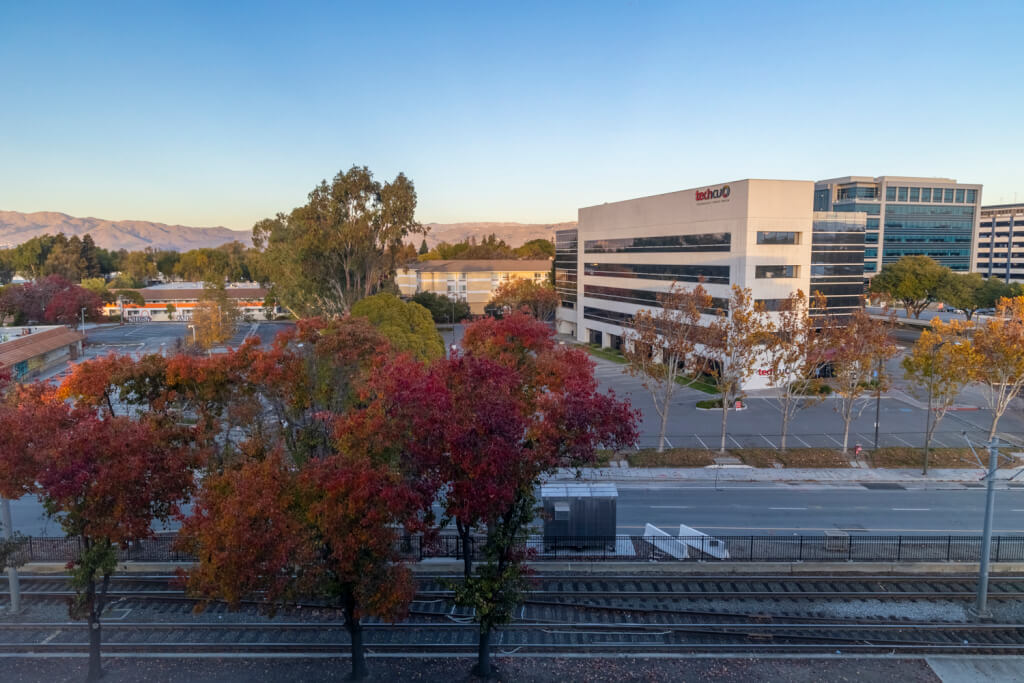 Hyatt House San Jose Airport Comfort
Here's where things fall apart a bit for the Hyatt House San Jose. For one, the rooms can be a bit noisy. There seems to be absolutely no sound deadening, as we could clearly hear everything/everyone in the corridors and could easily hear traffic on the streets, along with the light rail. The only reason why we might not have been able to hear these noises is because the HVAC in the room was quite loud. Sadly, despite its volume, the HVAC wasn't all that effective and struggled to maintain a consistent temperature.
As far as water pressure and temperature go, the pressure was okay, as was the temperature. However, I'm not sure what's up with the showerhead, but its coverage area was really narrow, which makes showering kind of a pain. With such narrow coverage, rinsing off often took a bit of time.
Amenities
The Hyatt House San Jose Airport has an outdoor pool, fitness center, business center, an H Market, a bar, and complimentary breakfast. We didn't take advantage of any of these. We had to leave far too early in the morning to check out breakfast, and we simply didn't have time or interest to take advantage of the other amenities.
Final Thoughts
Our time at the Hyatt House San Jose Airport was brief, and that was probably for the better. While our room was large and mostly comfortable, it was also noisy, the HVAC couldn't hold temperature well (problematic when sleeping), and had annoying shower issues. Outside of our room, the elevators were ridiculously slow, which was sometimes problematic as well. Given this, I'd be inclined to check out somewhere like Element, but we'll see. There's no denying that this hotel is convenient and is the only option in the area for World of Hyatt loyalists.
Living It Up in California
Topogato Chocolates
Hyatt House San Jose Airport