Given that we were flying out of LAX, I wanted to stay a night closer to the airport. No way were we driving up from Costa Mesa the day of! And for this stay, I chose the Los Angeles Airport Marriott.
Why the Los Angeles Airport Marriott?
While we've previously stayed at the Renaissance Los Angeles Airport Hotel and enjoyed it, I wanted to try something different. I also thought staying in a hotel closer to the airport would've been better. However, I stupidly planned for our car drop-off on our day of departure, too, negating that advantage. Especially since the Los Angeles Airport Marriott offers a free airport shuttle service. Oh well. What's more, this hotel recently completed a renovation with smart, modern-looking rooms.
Los Angeles Airport Marriott Location + Parking
The Los Angels Airport Marriott is on West Century and Airport Boulevards. It's literally minutes away from the terminals. Well, that's if traffic is good. Oddly, the main entrance to the hotel on West Century Blvd. was closed during our September 2021 visit. Instead, we had to enter via Airport Blvd. and drive around the hotel to their self-parking lot. Valet parking was not available during our stay, which I might have sprung for. While I typically don't care for valet, the self-parking lot at the hotel is atrocious. It makes Hawaii's terrible, pothole-laden roads look great! So while driving in the parking lot sucked, dragging your bags through the lot is even more miserable – especially in that SoCal summer heat!
Service
Once we got inside, there was a brief queue at the front desk, which is on the opposite end of the building from the parking lot. The associate who helped us was friendly, proactively helpful, and thanked me for being a Titanium Elite member.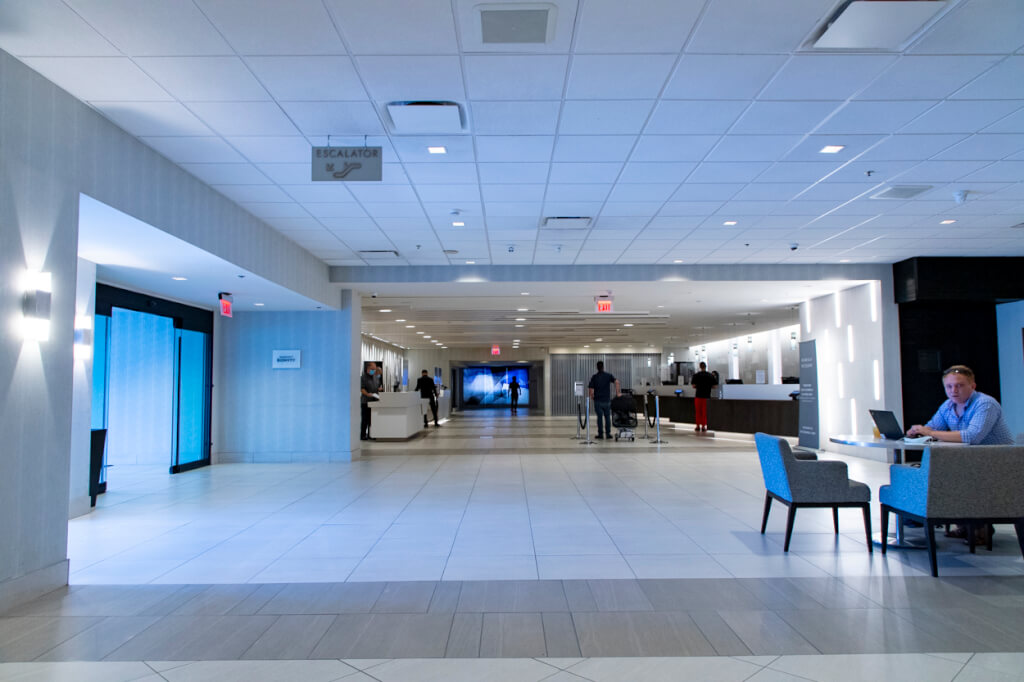 I checked in online and noted an arrival time of 11 am. Our room was ready at 10, so we were good to go once we got there. Unfortunately, I wasn't offered an upgrade, though my request for a 4 pm late checkout was honored. However, I was informed that we had access to the M Club thanks to my status, though it's only open from 6 am to 10 am.
Marriott Los Angeles Airport Hotel Standard Room
Our assigned room was about midway up the main tower and quite a ways away from the elevator. The corridors here are kind of narrow, making it difficult to navigate around the housekeeping carts. Eventually, we arrived at our room to find a clean, smartly appointed, yet somewhat small space.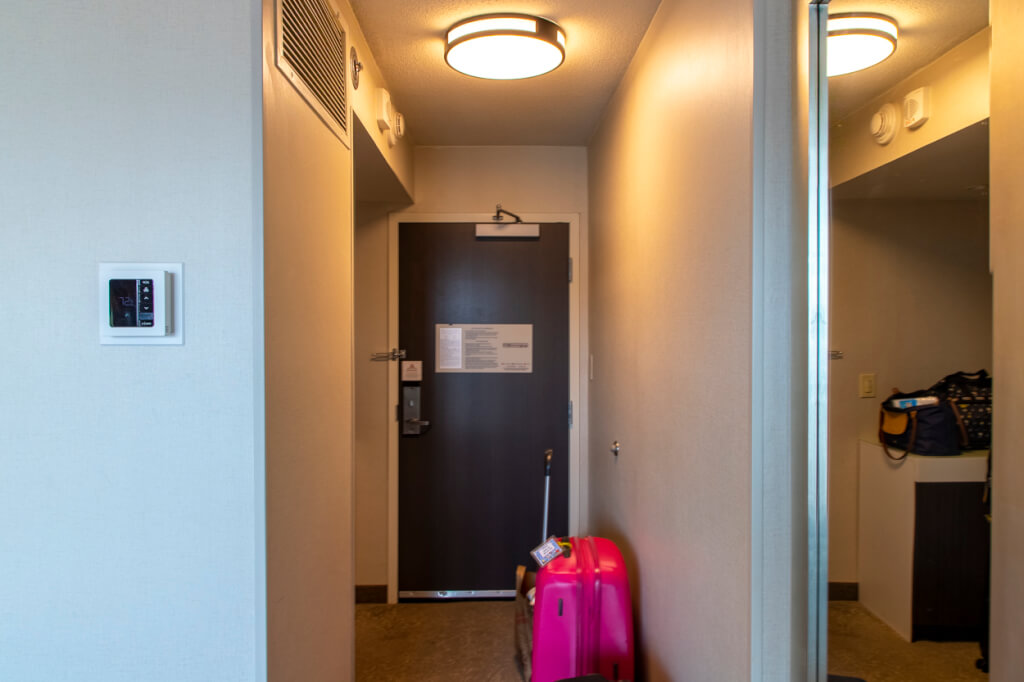 Immediately to the right upon entering the room is an interesting nook area containing a tiny closet, one dresser drawer, a safe, and a coffee maker. Across from that was a small counter, under which was a mini-fridge.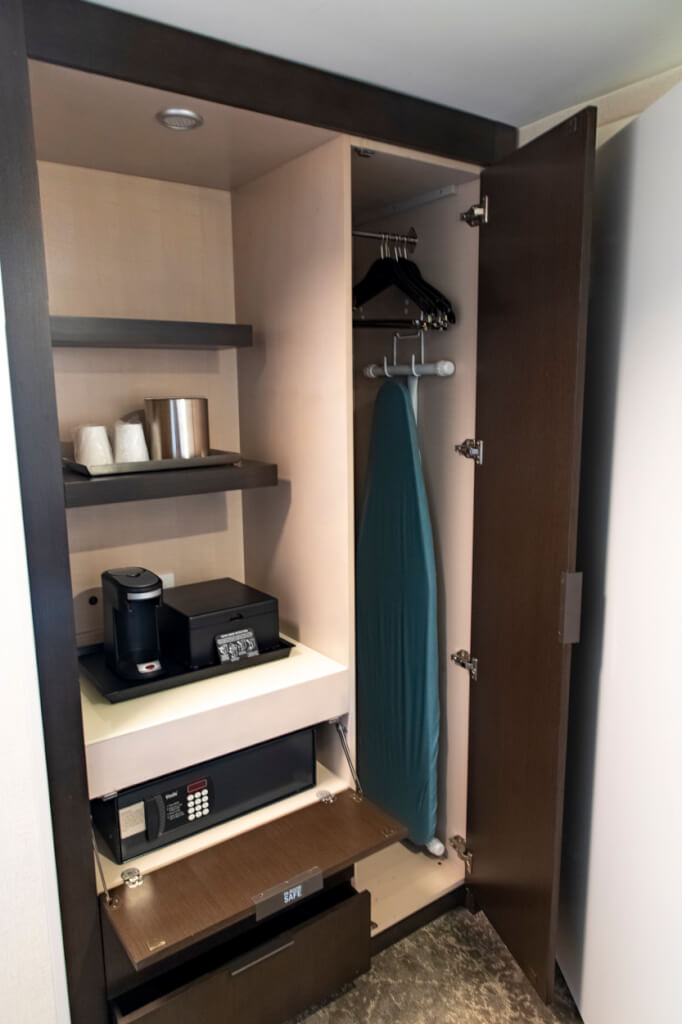 Just beyond that is the bathroom containing a standard toilet, single vanity, and a shower. The water temperature here is good, though it fluctuated a little, while the water pressure is decent for California. As you can see, during our stay, this hotel still used single-use toiletries, though they weren't the typical Marriott brand.
The rest of the room is fairly standard. Our room included a king bed with a nightstand, headboard-mounted lamps, and reading lights on each side. There was also a single chair, floor lamp, and small table immediately next to the bed. Across from the bed is a built-in desk with a chair under the wall-mounted TV and an integrated bench for your bags.
View
The view here really isn't something to write home about – it was actually very meh. We had more of a runway view than we had at the Ren, and we could see downtown Los Angeles, though just barely, thanks to the smog. I think I would've preferred a view of the pool, which I totally forgot the hotel has!
Annoyances
While the HVAC system cooled the room well, it was also quite noisy. The doors here are also thin, letting in a lot of corridor noise. There was also a bit of air traffic noise, though this was never bothersome. Perhaps my biggest complaint, however, is the damn motion-activated lights! They very frequently turned off on me as I worked away on the bed or at the desk. Also, the beds here aren't all that comfortable. I found our bed to be quite stiff and springy, which is disappointing given the newness of their renovation. Our request for extra foam pillows also wasn't honored, though a second request had them in our room by the time we returned from our adventures in the city.
Initially, our parking pass didn't work either. Upon our return, I got another one from the front desk. Hilariously, the new pass was an LAX Renaissance key card.
Final Thoughts
Still feeling fairly unwell, I didn't do any exploring at this hotel at all. There is a generic-looking restaurant in the lobby, I know there's a pool somewhere, and there's also a gym somewhere. But, given my state and our brief stay, I just didn't get around to looking for them. What's more, I'm not sure if I'd stay here again. Sure, if the price is right. However, I'd probably try somewhere else next time around, all things being equal. The price during this stay was definitely right, though, coming in at about $160.
Vegas + Irvine Trip Report
Los Angeles Airport Marriott