At the time of our visit, Taco Maria was the only Michelin-starred restaurant in Orange County, California. But they're so much more than just a starred restaurant – it's a delicious homage to a family, culture, and location. And they're now one of my favorite restaurants anywhere.
What is Alta California cuisine? I liken it to something similar to the current incarnation of Hawaii Regional Cuisine. At its core, Alta California cuisine incorporates Mexican and American cultural influences and utilizes the best products available to Southern California. It's important to note that this is NOT Mexican food but is a Mexican-inspired cuisine that prioritizes farm-to-table sourcing. And Taco Maria, I'd argue, pulls this off fantastically.
Established in 2013, Taco Maria is Chef/Owner Carlos Salgado's homage to his family and culture. Part of this is placing a special emphasis on corn, which is itself forms the core of Mexican cuisine. The results are a unique dining experience that feels both familiar and new all at once. There are no gimmicks here. Come to Taco Mario expecting solid food and fantastic service with no gimmicks or pretense.
Taco Maria Location
The unpretentiousness of Taco Mario is immediately clear when you look up their location, which is at the South Coast Collection, which is a small open-air mall in Costa Mesa. Oahu residents will note a familiar business here too – Honolulu-based C.S. Wo & Sons. That said, the mall is pretty swanky, being nicer, in my opinion, than Ala Moana Center, albeit much smaller.
Taco Maria Service + Atmosphere
While you'd think that service at a Michelin-starred restaurant is always supposed to be great, that's not always the case. However, that's not the case here. The waitstaff at Taco Maria is phenomenal! Not only are they warm, friendly, and knowledgeable, but they're very attentive without being overbearing and give you a sense of humble pride in what they do. Service here punches above their peers and, to me, lands more in the three-star territory.
Likewise, you'd think that a mall restaurant's atmosphere wouldn't be all that great – especially with mostly outdoor seating. But, you'd be wrong. The area is largely empty at dinner time, making it quite peaceful. There is a bit of a drone from your fellow diners, but it's not bothersome. In fact, we had quite an intimate dinner there and didn't need to raise our voices to communicate whatsoever. What's more, we noticed that patrons who sat at tables away from the cover of heat lamps were offered authentic Mexican blankets to keep them warm!
Taco Maria Menu
As I mentioned earlier, the cuisine at Taco Maria is Alta California. Given its focus on sourcing locally, there's a seasonality to Taco Maria's menu. True, some items appear to persist throughout. However, the menu does change significantly every few months. That said, the current menu is 100% ala carte and is comprised of a starter section, mains, accompaniments, and desserts. Pre-pandemic, I believe it was prix fixe, though I'm unsure if they'll ever return to that. There's also a relatively extensive drinks menu.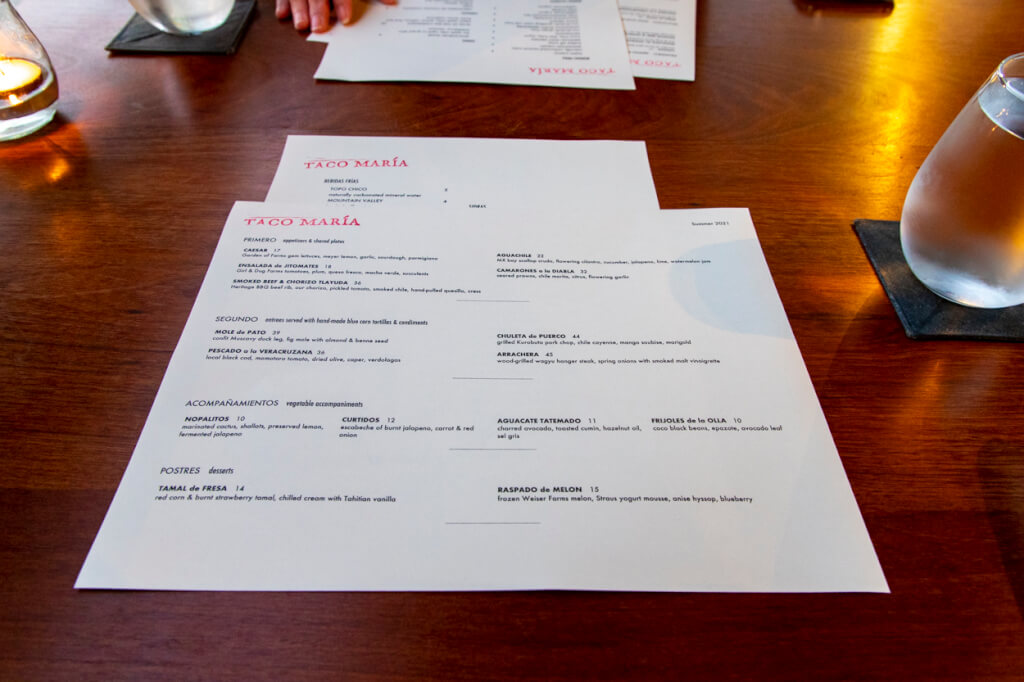 What We Ordered
Unfortunately, we weren't terribly hungry during our visit. As such, we ended up limiting ourselves to one appetizer, two entrees, and one dessert.
Drinks
I'm boring – I got a ginger beer. The description on the bottle sounds excellent, but I'm sorry to say that this one was really sugary. Thankfully, that wasn't the case with Mrs. Island Miler's Agua Fresca. Not only was it very flavorful (strawberry at the time), but it was super refreshing! I couldn't have asked for a more perfectly balanced soft drink. Seriously. If you're dining here and not drinking alcohol, just get the Aguas Fresca.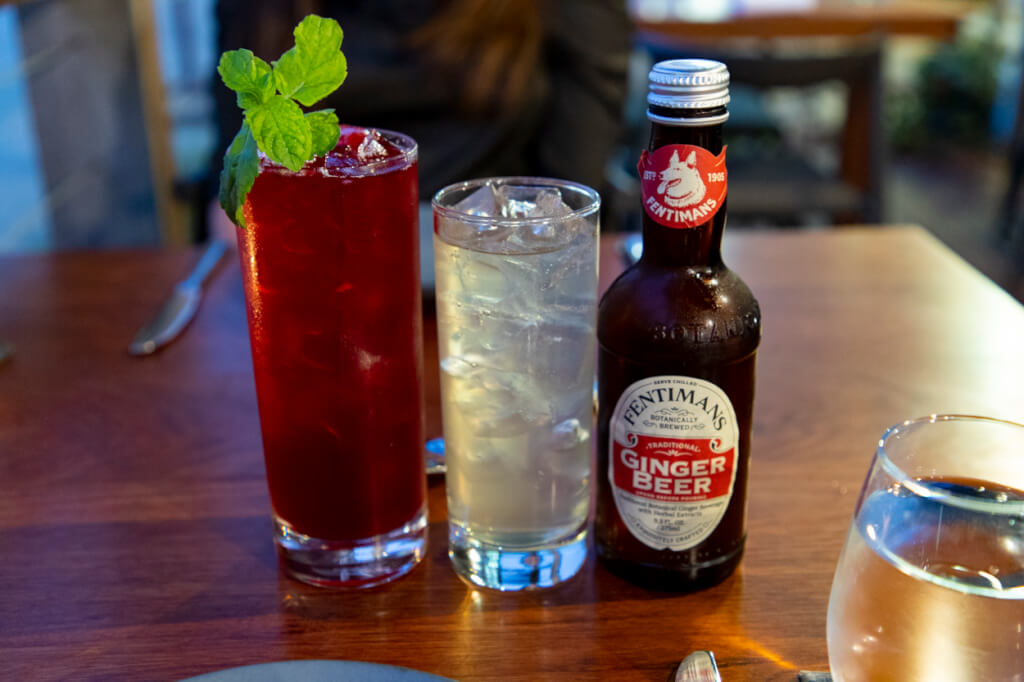 Camarones a la Diabla
To start, we went with the Camarones a la Diabla. Essentially, it's a dish of seared prawns, chile morita, citrus, and flowering garlic. It's a deceptively simple dish that looks almost stark when it's presented to you. Yet, one bite reveals that there's more going on there than meets the eye. Cooked to absolute, utter perfection, each plump prawn provides an explosion of smokey, mildly spicy, earthy flavors cut by the garlicky, herbaceous notes of the garlic flowers and chives, and by a squeeze of fresh lime juice. Heaven.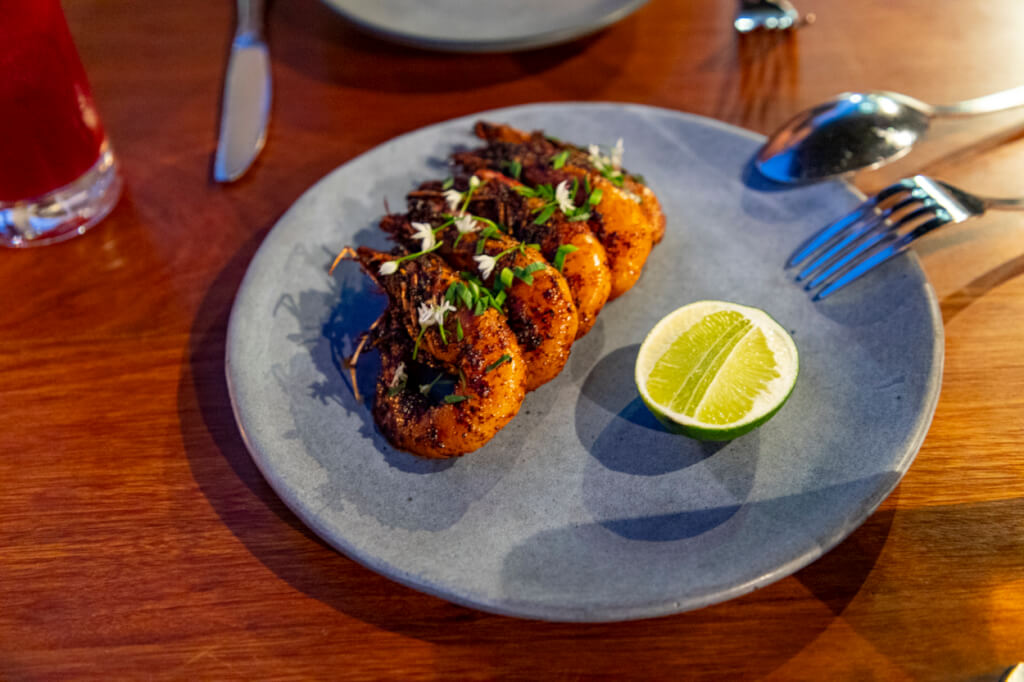 Pescado a la Veracruzana
Literally, this dish is Veracruz-style fish. But, again, looks are deceptive. Here, you get local black cod with crispy skin – a first for me – swimming in a wonderfully balanced sauce of Momotaro tomatoes. Further enhancing the flavor of the dish are dried black olives, crispy-fried capers, and verdolagas – purslane. Black cod, or butterfish, is a supremely rich fish that melts in your mouth. So having the meaty bitterness of the dried olives, the acid of the tomato, and the salty, crunchy bite of the capers really created this astonishing harmony that made it impossible to stop eating. The purslane, of course, adds a wonderfully sweet, grassy note that helps to further balance things out.
As is typical at Taco Maria, your main dish comes with a stack of their signature, warm, blue corn tortillas. Despite their outward appearance, these tortillas are tender without being crumbly or too fragile and provide a great amount of flavor on their own. They really exemplify Chef Salgado's commitment to and knowledge of corn.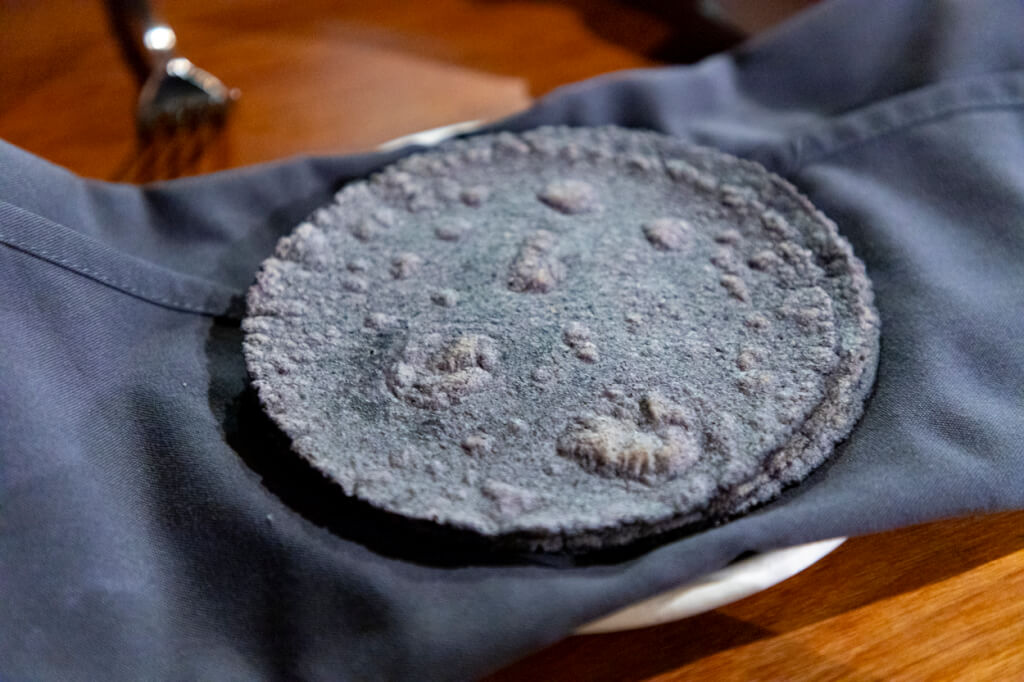 Sides
On the side, we also ordered Napolitas and Aguacate Tatemado. An arrangement of Mexican herbs and a bowl of Taco Maria's signature salsa was also provided to us. Neither of us had ever had cactus before, so it was out of curiosity that we ordered the napolitas. I'm not sure what I was expecting, but they provide a similar experience to eating aloe vera, which makes sense since they're related species. That is to say that they start out a bit crunchy but develop a slimy texture the more you chew. The addition of shallots, preserved lemon, and fermented jalapenos made it a refreshing dish.
The Aguacate Tatemado – grilled avocado – on the other hand, came dressed in toasted cumin, hazelnut oil, and salt. It's good simple, stuff. The salsa, if you haven't had it before, is wonderfully complex and adds a subtle spiciness and smokiness to everything you drizzle it on. Finally, the herb bouquet is a must. While our fish was excellent on its own, being able to further tweak its flavors with the provided herbs really added additional depth to the dish. I ended up enjoying some bites with and some bites without the herbs.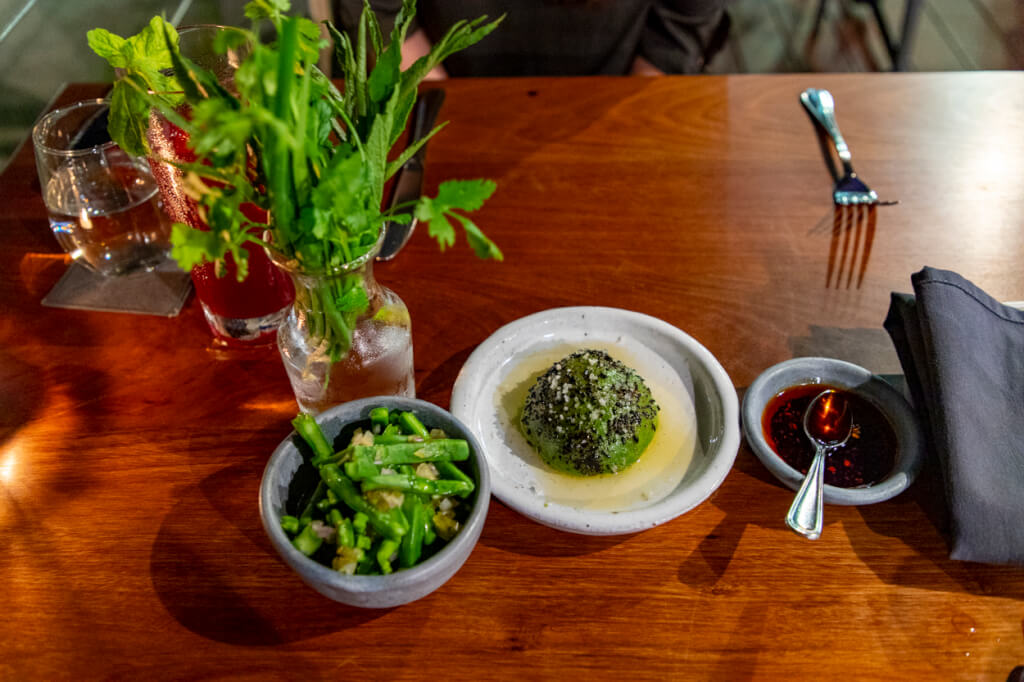 Tamal de Fresa
During our visit, there were two options for dessert. One was an intriguing frozen melon dish, but we went with the signature Tamal de Fresa – red corn and burnt strawberry tamal with chilled cream infused with Tahitian vanilla. It's a very striking and unique dish for sure. Here, warm, fluffy masa combines with cool, slighlty sweet cream and strawberry preserves. My one complaint is that I thought the strawberry was a bit too light. That said, I loved the sweet-savory combo of the dish, bordering more on savory.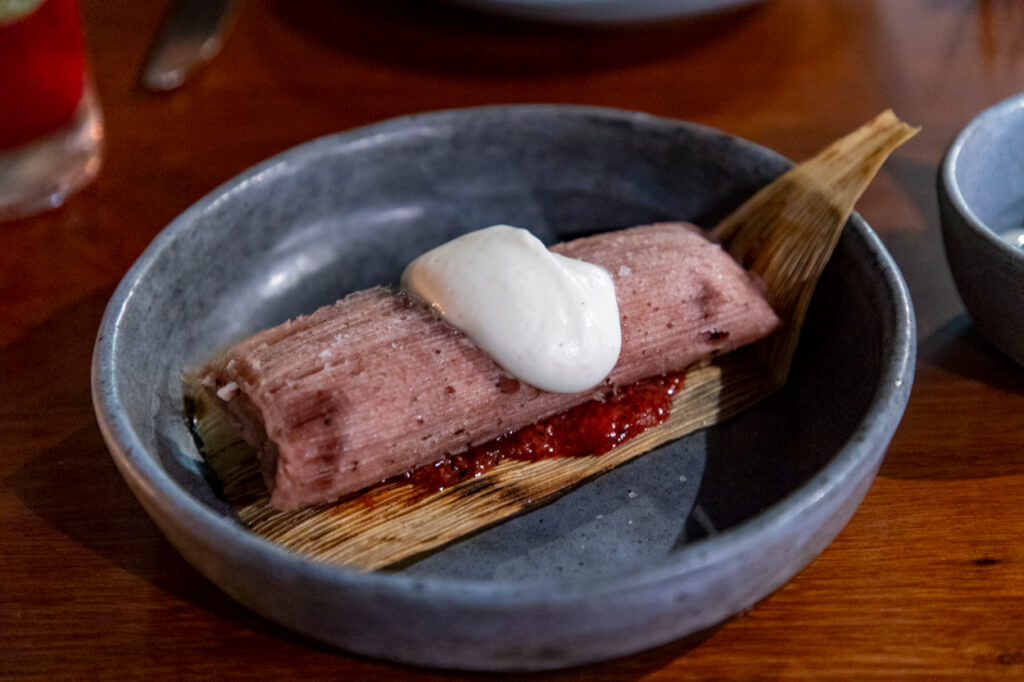 Final Thoughts
If you couldn't already tell, we absolutely adore Taco Maria. The food is incredible, the service fantastic, and the ambiance is wonderful. My biggest regret from our visit was not being able to order more. All the more reason to go back when we're in the area again, which we'll definitely make a point to do. In fact, Taco Maria is easily one of my favorite restaurants in the world now.
Vegas + Irvine Trip Report