Shortly before we arrived in SoCal, a hot, new dim spot opened at South Coast Plaza. Being the dim sum lovers that we are, Mrs. Island Miler and I decided to check out Paradise Dynasty Costa Mesa on our second and final night in Irvine.
Lately, there's been a number of upscale Chinese restaurants opening in the U.S. For the most part, the Island Milers are fans of these establishments. After all, we liked Yauatcha Waikiki (RIP), love Mott 32, and always seek out Din Tai Fung. So, for us, Paradise Dynasty seemed like a no-brainer – especially since, to me, it looks like they're in between Din Tai Fung and Mott 32. Too bad, then, we left disappointed.
Paradise Dynasty Costa Mesa Location
Conveniently, Paradise Dynasty is located in the South Coast Plaza – a quick five-ish minute drive from our hotel. Specifically, the restaurant is in the Bloomingdale's wing next to An Qi Bistro – clear on the otherside of the mall from its primary competitor, Din Tai Fung.
Paradise Dynasty Costa Mesa Service
Things started promising for us, as the host that assisted us and showed us to our table was as friendly as she was exuberant. Things, however, quickly went off the rails from there. The waitstaff helping our portion of the restaurant were extremely cold and mechanical. What's more, weren't all that attentive, going so far as ignoring repeated inquiries about a missing drink and then charging us for it. Unfortunately, we didn't realize this until doing our own tally after leaving. At the time of our visit, Paradise Dynasty doesn't give you an itemized check – they simply present you with your total.
Beyond the human interactions, our table was a little smelly – I think they need to change their rags more often or something.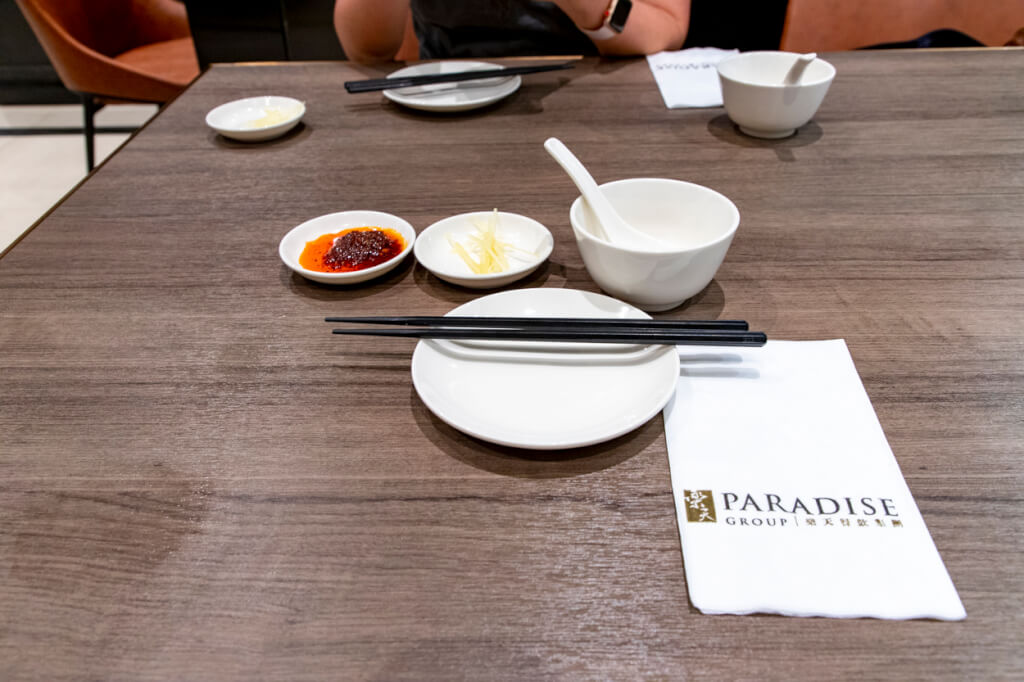 Paradise Dynasty Costa Mesa Menu
If you've been to Din Tai Fung before, the menu will familiar to you. That's because the two restaurants offer many similar dishes, including a collection of dim sum, vegetables, seafood, meat, noodles, and rice. Sure, there are major differences between the two, but the dish types, ordering system, etc. are all similar enough.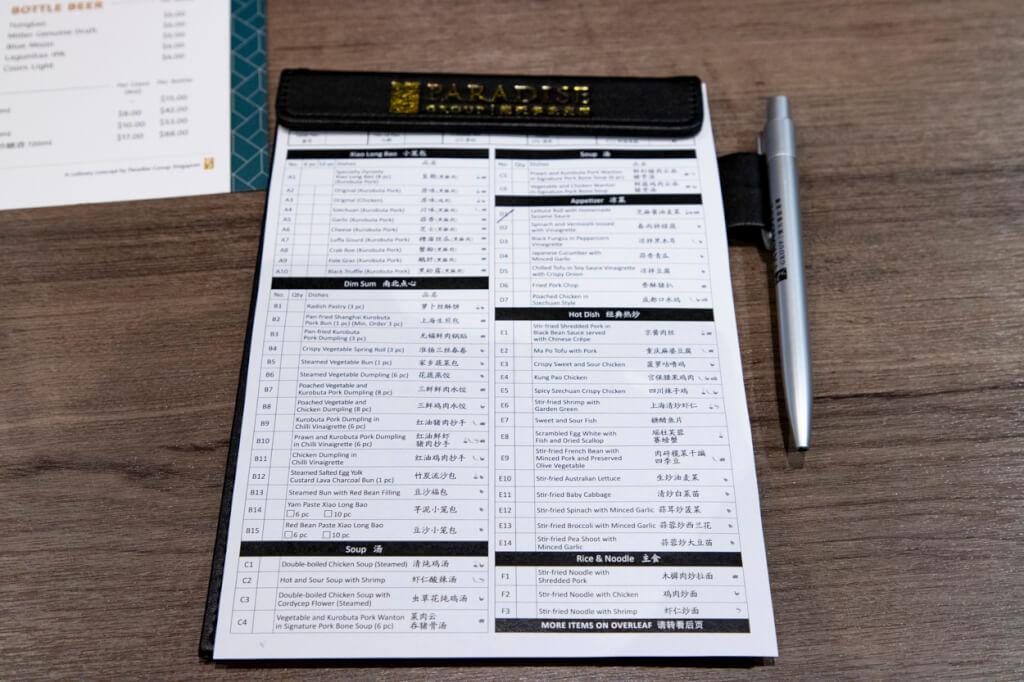 What We Ordered
With my stomach still on the fritz, we eneded up settling for two of Paradise Dynasty's Specialty Dynasty Xiao Long Bao sampler sets ($15.80 for eight pieces) along with a dessert. Had I been able to actually eat, we definitely would've ordered more. Other dishes we were eyeing included the Prawn and Kurabota Pork Dumplings in Chili Viniagrette, Pan-fried Shanghai Kurabota Pork Dumpling, Stir-friend Noodle with Shrimp, Hot & Sour Soup with Shrimp, etc.
Specialty Dynasty Xiao Long Bao
The Specialty Dynasty Xiao Long Bao set comes with one of each of the restaurant's different Xiao Long Bao flavors.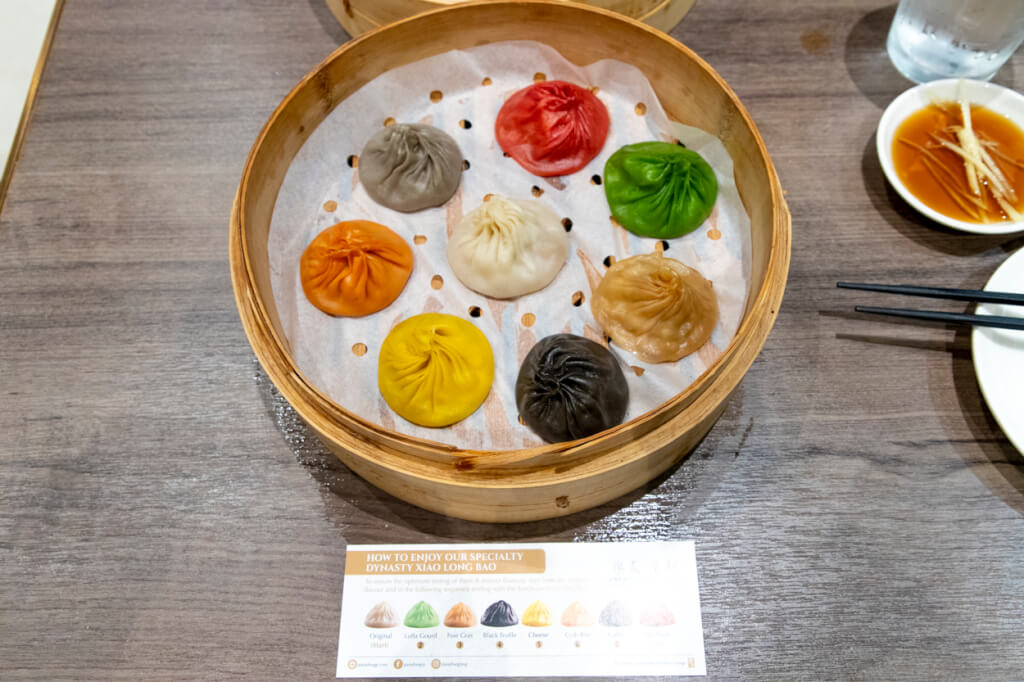 To help you along with your Xiao Long Bao journey, each set also comes with a guide reminding you what each flavor is and in what order to eat them.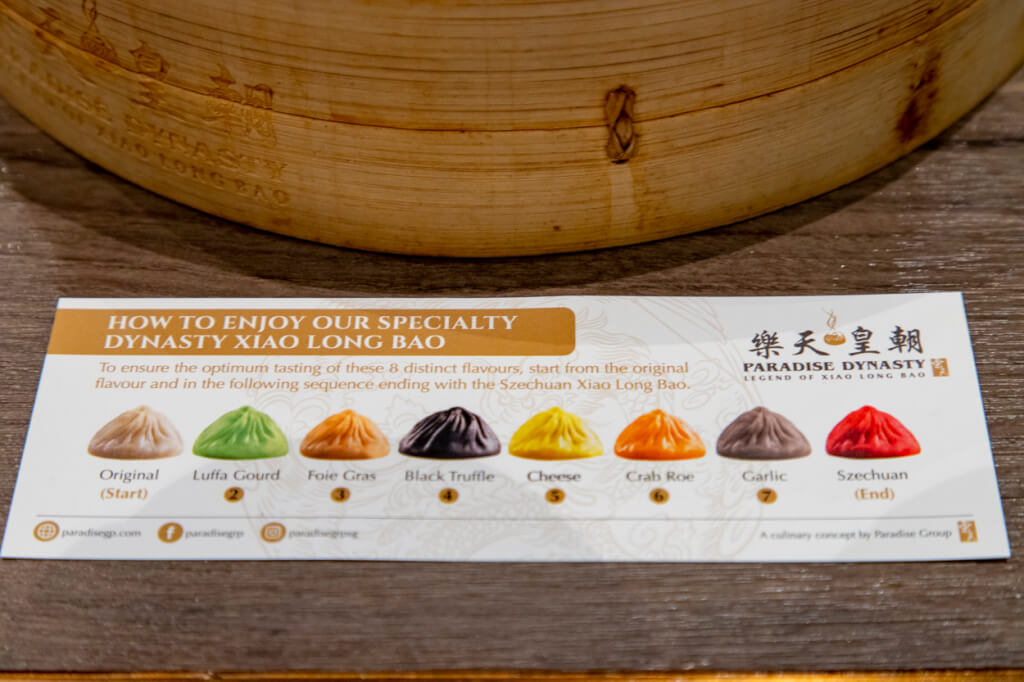 I kind of followed the guide as I made my way through the sampler. To me, the original was one of the better offerings. It tasty and has more soup inside than what you'd find at Din Tai Fung. Flavorwise, I'd say they're about on-par. The wrappers, however, felt a bit more tough, while being about as thick. Next, I tried the cheese, which was identical to the original save for the large chunk of mozzerella in the middle – meh.
The Luffa Gourd flavor was a bit better, possessing a light vegetal flavor with crunchy bits of gourd in the pork mixture. Next up was the crab roe, which tasted of generic dried seafood.
At number five was the foie gras. I expected to like this one, but found it a bit repulsing. There's barely any flavor in the foie gras XLB. Instead, it tastes overwhelmingly fatty and greasy.
Following the disappointment of the foie gras XLB, the Black Truffle one was surprisingly good. It has a strong truffle flavor, though it didn't taste metallic. Despite this, I'm sure truffle oil was being used here, or some other similar artificial product. There was, however, a large slice of preserved truffle inside too.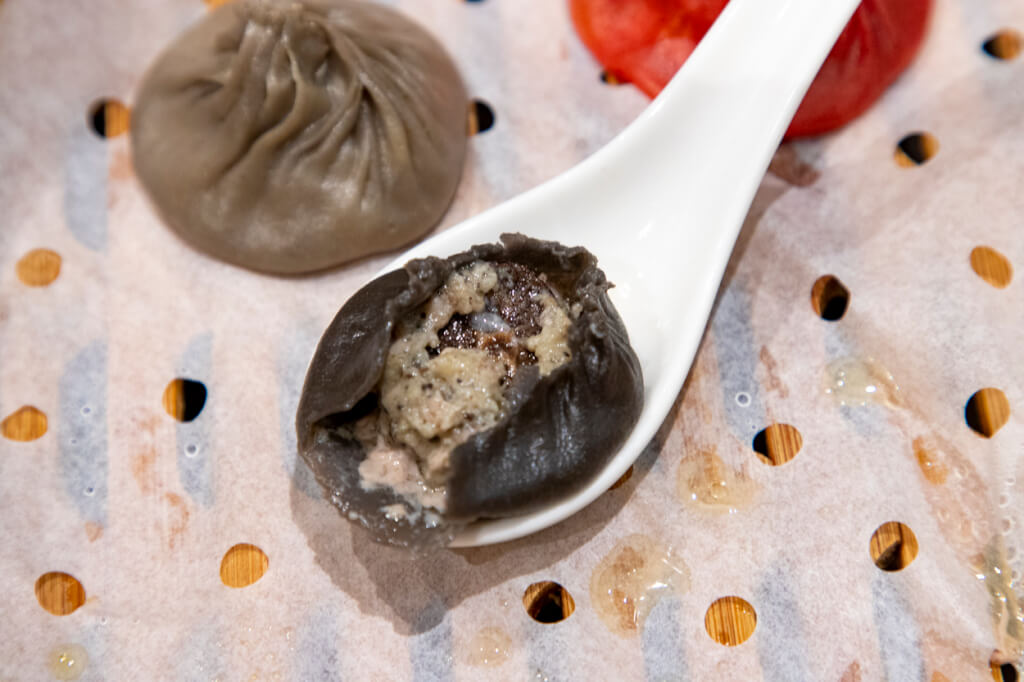 My second to the last dumpling was the gralic one, which gets its garlic punch from a load of minced garlic inside.
The last XLB I tried was the Szechuan, which had a very mild spiciness to it, but otherwise tastes like the original. Note: if it's midly spicy to me, it wasn't at all spice to Mrs. Island Miler.
Chilled Aloe Vera with Osmanthus in Honey Lemon Juice
For dessert, we went with the Chilled Aloe Vera with Osmanthus in Honey Lemon Juice ($4.80). I had no idea was osmanthus is. However, we later learned that it's a fragrant flower used in making perfume and sweets. Some say it has an aroma reminiscent of apricot, though we didn't sense that at all. It was, however, delicious. The cool, refreshing dessert has a sweet, tart, herbaceousness to it. Think a mild white tea with a fruity sweet-sour aroma to it and you'd be on the right track.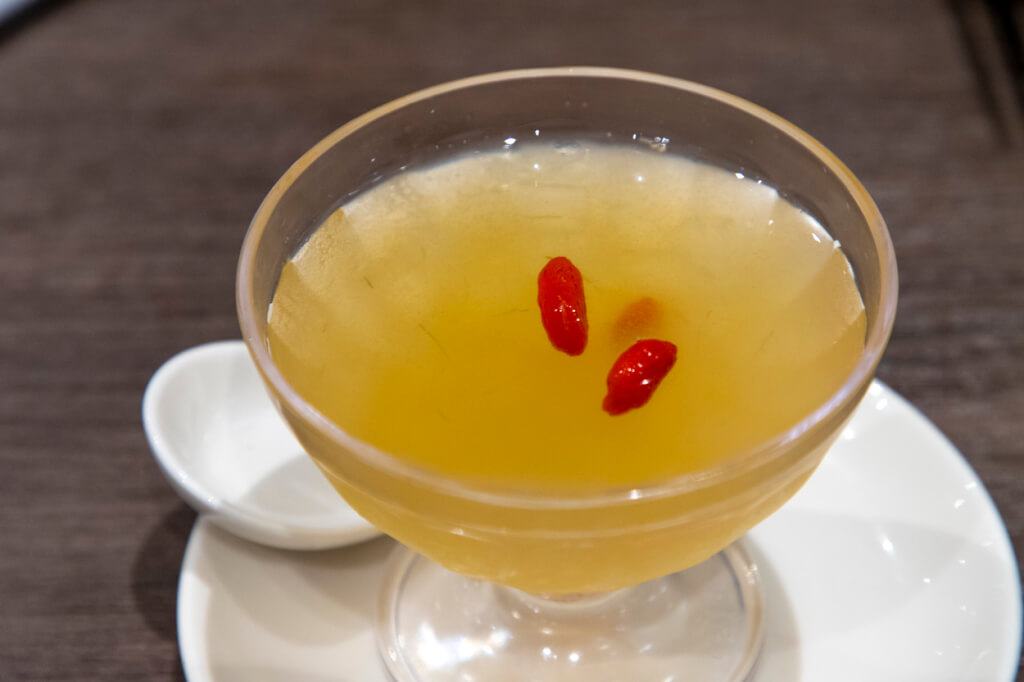 Final Thoughts
Would we go back to Paradise Dynasty? Most likely not. Now, admittedly, we were there only about a week after they opened. That could've partly explained their shortcomings. Regardless, though, we didn't find the value here to be worthwhile. Especially not when you consider the fact that we waited over an hour for a table – they weren't taking reservations at the time. I'd much rather go to our old standby, Din Tai Fung. The place does appear to be maintaining its popularity, though. Have things gotten better? Or is the hype still around their 'Grammable sampler?
Let me know what you think if you've been!
Vegas + Irvine Trip Report