Our last day in New York was a mad rush.  There was much we wanted to do, but little time to do it all.  So, after our early morning visit to Momofuku Milk Bar, we headed to Papaya King.
You can't go to New York without having a hot dog, right?  We already had New York utility pizza the other day, so a hot dog was a must.  And, while who makes the best hot dog in New York is highly debatable, Bourdain recommends Papaya King.  Being that we were already across Central Park from one, this is where we went.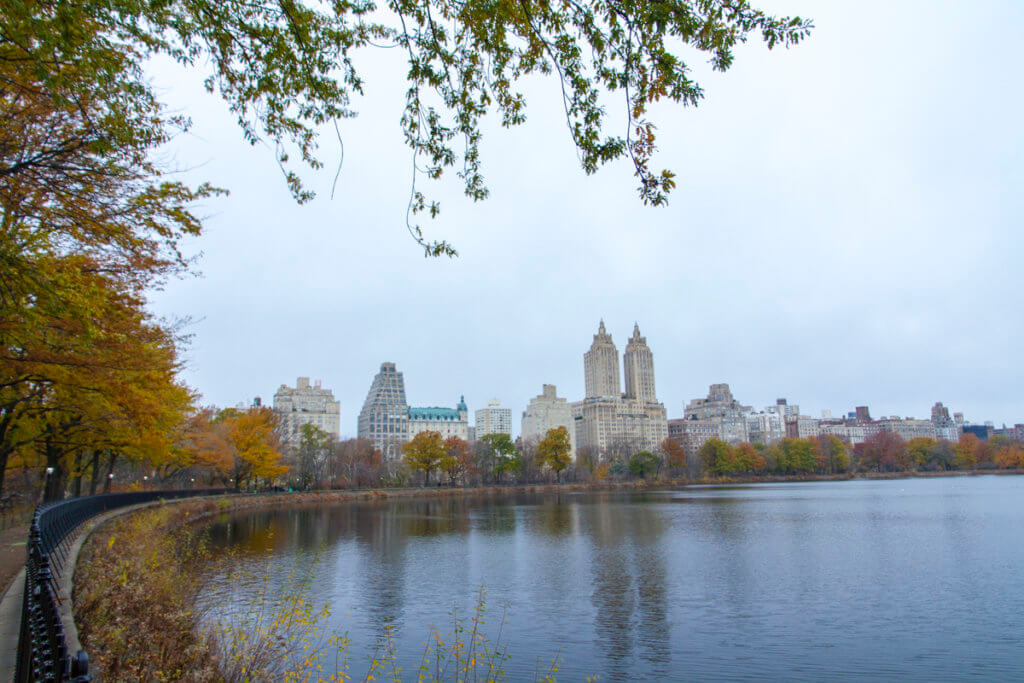 Papaya King 86th Street
It was a cold, gloomy morning on our final day, but the walk across the park was a nice one.  Of course, Papaya King was easy to find once we got in the general vicinity too, thanks to its bright colors.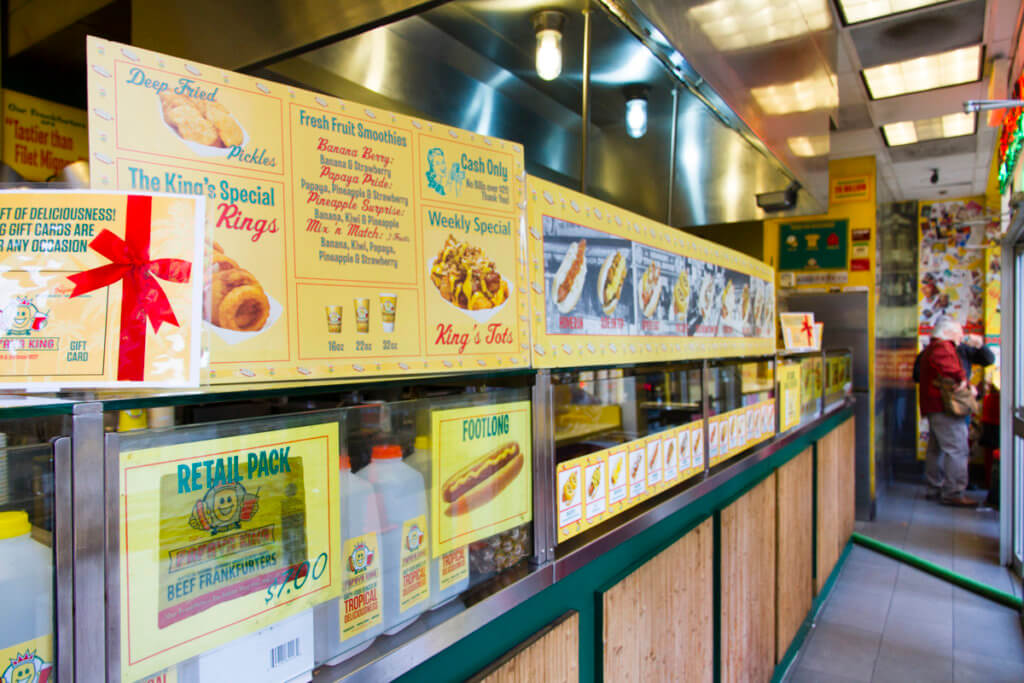 We weren't hungry, so we kept things simple here.  We order just a single Number One and split it.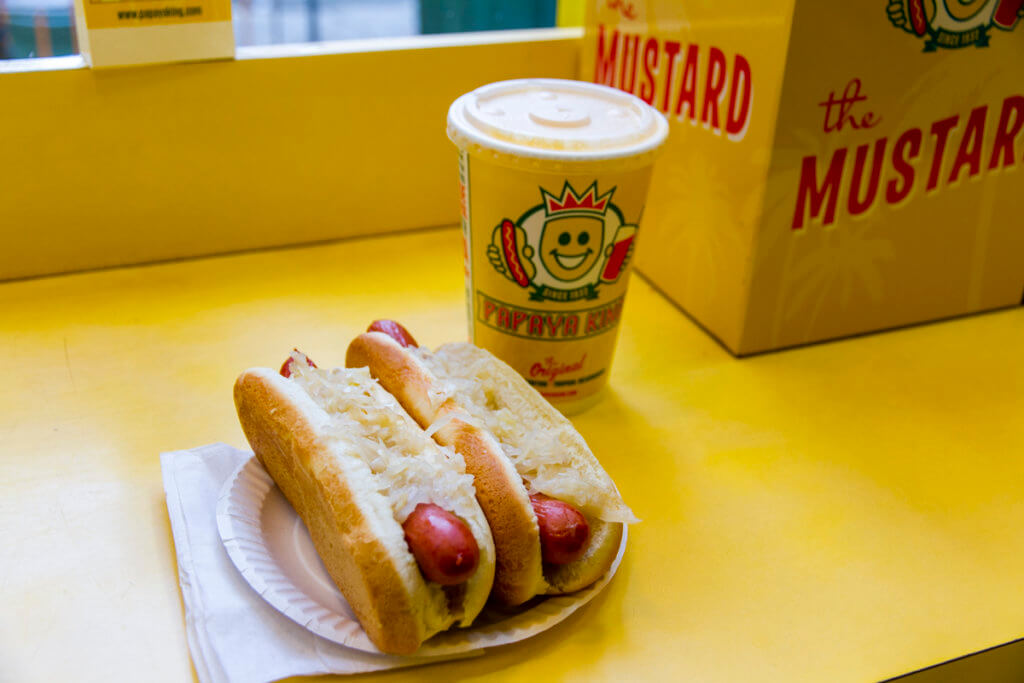 Neither of us are care for papayas, so the drink wasn't really our thing.  That's even with us ordering the mango papaya drink.  The hot dogs, however, were fantastic!  Easily some of the best, cheap hot dogs we've had anywhere.  I'd like to try Criff Dog too, but we'll have to save that for another visit.
Last Minute Shopping
The Papaya King on 86th Street is near a Whole Foods and Trader Joes.  We like to check out Whole Foods wherever we go to see what kind of unique, local stuff they carry.  Unfortunately, the one near Papaya King is really small and didn't have much in the way of local exclusive merchandise.  Trader Joe's is pretty standard across the board, but my grandfather loves some of their stuff, so I had to stop there.  And they do have location specific reusable bags, which made great gift bags for us.
Chelsea Market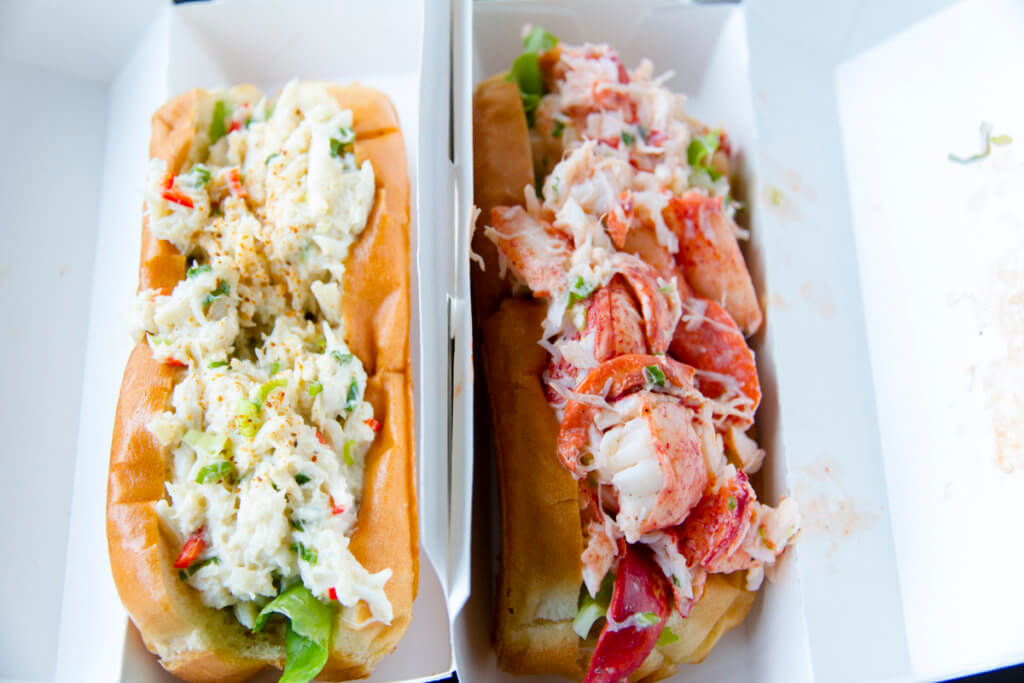 At the last minute, I decided to have a final meal in The City.  With little over an hour before we had to head to the airport, we jumped on the Metro back down to Chelsea Market.  There, we grabbed one final lobster roll and a blue crab roll.  Mrs. Island Miler doesn't like lobster, so the crab was her's.  Both were delicious and made for a great, light final NYC bite.
Renaissance New York Midtown Private Car Service
After our rolls, we got back to the hotel with just 15 minutes to spare.  Unfortunately I forgot my key in the room and had to request a new one!  After clearing that up, we headed up to the room to pack up a few last things, and rushed back down.  Not wanting to deal with transportation, I had the bell staff setup an airport transfer for us.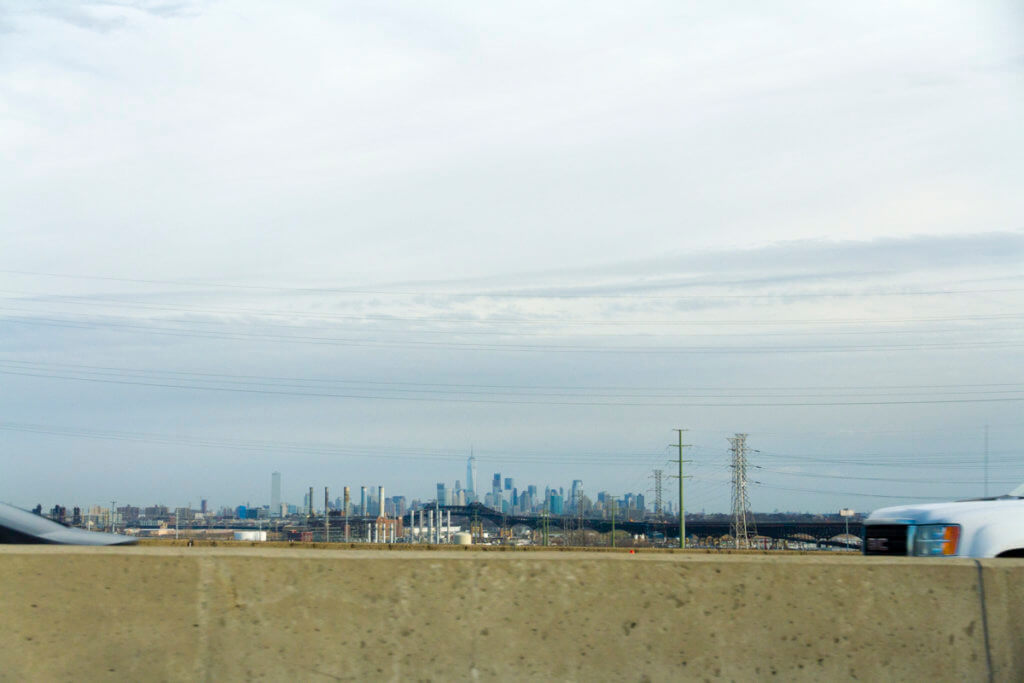 So, for our ride to Newark Liberty International Airport, the hotel arranged a private car for us.  The Crown Victoria private car set us back $95, all fees and tolls included.  Of course a 20% tip is customary, so altogether the ride set us back about $115 cash.  Perhaps next time I'll suck it up and just take an Uber or Cab… At least that way I can earn 3x Ultimate Reward points with my Sapphire Reserve.
Newark Liberty International Airport
At EWR Alaska Air shares its terminal with American.  Their check-in area is small, but it was deserted when we arrived, so we were through quickly.  The customer service agents didn't even say anything about our bags being overweight!  Unlike the check-in desk, though, the security check line was horrendously long.  Thank goodness for TSA Pre-Check!  We were through security within about 10 minutes.
After we cleared security, we trudged down the super narrow corridor to the American Air terminal.  No Alaska Air lounge here, so we had to slum it in the cramped, overcrowded terminal.  And despite all the Alaska and American flights seemingly being operated by 737s, there were so many people in the terminal that a many had to stand.  I think this airport really needs some expansion/improvements.  I was so irritated with the crowding and just the general behavior of the crowd that I didn't take any pictures in the terminal.
Alaska Air EWR-SEA
Our flight to SEA, Alaska Flight 11, was operated by a Boeing 737-700.  Boarding commenced on-time, however, over half the flight consisted of Alaska MVPs.  We were warned that there wouldn't be enough overhead bin space, so we voluntarily gate checked our carryon bags.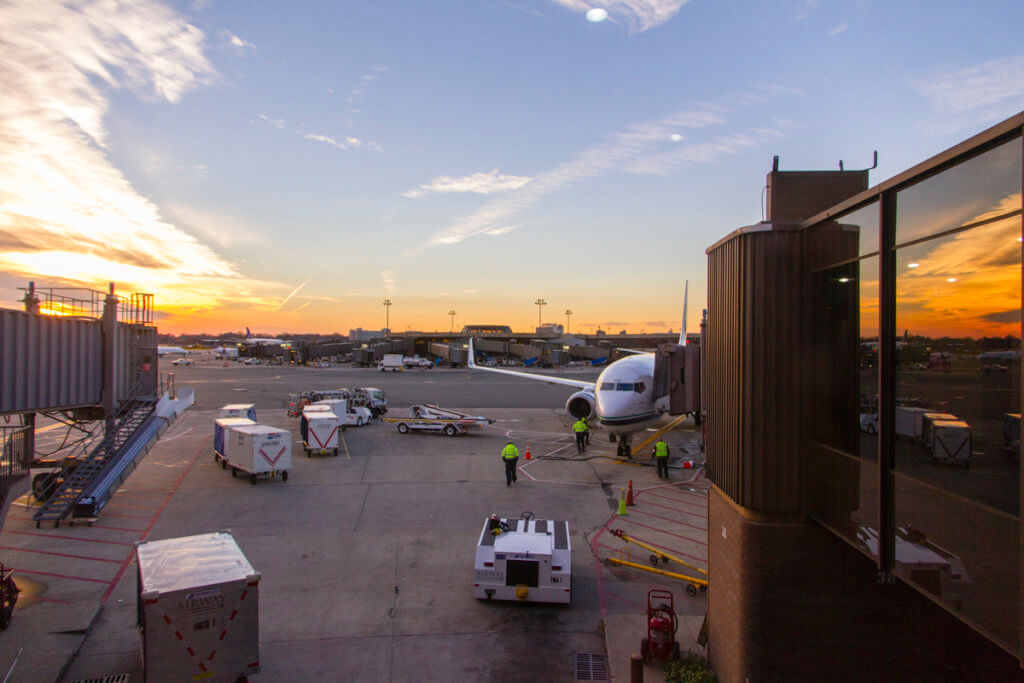 Despite the crowds, boarding was completely quickly and efficiently.  And at 5:21 pm, we began our pushback, 4 minutes ahead of schedule.  Then, after a 20 minute taxi to the runway and queuing behind the building traffic, we finally began our takeoff roll at 5:42 pm.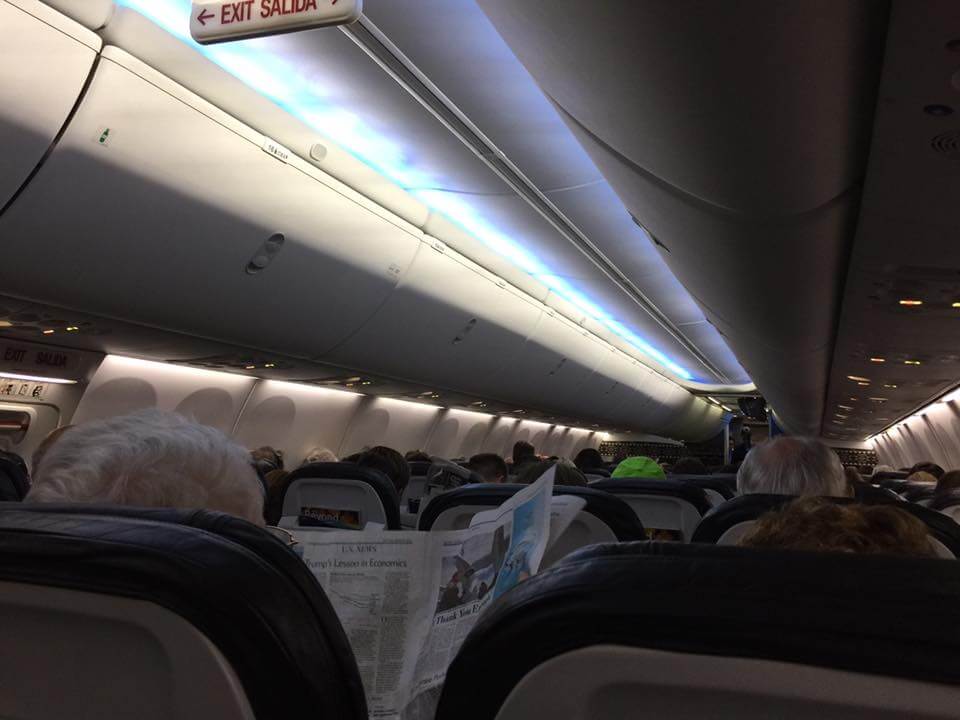 Though our aircraft had the old livery, we had a jet with the newer Boeing Sky Interior.  What puzzled me, though, is the fact that Alaska still insist passengers lay their bags down in the bin… Even though these bins are designed to have bags stood on their sides.  A lot more bags could have fit in the bins if this was done… Oh well.
For the most part, though, this flight was rather uneventful.  It was a full flight, so no free space next to us again.  But, we made the most of it by watching pre-loaded Netflix and Amazon shows, and napping.  We skipped the meal service, instead opting to snack on a Levain Bakery cookie, since we planed on getting dinner once we landed.
And soon enough we were on final into SEA.  We landed at 8:20 pm local time, slightly ahead of schedule despite some strong headwinds.  What's more, the wife and I got to experience another first for us… Falling snow!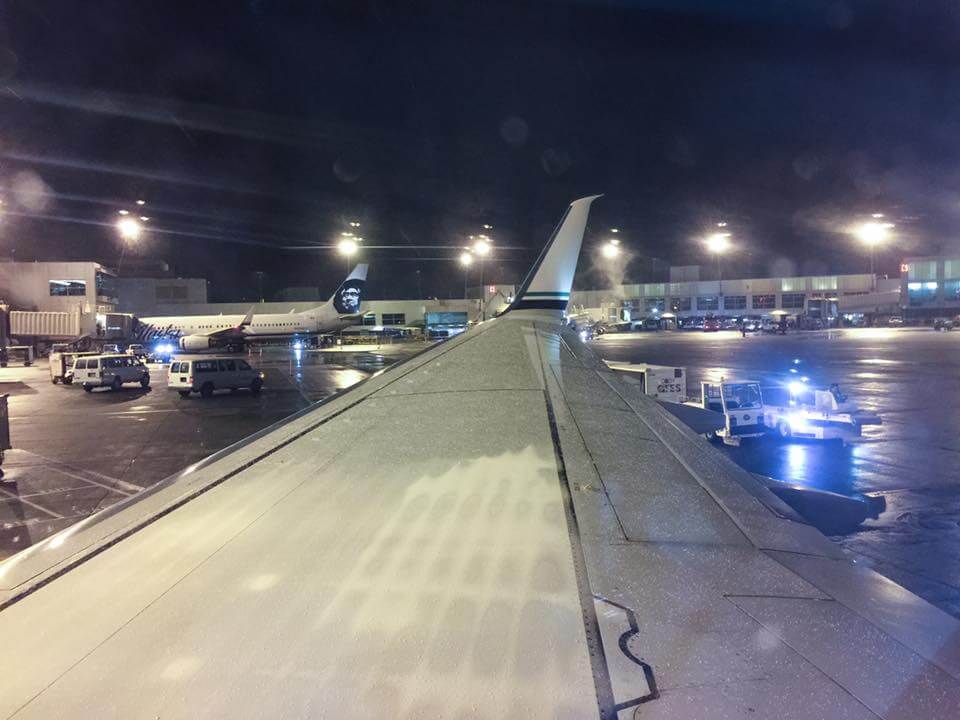 Upon deplaning, we collected our bags, hopped on an Uber, and headed over to our hotel.
Papaya King + Alaska Air EWR-SEA Final Thoughts
Our final day in New York was CRAZY.  It really emphasized the fact that we simply didn't have enough time in The City.  And despite some bumps along the way (like the rest of this trip), things ended well.  We were hoping for snow in NYC, and while that didn't happen, we got a rare dusting in SEA.  But more on that later…
A BIG APPLE HOLIDAY ADVENTURE
Papaya King + Alaska Air EWR-SEA