Our final meal in Seattle would be dinner following our final day.  We wanted something relatively close to our hotel that was more on the casual side.  After much searching, we settled on Steelhead Diner.
So after we finished packing, we headed back up to Pike Place Market and slightly past Rachel's Ginger Beer at Post Ally.  Restaurant was still going on during our visit, as as a participating restaurant, Steelhead Diner was packed.  Fortunately the hostess informed us that we could get a table immediately if we didn't mind sitting at the chef's counter.  Sounds good to me!  In reality the chef's counter is bar seating looking into the kitchen, but is also the area where the servers pickup their orders.  It can get a little chaotic and is a little tight, but it didn't bother us.  Better yet, a few minutes after we sat down, this landed in front of us.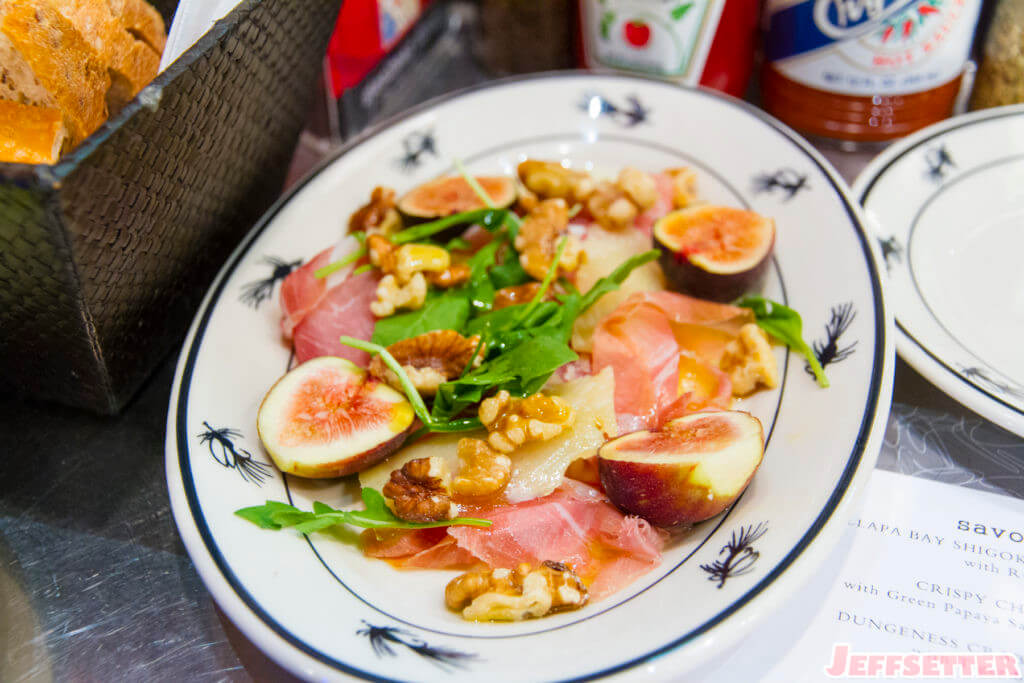 Compliments of the Chef, one of Steelhead's normal menu items:  La Quercia Proscuitto & Shaved Pecorino Toscano with Black Mission Figs, Baby Arugula, Toasted Walnuts, Tuscan Olive Oil.  Prosciutto?  Arugula?  Figs?  Pecorino?  What's not to love about this dish?!  It was actually our first time having figs, believe it or not, as they're hard to come by in Hawaii.  This was accompanied by a basket of the house bread and pesto slathered butter?!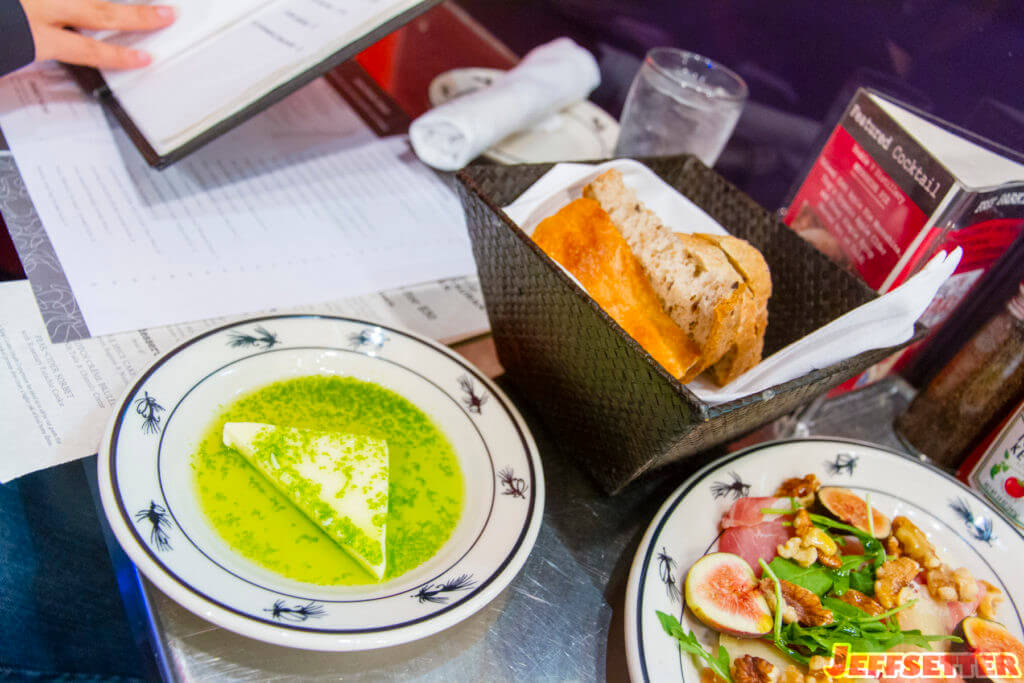 Oh man, I could have just sat there all night at ate these two things.  Why isn't butter swimming in a pool of pesto infused olive oil a thing?
For our actual meals, both the wife and I chose to go with the Restaurant Week special.  Like at Goldfinch Tavern, this meant we got a 3 course menu for $30.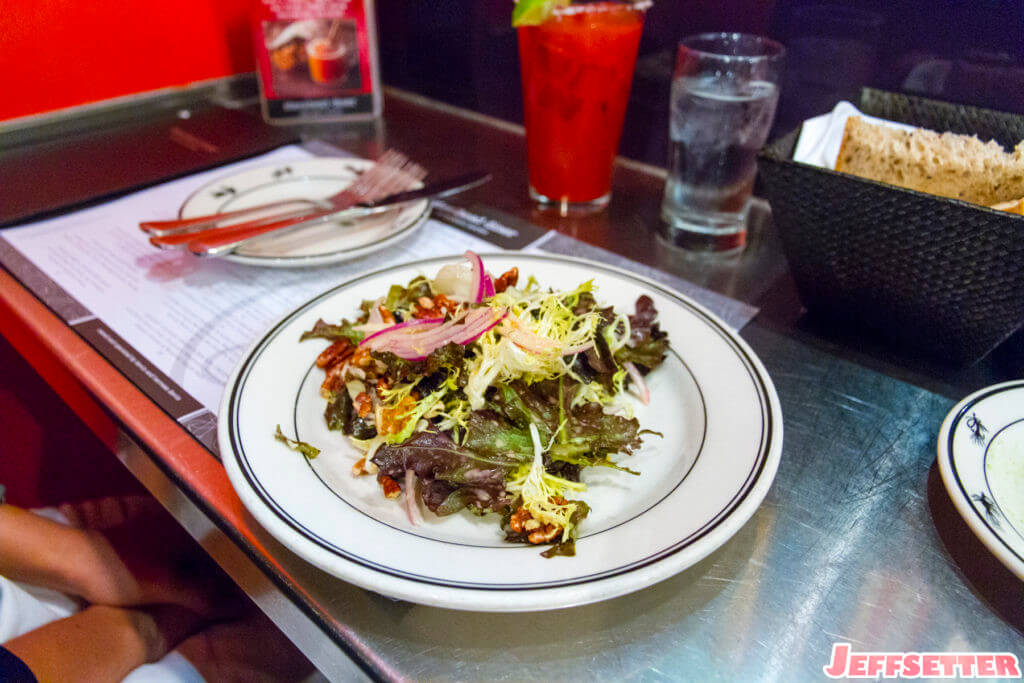 For her starter, the wife went with the Read Oak Lettuce Salad with Shaved Fennel, Shallots, Toasted Pecans & Lemon Vinaigrette.  Me?  I chose the Crispy Pork Belly with Apple Sauce, Crispy Sage, Whole Grain Mustard & Honey Drizzle.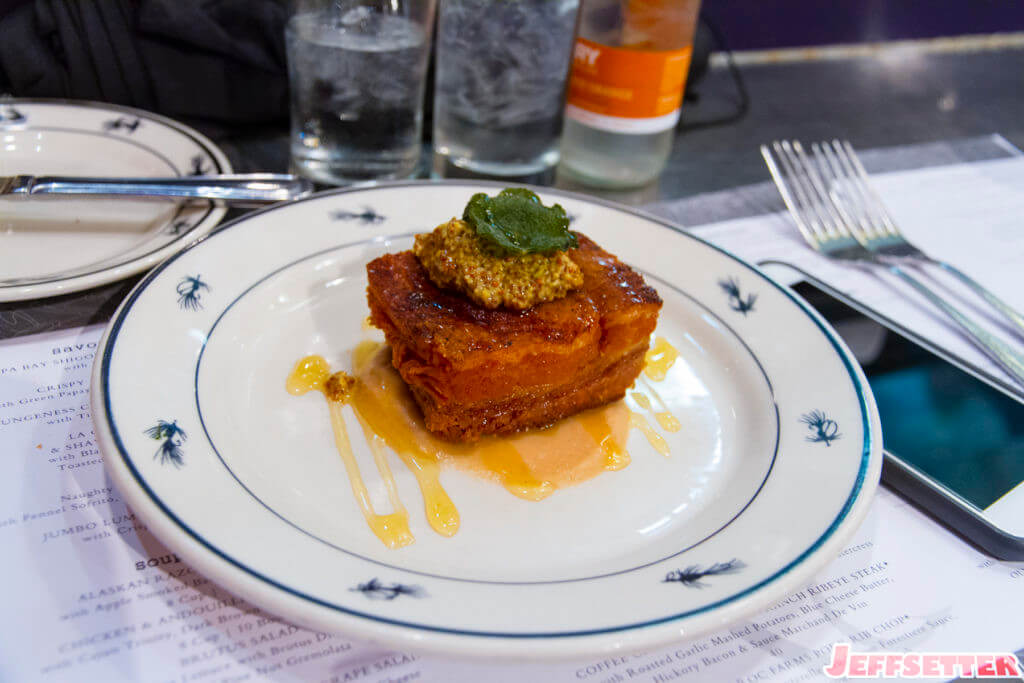 This hunk of pork was incredible!  Crunchy on the outside, melty on the inside.  It was salty, sweet, acidic all at once.  It was one of the most perfect things I've ever put in this mouth, and even now I still having cravings for this thing.  The salad?  Well, it was a salad.  Not much to say about that.
When it came time to order the entrees, the winner ended up being my wife.  For my entree I ordered the Coriander Crusted Spiced Coho Salmon with Cauliflower Puree, Watercress & Red Grape Salad.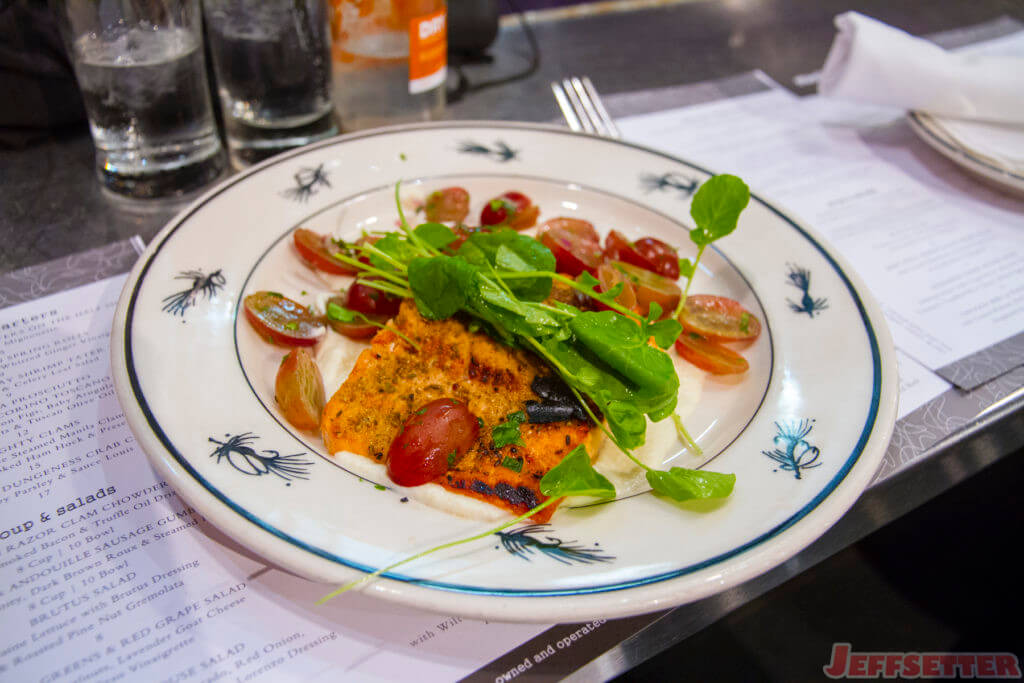 In theory this sounded like a clear winner.  In execution, not so much.  That's not to say it was inedible.  I was just expecting more from this dish.  It was, unfortunately, a bit bland though, and could have definitely benefited from more salt.
The wife, on the other hand, ended up ordering a flavor bomb!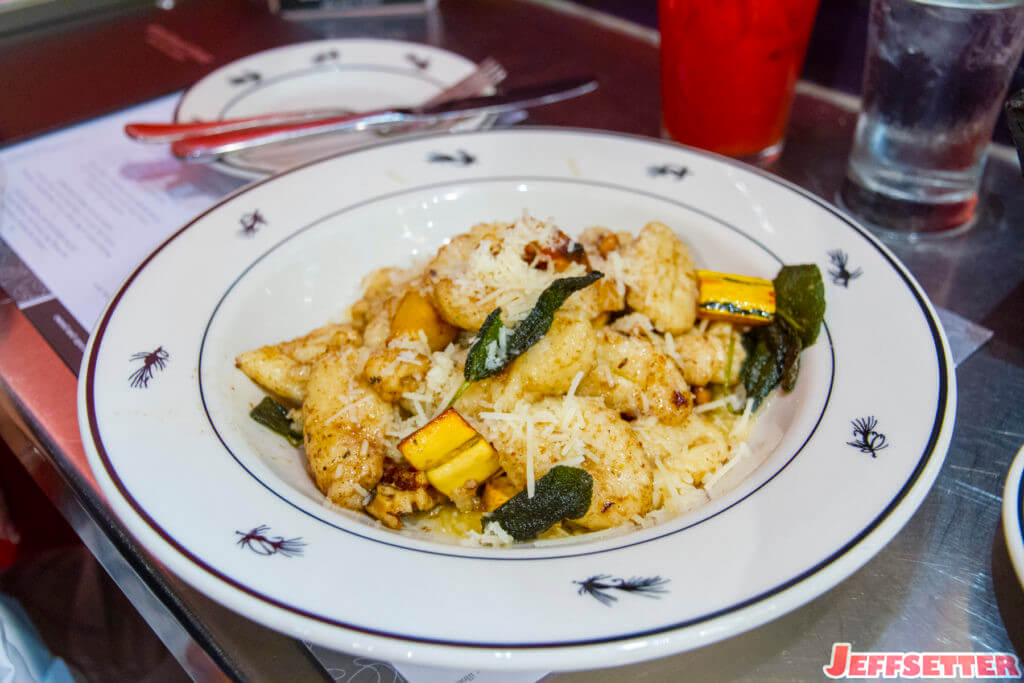 Homemade Potato Gnocchi with Delicata Squash, Roasted Ricotta Salata, Crispy Sage, Toasted Walnuts & Brown Butter.  I should have known better really… Brown butter, roasted ricotta and melty potato gnocchi?  That HAS to be good… and it was!
At this point our server was all about keeping score on who ordered the better dish, and we were now tied with just dessert to go.  So the wife ordered what she would always order, a creme brûlée.  This one was a Butterscotch Creme Brûlée with Cocoa Nib Tuile & Chantilly Creme.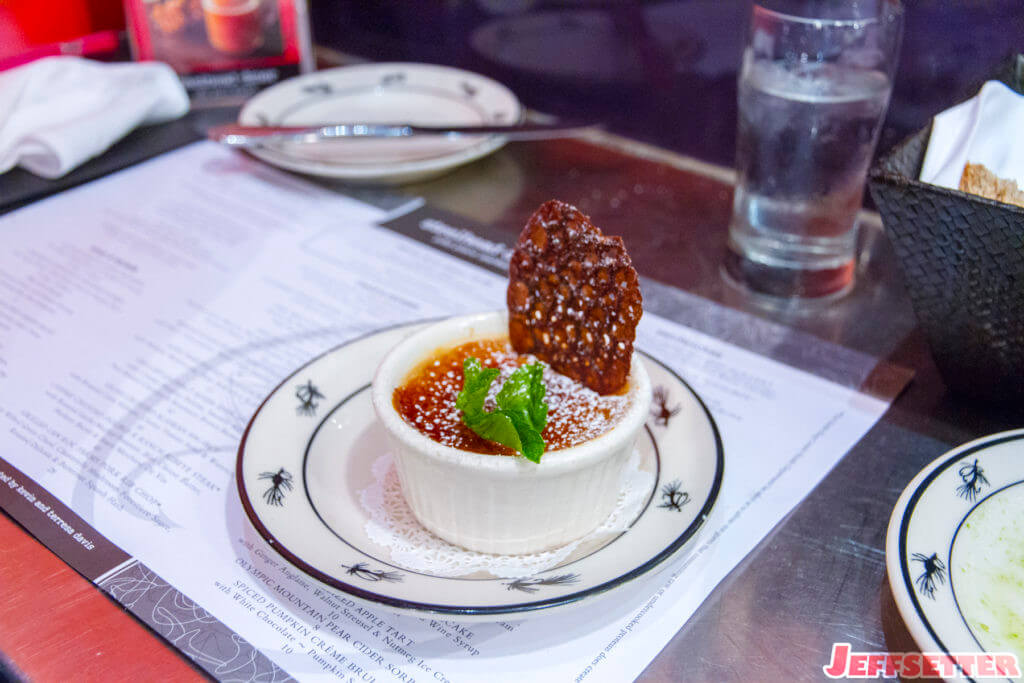 I ordered the Apple Spice Cake with Streusel, Cinnamon Anglaise & Nutmeg Ice Cream.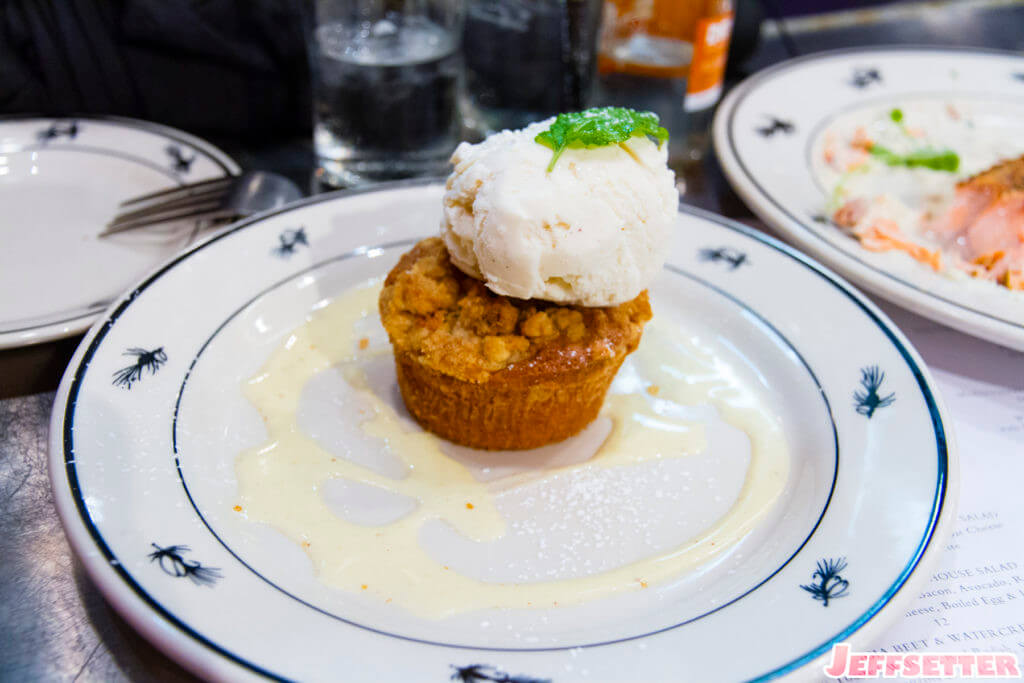 I'm going to let you guess who won this one….
Will definitely check out Steelhead Diner again, and heck we'll even sit at the chef's counter again!  But next time I'll go with the regular menu, as I saw a lot of great sounding stuff on there.  Can you guys please put the Crispy Pork Belly on the regular menu though?  Pretty please??
Our PNW Adventure
Dining Review:  Steelhead Diner