On our final night in the Bay Area, I tried to get us another fantastic dining experience. This was more difficult than I thought it would be, as San Jose actually has some great options. Eventually, I settled on checking out Luna Mexican Kitchen, which has a Michelin Guide Bib Gourmand designation.
My short list of places for San Jose included Protege (one star), Adega (one star), Koi Palace, and Luna Mexica Kitchen. I wanted to try Koi Palace since seeing their feature video on Eater, but Dim Sum is a daytime meal, and we wouldn't be able to try much with just two of us, so that was a no-go. Adega, a Michelin-starred Portuguese restaurant, is quite different from anything we tried before, but its price was already outside of my remaining budget. Ditto (the budget part) to Protege, so Luna Mexican Kitchen it is!
To be fair to Luna, the menu looks really interesting, and truly great Mexican food is still difficult to find in Hawaii, which was why it was on my list to begin with. So, though there were other restaurants I wanted to try, I wasn't disappointed settling on it for our final meal in the Bay Area.
Luna Mexican Kitchen Location
Before we begin, it's worth noting that Luna Mexican Kitchen is a walk-in-only restaurant – no reservations are available. They have two locations, one in Campbell and one in San Jose. The San Jose location is in Garden Alameda on the corner of The Alameda and Magnolia Avenue. That places it a five to ten-mile drive from our hotel by the airport.
Parking at Luna Mexican Kitchen is rather limited. There is a small lot right next to the restaurant, but we had to find parking in the surrounding neighborhood. We ended up parking somewhere around a quarter to half a mile away.
Service at Luna Mexican Kitchen
Overall, I'd say the service at Luna Mexican Kitchen was quite good. Wait times were, at times, a bit long, but the restaurant was also PACKED. Not only were people sitting inside as usual but there was a large overflow area outside, which is where we were. It doesn't sound great, but it was nice enough. Heat lamps kept us nice and toasty, though light breezes made it a little cold here and there.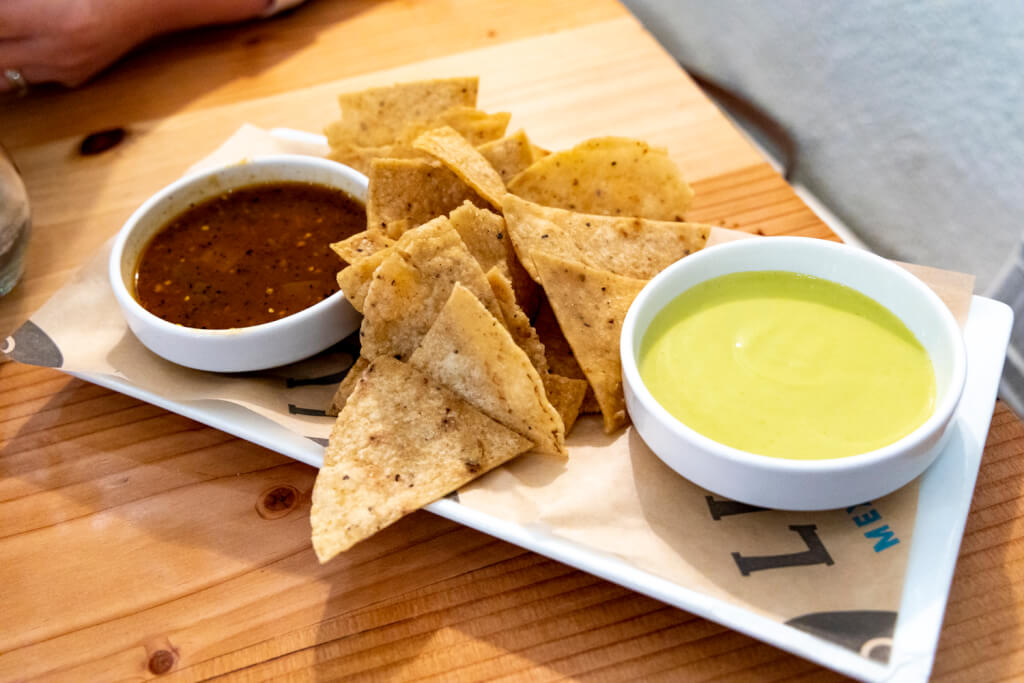 That said, as soon as we sat down, we were given chips and two kinds of salsa. Honestly, all I know is the red one is spicy, and the green one is mild. They were both good, though I'd probably like the red one better if it wasn't too spicy for me. The red one was the most flavorful of the two and had a bit of smokiness to it.
Drinks
Luna Mexican Kitchen has an extensive drink menu, including cocktails, mocktails, margaritas, and more. But as we normally do, we went with a seasonal Agua Fresca and a Horchata. Both of these were among the best we've ever had.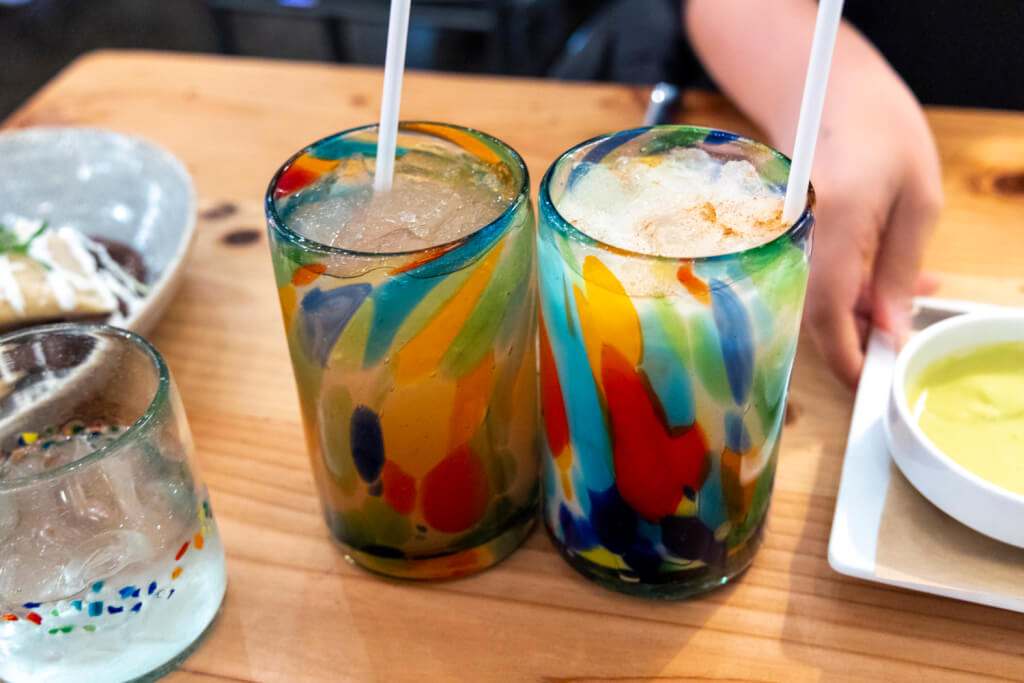 What We Ordered
We had a really difficult time trying to decide what to try at Luna Mexican Kitchen – there's so many things! But the first dish we ended up trying was the Trumpet Mushroom Tamal. This was a fantastic dish! The masa itself was so smooth and flavorful, with a nice meatiness from the musrooms. I could've eaten this all night.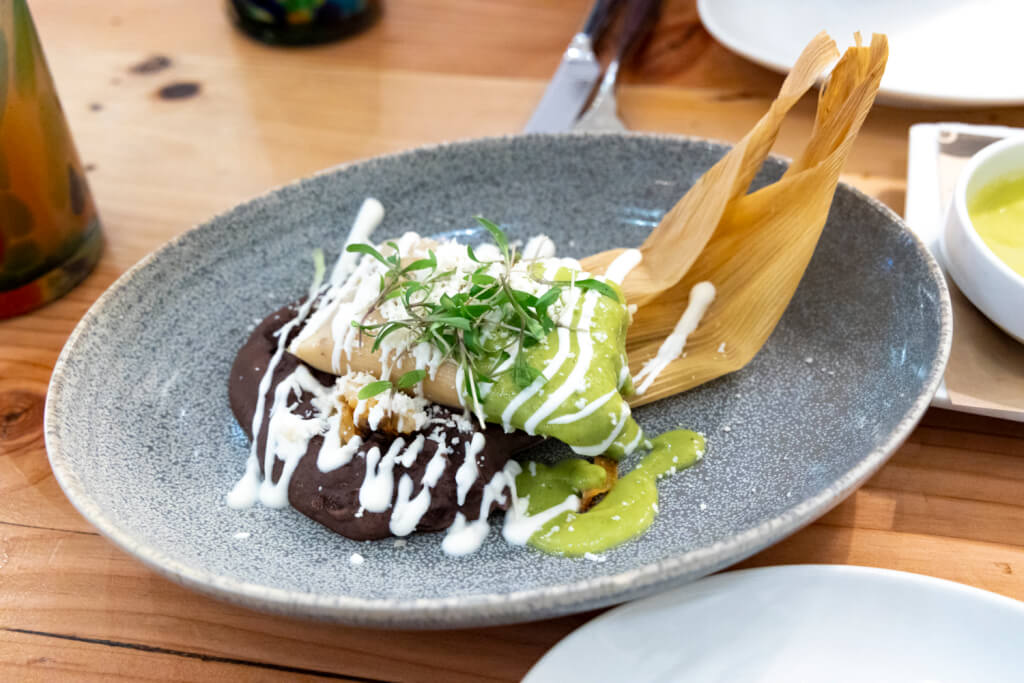 Next up was something that's pretty common in California but hard to find in Hawaii – Elottes. It looks burned to hell and absolutely covered in Cojita, but you know what? This was a really nicely balanced dish. The cheese, while present, served to enhance the sweet/charred flavors of the corn, which were further accentuated by the Tajine and lime juice.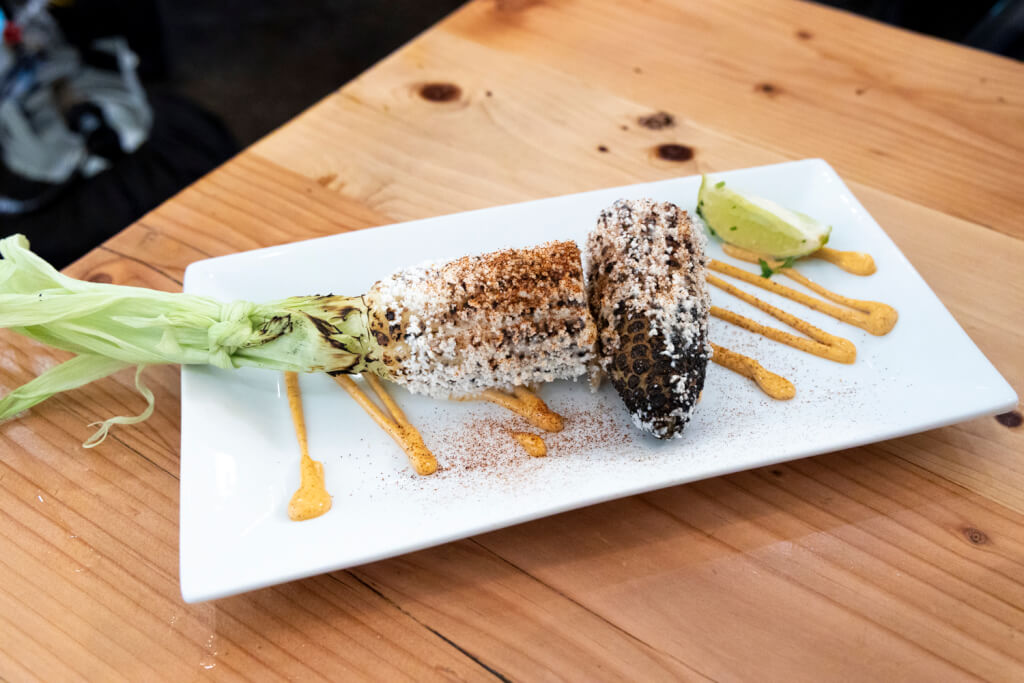 Next up was under appetizers, but it could have easily been a dessert, too – Fruta Con Chile. Pineapple, jicama, cucumber, mango, chile, lime, and house-made chamoy, what's not to love?! The chamoy was amazing, with just the right amount of sweetness and tang. I'm not a huge fan of Jicima, but that's ok. This was delicious, refreshing, and incredibly tasty.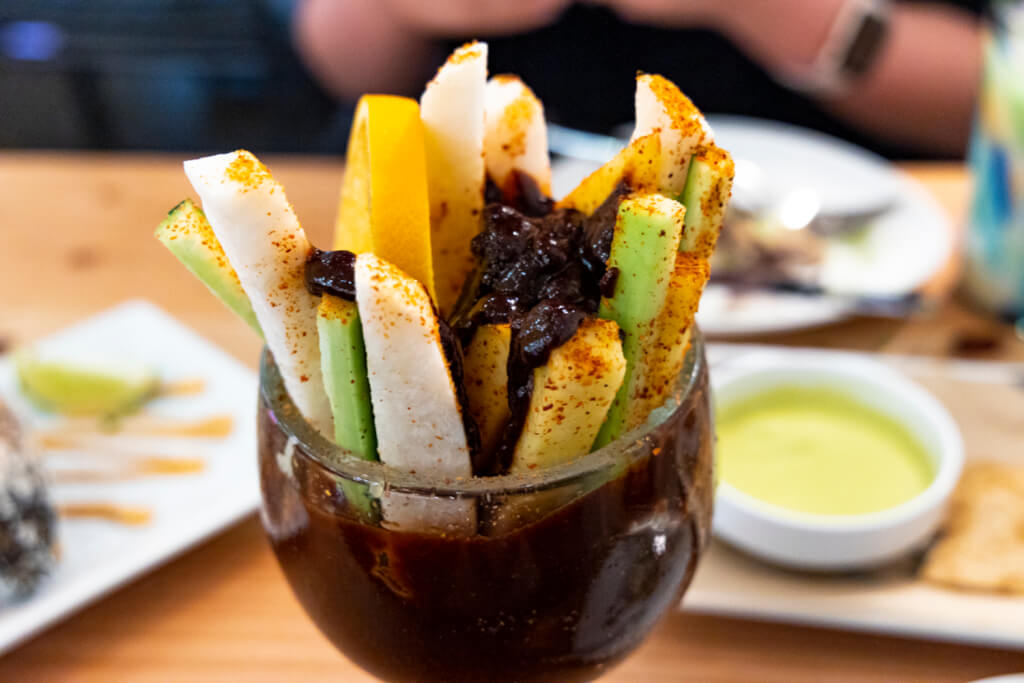 For her main, Mrs. Island Miler went with Luna Mexican Kitchen's Mole Poblano Enchiladas. Here, the mole is made with poblano chilis, chocolate, cinnamon, nuts, seasonings, aromatics, and sesame seeds. It had a deep, complex flavor like nothing else either of us had ever tried.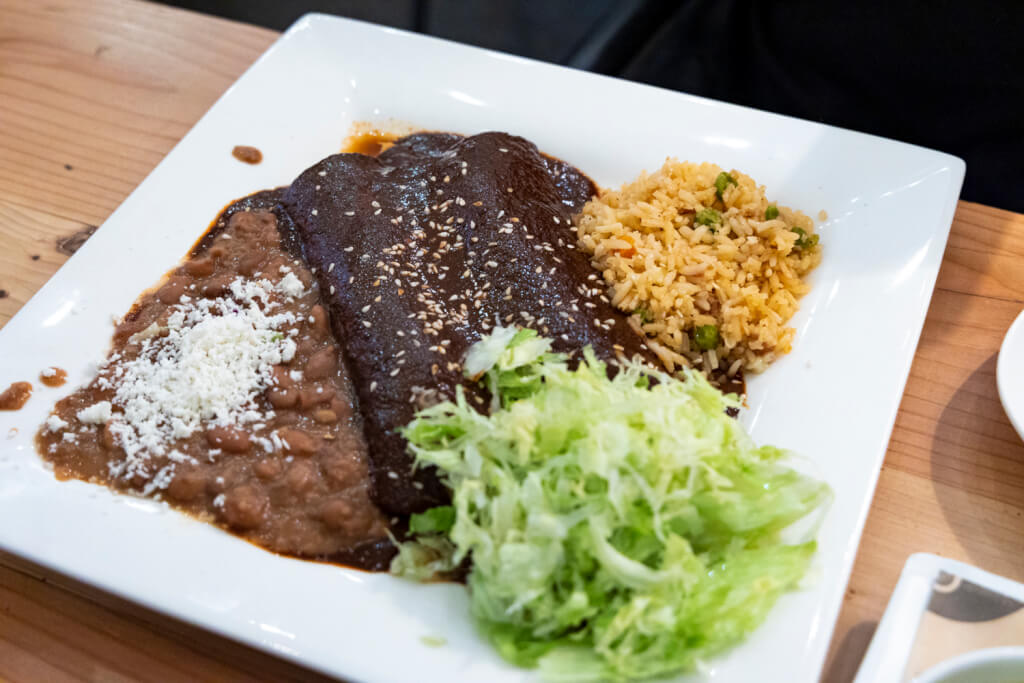 For my main, I went with Luna Mexican Kitchen's signature Indavidual Parrilladas. Naturally, I chose carnitas for mine, which also came with beans, rice, guacamole, sour cream, salsa fresca, and tortillas. Look, I really wanted to like this dish, as it looked and smelled great. But the carnitas were just too bland and dry… This dish was a complete letdown.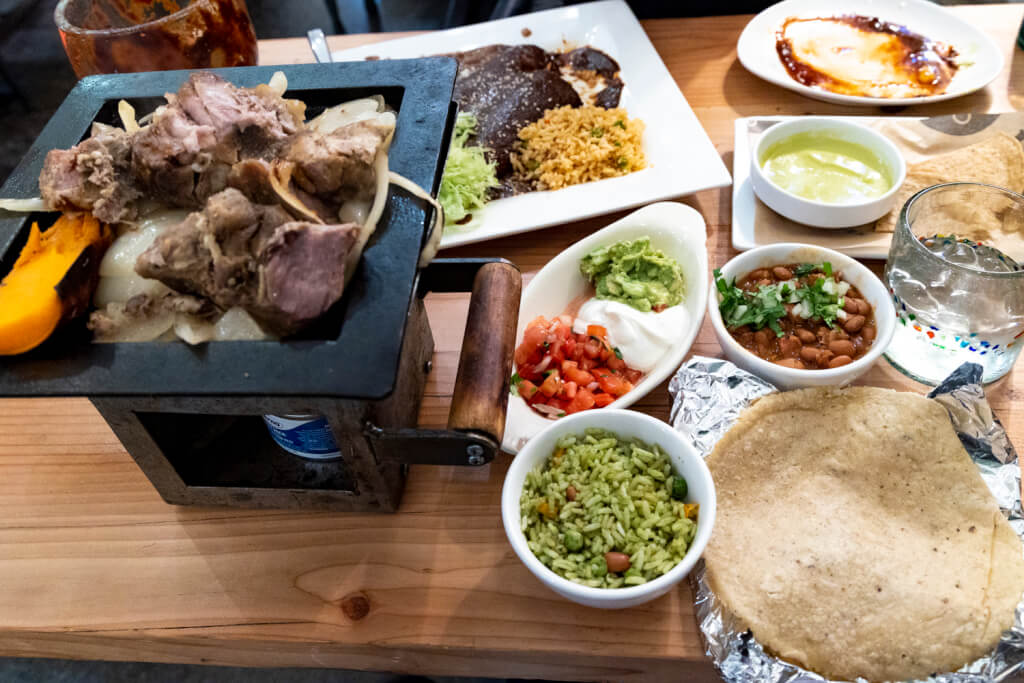 Of course, we couldn't leave without dessert. And, naturally, we went with the Churros with chocolate sauce. These were light and delicious – the pomegranate seeds were a nice touch, as they helped to cut the richness. It's something we desperately needed at this point!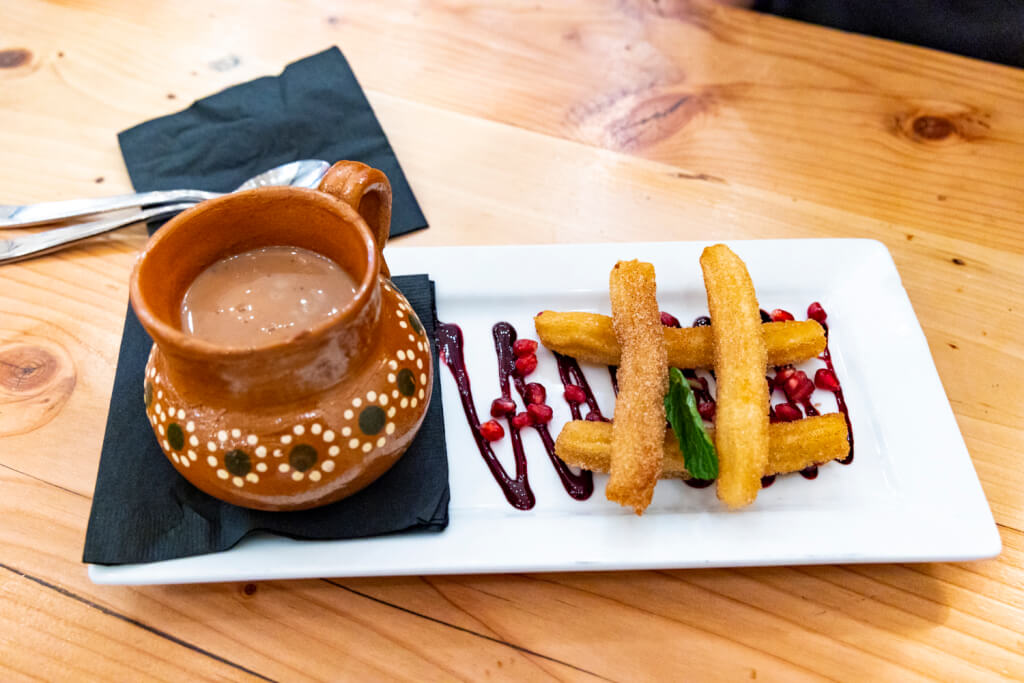 Final Thoughts
When in San Jose, Luna Mexican Kitchen is a must. The place was absolutely packed during our visit, and I can se why. It's worth noting, however, that their menu seems to change regularly. Certain items remain constant, such as the Elotes and Fruta Con Chile, but I wouldn't expect to see anything else we had during your visit. Well, aside from the Parrilladas, which is something I won't order again, either.
Living It Up in California