Another foodie goal of ours in Los Angeles was trying the famous Porto's Cheese Roll. I only recently learned of them – probably just before the pandemic hit. But everyone that has tried them loves them, so we had to give them a try!
After loading up on cakes, we reasoned that it'd be a good idea to get, I don't know, real food? Seeing that Porto's serves real food alongside their iconic pastries, we decided to trek out to the location nearest us at the Los Angeles Airport Marriott. The only problem with that is that the closest location was in Downey. And with traffic, it'd take us nearly an hour to get there. GREAT.
Trying the Famous Porto's Cheese Roll
To speed things along, Mrs. Island Miler placed an online order for our items. That was a good call, as the walk-in line was snaking out the door when we got there. Thankfully, there was a separate online order line, though this wasn't made immediately clear. We only found out after spending a few minutes in the regular line. Even then, we had to wait. We arrived slightly after our scheduled pick-up time, but still ended up waiting for a good 15 to 20 minutes for our order. Why? Beats me!
Food
Our full spread included a Cubano, a Turkey & Candied Bacon Sandwich, a Potato Ball, a couple of Cheese Rolls, some Guava Strudels, and a fruit tart.
Cubanos are among one of my favorite sandwiches around. Hawaii is seriously lacking in this area, so I have a habit of ordering it whenever I see it. I figured, it should be extra good here, right? After all, Porto's is a Cuban bakery. Much to my dismay, it wasn't good. It was fairly bland, which is hard to do with all the pickles, mustard, cheese, ham, and roasted pork. I was sorely disappointed. Luckily, we had also stopped off at In-N-Out on the way back too, so I at least got to enjoy one of their burgers.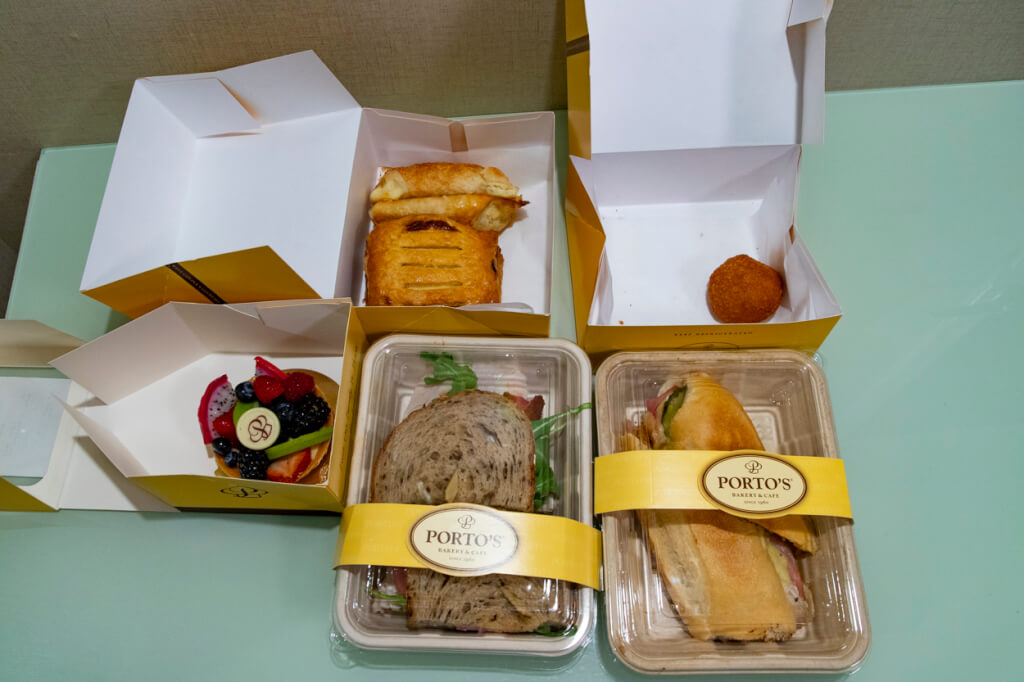 Mrs. Island Miler's sandwich was fine but wasn't anything different or special. The candied bacon was a little too sweet, though. The Potato Ball wasn't quite to our taste either.
The Cheese Roll
With how our "meal" went, I was a little skeptical that the famous Cheese Roll would be any good. But, you know what? It's awesome! Can anyone really hate an airy, flaky, slightly sweet pastry filled with cream cheese? Me thinks not.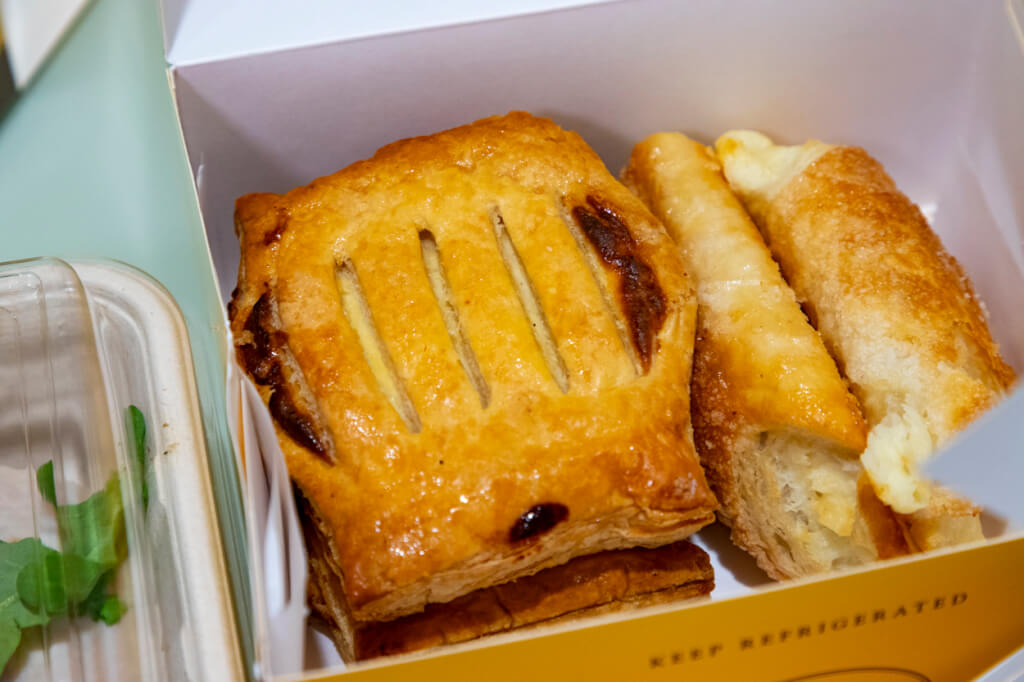 Going in, I thought the Guava Strudel was going to be my favorite of the two, but it wasn't. That's not to say it isn't good. It's just that the simplicity of the Cheese Roll is so much better, in my opinion. I would've liked a stronger guava flavor, though.
Final Thoughts
Have you ever been to Porto's? What do you think? I did really like the Cheese Rolls, though I'm not sure I'd drive an hour out of my way to get it again. Of course, you can order these frozen via Goldbelly, though shipping costs to Hawaii are quite prohibitive. At any rate, I'm glad we finally got to try the pastries, though I probably wouldn't get sandwiches from them again.
Vegas + Irvine Trip Report
Trying the Famous Porto's Cheese Roll