As I mentioned in my previous post, we departed California from LAX. Specifically, we flew Hawaiian Airlines Flight 9 LAX-HNL to get home. And let's just say that, overall, this was an interesting experience.
It's been YEARS since I flew into or out of Los Angeles. In fact, the last time I was here, I was connecting through on American on my way to San Antonio. And that was four years before this flight. What's more, it's been even longer since I flew Hawaiian into or out of LAX, so I wasn't really prepared for how things would play out. That said, this review is largely outdated now, as Hawaiian moved terminals. Either way, though, LAX is not a fun airport. I highly recommend flying to a different airport, such as Long Beach, if the flights work with your schedule. Hell, I think even San Diego would've been better. But, oh well!
Hawaiian Airlines Flight 9 LAX-HNL
Ground Experience
Before their move to TBIT, Hawaiian used Terminal 5. My goodness, was that a miserable terminal 5 is. The place felt small and dingy and, as you'll see later, is very AvGeek unfriendly. Luckily, the guest services person we interacted with was very friendly and efficient. I won't go through the whole process, but we did receive our Hawaii Pre-Clear bands as we dropped our bags off. The process was quick and painless, while the TSA Pre-Check line was also not too crazy.
Unfortunately, Terminal 5 has no Priority Pass lounge. Not that it really matters anyway, as I lost my damn card, and I can't get a new digital one issued to me. So we waited in the only place we could wait, the main terminal. Unfortunately, I couldn't really do any plane spotting here, as the actual gates are separated from the rest of the terminal via glassed-in walkways. And in our case, the jetbridge for gate 57 isn't even visible from the waiting areas. Boo. Luckily, our cell reception was decent, so we alternated between watching the ever-growing Pre-Clear line (seriously, why didn't people do it ahead of time) and reading/playing games on our phones.
Boarding + Departure
Our scheduled boarding time was 5:15 pm. Right down to the T, pre-boarding was called at 5:15 pm. That was followed a minute later by first class, then Zone 2 Pualani Elites a minute after that. Hilariously, seemingly half the flight was in Zone 2. At 5:21, Zone 3 (Extra Comfort) was called, and we headed aboard. Unfortunately, our aircraft was pretty hot when we got onboard – gotta love that SoCal heat – and wouldn't cool off until we were on our way. Overall, boarding took 37 minutes, with the door closing at 5:53 pm. Peculiarly, the flight attendants removed the seat cushions in the unoccupied seats in our row once boarding was complete. I'm not sure why they did this or if they did this for the whole aircraft, but it was odd! A flight time of 5 hours and 18 minutes was quoted.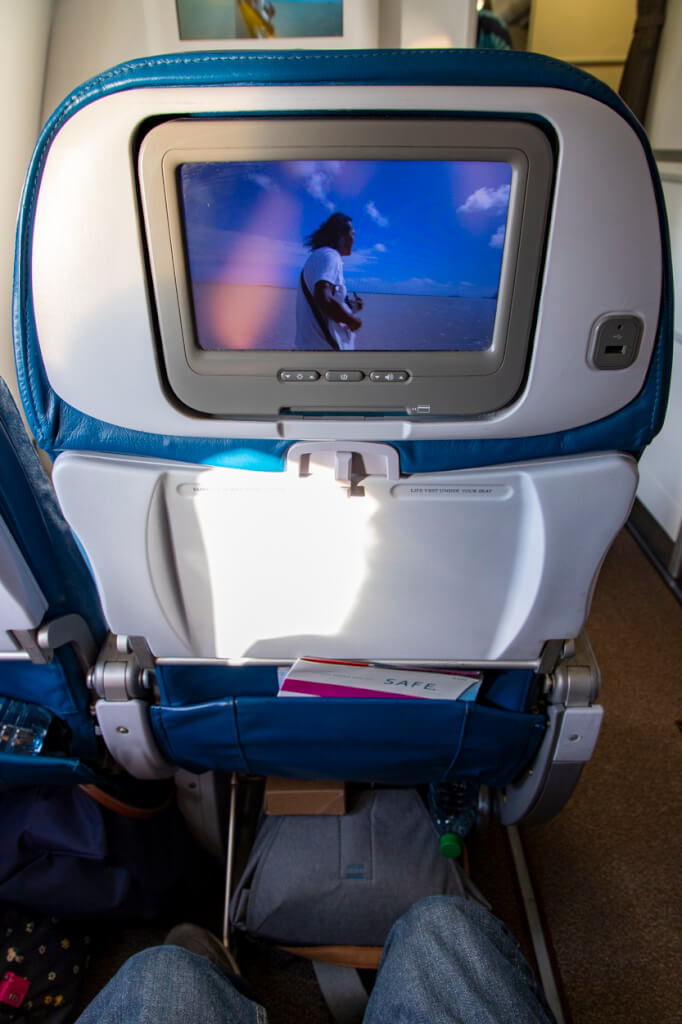 Remarkably, we pushed back five minutes after the door closed – a full two minutes ahead of schedule. We held in the alleyway for a few minutes and began our taxi at 6:03 pm.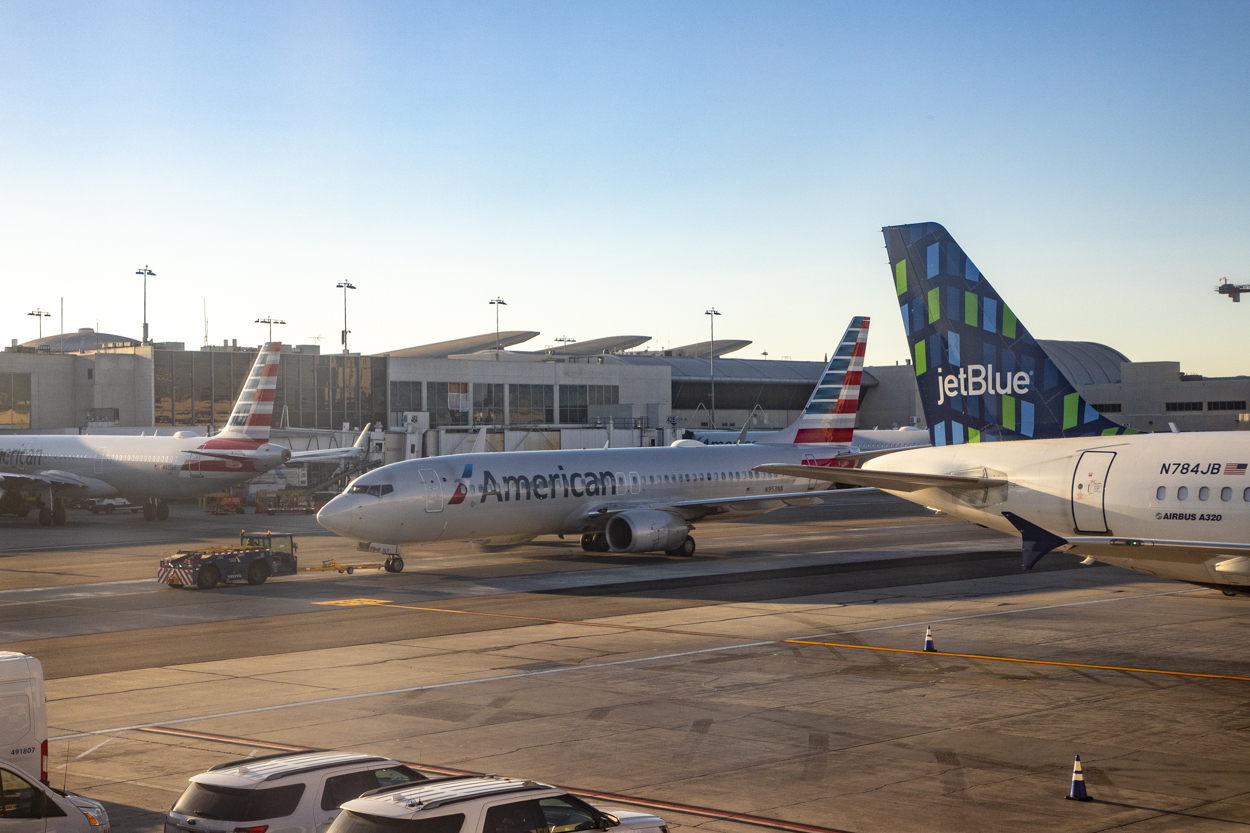 On the way to our departure runway, we passed by Alaska's terminal, as well as Delta's facilities. You can see some of LAX's icons in the back, both of which I've never seen unobstructed in person haha.
We arrived at our departure runway six minutes later and immediately began our takeoff roll. Another six minutes later, and we reached our initial cruising altitude.
Service
At 6:25 pm, our flight crew rolled the for-purchase Pau Hana Cart through the cabin. Unfortunately, they still didn't have any Pau Hana Snack Mix for sale. Nearly 20 minutes later, our crew came back through the cabin with the complimentary beverage and dinner (sandwich) service. Still not feeling that great, I passed, though Mrs. Island Miler graciously let me photograph her meal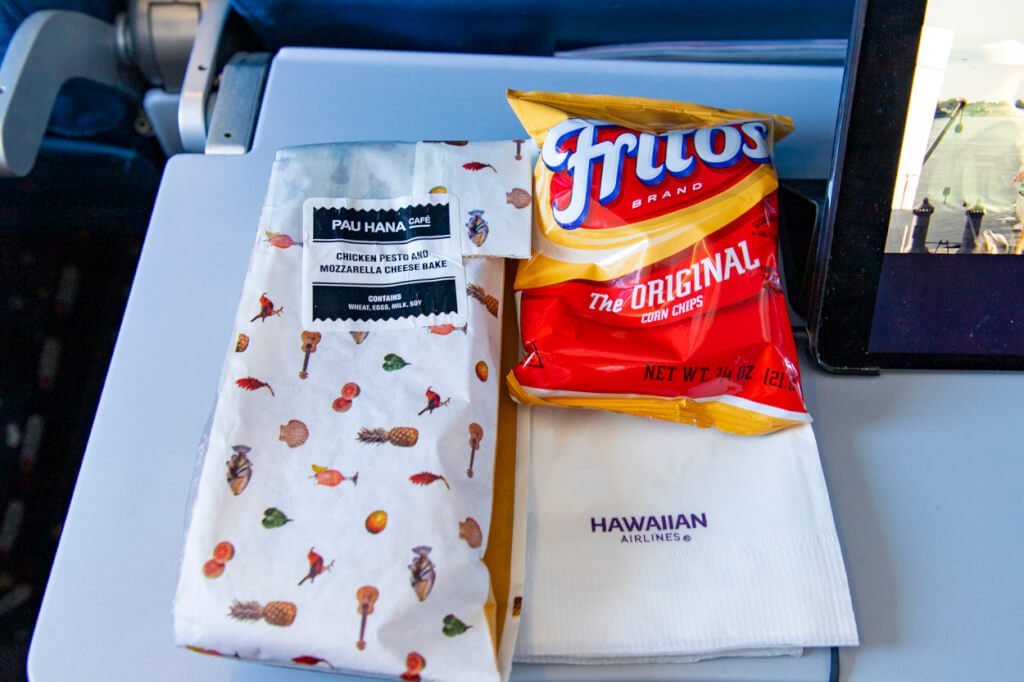 Flight attendants made appearances again at 7:56 pm and 8:56 pm for water service. 45 minutes before arrival at 10:41 pm, all F&B services officially ended. Then, at 10:54 pm, our crew came through the cabin to pass out cookies from La Tour Bakery.
One "service" aspect I'm not a fan of is how heavy-handed Hawaiian is getting with their credit card sales. At about 11 pm, our crew played a video for the Hawaiian Airlines World Elite Mastercard, followed shortly by a video from the HTA promoting responsibility for visitors. Then, commercials played for the Honolulu Cookie Company, Sky Waikiki, and Ward Village. Then we had another Hawaiian Air Mastercard commercial at 11:08 pm, followed by a verbal ad from our flight attendants as they came through the cabin with applications. Ugh. What's worse is that these ads all interrupt the in-flight entertainment system, which itself cuts out 20 minutes before landing.
Arrival
As is often the case, the air got a bit choppy as we neared Hawaii. And that's despite our final cruising altitude of 40,000 feet! Heck, the final 18 minutes of our flight was pretty bumpy overall. That said, we began our initial descent 163 miles and 28 minutes out from Honolulu. At this time, flight attedants came back to our row to re-install the seat cushions they removed before our departure. Just nine minutes later, our pilots deployed our landing gear as we began our final descent. Interestingly, they kept throttling up and down throughout our final descent until finally touching down at 8:29 pm. It took us a further nine minutes to taxi to gate A10 in the new Mauka Concourse, putting our arrival time 12 minutes ahead of our 8:50 pm arrival.
During our taxi over to our gate, the flight attendants notified us that our bags would be available on the "lower level." Yup, them was their exact words. However, while waiting for the jetbridge to connect with our aircraft, the pilots clarified that we'd be using baggage claim 6. Then, at 8:44 pm, the doors opened. It was a bit of a walk to our baggage claim, though even then no bags began appearing upon our arrival. The first bag didn't appear until 9:02 pm, while we collected all of our bags by 9:13 pm. Not bad for Hawaiian, but not Alaska/Delta fast.
Final Thoughts
An early arrival with Hawaiian is rather unusual for me. That said, given our need to quarantine away from our families upon our return, the earlier we got in, the better. After all, like tourists, we needed to make our way from the airport to our hotel in Waikiki for our quarantine period. Of course, not without stopping off at my in-law's house to give them their omiyage and making a stop off at Zippy's to pick up some dinner. That said, the crew on this flight wasn't quite as friendly as they were on our outbound flight. I did appreciate seeing them coming through the cabin regularly, though. Plus, I'm not sure what Hawaiian's bag handlers were doing, but this flight saw the eventual demise of Mrs. Island Miler's suitcase. Can you guys be a bit more gentle, while still being reasonably quick? Alaska and Delta can do it, just saying.
At any rate, I'm going to avoid flying in and out of LAX going forward. If visiting my sister in Irvine, I'll likely fly into SNA on Alaska with a stop in SEA or SFO instead. Heck, I'd also consider flying into Long Beach or San Diego even. Anything to avoid LAX, that hellish congestion, and that drive!
Vegas + Irvine Trip Report
Hawaiian Airlines Flight 9 LAX-HNL